Randy LaJoie, also known as Randall LaJoie, is a former NASCAR Busch Series (now Xfinity Series) race car driver. The retired professional is also the winner of the 1996 and 1997 NASCAR Busch Series.
Randy had a fruitful and overwhelming career associated with many teams and sponsors. He started his racing career earlier through a go-kart at a young age.
Furthermore, the retired professional driver was also a part-time co-host of the program "The Driver's Seat." Also, Randy worked as the commentator for the ORP and Montreal Busch Series races.
Before going through the information about race champion Randy LaJoie, let's check his quick facts.
Randy LaJoie: Quick Facts
| | |
| --- | --- |
| Full Name | Randy LaJoie(Randall LaJoie) |
| Birth Date | August 28, 1961 |
| Birth Place | Norwalk, Connecticut, United States |
| Religion | Christian |
| Nationality | American |
| Sexuality | Straight |
| Ethnicity | White |
| Education | Unknown |
| Horoscope | Virgo |
| Father's Name | Don LaJoie |
| Mother's Name | Cathy LaJoie |
| Siblings | Ronnie LaJoie, Linda LaJoie |
| Age | 62 Years Old |
| Height | Unknown |
| Weight | Unknown |
| Hair Color | Blonde |
| Eye Color | Dark Brown |
| Wife | Lisa LaJoie |
| Children | Corey LaJoie and Casey LaJoie |
| Profession | Race Car Driver |
| Net Worth | $1 Million-$3 Million |
| Career History | NASCAR Cup Series, NASCAR Xfinity Series, NASCAR Camping World Truck Series |
| Position | Driver |
| Social Media | Twitter |
| Merch | NASCAR Toys, NASCAR Jacket |
| Last Update | November, 2023 |
Randy LaJoie: Early Life & Parents
Randy LaJoie was born in Norwalk, Connecticut, United States. He was born to Don LaJoie's father and his mother, Cathy LaJoie.
Similarly, his father, Don, was also a race driver, according to his mom Cathy's interview. Also, he was a member of the New England Auto Racing Hall of Fame.
LaJoie was the all-time leading feature winner at the Danbury Arena, with 58 victories. He won 5 championships in 6 years, 3 consecutively, from 1974 to 1976.
Randy is not the only child of his parents as he has one brother and two sisters. His family lost his brother Ronnie LaJoie in a car accident when he was just 17 years old.
Meanwhile, Randy has his younger sister named Lind LaJoie, but there is no information about his elder sister.
You might be interested in reading about Jeff Gordon: NASCAR, Career, Wife, Divorce & Net Worth >>
Randy LaJoie: Age, Body Measurements & Nationality
Randy was born on August 28, 1961, and he is currently 62 years old. His horoscope is Virgo, according to his birth chart.
The one with the Horoscope sign "Virgo" is logical, practical, and systematic in its approach to life.
However, we don't have the correct information regarding Randy's height, weight, and body measurement. Additionally, he is an American national by birth.
Randy LaJoie: Racing Career
Early Career
Randy developed an interest in racing from an early age. He started participating in the Go-Kart race when he was 11.5 years old.
Later, Randy began racing in a full-bodied race car in 1980. He became the 1981 track champion in the sportsman division at the Danbury Fair Racearena.
Also, he won the modified Rookie of the year honor in the Waterford Speedbowl in 1982. Besides, he moved to NASCAR North Tour in 1983 and started his professional career in the NASCAR series
Professional career
Randy started his career in NASCAR North Tour in 1983 and became a series Rookie of the year.
Likewise, in 1984 Randy again failed to qualify in the Gatorade Twin 125's race, followed by a horrific crash. Meanwhile, he won the consolation race in the same year.
In 1985 he had gained five wins in the NASCAR North Tour series championship. Randy made his debut on NASCAR Winston Cup at Atlanta Motor Speedway in 1985.
He debuted on the NASCAR Busch Series on his own '03 Pontiac' in the same season. Randy had the best career ranking second place after joining Frank Cicci Racing mid-way in 1989.
In 1990, Randy took part in NASCAR Busch races in his own No.71 without returning to Cicci.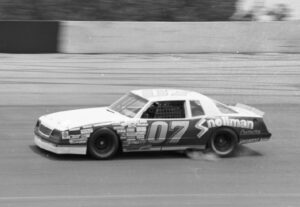 Although Randy was predicted as a dark horse for the championship in 1994, he ended the 16th position. Furthermore, he drove for Moroso in No.20 Fina Lube and ran three-cup races finishing in the top 20.
The racing car driver was called to the Cup series for Bill Davis racing driving No. 22 MBNA-sponsored Pontiac Grand Prix in 1995. He participated in 13 races for his team and was released midway through the year.
Career Stats
In the same way, Randy was signed by Dennis Shoemaker to drive No.64 in the NASCAR Busch series. Also, Randy got three top-tens and a pole position at Richmond in nine starts.
Similarly, Randy continued winning the races and got his second championship in 1997. However, he got down to rank 4 in 1998 and left the team BACE Motorsports at the end of the season.
After the season, Randy returned to the Cup series with a dispute with team owner Bill Baumgardner. He was signed by Hendrick Motorsports and drove nine-race for the team.
In 1999, Randy signed for James Finch to drive No.1 Chevrolet Monte Carlo despite its lack of major sponsorship. He won at NAPA Auto Parts 300, moving seventh in the next season with one win.
After the victory, Randy chooses to depart the team and join NEMCO Motorsports to drive No.7. He won two NEMCO Motorsports races but ended again in the 12th.
Also read about Erica Enders Bio: Net Worth, Movie, Husband & Career >>
In the same season, Randy raced for teams like Innovative Motorsports, FitzBradshaw Racing, and Kevin Harvick Incorporated. In 2004, he raced in FitzBradshwa's No.82 car with the best result of 13th.
Randy was also a test driver for Richard Childress Racing. Meanwhile, he has not raced in a NASCAR-sanctioned race since 2006.
Randy LaJoie: Personal Life & Net Worth
Besides his racing career, Randy is now the most prolific advocate of auto racing safety. He is a man on a mission to keep race drivers safe.
As for his personal life, Randy is married to Lisa LaJoie, a seven-year cancer survivor. He is also the father of racers Corey LaJoie and Casey LaJoie.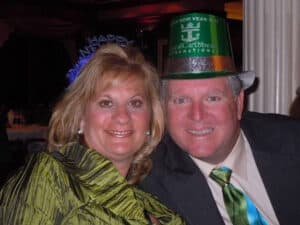 Randy's son Corey LaJoie competes full-time in the NASCAR Cup Series, driving the No.7 Chevrolet Camaro ZL1 1LE for Spire Motorsports.
While his other son Casey LaJoie decided to work on the broadcasting and media side of the sport.
Meanwhile, now he spends most of the time at his shop and visiting various tracks to educate racers with his safety programs.
Besides, Randy Lajoie also acted as a TV commentator for ORP and Montreal Busch Series race cars. Also, he was part-time co-host of the driver's seat on NASCAR Channel 128.
In terms of his earnings, it is estimated that he has a net worth of around $1-$3 million. The main source of income is undoubtedly his successful racing career.
Read about Nicolas Hülkenberg: Bio, Wife, Career & Salary >>\
Controversy
LaJoie is no new to controversies and has been dragged into controversy by his deeds. On June 22, 2010, LaJoie was the news topic as he got suspension from NASCAR and ESPN for violating the rules.
Similarly, Randy took responsibility for smoking Marijuana with race fans. Later he entered a treatment program and got fit for NASCAR again.
Randall LaJoie and Buckshot Jones
In 1997, Buckshot Jones was fined one of the harshest penalties ever by NASCAR for his actions. He was fined $5000 and deducted 50 points in the Busch Grand National for his "actions detrimental to auto racing."
Buckshot attempted to collide his car with Randall LaJoie's for those curious. Likewise, Randall has just passed for fourth place and Jones, the series leader, wanted to wreck it.
Despite the backlash and heavy penalty, Jones was not guilty about it. Instead, he stated how he would do it again.
"I can't say I wouldn't do it again. The problem is that I have an image to upload there."
Randall LaJoie | Some Popular Quotes
I hope they never take these short tracks off the Busch Series.
I was able to compete to win races and championships in the Busch Series, and I was happy. I'm proud of my Daytona wins and my championships.
Social Media Presence
Randy Lajoie is available on social media too. He is active on Twitter as @SaferRacer.
Randy mostly posts about news and incident related to motorsport racing. He also shares posts regarding safety awareness campaigns and his race safety missions.
You can also follow his Twitter account by clicking the link above to get updates about Randy LaJoie.
Some FAQs
What is Randy LaJoie doing now?
From 1996 he has started his own business of making aluminum seats for NASCAR. Randy used his experience and sense to make safer seats from hard crashes.
Does Randy LaJoie organize the safety program?
After his retirement, he is educating the racers with his safety programs. Randy has been visiting more than 128 race tracks to promote his safe racer program.
Why did Randy retire from racing?
According to Randy, he was getting old and could not attract sponsors. So he retires from car racing with a plan to do something else in the future.
Why was Randy Lajoie suspended from NASCAR in 2010?
On June 22, 2010, Randy got a suspension from NASCAR for violating their substance abuse policy. In addition, he took responsibility for smoking Marijuana with race fans.
Why is there a Randy Lajoie obituary?
The obituary does not belong to the car racer, Randy Lajoie. However, he is still alive and is a race cars driver.
How many career wins does Randy Lajoie have?
Lajoie has been very successful with his career. During his professional career period, he was able to win many car racing tournaments.
To mention a few of them: NAPA Auto Parts 300 winner (3 times), NASCAR North Tour champion, Danbury Fair Racearena modified sportsman champion.
(Make sure to comment down below if any information goes missing. We are ready to update in case of useful information.)