Cutter Dykstra is a former professional American baseball player who played for the Milwaukee Brewers and Washington Nationals of the MLB. He is the son of former MLB Player Lenny Dykstra. However, at the moment, he is working as a Senior Vice President at Therabody-a wellness and fitness Company.
Indeed, his Father, Lenny Dykstra, is his great inspiration, and he always wants to be like him. Dykstra's Father encouraged and supported him at every step.
Despite being a famous person's son, he never took things for granted. Indeed, he is hard-working and has made his way to success independently.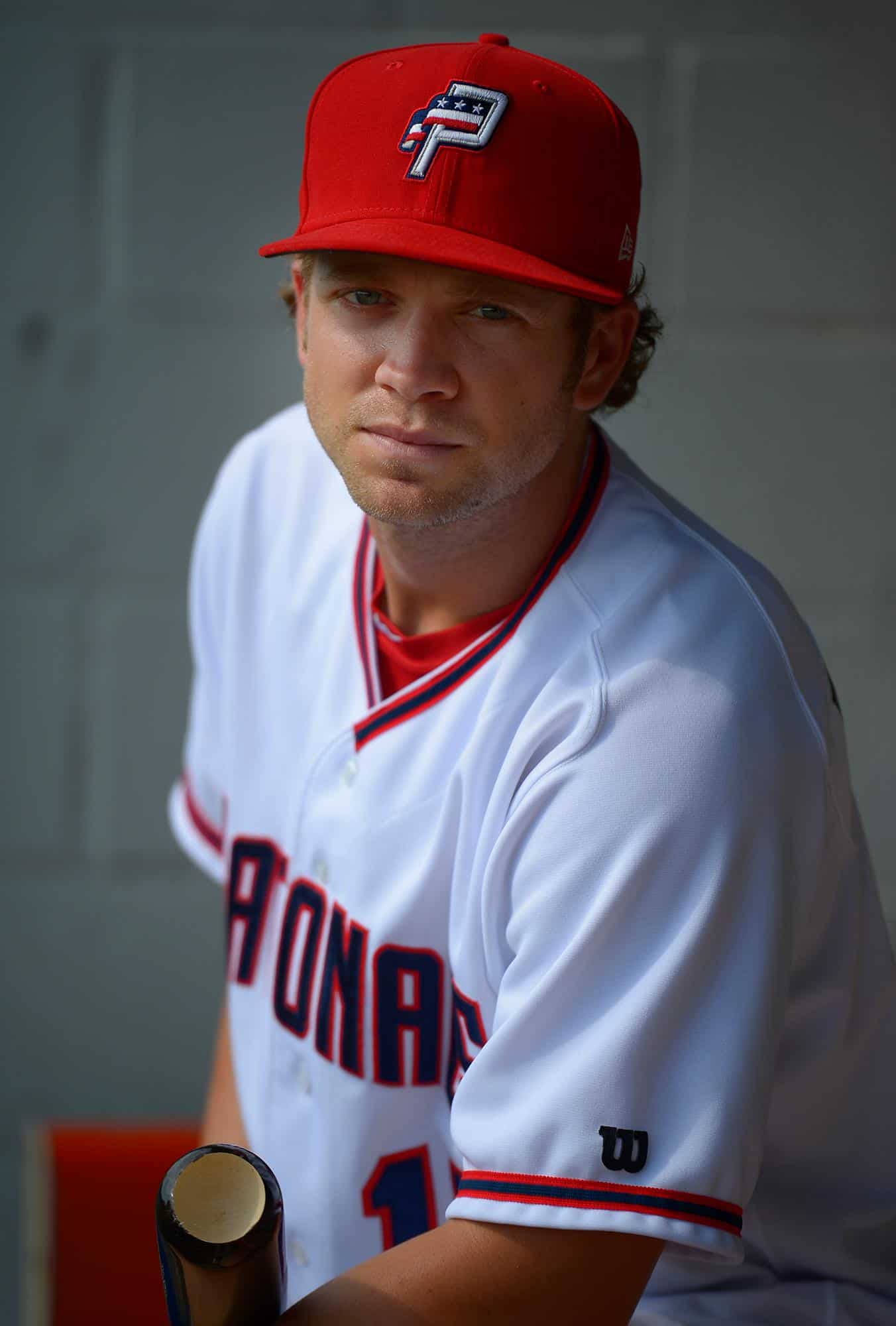 Undoubtedly, Dykstra had a great childhood as he belonged to a well-off family. He got a good education and his parents' support as well.
Today, we dive into the life of Cutter Dykstra. Here, we will discuss his childhood, education, family, age, career, personal life, and net worth.
But first, let us have an instant glance at quick facts.
Quick Facts:
| | |
| --- | --- |
| Full Name | Cutter Dykstra |
| Birth Place | Manhasset, New York |
| Birth Date | June 29, 1989 |
| Nickname | Undefined |
| Religion | Christian |
| Nationality | American |
| Ethnicity | White |
| Father | Lenny Dykstra |
| Mother | Terri Dykstra |
| Education | West Lake High School |
| Horoscope | Cancer |
| Sibling | 2 (Luke Dykstra and Gavin Dykstra) |
| MLB Amateur Debut | 2008 |
| Age | 33 years old |
| Height | 5ft. 9 inch |
| Weight | 82 kg |
| Sexual Orientation | Straight |
| Uncles | Bryan Dykstra, Kevin Dykstra |
| Hair Colour | Light Brown |
| Eye Colour | Hazel |
| Annual Salary | $168,658 per year (average Salary of SVP in the U.S.) |
| Currently Working at | There body |
| Marital Status | Married (Jamie-Lynn Sigler) |
| Children | 2 |
| Profession | Baseball Player, Senior Vice President |
| Net Worth | $2.5 million |
| Positions | The second baseman, Third baseman, and outfielder |
| Social Media | Twitter |
| Merch | Autographed Items |
| Last Update | June, 2023 |
Cutter Dykstra | Family, Education, Early Life
Cutter Dykstra was born in New York Manhasset on June 29, 1989. He was taken to Lenny Dykstra (Father) and Terri Dykstra (mother).
He was born as the middle son of his parents. While growing up, Cutter, including his brothers, loved sports.
Though they loved every sport, their favorite sport was baseball. Three of them spent hours playing baseball with their Father.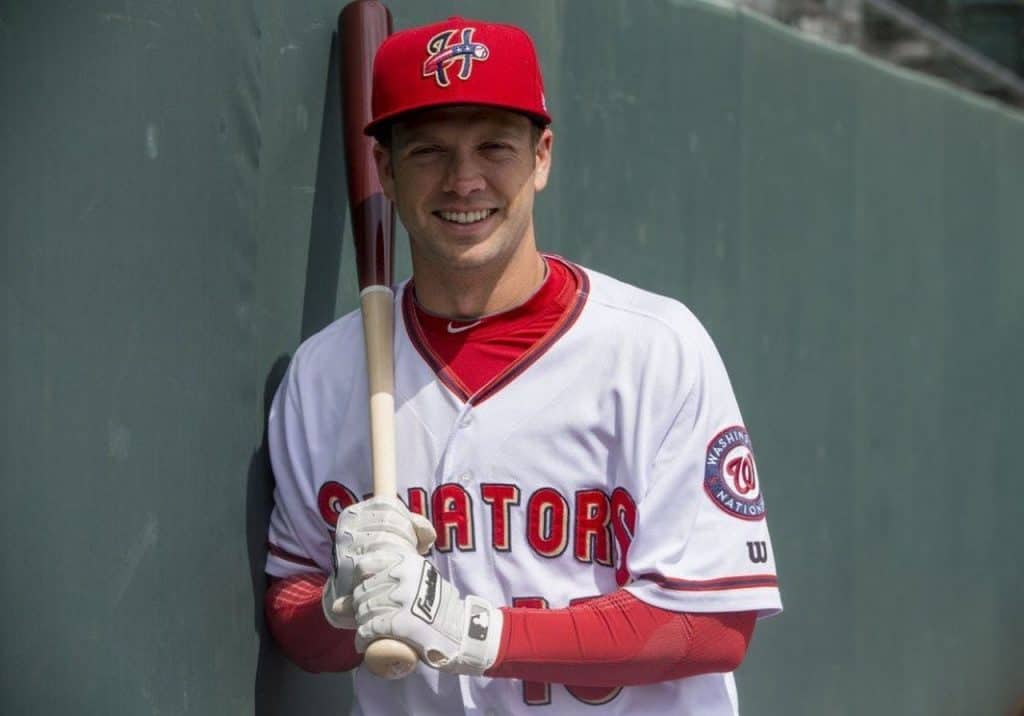 Cutter's Father, Lenny Dykstra, is also a former baseball player. Undoubtedly, Cutter inherited his love and passion for baseball from his Father.
Lenny won the All-Star team three times during his active days. Further, Cutter's parents separated in 2009 after his mother, Terrie, filed for a divorce.
His Father and mother ended their 24 years long marriage. This affected Cutter somewhat, but he managed to keep himself healthy emotionally.
Besides, Cutter's Father was very supportive. Even after the divorce, his Father supported him and his career choice. Cutter mentioned his Father in one of his interviews, saying,
"My dad's been great to me my whole life, and he's helped me through my career every day."
His Father was a three-time All-Star and helped the Mets won the World Series in 1986. Dykstra was entangled in financial and legal problems since his retirement.
He declared bankruptcy in 2009. In 2011, he was arrested and charged with bankruptcy fraud, followed by accusations of grand theft auto, narcotics possession, and indecent exposure in an unrelated case.
He was sentenced to 6.5 months in federal prison. Sadly, his life went south.
Education
Dykstra went to West Lake High School for his high school education. During his high school days, he also used to play baseball.
Likewise, he even participated in many tournaments at his school and was the best player on the school team.
Further, Dykstra's life completely changed when he had to choose whether to continue with his study, get into the scholarship program, or get a chance to be drafted from high school and immediately be a pro baseball player.
Undoubtedly, Cutter chose the second option: becoming a professional baseball player.
After that, in the second round of 2008 MLB, Milwaukee Brewers drafted Cutter. From there, his professional baseball career started.
Cutter Dykstra | Baseball Career
Cutter got the opportunity to debut in MLB at a very early age. However, he has only played for Minor League Teams.
Therefore, he has played for many teams, including Potomac Nations, Hagerstown Suns, and many more.
On June 14, 2016, the National Class AAA team released Cutter. Even though he is a great player, he hasn't made his MLB debut yet.
He has only played in the Minor league till now. Though he has played well and achieved a lot quicker, Cutter has made a career average of .185.
This is not enough to debut in the Major League. However, Dykstra has also been awarded various awards for his outstanding performances during his minor league days.
In 2012, Cutter received an All-Star organization award while playing for Wahington Nationals in the N.L. league.
Similarly, in 2013, the N.L. League awarded Cutter with the All-Star award while playing for Washinton Nationals.
In 2014, he bagged the Mid-Season All-Star award while playing for the Harrisburg Senators in the EAS League.
Significant events in Dykstra's career from 2009-2015
Helena Brewers drafted Cutter Dykstra on May 16, 2009.
Again in 2010, Cutter was drafted to Wisconsin Timber Rattlers from Helena Brewers. Sadly, in August of 2010, Cutter was placed on the seven-day disabled list due to injury.
Similarly, in 2011 he was drafted to Milwaukee Brewers but again, in 2011, he was recruited to Potomac Nationals as Washington nationals drafted Nyjer Morgan to Milwaukee Brewers.
However, in 2012 Dykstra was placed on a disabled list by Hagerstown Suns due to his injury.
In 2013, Dykstra was assigned to Potomac Nationals. However, he couldn't play as he was placed on a disabled list, but later in September 2013, Potomac Nationals activated him from the momentarily dormant list.
Moreover, Cutter was declared a free agent in November 2015. In December 2015, free agent Cutter was signed by Washington Nationals for the Minor League contract.
In 2016, Cutter was placed on seven days disabled list retroactive to May 12, 2016, which ended on May 21, 2016.
Lastly, in June of 2016, Cutter was released from Harrisburg Senators.
Sadly, after Cuter release from the Minor league, not much information has been found about him.
However, according to sources, Cutter worked as V.P., Global Community & Partnership, at Therabody-a fitness and wellness Company– after being released from Harrisburg.
He worked there from November 2016 to February 2019 (2 years,4 months). Currently, he is working as a Chief Business Development Officer. He was in that position till February 2019.
He is now promoted to SVP of Global Sports Marketing in Feb 2022. He has been with the Company for Around 6 years.
You can find him on LinkedIn, where he shares his professional achievements and career updates.
How old is Cutter Dykstra? Age, Height, Body Measurement
Cutter is 33 years old when writing. He has hazel eyes and brown hair with a fair complexion. The baseballer stands 5 ft. 9 inches tall and weighs 82 kg.
He has a good body, and it is undeniable that he has maintained his body well. As a player, he should always be fit and take care of his diet. He has done a great job.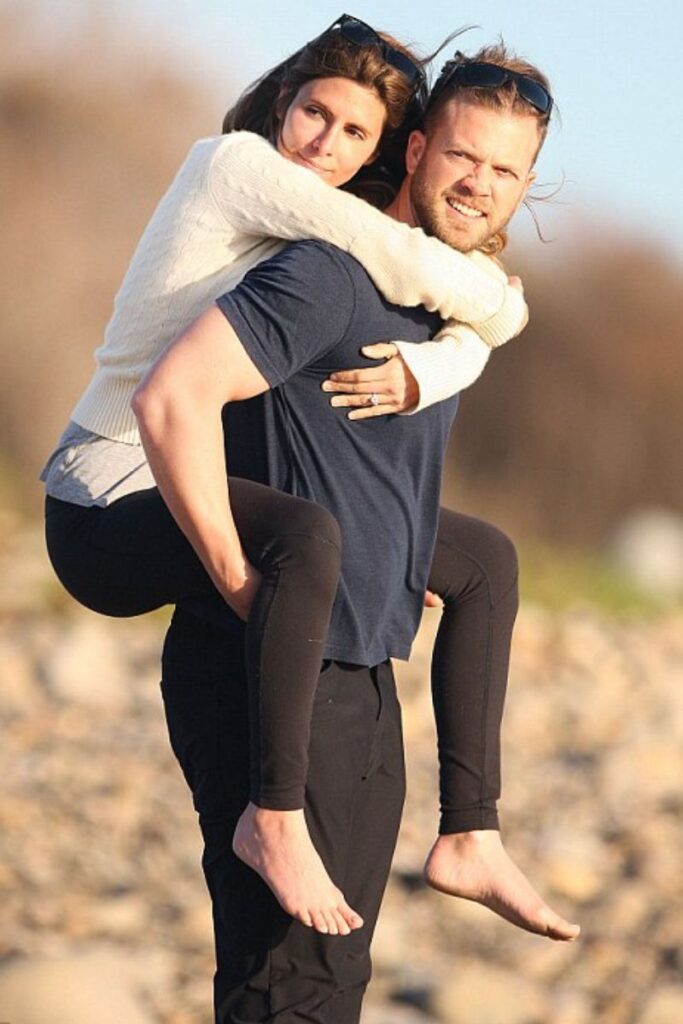 According to Cutter's birth chart horoscope, he is a Cancer. His horoscope defines him as a nurturing, sensitive, and compassionate person.
Undoubtedly, Cutter is a passionate person who loves sports and is dedicated to his work.
Cutter Dykstra | Net Worth
In the short period of his baseball career, he has a net worth of $2.5 million. This is an astounding amount of money for someone to earn at a young age.
Currently, he is a Senior Vice President for the Global Sports Marketing department at Therabody.
As an SVP, Dykstra's annual salary is expected to be $168,658 per year in the U.S. as an average yearly income.
However, not much has been disclosed about his spending behavior and properties.
Cutter Dykstra | Personal Life, Wedding, Kids
Cutter is happily married to his long-time girlfriend, now wife Jamie-Lynn Sigler, and the duo shares 2 kids.
However, Cutter isn't Jamie-Lynn's first husband. Jamie-Lynn was previously married to A.J. Discala.
However, the couple got divorced in 2006. Likewise, after 6 years of her divorce, she met Cutter in 2012. They instantly fell for each other and engaged on January 28, 2013.
Soon after that, in February 2013, the duo announced they were expecting a baby. On August 28, 2013, they welcomed their first son, Beau Kyle Dykstra.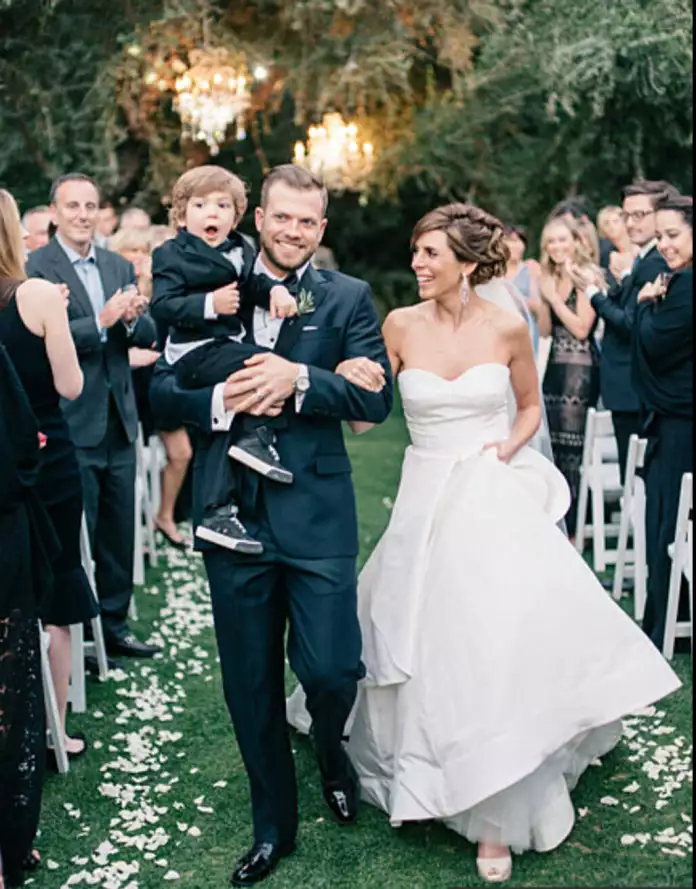 After 3 years of being engaged, finally, in January 2016, they got married. The wedding took place in Palm Springs, California.
Moreover, after 2 years of marriage, the couple was blessed with another child in January 2018.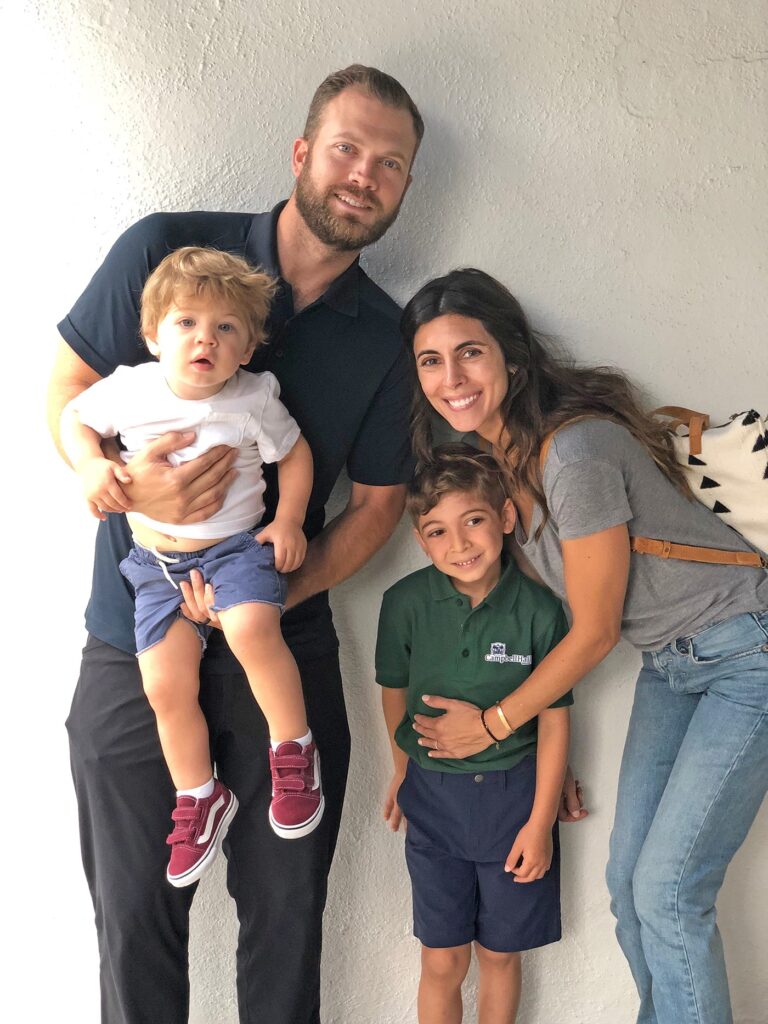 As of now, Cutter is living a happy life with his family. He is a family man and enjoys spending time with his family.
Social media Presence:
He is not available on Instagram. However, he uses Twitter and LinkedIn.
Twitter (@CutterDykstra): 3243 followers
LinkedIn (Cutter Dykstra): 367 Connections
Some FAQs
Was Cutter sentenced to Jail?
Cutter was not sent to Jail. However, his Father, Lenny Dykstra, served nearly 6 and a half months of a three-year jail.
He was arrested for threatening a Uber driver's life and possessing cocaine and ecstasy.
Is Cutter Dykstra in for a trade?
The baseballer played in the Minor League his entire baseball career. He was last known to be played with the Harrisburg Senators in 2016.
Since then, there has been no information regarding his profession or trade.
Has Cutter Dykstra played for Tijuana Toros?
As far as our knowledge, the athlete has not played for the Mexican baseball team, Toros de Tijuana.
What does Jamie-Lyn Sigler do for a living?
Jamie-Lynn Sigler is an American singer and Actress by profession. She is famous for her role as Meadow Soprano on the HBO series The Sopranos.
Did Cutter Dykstra's Father steal his signing bonus?
Although many media outlets reported that Cutter's Father took his $700,000 signing bonus that he invested and lost, the baseballer insists that the news is nothing but a nonsense rumor.
How did Jamie-Lynn Sigler meet Cutter Dykstra?
According to sources, Jamie-Lynn Sigler and Cutter Dykstra first met through mutual friends in 2012.
Is Cutter retired?
No, Cutter is not officially retired from baseball. However, he no longer plays baseball and works as a Chief Business Development Officer.
Was Cutter born in Syracuse, New York?
No, the player was born in Manhasset, New York. He is the son of former baseball player Lenny Dykstra.
What is the jersey number of Cutter?
Cutter wore jersey number #15 during his professional baseball career.
Who is Jamie Lynn Sigler's husband?
Jamie Lynn Sigler's husband is the former baseball player Cutter Dykstra. Cutter is currently working as a senior Vice President at a Company called, Therabody.