Daichi Kamada, a Japanese national, preferably playing as a midfielder for a Bundesliga team, Eintracht Frankfurt. He reached his all-time high transfer market cap since his professional career, i.e., €30 million/ $31.02 million on November 2022.
Kamada is a professional Japanese soccer player who started playing football at an early age and had a successful youth career in Japan.
Moreover, his path toward becoming a professional soccer athlete began after joining the J League club called Sagan Tosu.
Daichi has also represented Japan's national team throughout his senior career.
For the Qatar World Cup 2022, he is included as a midfielder for the Japanese National Team.
Let's get to know all about the early life, international career, professional career, family, and net worth of the famous Nihonjin (Japanese people), Daichi Kamada.
First, here are some quick facts regarding the Japanese footballer.
Daichi Kamada | Quick Facts
Full Name
Daichi Kamada
Birth Date
5th August 1996
Age
26 years old
Birth Place
Ehime, Japan
Nickname
DBasia
Religion
Not Available
Nationality
Japanese
Education
Higashiyama Junior High School
Horoscope
Leo
Father's Name
Fukushige Kamada
Mother's Name
Not Available
Siblings
Daime Kamada
Height
6'/1.84 m/184 cm
Weight
76 kg/ 167.5 lb.
Build
Athletic
Shoe Size
Not Available
Eye Color
Black
Hair Color
Black
Marital Status
Married
Spouse
Not Disclosed
Children
One
Profession
Professional Football Player
Current Team
Eintracht Frankfurt
Number
15
Position
Midfielder
Former Teams
Sagan Tosu
Net Worth
$1- $5 million
Awards and Achievements
2x New Hero Awards of the Yamazaki Nabisco Cup

J League Goal of the Month – 2016

Team of the Week – 2017

German Cup Winner – 17/18

Europa League Winner – 21/22

Merch
Jersey
Social Media
Instagram
Last Update
March, 2023
Daichi Kamada | Early Life, Family & Education
Professional Japanese football athlete Daichi Kamada was born on 5th August 1996 in Ehime, Japan.
His father, Fukushige Kamada, was also a football player in his time.
His father worked at the Osaka University of Physical Education.
Moreover, there is no information regarding Daichi's mother.
Since Daichi's father was once a footballer, he learned how to use his body while playing football under his father's guidance.
Because of his guidance, Kamada was able to go back and forth amidst the attacking third and middle thirds, increasing his number of pass variations.
Additionally, Daichi's younger sibling, Daime Kamada, is also a football athlete.
Growing up, Daichi was interested in playing football from a very young age.
When he was in sixth grade, he played at the Kids FC and helped his team win the TV Ehime Cup Ehime Prefectural Youth Soccer Championship U-12.
Age, Height, And Body Measurements
Daichi turned 26 years old in 2023.
Kamada has an athletic physique and stands 6′ (1.84m) in height. He has black hair, and so are his eyes.
Moreover, Daichi is a Leo, and Leos are generally known for their protective and ambitious nature.
Education
Moving on to Daichi's educational background, he attended Higashiyama Junior High School from 2012 to 2014.
He played football for his school football team and was also a team captain.
However, Daichi didn't go to college as he thought going to college was an unnecessary path for him.
He thought if he went to college and graduate, it would be too late for him to become a professional soccer player.
He always saw himself traveling around the world and playing the sport he loved.
Thus, he did not go to college and began his journey toward becoming a professional footballer after high school.
Daichi Kamada | Career and Profession
Before moving on to Kamada's professional career, let's look into Daichi's youth career first.
Youth Career
Daichi joined a Japanese professional football club called Gamba Osaka when he was in Junior High.
After joining the club, he became part of the U-13 team of the J League.
Unfortunately, because of injuries, Daichi had to let go of the club and return back to school.
He then joined Higashiyama Junior High School in 2012.
After joining high school, he quickly made an impact on the school team as a midfielder.
At the end of the 2013 season, Daichi appeared in eighteen matches and scored 20 goals.
Moreover, during Daichi's third year in high school, he became the team's captain.
Kamada continued with his impressive performances and scored ten goals during the 2014 season, which made him the fourth top scorer.
Because of his performance, several J League clubs took an interest in him while representing his high school.
Likewise, he joined the Sagan Tosu during the 2015 season, and the news was out on 17th November 2014.
Professional Career
Sagan Tosu
During the 2015 season, Daichi was transferred to Sagan Tosu by Higashiyama HS as a free transfer.
Likewise, Kamada made his Sagan Tosu debut during the J League Cup, playing against Albirex Niigata as a substitute on 8th April 2015.
Moreover, on 10th May 2015, Daichi scored his first goal during his J League debut.
Daichi's first five appearances during the 2015 season earned him New Hero Awards of the Yamazaki Nabisco Cup.
Furthermore, after starting as a substitute, Daichi became the first-team regular player playing in the midfield position.
Even after suffering from an injury in the 2015 season, Kamada appeared in 28 games and scored three times during all competitions.
One of the best mid-fielder who plays for Chelsea FC, Christian Pulisic- Injury, Salary, Net Worth, FIFA 21 & Girlfriend>>
Injury
Before the 2016 season, Daichi signed a contract with the Sagan Tosu and continued to play in the midfield.
During the 2016 season, Daichi again won the New Hero Awards of the Yamazaki Nabisco Cup.
Unfortunately, on 20th April 2016, during a match against Yokohama F. Marinos, Daichi suffered an elbow injury, and a substitute took over his place.
Later, he missed the game for two weeks.
Moreover, Daichi returned to play on 13th May 2016 during a game against FC Tokyo, where he played for 55 minutes.
On 18th June 2016, Daichi scored his first goal of the season while playing against Gamba Osaka.
After returning to the first team from injury, Daichi regained his first-team place for the remaining 2016 season.
Kamada then scored twice again in a 3–2 win against Kashiwa Reysol on 22nd October 2016.
Kamada's goal against the Kashiwa Reysol earned him J League Goal of the Month honors in October.
He made 34 appearances and scored eight times in all competitions in the 2016 season.
Last Season With Sagan Tosu
Before the 2017 season, Daichi switched his jersey number from #24 to #7.
He also signed a contract extension with Sagan Tosu and continued to regain his first-team place as a midfielder at the start of the 2017 season.
Moreover, due to Daichi's performance, while playing against the Hokkaido Consadole, Sapporo earned him the Team of the Week honors.
Kamada's last appearance with the Sagan Tosu was on the 25th June 2017 match against Urawa Red Diamonds.
He scored the first goal in the game, and the club won by 2-1.
During the first half of the 2017 season, Kamada made 16 appearances while representing Sagan Tosu and scored three goals.
Eintracht Frankfurt
Daichi joined the Bundesliga Club, Eintracht Frankfurt, on July 1, 2017, after signing a four-year contract keeping him with the club until 2021.
Reportedly, Kamada's transfer fee was about €1.60 million/$1.65 million.
Moreover, Kamada made his debut representing Frankfurt during a match against the TuS Erndtebruck, where he played for 73 minutes.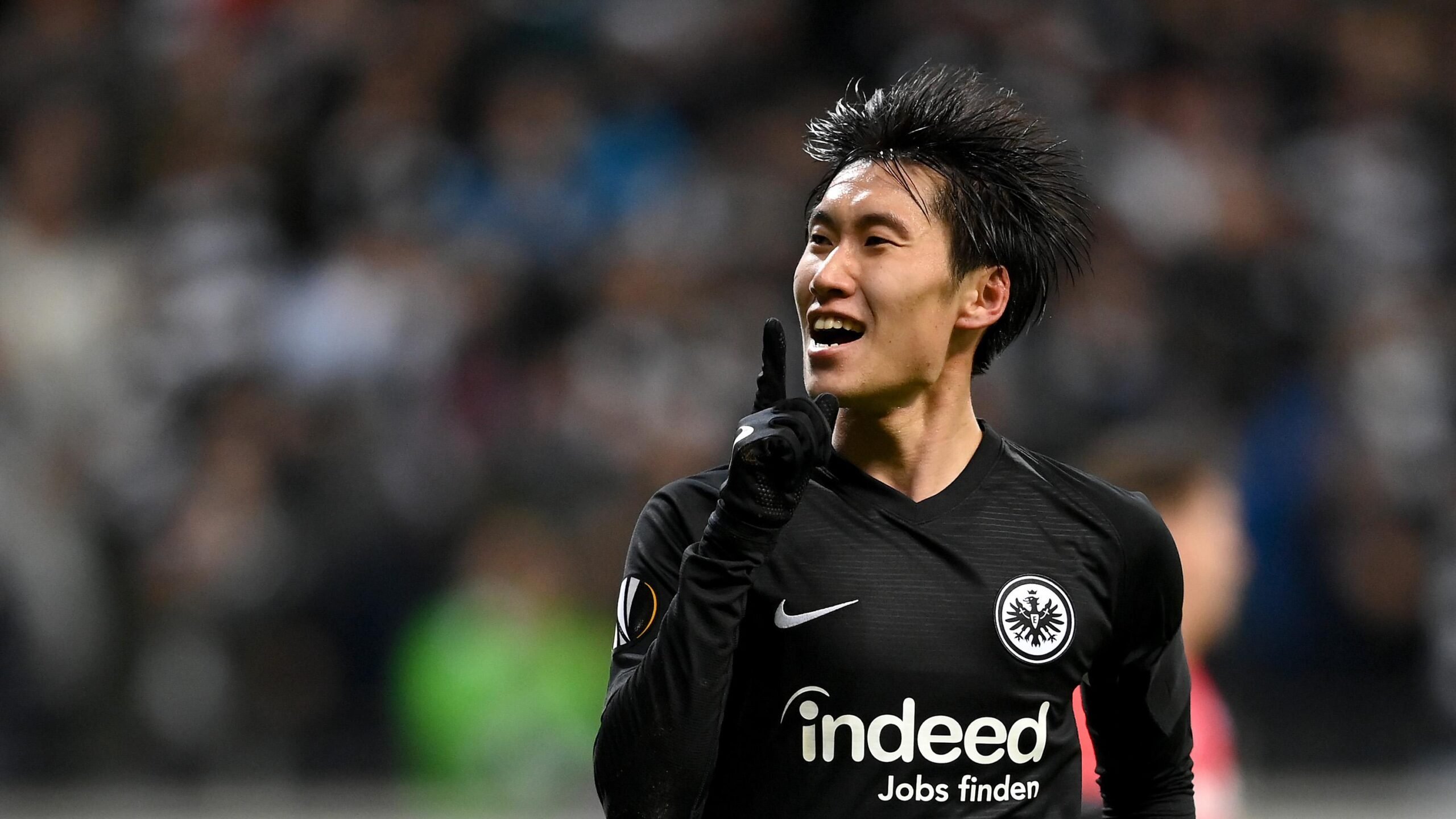 Likewise, he made his league debut in a match against SC Freiburg.
Frankfurt's manager Niko Kovac exclaimed about Daichi's progress stating that he was excellent in his ball techniques and was very good with the gaps.
Furthermore, Kamada made four appearances in all competitions representing Frankfurt at the end of the 2017-2018 season.
Learn About One Of The Top-Class Defenders Paolo Maldini- Net Worth, Father, Stats, Wife, & Son>>
Sint-Truiden
On 1st August 2018, Daichi was loaned out by Frankfurt to Belgian side Sint-Truiden for the rest of the 2018–2019 season.
He quickly impacted the team after he scored in his debut match on 16th September 2018.
After his debut for Sint-Truiden, Daichi quickly ascended himself to the first team, playing as a midfielder and striker.
Between 6th October 2018 and 27th October 2018, Kamada recorded three consecutive goals in three matches while playing against Club Brugge, Royal Excel Mouscron, and K.V. Kortrijk.
During the 2018–2019 season, Daichi had 36 appearances and recorded 16 goals in all competitions.
Return To
Eintracht Frankfurt
Furthermore, during the 2019–20 season, Daichi returned from Sint-Truiden and became the first-team regular player for Eintracht Frankfurt.
He played as a second striker for the team.
Upon returning, Kamada scored his first goal during a 5–3 win against Waldhof Mannheim in the DFB–Pokal.
Likewise, Daichi played against RC Strasbourg in both halves of the UEFA Europa League Play-Off Round and helped his team win 3–1 on aggregate and reach the Group Stage.
Frankfurt manager Adi Hutter praised Kamada's performance and stated that Kamada has matured and exhibited himself exceptionally.
Second Injury
Unfortunately, at the beginning of the 2020 season, Daichi sustained a torn ligament and had to stay out of the game throughout January.
He returned to play on 1st February 2020 as the starting line-up and played for 54 minutes.
Moreover, even though the 2020 season was suspended because of the COVID-19 pandemic, Daichi made 47 appearances and scored 16 times in all competitions representing Frankfurt.
Kamada's exceptional performances made him the club's top scorer of the 2019–2020 season.
You Can Give A Read About The Mexican Professional Soccer Player Alan Pulido- Salary, FIFA 21, Team, Kidnapping & Wife>>
International Career
As Daichi was part of Japan's youth team in 2015, the senior Japan team called Daichi again to represent the U21 squad.
Kamada made two appearances with the U21 team.
Similarly, Daichi became part of the Japan U23 squad in March 2016.
While representing the U23 team, his debut match was against the Mexico U23 as a 65th-minute substitute.
Daichi made his first start while representing the Japan U23 in a game against Guinea U23 on 25th May 2016.
Kamada played for 64 minutes until a substitute took over him.
He went on to make four appearances for the U23 team.
Moreover, Daichi could not make it to the Japanese squad playing for the 2019 AFC Asian Cup. However, he was called by the Japan squad on 15th March 2019.
Thus, Kamada made his debut representing Japan's national football team on 22nd March 2019 while playing in a friendly match against Colombia.
He scored his first goal for the team in a 6–0 win while playing against Mongolia on 10th October 2019.
He has made 21 appearances for the National Team and found nets for a total of 6 times.
Daichi Kamada | Net Worth
Daichi is one of the most influential football players in the Bundesliga.
Looking back at his contract details, his transfer from Sagan Tosu to Eintracht Frankfurt was around €1.60 million/ $1.65 million.
Moreover, according to transfermarkt.com, Kamada's market value from 2015 to 2017 ranged between €750k/ $775.61K.
Likewise, his market value from 2018-2021 was between €1 million- €25 million ($1.03m – $25.85m).
Though, he reached his highest market value on Nov 9, 2022. He is currently valued at €30 million/ $31.02 million.
Thus, we can state that-
The net worth of Daichi Kamada is in the range of $1 – $5 million.
Daichi Kamada | Wife and Children
Kamada announced his marriage on 25th May 2017 and got married in December 2017.
Daichi is very secretive about his personal matters and has not shared anything regarding his relationships, even on his social media.
Thus, the name of his wife and the details regarding their relationship are unknown.
Moreover, Daichi has a son, whose name is also not been disclosed yet.
Reportedly, Daichi and his family live in Germany.
Daichi Kamada | Social Media Presence
For the ones who are interested in Daichi's life besides soccer can follow him on his social. He is seen frequently uploading his whereabouts in the Instagram under his handle @kamadadaichi.
However, we could not any details on his Facebook and Twitter accounts.
Instagram: 109k followers
View this post on Instagram
Daichi Kamada | FAQs
Did Daichi Kamada extend his contract with the Eintracht Frankfurt?
Yes, Daichi Kamada signed a contract extension with Eintracht Frankfurt until 2023.
Is Daichi Kamada the highest-paid Japanese football player in the world?
No, Daichi Kamada is not the highest-paid Japanese football player in the world.
Click Here To Learn About Another Japanese Professional Soccer Player Playing For Liverpool, Takumi Minamino>>