Paolo Maldini, an Italian retired professional football athlete, is a renowned name in the football world. He played as a left-back and central defender position throughout his football career.
Moreover, he is considered one of the best defenders and most outstanding athletes of all time.
He has spent his entire playing career of 25 seasons representing Milan. In total, Maldini has won almost 25 trophies with the club.
Some of his significant achievements were: the Best Defender Trophy, Serie A Defender of the Year Honor, World Soccer Player of the Year Award, etc.
Because of his exceptional skills, Paolo became the first-ever defender selected to be part of the FIFA World Player of the Year award.
He was one of the best captains for both Milan and Italy national team, which earned him his famous nickname "II Capitano."
Furthermore, after retiring, Maldini works as a technical director for A.C. Milan, his former football club. Additionally, he is also the co-owner of USLC's Miami FC.
Now, let's move onto the insights of the legendary football defender Paolo Maldini. First, let's look into some quick facts about II Capitano.
Paolo Maldini | Quick Facts
Full Name
Paolo Cesare Maldini
Birth Date
June 26th, 1968
Birth Place
Milan, Italy
Age
54 Years Old
Nickname
II Capitano
Religion
Christianity
Nationality
Italian
Education
Not Available
Horoscope
Cancer
Father's Name
Cesare Maldini
Mother's Name
Maria Luisa De Maldini
Siblings
Alessando Maldini, Pier Cesare Maldini
Height
6'2" (1.87 m)
Weight
85 kgs
Build
Athletic
Shoe Size
Not Available
Eye Color
Blue
Hair Color
Light Brown
Marital Status
Married
Spouse
Adriana Fossa
Children
Christian Maldini, Daniel Maldini
Profession
Retired Professional Football Player
Former Teams
Milan
Net Worth
$25 million
Awards and Achievements
5x European Cup/UEFA Champions League

7x Seven Serie A titles,

Best Defender

Serie A Defender of the Year Award etc.

Social Media
Instagram, Facebook
Last Update
October, 2022
Paolo Maldini | Early Life, Family, & Education
One of the greatest defenders and athlete Paolo Maldini was born on June 26th, 1968, in Milan, Italy, to his proud parents Cesare Maldini and Maria Luisa De Maldini.
Maldini's father, Cesare, was also a former football player who played in a defensive position just like him.
Moreover, he was also the captain of Milan and played for the Italy National Team. It is quite apparent that Paolo followed in his father's footsteps.
After retiring, his father became a coach and coached him throughout his Italy Under-21 and Senior Team career.
Unfortunately, Paolo's father passed away on April 3rd, 2016, at the age of 84, and his mother, Maria, also passed away on July 28th, 2016.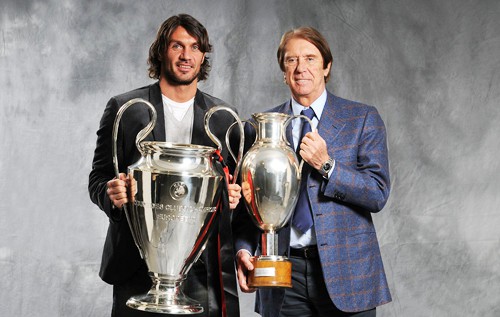 Likewise, Paolo has five siblings in total: two brothers, Alessando Maldini and Pier Cesare Maldini, and three sisters, whose names and whereabouts are unknown.
According to the horoscope, Maldini falls under the sun sign of Cancer. People with Cancer as their sun sign are mostly known for their protective and intuitive nature.
Age, Height, and Body Measurements
Furthermore, Maldini turned 54 years in 2022. He stands at the height of 6'2" (1.87 m) and weighs around 85 kgs. Also, he has blue eyes and light brown hair.
Paolo Maldini | Career and Profession
Early Career
Maldini started his journey with the Milan Youth side and won the Coppa Italia Primavera honors in the 1984–1985 season. Moreover, on January 20th,1985, Paolo made his professional league under Nils Liedholm after Serigo Battistini was injured.
Furthermore, Paolo made his European competition on August 18th, 1985. He recorded his career first 29 goals in Serie A on January 4th, 1987, while playing against Italian football club Como.
Professional Career
The Immortals
Maldini won his first trophy and league titles with his club under coach Arrigo Sacchi.
Moreover, in the 1987–1988 season of Serie A, the club conceded 14 goals and finished as the best defense of team Italy. Also, the team went on to win the Serie A winning title.
The team was given the nickname "The Immortals" in the same season.
Likewise, Paolo led the team to win the 1988 Supercoppa Italiana the following season and won the trophy of European Cup titles back-to-back in 1988–1989 and 1989–1990.
Furthermore, Maldini made his hundredth appearance in Serie A on February 19th, 1989. In 1989 and 1990, the team also achieved successive Intercontinental Cup titles and consecutive European Super Cup titles.
Paolo won the Bravo Award in 1989 for being the best under-23 football player in the European Competitions.
The Invincibles
Paolo continued to be part of the club's undefeated Serie A team, which won the 1991–1992 season championship, and altogether they had an unbeaten record of 58 league matches.
Hence, they were famous throughout the tournament as "The Invincibles."
Moreover, in the following season, Paolo helped Milan defend the Serie A title and reach the UEFA Champions League finals.
In the same season, he scored his first-ever goal on October 21st, 1992, in the Champions League while playing against Slovan Bratislava.
Likewise, Maldini won his third Champions League title and reached the 1994 World Cup final, where he became the first defender to win the World Soccer magazine's annual World Player of the Year Award.
While receiving his award, he stated-
"A matter of pride because defenders usually receive much less attention from fans and the media compared to goal scorers. We are more likely in the engine room rather than receiving the glory."
After his statement, Paolo singled out captain Franco Baresi and defined him as the player who deserved the award he received.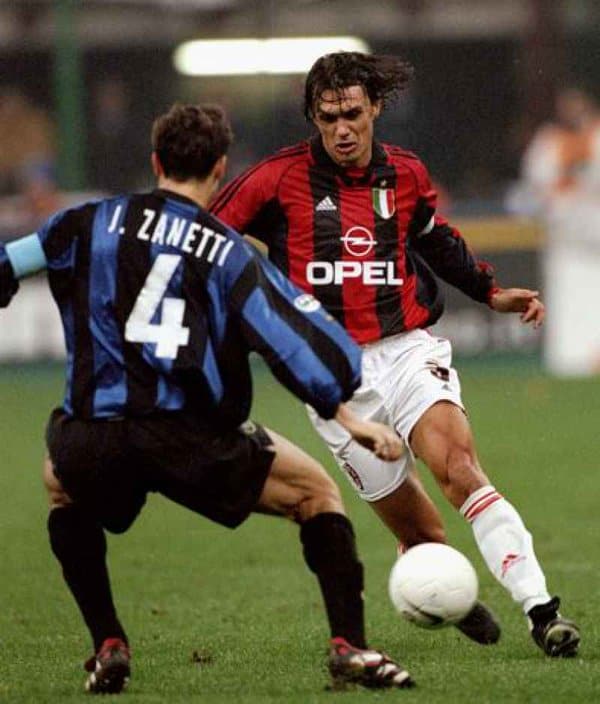 Likewise, Paolo was the third player in the 1994 Ballon d'Or. Also, he was fifth in the FIFA World Player of the Year Award.
The next season the Milan team and Paolo won the European Super Cup and conquered their third consecutive Supercoppa Italiana.
Team Captain
After the retirement of players Franco Baresi and Mauro Tassotti after the 1996–1997 season, Paolo became Milan's captain.
That season was quite difficult for them, but through Paolo's exceptional leadership, the team reached the Coppa Italia finals in season 1998. Similarly, the team won the 1998–1899 Serie A title with Paolo as the team captain.
Moreover, because of Maldini's sportsmanship and career achievements, he won the Premio Nazionale Carriera Esemplare "Gaetano Scirea" honors in 2002.
Likewise, Paolo won his career's first Coppa Italia while defeating Roma during the finals. The team won the 2002–2003 Champions League with Paolo as team captain, which was also the first time.
During the European Championship game on May 28th, 2003, Paolo led team Milan keep a clean sheet while they defeated Juventus.
That day marked precisely 40 years since his father also held the European Cup trophy as Milan's team captain.
Paolo and his father are one of three father-son pairs to have recorded such accomplishment to date.
Furthermore, Paolo was part of Pele's selection, including the 125 greatest living footballers called the FIFA 100 list in 2004. In 2004, he won the Serie A Defender of the Year honors at the Italian footballing Awards.
Maldini as the Oldest Captain
Paolo started the next season with the 2004 Supercoppa Italiana cup as captain after the team defeated Lazio.
As a 38-year-old captain, Paolo became the oldest captain who lifted the Champions League trophy. Likewise, he was also the first European team captain who lifted the FIFA World Cup trophy.
Moreover, during the end of 2007-2008, Maldini announced his plans to stating that he would retire with "no regrets."
However, he delayed his retirement by signing a contract extension on June 6th and was present with team Milan for the 2008–2009 season.
Before Retirement
Moreover, in 2008, Paolo won the FIFA Order of Merit honors and the Premio Internazionale Giacinto Facchetti honors awarded to a player who demonstrated skill and fair play throughout his career.
Paolo announced that he would retire at the end of the 2008–2009 season on April 18th, 2009. His last match on May 24th in San Siro ended with a standing ovation by the fans.
Likewise, Paolo's last appearance for Milan was on May 31st, 2009, against Fiorentina, where he received a standing ovation from the fans once again.
His jersey was retired by Milan. However, they stated that it will be passed to one of his sons if they ever make it to Milan's senior team.
In Monte Carlo on August 28th, 2009, The UEFA gave a prize for Paolo's career. Similarly, the Spanish sports newspaper Marca awarded Paolo with the "Marca Leyenda" honors on November 17th, 2009.
International Career
Maldini started his international career in 1986 when his father called him to the Italian under-21 national team. He made his debut on November 12th, 1986.
His first FIFA World Cup was in 1990, and he appeared in all seven Italy matches. Additionally, Paolo helped Italy win five consecutive games, and he was a starting member of the defense.
Moreover, in 1990, Paolo was part of the "Team of the Tournament," which was the same honor that his father received 32 years before during the 1962 World Cup.
At the age of 34, Paolo retired from his international football career as Italy's most capped player.
He scored seven international goals in home games throughout his career, and he spent over half of his 16 years as an international team captain.
Altogether, Paolo made 23 appearances in World Cups, and he holds the record for most minutes played in World Cup matches.
Career Statistics
| | | | | | | |
| --- | --- | --- | --- | --- | --- | --- |
| Competition | Appearances | Goals | Assists | Yellow Cards | Red Cards | Minutes Played |
| Serie A | 647 | 29 | 28 | 69 | 3 | 56.484′ |
| Champions League | 116 | 3 | 6 | 15 | – | 9.799′ |
| Italy Cup | 72 | 1 | 5 | 4 | – | 6.212′ |
| UEFA Cup | 22 | – | 1 | 2 | – | 1.950′ |
| European Cup | 19 | – | 1 | 1 | – | 1.800′ |
| UEFA Super Cup | 7 | – | 1 | – | – | 660′ |
| Supercoppa Italiana | 6 | – | 1 | 1 | – | 570′ |
| Intercontinental Cup | 5 | – | – | – | – | 445′ |
| Champions League Qu. | 4 | – | – | – | – | 360′ |
| Club World Cup | 2 | – | – | – | – | 100′ |
| Play-Out Serie A | 1 | – | – | – | – | 120′ |
After Retirement Career
In 2012, Maldini became part of the Italian Football Hall of Fame.
After his retirement, Maldini participated in the 11th Match Against Poverty held on March 4th, 2014, held in Bern, Switzerland. The proceeds raised during the game were aimed towards the Philippines' recovery efforts during the wake of Typhoon Haiyan.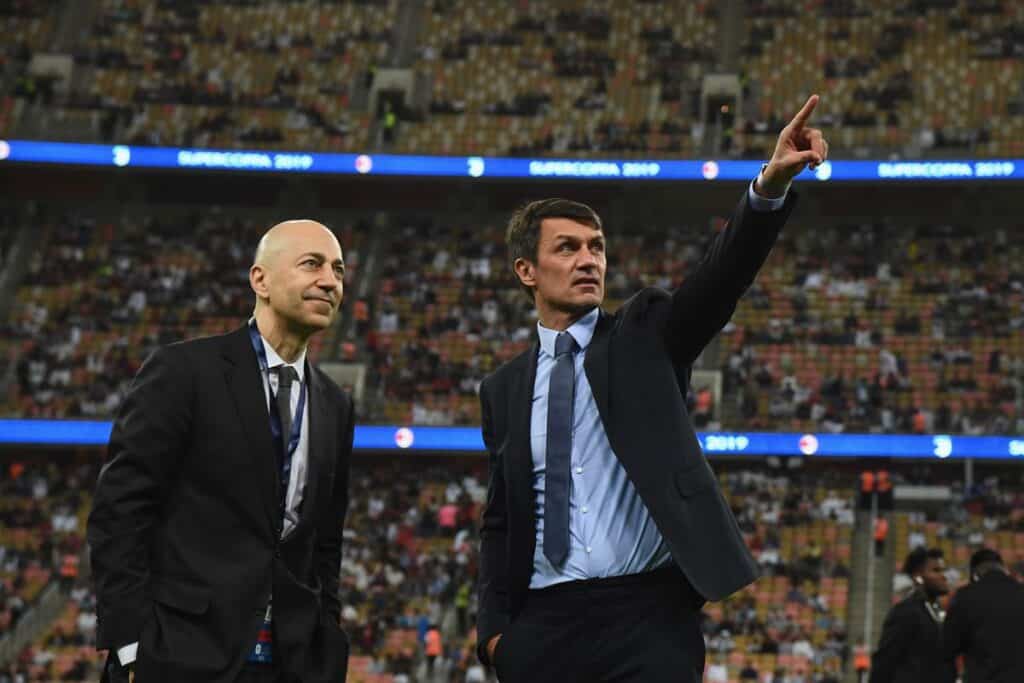 Similarly, on September 1st, 2014, he participated in the "Match for Peace," held at the Stadio Olimpico, Rome. The proceeds raised during this game were donated towards charity.
Moreover, in May 2015, Paolo became the North American Soccer League's club Miami FC co-owner.
Paolo became the second player to receive the One Club Man Award from a Spanish professional football club, Athletic Bilbao, on May 1st, 2016.
Furthermore, in August 2018, Maldini accepted an offer to become the club's sporting strategy & development director.
His acceptance of the offer marked his comeback to the club after he retired from active football.
Maldini became the technical director of club Milan on June 14th, 2019.
Paolo Maldini | Legacy
Maldini was indeed considered a legend during his active years. His tactical versatility with both of his feet allowed him to play anywhere along the backline, which resulted in him having a prosperous professional career.
According to fellow retired professional footballer Ronaldo Luís Nazário de Lima, aka Ronaldo-
"I always found it very tough when I came up against Paolo Maldini. He was one of the best defenders I faced over the route of my career. He surely deserved to win FIFA World Player of the Year award several times over."
Likewise, when a former Italian professional footballer, Roberto Baggio, was questioned about who he thought was the best defender that he ever faced, he stated-
"Paolo Maldini, when you saw him in front of you, you knew you would not pass. He was big. He was strong with his right foot, head, his left foot… You needed to put at least 15 players together to make one like him."
Similarly, former Brazilian professional footballer Ronaldo de Assis Moreira, aka, Ronaldinho explained Maldini as:
"He was…best defenders in the history of Champions League, but what was so remarkable about him was that when he was on the ball he didn't look like a defender, instead he looked like an elegant midfield player."
Paolo Maldini | Awards and Achievements
Club
Serie A (1987–1988, 1991–1992, 1992–1993, 1993–1994, 1995–1996, 1998–1999, 2003–2004)
Coppa Italia (2002–2003)
European Cup/UEFA Champions League (1988–1989, 1989–1990, 1993–1994, 2002–2003, 2006–2007)
Intercontinental Cup (1989, 1990)
Supercoppa Italiana (1988, 1992, 1993, 1994, 2004)
European/UEFA Super Cup (1989, 1990, 1994, 2003)
FIFA Club World Cup 2007
Individual
UEFA European Championship Team of the Tournament- (1988, 1996, 2000)
Bravo Award 1989
Ballon d'Or- Third place 1994, 2003
FIFA World Cup All-Star Team (1990, 1994)
El País European Player of the Year 1994
World Soccer Player of the Year 1994
UNICEF European Footballer of the Season (1993–1994)
FIFA World Player of the Year- Silver Award 1995
ESM Team of the Year (1994–1995, 1995–1996, 1999–2000, 2002–2003)
FIFA XI 2002
Premio Nazionale Carriera Esemplare "Gaetano Scirea"- 2002
UEFA Team of the Year (2003, 2005)
FIFA World Cup Dream Team 2002

UEFA's Final Man of the Match 2003

Serie A Defender of the Year 2004
UEFA President's Award 2003
Premio Internazionale Giacinto Facchetti 2008
UEFA Club Defender of the Year 2007
Italian Football Hall of Fame 2012
One Club Man Award 2016
AC Milan Hall of Fame
Walk of Fame of Italian sport 2018
Ballon d'Or Dream Team 2020
Paolo Maldini | Net Worth
Former football legend Paolo Maldini has been playing professionally since 1987, and since his retirement, he has been working as the technical director of AC Milan.
Apart from his football career, he has worked with various famous brands. He appeared in multiple commercials of Nike.
He was also part of the EA Sports FIFA video game series and became one of the Ultimate Team Legends in a sports association game called FIFA 14.
Although the information regarding his contract details and salary has not been revealed through any sources, we can assume that he has earned an impressive amount of wealth by looking back at his very successful career.
Thus, the presumable net worth of Paolo Maldini falls around $25 million.
Paolo Maldini | Wife and Children
Maldini is married to a former Venezuelan model, Adriana Fossa. The couple has been married since December 1994. Together they have two children Christian Maldini and Daniel Maldini.
Christian was born on June 14th, 1996, and Daniel was born on October 11th, 2001. Both of his sons are footballers like himself and represent the club Milan. They represented Milan's youth teams as well.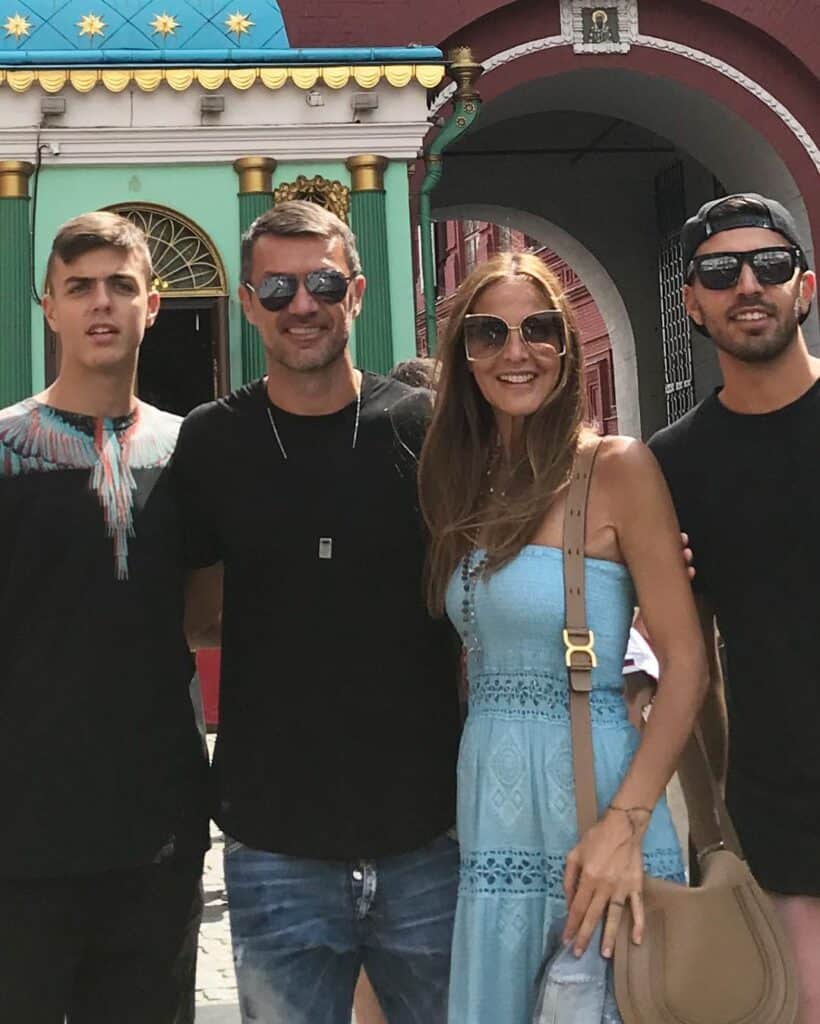 Paolo Maldini | Social Media Presence
Instagram– 1.9 million Followers
Facebook– 2 million Followers
Common Queries about Paolo Maldini
Is Maldini the best defender ever?
According to sportsbible.com polls, the fans voted Paolo Maldini as the best defender of all time.
Was Maldini a left-back or Center-back?
Maldini started his career as a left-back, and during the last final years of his career, he switched to a center-back position.
Which jersey number did Paolo Maldini wear?
Paolo Maldini wore jersey number 3 for the A.C. Milan.
What age did Paolo Maldini retire at?
Paolo Maldini retired at the age of 41 in 2009 after spending 25 seasons in the Serie A with Milan.
Did Paolo Maldini test positive for Corona Virus?
Paolo Maldini and his son Daniel Maldini tested positive for Covid-19 in March 2020.
Interesting Facts about Paolo Maldini
Paolo has a fashion label called the Sweet Years that he runs with Christian Vieri, his friend, and former Italy and Milan teammate.
Maldini had an exceptional record of 647 appearances in Serie A, which was finally broken by Gianluigi Buffon in 2020.