Dani Alves is a professional football player in Brazil and plays as a right-back and an attacking midfielder. He plays for Sao Paulo FC and captions the Brazil national team. For various causes, he is regarded as the most polished player in football history who has won more than 40 trophies.
Moreover, he has won nine European medals as he is the second most decorated defender of all time in European competitions. He had joined Barcelona in 2008, but he spent fruitful six years with Sevilla and won two UEFA Cups and the Copa Del Rey. Similarly, his hard work let him win the Supercopa de Espana, the FIFA Club World Cup, and UEFA Super Cup.
Following 100 quotes by this great personality will help you in most of the stages of your life. Have a look once, and do follow them.
"You have to be strong and calm to overcome difficult moments."― Dani Alves
"In life, we should explore options outside our comfort zone."― Dani Alves
"Even without tactical discipline, what is important for a team is having players with maturity and a sense of responsibility."― Dani Alves
4th of 100 Dani Alves Quotes
"I think we always look up to legends and people who not only win but give us a larger than life role model… I think Michael Jordan is this, someone who became bigger than his sport."― Dani Alves
"At Barcelona, it wasn't about winning all the time; it was first about how to win."― Dani Alves
"I'm a good crazy. A crazy good guy. Someone who makes the most of life."― Dani Alves
"I have flaws, but I'm honest."― Dani Alves
"I have faced many, but the most annoying was James Milner. He follows you forward and follows you backwards. It's very difficult because he attacks you and defends you, and then attacks you and defends you again."― Dani Alves
"Guardiola improved me a lot as a footballer. He taught me a lot of things, and that's why, in every interview I'm asked, I always say the same thing: He is the best manager that I have worked with."― Dani Alves
"When things begin to go negative, sometimes we just have to cover our ears and not let such circumstances influence us."― Dani Alves
"The world is evolving, and we must evolve with it."― Dani Alves
"I know that if the people close to me are happy, I am happy, and I can do my job better."― Dani Alves
"Behind the footballer, there is a human being."― Dani Alves
"I respect people with high levels of self-esteem."― Dani Alves
"Sometimes, words are twisted and don't reach people in their intended way."― Dani Alves
"English football is a type of football which excites me a lot."― Dani Alves
"The most important thing in life is to know where you come from, and I know where I come from."― Dani Alves
"If people only knew how much I respect Cristiano Ronaldo. I will repeat it to make myself clear: I respect Cristiano Ronaldo."― Dani Alves
"In life, people move on their interests and even more when money is an issue."― Dani Alves
"For those who are genuinely passionate about football, Barca are worthy of admiration."― Dani Alves
"All my fights with Cristiano were because of the press."― Dani Alves
"At other clubs I have been, at Juventus, at Barca, we had two 'ships': one for the domestic league and another for the Champions League."― Dani Alves
"People who want to know who I am, or my history, put my name into Google."― Dani Alves
24th of 100 Dani Alves Quotes
"Everything Neymar does turns into news. If he gets emotional, they criticise. If he colours his hair, they criticise."― Dani Alves
"Yes, I love shoes and especially Jordans; they're always beautiful."― Dani Alves
"My parents gave me a practical example of what life was about, and I won't forget that."― Dani Alves
"Jose Mourinho is a great coach. I would really like to work with him, and I once came close. He knows what weapons to use against teams, and he has won everything."― Dani Alves
"I enjoy gastronomy, music, and fashion, so I'll end up involved in one of those three areas – or all three! They're things I have a passion for, and I only do what I'm passionate about."― Dani Alves
"I like my decisions to be taken carefully, so they don't harm anyone close to me, so that the people close to me are happy."― Dani Alves
"In life, you have to weigh everything up, even when they are just decisions about your career."― Dani Alves
"The idea that I might finish my career without going to the Premier League, it is not possible."― Dani Alves
"I have lived with a lot of racism in Spain. Unfortunately, I have had to learn to deal with it."― Dani Alves
"Fans insult me and call me 'monkey.' At first, I was quite shocked, but now I do not give it importance."― Dani Alves
"Google seems to be more intelligent than some people."― Dani Alves
"I am so dedicated, so passionate, and that counts for more than what crazy people throw at me."― Dani Alves
"I never hid my move to Real Madrid was almost done… my fate changed, and I arrived at Barcelona instead."― Dani Alves
"For me, Thiago Silva remains the best defender in the world."― Dani Alves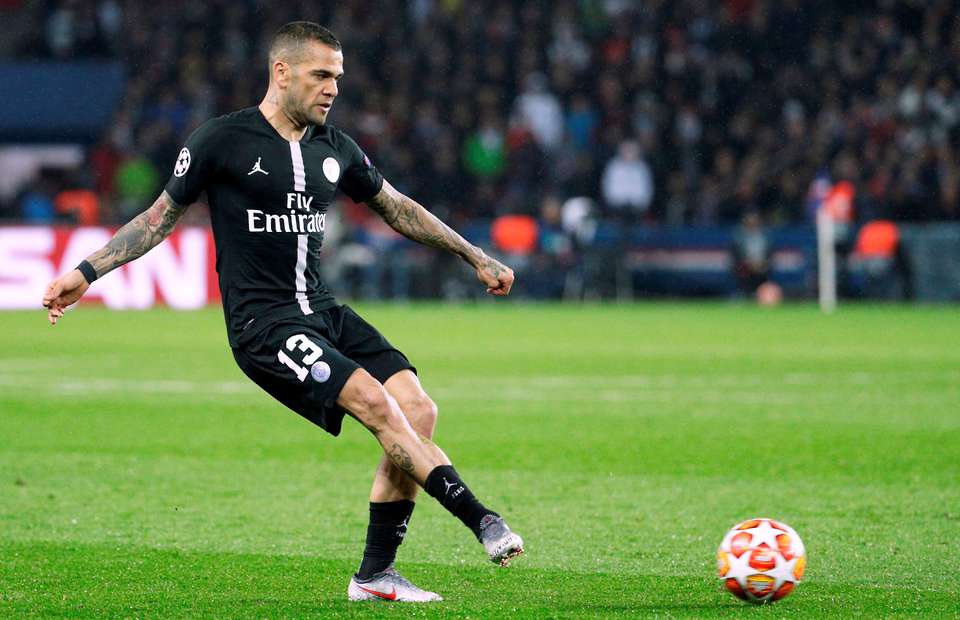 "Decisions are for the brave, and I am the bravest, deciding to leave Barcelona and Juventus."― Dani Alves
"What happens on the pitch stays on the pitch."― Dani Alves
"Sometimes I think that people are not prepared to listen and discuss truths."― Dani Alves
"I like to have personality in my way of dressing. I think being normal is a bit boring."― Dani Alves
"I've already promised that I want to end my career where I started it, as a way of thanking those who gave me the chance to make my name in football. I want to have a spell there before I retire, but one that's enjoyable for me and for them, too."― Dani Alves
"I always think about life, and I think that we are here with a mission, and once we have done our mission, we go somewhere else."― Dani Alves
44th of 100 Dani Alves Quotes
"Criticising is a weapon of the weak."― Dani Alves
"Those who know Neymar know his great quality and how special he is. And I insist again, we have to take care of players like that; they illuminate football. It's players like him that make football have any sense."― Dani Alves
"It is hard to improve someone as a player, but is easier to help someone become a better person."― Dani Alves
"Barcelona is my home. It's impossible to say that I wouldn't return."― Dani Alves
"I left hurt because I think I fought hard to create a great history at Barcelona. I left with 23 titles in eight years."― Dani Alves
"I'm a very restless person, and new experiences excite me more than anything else."― Dani Alves
"At Brazil, we play as a collective, something that also happens in Barcelona, but not at Real Madrid."― Dani Alves
"I think that the best player in the world should be quiet, humble, and friendly. Lionel Messi is all of these things, while Cristiano often lacks some of these qualities."― Dani Alves
"I would not play in Madrid. If I leave Barca, I would not go there. My Madrid train has passed."― Dani Alves
"If you lose a title, perhaps it's because your rivals are better than you are. But to be demoted from the top flight is really heartbreaking."― Dani Alves
"I don't understand why everyone fights for power, money, fame."― Dani Alves
"Money's a necessary evil, there to give you moments. It gives me things I couldn't have – nice things – but happiness? That's not a question of money and fame. Quite the opposite."― Dani Alves
"For me, 'rich' isn't having lots of money; rich is having loads of things in your head."― Dani Alves
Top 38 Quotes by Johnny Miller
"Everyone wants, wants, wants… and when they have, they feel desperate."― Dani Alves
"From God, I have the strength and intelligence to have alternatives and can live even without football."― Dani Alves
"Starting in a World Cup is always complicated, hard, and important. When you start well… The rest of the competitors are watching. I think it's the most important match in a World Cup, along with the final."― Dani Alves
"When you want to win, you are doomed to suffer conflicts."― Dani Alves
"Messi is much better than Cristiano Ronaldo."― Dani Alves
"Messi has a divine gift."― Dani Alves
"Cristiano works hard. We have our battles, but I admire him. He is a guy with great dedication, and he's competitive."― Dani Alves
64th of 100 Dani Alves Quotes
"I think that my team is more important than me."― Dani Alves
"To be a great champion, you have to believe that you are the best, and if you aren't, then you have to act as though you are."― Dani Alves
"Having my friends close to me is always a pleasure, a great honour."― Dani Alves
"I have had disagreements with journalists, but they annoy me so much when they don't talk about football."― Dani Alves
"I don't have an expiry date. My body is my answer – when I see that I can no longer compete, when my head is not in it anymore, it will be the time to stop."― Dani Alves
"People are marked down for their age – once you get past 30, people look at you a bit funny. When you get to 35, the questions are all, 'When are you going to stop?' Calm down!"― Dani Alves
"It's the old story: do you want a normal car, or something top of the range? That is how I am – the older I am, the more expensive I am!"― Dani Alves
"A national team is a reflection of its country's football, and both Brazil and Argentina have earned respect for what they've achieved."― Dani Alves
"Players earn their wages, their livelihoods, and their right to compete to win things out on the pitch and not off it."― Dani Alves
"In football, I've always been about adapting to what's asked of me, to what my team-mates need from me. I'm a team player."― Dani Alves
"People automatically think that because you attack, you can't defend. Not true."― Dani Alves
"I love football, adore it."― Dani Alves
"People think that footballers just have a kick around with their mates. If they win, fine; if they don't, that's then fine, too. No pasa nada. No. You have an obligation and responsibility."― Dani Alves
"The fear of losing makes you better because it stops you cruising."― Dani Alves
"Before I went to Juventus, I made a final promise to the board at Barcelona. I said, 'You're going to miss me.' I didn't mean as a player. Barca have plenty of incredible players. What I meant was that they were going to miss my spirit."― Dani Alves
"Before I go up against the best forwards in the world – Cristiano Ronaldo, Lionel Messi, Neymar – I study their strengths and weaknesses like an obsession, and then I plan how I am going to attack. My goal is to show the world that Dani Alves is on the same level."― Dani Alves
"When I was 18, I moved across the ocean just for the opportunity to play for a club that played against Barcelona. So to have the honour of playing for Barca? It was incredible."― Dani Alves
"I sometimes think that life is a circle. See, I cannot get away from genius. At Barca, I had Messi. At Juve, I have Paulo Dybala. Genius follows me everywhere, I swear."― Dani Alves
"Barcelona focus a lot on what Barcelona does and not on what others are going to do. It creates a different way of working. Of course we studied our opponents to see their weak points and their strong points, but 70 per cent of the time, it was about us."― Dani Alves
"What's football for? To win. And to win, you have to score more."― Dani Alves
84th of 100 Dani Alves Quotes
"If you do the same as all the rest, you're the same as all the rest: I don't want to be just another player."― Dani Alves
"I like happiness, and when people try to destroy that, it winds me up."― Dani Alves
"If you live your life by what others say, it stops being your life."― Dani Alves
"I'm a huge fan of Michael Jordan, and I love the game of basketball."― Dani Alves
"Anytime someone is wearing Jordan, you have to respect!"― Dani Alves
Top 72 Martina Navratilova Quotes
"I am a player who finds it easy to adapt to the circumstances, and I don't think I would have had a problem adapting to England."― Dani Alves
"I like attacking football, but that's not the only thing the game's about."― Dani Alves
"I love English football. I love the way people live it so intensely."― Dani Alves
"I watch loads of football; whenever I am not playing, I am at home watching matches, including the English league."― Dani Alves
"When you have experienced players, you don't tremble when it comes to playing in a hostile atmosphere or under pressure."― Dani Alves
"A player cannot rely only on his name to make a difference but also has to work hard and make things happen on the pitch."― Dani Alves
"I think Neymar is one of the few players who was touched by God when he was born, and He said, 'You will be thee player.'"― Dani Alves
96th of 100 Dani Alves Quotes
"If you have a negative model, you do negative things. If you have a positive model, like Guardiola, who says positive things and tells you to compete on the pitch and to play football, it's much better."― Dani Alves
"I always have the desire for a new challenge."― Dani Alves
"I always say that in life, you should embrace those who want to embrace you."― Dani Alves
"Leo Messi is a little football God. I love playing alongside him. We understand each other without needing to talk."― Dani Alves
"When I signed for Barca, I knew their playing style was suited to my game."― Dani Alves