David Florence is a Scottish slalom canoeist who has been competing in international competitions since 1999.
He won the world championships in a single solo canoe (C1) in 2013 and 2015 and a double canoe (C2) in 2013 alongside Richard Hounslow.
Moreover, David was the first canoeist to achieve the C1 and C2 double at the same World Championships since Charles Dussuet sixty years before.
Likewise, the athlete has also won silver medals in three regular Olympics: the C1 in 2008, the C2 in 2012, and the C3 in 2016.
This article has gathered all the personal and professional information about David Florence, including his career highlights, Olympics journey, and net worth.
So, without further ado, let us look at David's quick facts.
Quick Facts
| | |
| --- | --- |
| Full Name | David Florence |
| Birth Date | August 8, 1982 |
| Birth Place | Aberdeen, Scotland |
| Residence | Aberdeen, Scotland |
| Nationality | scottish |
| Ethnicity | White |
| Hobbies | Snowboarding, surfing, languages |
| Food Habit | Non-vegetarian |
| Education | University of Nottingham |
| Zodiac Sign | Leo |
| Chinese Zodiac Sign | Dog |
| Favorite food | Thai / Japanese |
| Favorite Music | Belle, Sebastian, and The Smiths |
| Senior International Debut Competition | Merano World Cup 2001 |
| Honors | Honorary Doctorate from The University of Nottingham |
| Father's Name | George Florence |
| Mother's Name | Jill Florence |
| Siblings | Fraser Florence and Lyndsey Florence |
| Age | 41 years old |
| Height | 6 feet 2 inches (1.88m) |
| Reach | Not Available |
| Weight | 78 kg (172 lbs) |
| Eye Color | Brown |
| Hair Color | Not Available |
| Profession | Professional canoeist |
| Marital Status | Married |
| Children | Two, a son and a daughter |
| Net Worth | $1.5 million |
| Social Media | Facebook, Instagram, Twitter |
| Merch | Canoeing Paddles |
| Last Update | November 2023 |
David Florence: Early Life and Family
The canoe champ, David, was born on August 8, 1982, in Aberdeen, Scotland. His mother's name is Jill Florence, and his Father's name is George Florence.
Although David was born in Aberdeen, he was raised in Edinburgh. Between 7 and 18, Florence lived on the same street as the future world and Olympic cycling champion Chris Hoy in Edinburgh.
David got his primary education from the Roseburn Primary School child. Likewise, David attended Stewarts Melville College secondary school for his secondary education.
David loved canoeing from the very start. He started canoeing at the age of 14. Eventually, he decided to pursue it as a professional career.
The first time he canoed was on the Water of Leith. Later, he was invited to join the Forth Canoe Club. Most of his training in the club was done on the Union Canal.
Moreover, David is also a scholar. He has an extraordinary academic performance. He studied mathematical physics at the University of Nottingham.
However, he claims that his primary purpose for relocating to Nottingham was near the National Watersports Centre. Moreover, he is an all-around athlete playing tennis and golf. He loves skiing as well and is a bagpipe player.
David's Father, George, works as a senior pilot at British Airways. However, he is also a former Scottish canoeing champion. Moreover, David's brother, Fraser Florence, also canoes for Scotland.
Hence, we can say that canoeing runs in the Florence family. David also has a sister named Lyndsey Florence.
Learn more about the 10 Craziest Extreme Sports in the world>>
David Florence: Career
David placed fourth in the European Championships in 2005 and 15th in the World Championships the following year.
In addition, he also took bronze in the World Cup event in Seu. Likewise, David improved to sixth place in the World Championships in 2006.
Moreover, he also earned bronze in the C1 team and won gold in the World Cup in Augsburg. Additionally, David finished fifth in the World Championships in 2007 and won two World Cup medals and bronzes in Prague and Augsburg.
In 2009, he began participating in C2 alongside Richard Hounslow, and at the 2009 World Championships in La Seu d'Urgell, he earned bronze in the C2 team event.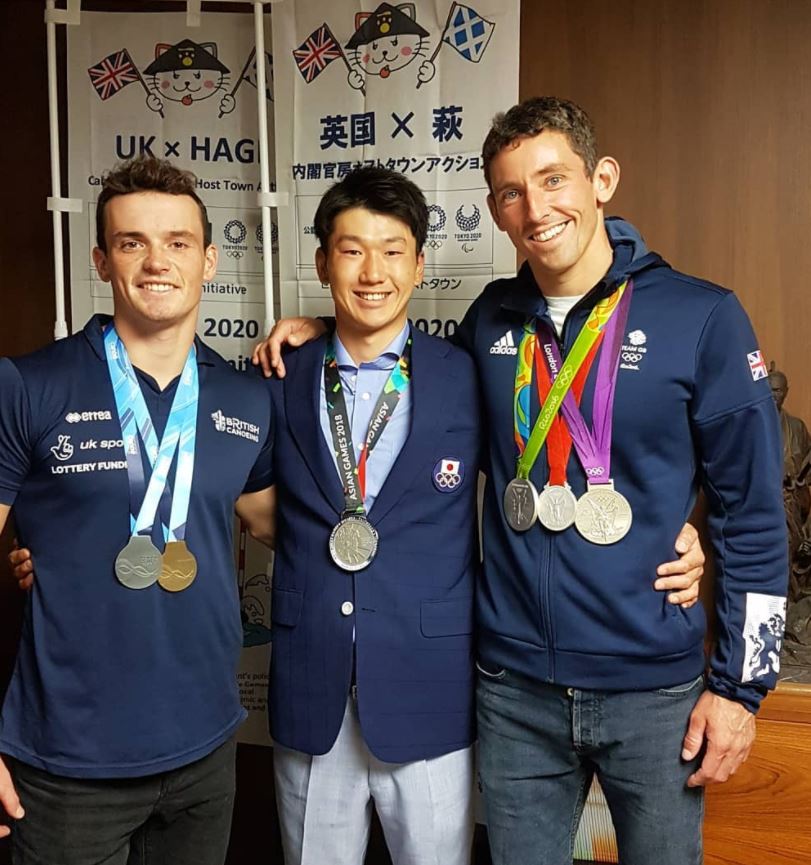 Likewise, David earned a bronze medal in the C2 event at the 2010 World Championships in Tacen and a bronze in the C2 team event at the 2011 World Championships in Bratislava.
He also won two golds (C1 and C2) and one bronze at the 2013 World Championships in Prague (C2 team).
Moreover, at the 2017 World Championships in Pau, David took silver in the C1 team event. Further, he won eleven medals at the World Championships, including three golds, one silver, and seven bronzes.
The Scottish champ won the overall World Cup championship in C1 in 2009. Florence also boasts seven European Championship medals, including one gold medal, one silver medal, and five bronze medals.
Additionally, from 2011 to 2013, David Florence was the C1 World No. 1 for three years.
Beijing Olympics 2008
David participated in the C1 event at the 2008 Summer Olympics in Beijing. Behind Slovak world number one, Michal Martikán, he finished second overall and won the silver medal.
Florence clocked 89.47 and 82.16 seconds in his preliminary runs at the Shunyi Olympic Rowing-Canoeing Park, putting him in third place overall with a total of 171.63 seconds heading into the semifinal.
His semifinal timing of 90.46 seconds qualified him for the final as the fourth fastest of the ten advanced athletes.
With just Martikán remaining to compete, his last run of 88.15 seconds gave him a total time of 178.61 seconds, putting him in first place. However, the Slovakian raced over 2 seconds quicker, pushing David into second place.
David remarked after the race that the sight of Rebecca Adlington winning gold in the 400-meter freestyle the day before had encouraged him. He also studied Mandarin Chinese before the Beijing Olympics.
Also, read Know Tyler Bradt's Passion for Kayaking>>
London Olympics 2012
David qualified for the C1 event at the British trials at the 2012 Summer Olympics in London.
They were permitted to start together in the C2 race as the second British boat in that category since his C2 teammate Richard Hounslow qualified for the K1 event.
David was a favorite to win a medal, particularly in the C1 event, but he fell short of the final after a sloppy semifinal performance.
Unfortunately, he came in 10th place, disappointing for him and the local supporters.
He and Hounslow (who also had a bad performance in K1) made up for it in the C2 race when they finished second behind their countrymen Tim Baillie and Etienne Stott.
However, they were ahead of the three-time reigning winners Pavol and Peter Hochschorner.
David Florence: Body Measurements
The Scottish Canoer, David Florence, was born in the year 1982. So, he is currently 41 years old.
David was born in the Dog year, according to the Chinese calendar.
David does not have any tattoos on his body. Additionally, David greets everyone with a broad smile and charming personality.
Further, David's zodiac is Leo. Sapiens with the air sign Leo are generous, loving, and optimistic. They are also creative and adventurous. David Florence is no different.
Talking about David's physique, he has an athletic build and a strong body. Moreover, he has a tall height of 6 feet 2 inches. He weighs about 76 kg.
The canoer keeps his body fit with healthy nutrition. Moreover also goes to the gym and exercises daily. Likewise, he also spends time training, kayaking, and snowboarding.
David is quite an adventurous person by nature. He also usually goes skating and snowboarding with his brother and Father.
David Florence: Astronaut Application
If you guys do not know, David had initially applied to become an astronaut in the European Space Agency's astronaut training program.
He had filled out the application in response to an advertisement he had seen before the 2008 Olympics.
The canoer was so serious that he also began studying Russian as required for the post.
However, he was not one of the four chosen from 8,400 candidates, and he received a rejection letter just before the Olympics began.
When asked about the astronaut application after owning the Olympics gold, David said it wasn't a whim.
He added that it was a once-in-a-lifetime chance to apply for something extraordinary. However, although he attempted to grab the opportunity, he could not do so.
Also, learn about the Circumnavigator, Freya Hoffmeister>>
Social Media Presence
David Florence is a role model for those who want to pursue their career paddling. Also, many people follow him because of his adventurous posts and exciting lifestyle.
Further, David is admired widely for his courageous personality. The canoe champion interacts with his fans and followers through social media platforms.
The Olympian can be found on Facebook, Instagram, and Twitter. He has thousands of followers altogether on his social media handles.
He has over 6k followers on his Facebook page. Likewise, he has more than 2.7k followers on his Instagram page and more than 4.5k followers on Twitter. All of his accounts are verified.
David's Twitter bio describes himself as a "Canoe slalom athlete. Triple Olympic Silver Medallist. 3 x World Champion. Ambassador for Lloyd's Register. Proud member of #teamredsky."
Moreover, on Instagram, David follows other Olympians like Jakub Grigar, Charles Corrêa, Peter Kauzer, Kimberley Woods, and Lukáš Rohan.
The athlete usually posts pictures with his family and canoeing adventures on his social media pages.
The athlete is currently unavailable on YouTube. However, his canoeing videos are uploaded by various sports channels.
If you wish to learn more about the lifestyle and adventures of the slalom athlete, follow him on his social media pages.
David Florence: Net Worth
We can say that David Florence has had a remarkable life and career. He chose a challenging path for himself.
Along with inner satisfaction and other achievements, David's path has also provided him an opportunity to earn fortunes.
Currently, the canoe slalom athlete has a net worth of approximately $1.5 million. The details of his salary, property, earnings, and other assets are still under review.
However, we can say that David earns enough to live a life of luxury and be able to travel the world, canoeing and following his passion.
Frequently Asked Questions
Does David Florence have any sporting relatives?
Yes, David's family is closely related to sports. His Father and maternal uncle were both Scottish Champions. Likewise, David's brother also competed at The World Championships for Great Britain. Moreover, his great-grandfather was also a World Billiards Champion.
Who does David regard as his hero/idol?
David says he wouldn't claim he'd ever really had a hero or an idol exactly. However, when he started the C1 paddlers, he mostly looked up to Gareth Marriott and Lukas Pollert.
What is David's favorite paddling course?
David enjoyed Beijing because it was such big and challenging water. However, David exclaims that he loves most courses where he paddles at the major races.