David Lee is an American-born former professional basketball player who played for around twelve seasons in the NBA. He played for five different clubs until his retirement in 2017, winning an NBA ring once with the Golden State Warriors.
Lee had started his NBA journey with the New York Knicks in 2005. He stayed with the Knicks for five seasons before moving to the other clubs.
Overviewing his professional career, one can consider his NBA campaign a huge success. Alongside winning the championship title, the NBA selected him for the All-Star Game twice in 2010 and 2013.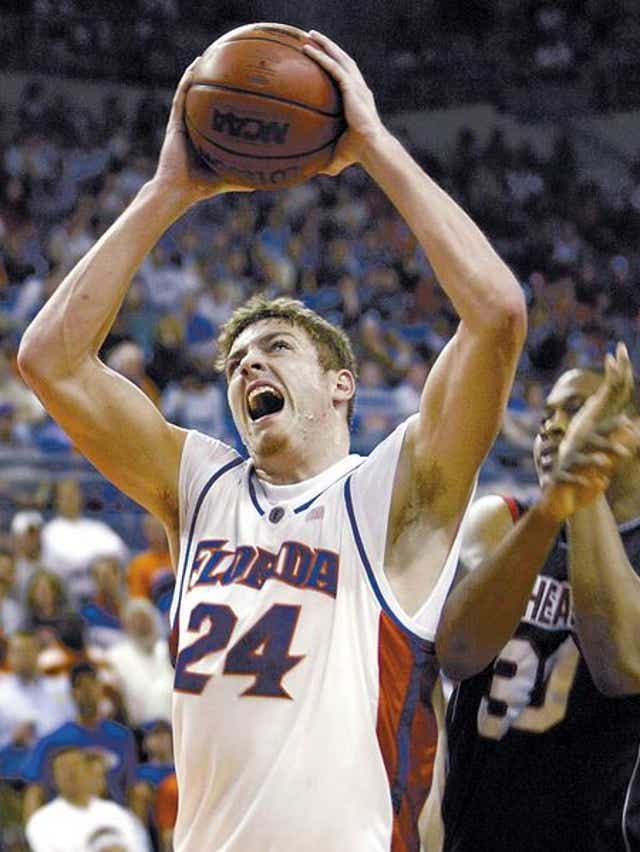 An adept athlete Lee very well knew that perfection did not exist but instead believed that one should always strive towards achieving it. This attitude always allowed room for improving his game, and so in the end, he came out as one of the best.
Although he faltered while transitioning from college to league, he soon caught the momentum and kept delivering well until the end.
However, repeated injuries during his last years in the NBA hampered his career.
Nevertheless, David remained one of the promising all-rounders who played in the NBA for most of his career. Besides basketball, Lee also made various cameo appearances in tv shows such as NBC's Celebrity Apprentice, Lipstick Jungle, etc.
Now, let's discover more about his life and times in detail in the article below. But before that, here are some quick facts about Lee.
Quick Facts
Full Name
David Lee
Date of Birth
April 29, 1983
Birth Place
St. Louis, Missouri, the USA
Nick Name
White Chris Webber "WCW"
Religion
Christianity
Nationality
American
Zodiac Sign
Libra
Age

40

years old
Height
2.06 m (6 feet 9 inches)
Weight
245 lb (111 kg)
Hair Color
Light brown
Eye Color
Blue
Build
Athletic
Father's Name
Gary Lee
Mother's Name
Susan Lee
Siblings
Not available
Food Habit
Non-vegetarian
Education

John Burroughs School (Ladue, Missouri)
Chaminade College Prep School (Creve Coeur, Missouri)
University of Florida (Gainesville, Florida)

Marital Status
Married
Sexual Orientation
Straight
Wife's name
Caroline Wozniacki
Kids
One (Olivia Lee)
Profession
Basketball player
NBA Draft
2005 / Round: 1 / 30th pick overall
Position
Power forward / Center
League
National Basketball Association (NBA)
Active Years
(2005 – 2017)
Net Worth
$40 – $65 million
Currently Plays For
None/ Retired
Jersey Numbers
42, 10
Social Media
Instagram, Twitter
Merch
Basketball Trading Card
Last Update

June 2023
David Lee | Early Life, Family & Education
On April 29, 1983, David Lee was born in St. Louis, Missouri, United States. He is the son of Gary (Father) and Susan Lee (Mother).
Lee started his education at a local school nearby his house in St. Louis, where he was an academically gifted kid. Born in a wealthy family, he did not feel short of anything while growing up.
His grandfather, Desmond Lee, was a retired World War II veteran who had established a big company named Lee-Rowan Company which had a net worth of millions. So, his family had a good influence in the city he resided.
Despite his busy schedule, Desmond spent considerable time with his grandkid. He used to tell him war stories and other stuff such as business, hard work, and dedication.
As he was born with the silver spoon, people in St. Missouri believed that David would take over his family's business. However, he had a passion of his own.
His father, Gary, was an assistant coach at the Chaminade College Prep School besides being a businessman. Moreover, his grandfather was an athlete during his college years at Washington University.
So, maybe because of their influence, he grew fond of basketball and soon became proficient. His coach at the school often doubted that he would not pursue such a career seeing his family background.
But, Lee did not want to live off his privilege and carried on with his studies and sports to shape his life. After graduating from the Chaminade prep in 2001, he enrolled in the University of Florida for higher education.
David Lee | Basketball Career
High School Career
David Lee played high school basketball for the Chaminade Preparatory High School in Missouri. He had already gained considerable experience by playing basketball at the John Burroughs School and the St. Louis Eagles AAU team.
His high school coach Kelvin Lee initially doubted his skills, but David proved to be a good power forward since his freshman season. His tall frame helped him dominate his opponents and score high points.
However, Lee's performance on the rear end of the court was far superior to his teammates during his school years. Moreover, he was ambidextrous, which often came in handy while making quick passes.
For his performance in senior season, David got an opportunity to play in the McDonald's All-American Game and was named to the first-team Parade All-American in 2001. Similarly, he won the Slam Dunk competition that same year.
Click here to read about the American-born retired professional basketball player John Lucas II who now coaches the Houston Rockets athletes!
College Career
David began receiving scholarship offers from different universities such as Florida, Duke, Kentucky, Illinois, etc., when he was in senior year of his high school. At last, he decided to go to the University of Florida and committed verbally on September 1, 2000.
The Gators' head coach Billy Donovan immediately recognized his talent and remarked that he was one of very few freshers to have elite-level rebounding skills.
He finished the first season with 7.0 points and 4.7 rebounds per game. However, his performance kept getting better one season after another, and just like Donovan said, he was the leading rebounder in his senior season.
Lee averaged 13.6 points and 9.0 rebounds per game in his last college season. He led the Gators to the 2005 SEC Basketball Tournament, their first-ever SEC championship win.
Professional Career
The New York Knicks selected Lee as the 2005 NBA draft's first-round 30th pick. The Knicks were at their low times during the years they chose Lee, and every player on the team had great challenges ahead.
At first, the Knicks relied on Channing Frye above Lee, but they later had to give Lee more chances as Frye retreated to rest due to injury.
Contrary to the expectation, Lee performed poorly in all sides of the game except rebounding. He finished his first-ever NBA season with an average of 5.1 points and 4.5 rebounds per game.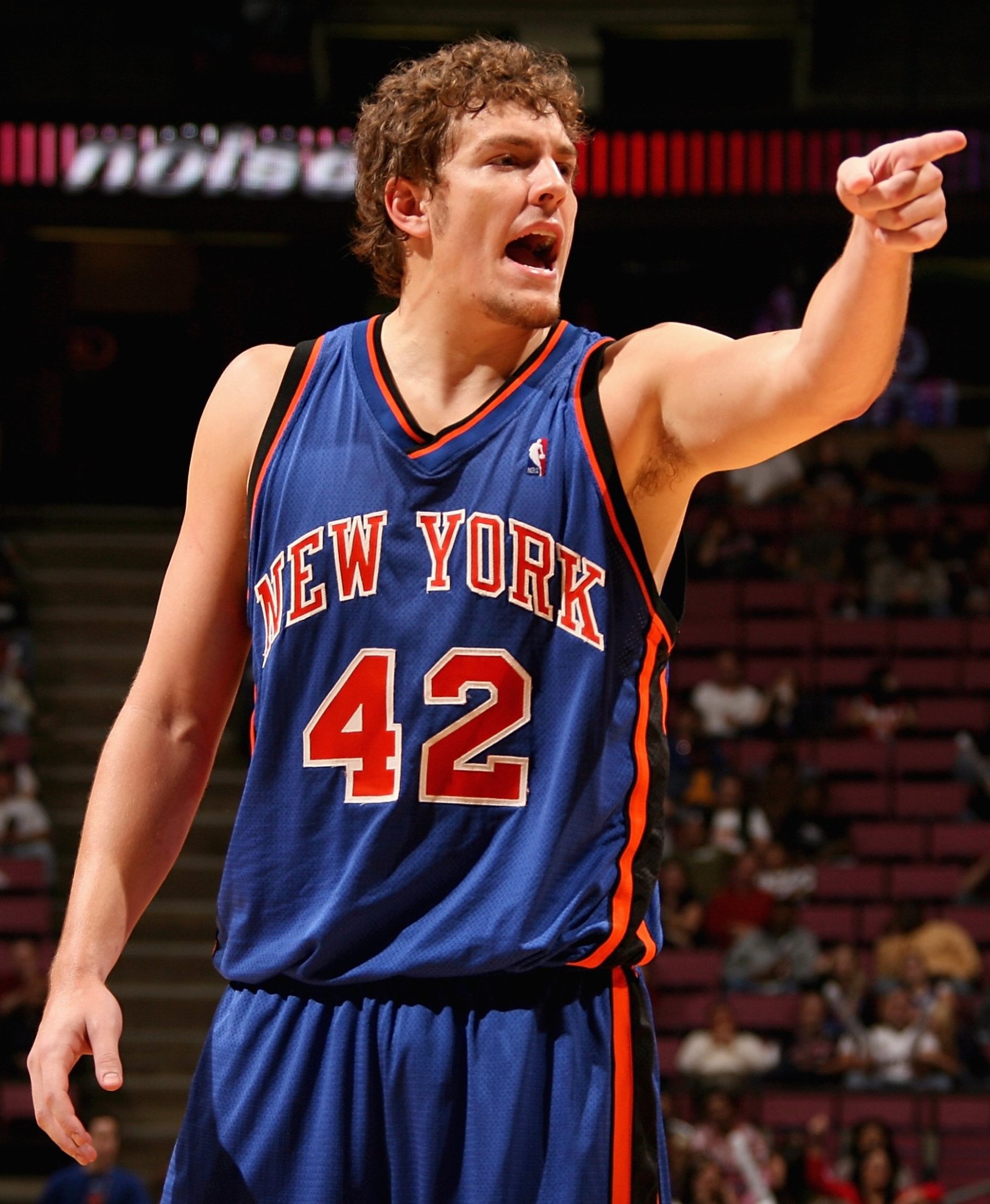 However, his performance in the next four seasons with the Knicks set him up for a fantastic career in the NBA. Even though he missed many games in the second season, his games did not degrade even a bit.
He averaged 20.2 points and 11.7 rebounds per game and secured a place in the NBA All-Star Game in the 2009-10 season. After that season, the Knicks traded him to the Golden State Warriors, with whom he signed a new contract on July 9, 2010.
However, he consistently missed many matches due to frequent injuries. Even though he missed half of the season with the Warriors in the 2014-15 season, he won the NBA championship in 2015.
David Lee played two more NBA seasons after transferring from the Golden State Warriors. After his injuries worsened, he announced his retirement on November 19, 2017. He was with the San Antonio Spurs when he retired.
Awards & Achievements
Some of his awards and achievements include:
NBA champion (2015)
All-NBA Third Team (2013)
McDonald's All-American (2001)
NBA All-Star (2010, 2013)
Mr. Show-Me Basketball (2001)
First-team Parade All-American (2001)
Second-team All-SEC (2004, 2005)
Net Worth
One of the highest-paid athletes of his time, David lee has a net worth ranging from $40 million to $65 million.
Although he was born into a millionaire family, he created his own life earning millions from his basketball career. After the New York Knicks picked him in the 2005 draft, they paid him around $860k for his rookie season.
Lee continued playing for the Knicks in the next few seasons with improved gameplay, due to which they increased his salary up to $7 million by the end of his time with them. He collected around $11 million playing for the Knicks until 2010.
Secondly, he played for the Golden State Warriors from the 2010-11 season to 2015, from which he made most of his earnings playing in the NBA. He earned around $52 million from his games with the Warriors.
In addition, he made some more amount playing for other clubs such as Boston Celtics, Dallas Mavericks, and San Antonio Spurs.
He collected around $95 million from his overall NBA career. You can find out more about his salary details on hoopshype.com.
David Lee | Wife & Kids
David Lee is married to the Danish former professional tennis player, Caroline Wozniacki. Lee met her in 2015 at a dinner party in the United States where their mutual friend had introduced them to each other.
Since both Lee and Wozniacki were massive stars, they knew each other very well, however not personally. After that, they remained in touch and soon became good friends.
In 2015, Wozniacki was getting out of a hangover from her previous relationship with North Irish golfer Rory Mcllroy when Lee came into her life at just the right time and provided her firm support.
In 2017, on Valentine's Day, she announced that she was in a relationship with Lee through her social media handles to her fans. Eventually, after dating for around two years, they got engaged in 2017 and married on June 16, 2019.
They went to Tuscany, Italy, for their wedding, where various well-known personalities such as Jesse Palmer, Harrison Barnes, etc., were invited. Carolina's friends, including tennis players Serena Williams, Angelique Kerber, etc., were her bridesmaids.
Wozniacki is considered one of the best tennis players of the modern times who ranks fifth in all-time best prize money winners. She had remained on top in the world ranking for about 71 weeks in the early 2010s.
However, now that both husband and wife have retired from their playing career, they live comfortably with their daughter in their Fisher Island residence. Their daughter, Olivia, was born on June 11, 2021.
Age, Weight & Height
As of 2023, David Lee is 40 years old.
He stands 2.06 meters (6 feet 9 inches) tall and weighs around 245 lb (111 kg) about his physical stats.
Enes Kanter is a Swiss-born American athlete who has made a net worth of nearly $55 million playing regularly for around eleven years in the NBA. Read his story!
Social Media Presence
Instagram: @davidlee
Twitter: @Dlee042
Interesting Facts
David Lee was naturally a left-hander, but he learned to play with his right hand after injuring his left arm during his sophomore season in high school.
He was initially interested in tennis and played it eagerly until he was twelve.
Lee's grandfather, Desmond, whom he called "Desi," was a renowned philanthropist who had contributed money worth $70 million for various causes before his death at age 92.
Frequently Asked Questions
Was David Lee good at basketball?
Yes, David Lee was pretty good at playing basketball. He was particularly good at rebounding, but he was also an excellent scorer in the prime of his career.
He retired from his playing career in 2017, averaging 13.5 points and 8.8 rebounds per game throughout his overall NBA career.
Did David Lee play volleyball?
No, David Lee did not play volleyball. He mostly enjoyed playing tennis besides basketball. However, another player named David Cameron Lee, also known as David Lee, plays professional volleyball for the Indian volleyball League club, Calicut Heroes.