Enes Kanter is a Swiss-born American basketball player who is currently a free agent. In brief, he is a role model who outshines both on and off the court.
Further, Kanter was named FIBA Europe U-18 Championship MVP in 2009. Further, he was named Albert Schweitzer Tournament Most Talented Player in 2008.
Also, Enes Kanter is opinionated about his country and culture. He shares a strong political philosophy and possesses the audacity to speak up without any scared of the critics.
Moreover, he is popularly known for his pro-democracy activism and outspoken critique of Turkish President Erdogan. Likewise, he has called out China in the sight of the World and outspread the criticism.
Also, he peruses a great interest in wrestling and has won the WWE 24/7 championship in 2019.
Moreover, Kanter uses his voice for a good cause; he utilizes his professional hype as a platform to alert the wrong deeds going on.
In this article, discover more information about the prominent basketball player Enes Kanter with a brave heart, ranging from Career, Activism, personal life, and net worth.
Before getting any further, look at the briefly presented Quick Facts.
Quick Facts
Full Name
Enes Kanter Freedom
Birth Date
May 20, 1992
Birth Place
Zurich, Switzerland
Nick Name
Underkanter
Religion
Muslim
Nationality
American
Ethnicity
Unknown
Education

High School

Stoneridge Preparatory School, Sim Valley, California

Horoscope
Taurus
Parent's Name

Mehmet Kanter
Gulsum Kanter

Siblings
Three (two brothers & a sister)
Age

30 years old

Height
6 feet and 10 inches (2.08m)
Weight
113 kg (250 lb)
League
NBA
Hair Color
Black
Eye Color
Dark brown
Body Type
Athletic
Profession
NBA Player
Professional Career Team

Fenerbahce
Utah Jazz
Oklahoma City Thunder
New York Knicks
Portland Trail Blazers
Boston Celtics

Draft Year
2011 (Round: 1 / Pick: 3rd overall)
Drafted By
Utah Jazz
Position
Center
Sexual Orientation
Straight
Marital Status
Unmarried
Girlfriend
Emily Sears
Jersey no.
13 (for Boston Celtics)
Net Worth
$55 million
Active Years
2008 – present
Social Media
Instagram, Twitter
Merch
Jersey, Shoes, T-shirt
Last Update

February, 2023
Enes Kanter | Early Life & Family
His real birth name is Enes Kanter, and his nickname is 'Underkanter.'
Born on May 20, 1992, he is 30 years old. His zodiac sign is Taurus.
About his origin, Enes was born in Zurich, Switzerland. Kanter is now officially a U.S citizen but formerly Turkish. He is Muslim and practices Islam as his religion.
Moreover, he relishes watching wrestling, and his favorite TV show SpongeBob SquarePants, by which he learned to speak English.
Kanter's father is Mehmet Kanter and his mother is Gulsum Kanter. His father attained his M.D from the University of Zurich.
Furthermore, he is also a professor of histology and genetics at Trakya University. Similarly, his mother is a registered nurse.
Indeed, Kanter is blessed with three siblings (two brothers and a sister), all younger than him. One of his brothers, Kerem Kanter, is a professional basketball player for Slask Wroclaw of PLK.
Education
Kanter began his second grade at a Hizmet-affiliated school which is part of the Gulen movement in Turkey.
Moreover, he lived in Ankara and then switched to Istanbul to play professional basketball as a teen.
Then, Kanter moved to the United States at 17 to play basketball. He attended Stoneridge Preparatory School in Simi Valley, California, where he played basketball for a season.
Enes Kanter | Basketball Career
Youth Career
Kanter commenced his career with the Fenerbahce Youth Squad from 2006 to 2009 before moving to the United States. He played under the direction of Sedar Apaydin's management.
Thus, he played about nine games with Fenerbahce: four for the EuroLeague and five for the Turkish Super League.
Kanter moved to the United States and attended Stonebridge Preparatory School in Simi Valley, California, in 2009.
Moreover, he recorded 34 points and 13 rebounds at the 2010 Nike Hoop Summit for the international team. Then, he was rated as a five-star prospect by both Rivals.com and Scout.com.
Afterward, Kanter has assigned to play for the Washington Huskies in November 2009.
Enjoy Reading this amazing article of Dewayne Dedmon Bio: Career, NBA & Net Worth! He plays for the Miami Heat of the NBA.
Professional Career
Utah Jazz
The Utah Jazz drafted Enes Kanter as the third overall pick in the 2011 NBA Draft.
Then, he signed a rookie scale contract with Utah Jazz in December 2011.
On December 27, he made his rookie debut and recorded the most 11 rebounds for a Utah Jazz against the Los Angeles Lakers. Kanter scored 4.6 points and 4.2 rebounds in 66 games of the season.
In March, Kanter had his first 20-20 game of his career with career highs, 23 points and 22 rebounds in a 98-68 win over the Charlotte Bobcats.
Subsequently, he scored career-high 29 points in a 119-111 against New Orleans Pelicans.
Oklahoma City Thunder
Kanter was traded to Oklahoma City Thunder in a three-team deal, including the Detroit Pistons, in February 2015.
Enes Kanter made his finest debut for Oklahoma City Thunder; he recorded a double-double with 10 points and 13 rebounds against Charlotte Hornets.
Then, he scored career-high 30 points against Dallas Mavericks in April 2015.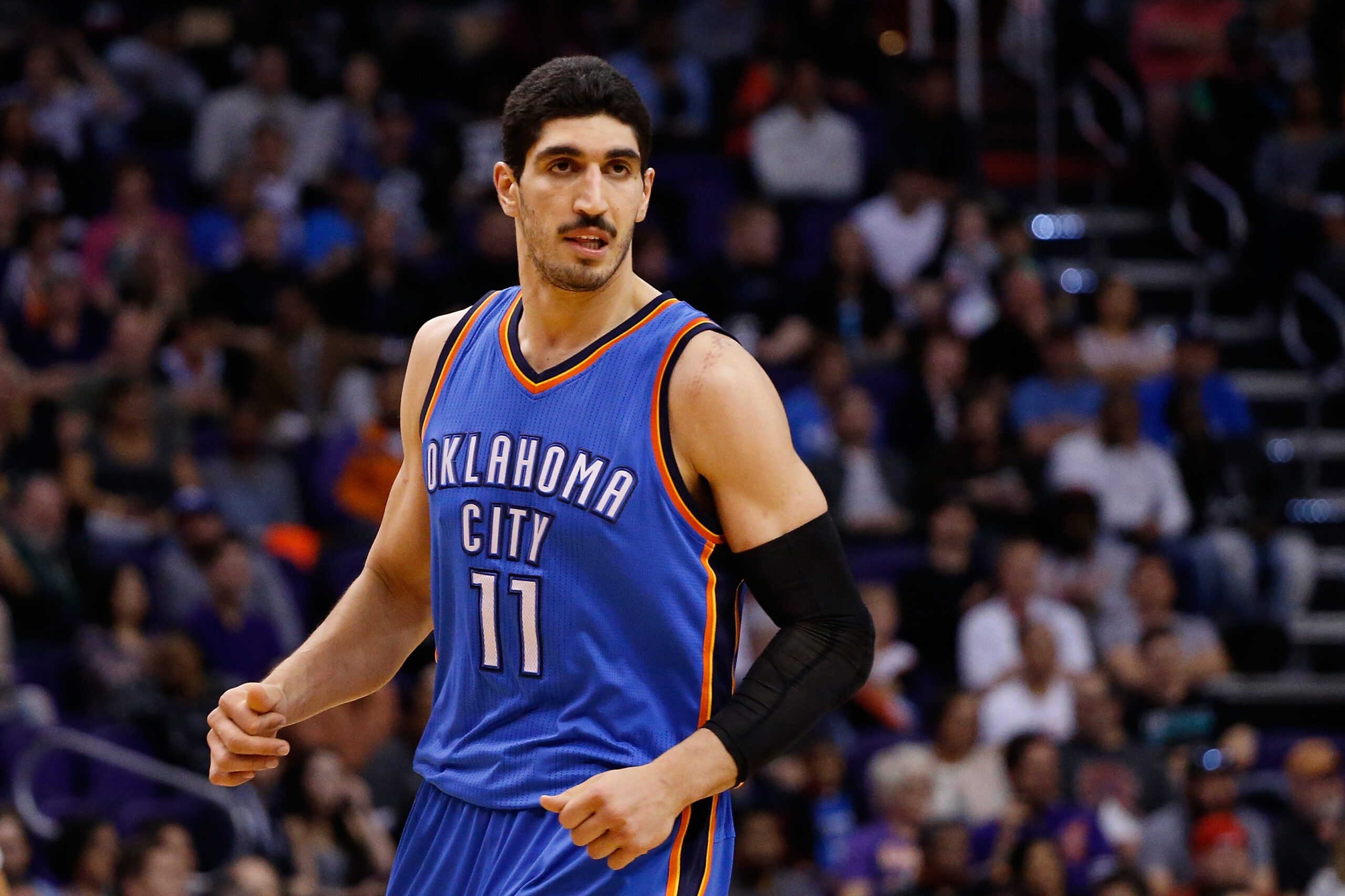 Later, Kanter became a restricted free agent after the fairest 2014-15 season. Then, he received four years, $70 million bids from Portland Trail Blazers in July 2015.
However, Thunder used their first refusal rights and matched the bid to Enes Kanter by Blazers.
On April 6, he became the first player in Oklahoma City Thunder to score 30 points and add 20 rebounds in a game.
Consequently, Kanter got a fractured forearm playing against the Dallas Mavericks and was ruled out for six to eight weeks.
Then, he made his comeback in February 2017 against Los Angeles Lakers and finished with four points on 2-for-12 shooting.
New York Knicks
Kanter was traded along with Doug McDermott to the New York Knicks in exchange for Carmelo Anthony in September 2017.
In October 2018, he scored 17 points and 15 rebounds against the Celtics, making him the first Ney York Knicks since Zach Randolph to begin the season with three straight double-doubles.
Portland Trail Blazers
Enes Kanter signed a contract with Portland Trail Blazers in February 2019.
He became the third player in team history to record that finest score in a playoff game after Bill Walton and LaMarcus Aldridge.
Kanter signed two years, $10 million deal with Boston Celtics as a free agent on July 1, 2019.
Kanter had to trade back to Portland Trail Blazers in a three-team trade on November 20, 2020.
In April, he set a career-high and franchise-record 30 rebounds and broke the Sidney Wicks record of 27 (of 1975).
Enes Kanter signed a one-year $2.7 million contract with the Boston Celtics in August 2021.
National Team Career
Enes Kanter debuted for the Turkish national basketball team at Italy's 2008 FIBA Europe Under 16 Championship.
Furthermore, Kanter earned MVP honors at the 2009 FIBA Europe Under 18 Championship. More, he had averaged 18.6 points and 16.4 points and led the team with a silver medal.
Later, Enes Kanter played for the first time at the 2011 EuroBasket as a senior team. He averaged 9.6 points and 3.9 rebounds per game in eight games appearance.
Awards & Achievements
Albert Schweitzer Tournament Most Talented Player (2008)
FIBA Europe Under-18 Championship MVP (2009)
WWE 24/7 Championship (2009)
Medals
FIBA Europe Under-18 Championship Men's Basketball (2009)- Bronze Medal
Works & Editions by Enes Kanter
"They can Take Your Country, Just Like that"- The Players' Tribune
"When Ramadan and NBA Playoffs collide, my faith is my strength"- The Washington Post
"Move the Olympics for Peng Shuai's Sake"- The Wall Street Journal
Professional Involvement In Wrestling
Enes Kanter is a great fan of wrestling and is interested in pursuing a professional wrestling career.
Then, he made his special appearance at a Monday Night Raw event at Madison Square Garden in September 2019.
Therefore, Kanter defeated WWE 24/7 Champion R-Truth to win the title but would relinquish it to R-Truth moments later.
Accomplishments
Enes Kanter | Personal Life
Kanter has dated professional wrestling player Dana Brooke till December 2019.
Later, in 2020, he started dating another lady, fashion designer, and equestrian Ariana Rockefeller.
But lately, some sources claim he is officially in a relationship with Australian model Emily Sears. They have been dating for a couple of months.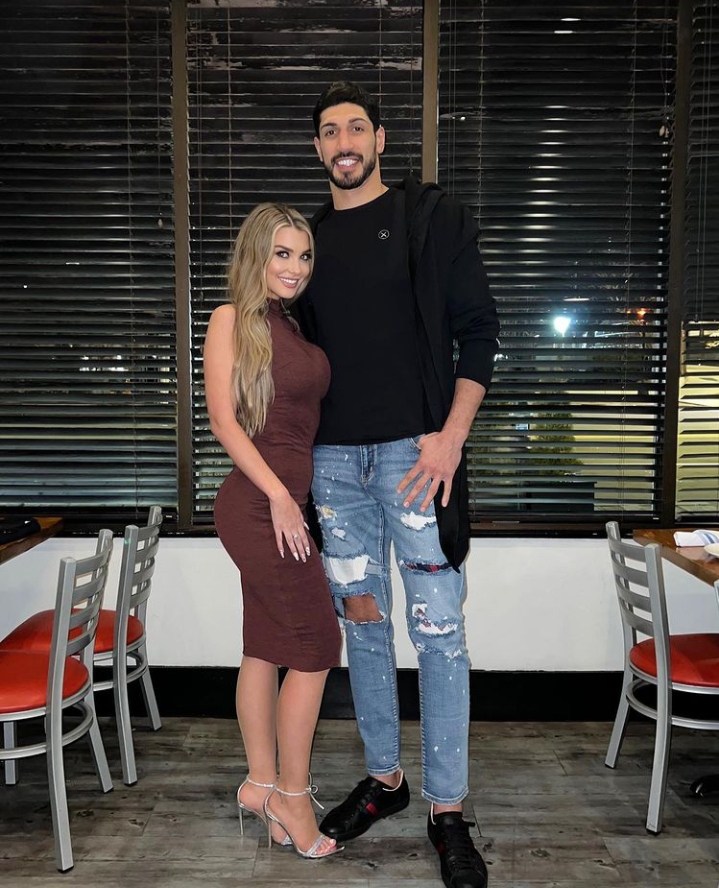 Emily has a popularity for being in the Carl's Jr. ad. Campaign. She also has a brand endorsement with Monster Energy, Strikeforce MMA, and others.
Thus, she supports Enes Kanter at both his games and his advocacy.
Social Media Presence
Enes Kanter is a famous personality on social media platforms.
Find him with the username mentioned below.
Enes Kanter | Net Worth
One of the prominent professional basketball players, Enes Kanter, has a net worth of $55 million.
Likewise, Kanter signed one year $2.7 million contract with Boston Celtics.
In season 2021-22, his salary is about $2,641,691. Thus, Kanter is the 10th best-paid player of the Boston Celtics this year.
Furthermore, his past salary in 2020-2021 with Portland Trail Blazers was $5,005,350.
Also, glance at Davis Bertans Bio: Career, NBA & Net Worth! is a Latvian professional basketball player for the Washington Wizards of the NBA.
Age, Height & Weight
Tall and graceful, Enes was born on May 20, 1992; he is 30 years old.
Thus, he stands at 6 feet 10 inches (2.08 m) and weighs 250 lb (113 kg).
Similarly, Freedom has a gigantic height with an athletic physique. His hair color is naturally black, and his eye color is dark brown.
Enes Kanter | The Real Activist
Enes Kanter Freedom is a center for the Boston Celtics of the NBA. He is brilliant in the court with mastery and opinionated with real courage to speak up the social or political matters off the court.
His off-court initiatives have accumulated him the most attention.
Kanter was born in Switzerland and grew up in Turkey; he is an outspoken antagonist of Turkey's President, Recep Tayyip Erdogan.
Furthermore, he criticized Erdogan in 2013 due to the corruption scandal in Turkey.
Kanter's passport was rescinded in 2017, and he continued with his critique of Erdogan, even inferring him as the "Hitler of our Century."
The same following year, his father, a professor in Turkey, was sentenced for terrorism and imprisoned. Then, he was released after being jailed for five days.
Therefore, he was stateless and got a new identity of being a U.S citizen and changed his name legally from Enes Kanter to Enes Kanter Freedom in November 2021.
Enes Kanter Outspoken About China
In 2019, Kanter spoke about the genocide in Western China, where the Uyghur Muslim minorities were positioned in concentration camps.
His activism aims to bring awareness and eradicate rights violations and injustice in China.
Later, Kantar accused Chinese President Xi Jinping of being a " brutal dictator" and uttered his support for the 'Free Tibet' movement on Twitter.
Then, he also called for U.S. athletes to boycott China.
Criticized The Lakers Star LeBron James
He has also assaulted other NBA Players and Nike's shoe brand, and he made a huge criticism of Lakers Star LeBron James.
Kanter hastily said, "Money over Morals for the King" for LeBron James.
Further, he also has added more; it's sad and disgusting how these athletes pretend to stand up for social justice, but what they do is 'shut up and dribble' when big boss China says so.
Also, Did you educate yourself about the slave labor that made your shoes, or is that not part of your research? Kanter said to LeBron James when he was in China for NBA.
Enjoy reading this interesting article of Malik Beasley Bio: Career, Family, NBA & Net Worth! is a Latvian professional basketball player for the Washington Wizards of the NBA.
Frequently Asked Questions (FAQs)
What did Enes Kanter say about Michael Jordan?
The previous center player of the Boston Celtics, Enes Kanter, said the former Chicago Bulls star Michael Jordan hadn't done anything for the Black Community as he cares more about his shoe sales.
Is Enes Kanter a US citizen?
Enes Kanter is a Swiss-born and Turkey native, and he has become a citizen of the United States and legally changed his name to Enes Kanter Freedom in an oath ceremony.
Why is Enes Kanter's name Freedom?
Kanter added Freedom in an oath to his name that reflects his fight for freedom throughout his life.