David Montgomery brother Maceo Feltha is serving his sentence in prison due to drug trafficking and murder.
During that time, Montgomery worked tirelessly to raise funds for Maceo's commissary account.
The money assisted his brother in making phone calls to the outside world. He would regularly send him $100 every two weeks.
David Montgomery is an American football running back for the Chicago Bears of the National Football League (NFL).
He played college football at Iowa State and compiled a strong hardware collection with First-team and Second-team All-Big 12 selections.
On January 7, 2019, Montgomery announced that he would forgo his final season of eligibility and declare for the 2019 NFL Draft.
Davis is currently with Detroit Lions after signing a three-year, $18 million contract on March 16, 2023.
David Montgomery Brother: Who Is Maceo Feltha? Parents & Family
Montgomery's brother, Maceo Feltha, is serving a prison sentence for a murder that occurred in 2015.
According to court documents, the elder brother Feltha was convicted of shooting a man, which police believe was related to a drug deal gone wrong.
Feltha appealed his conviction, asserting that his confession was false and that his trial counsel was ineffective. However, his appeal was ultimately denied.
Family Of David Montgomery
David Montgomery's journey to success has been remarkable through a challenging childhood.
His early life was rough as he grew up in economic struggle, with his family frequently relocated around Cincinnati.
David Montgomery's mother, Roberta Mitchell, worked as a dialysis technician. Whereas no information is available about the father.
Among his three brothers and a sister in Cincinnati. Montgomery's brother Maceo was arrested for drug trafficking and a tragic murder.
Girlfriend & Son
January 13, 2023, was the joyous occasion of David Montgomery and his girlfriend Tatum Causey welcoming their first son into the world.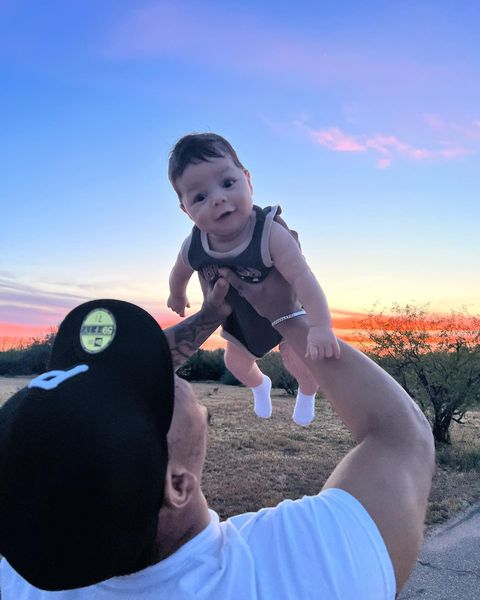 Tatum affectionately refers to their son as "Juju" in the captions accompanying the heartwarming pictures she shares on her Instagram posts.
Mental Health Struggle
In a revealing article published on August 17, 2022, by The Athletic, Chicago Bears running back David Montgomery opened up about his mental health struggles and their transformative impact on his life.
On August 3, 2022, during a media availability after practice, Montgomery candidly shared his experiences with mental health challenges.
Montgomery, an African American man, acknowledged the difficulty of openly discussing his mental health struggles, given societal expectations and norms.
Reflecting on his early years as a rookie, Montgomery revealed that he used to be deeply affected by both his on-field performance and public opinion, particularly on social media.
Nevertheless, the cumulative effect of challenging days began to take a toll on his mental well-being, ultimately impacting his family and personal life.
Recognizing the need for change, Montgomery sought support from his girlfriend, Tatum Causey, and his mother, Roberta Mitchell.
He started a journey of self-discovery, seeking professional help through therapy.
The positive effects of seeking help became evident in Montgomery's practice and personal life.
Montgomery emphasized the importance of acknowledging when one is not okay and being open about it as a crucial step toward healing.
He became a voice for addressing mental health issues in professional sports, advocating for the importance of seeking help and fostering conversations around mental well-being.