Deion Sanders is an exceptional athlete who has accomplished prestigious achievements in his sports career history. Playing one sport professional is challenging enough, but Deion Sanders wasn't a regular athlete.
During his playing career, Deion played in both the MLB and NFL. Sanders is best known for his outstanding career as a baseball and football player.
However, he was engaged in a bitter custody battle for three of his five children from his second marriage.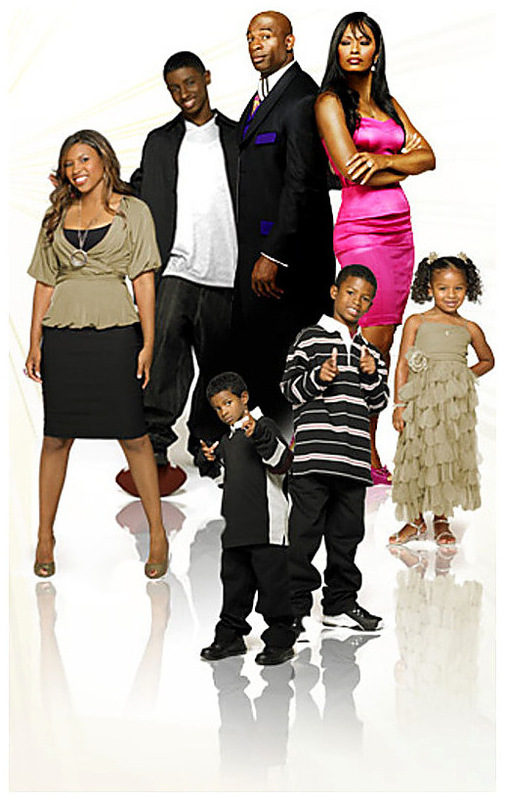 It wouldn't be surprising that a messy divorce negatively impacts the bond between a parent and their children.
Fortunately, it looks like Deion's and his kids' bad blood is over and that his relationship with all of his children is amicable.
The former defensive back is the proud father of five children. Deion's three sons are following in his footsteps and preserving the family legacy.
This article here explores everything you need to know about Deion Sanders' kids. But before anything, let's look at quick facts about Deion's youngest son Shedeur, the most famous of five siblings.
Deion Sanders' Kid: Quick Facts
Full Name
Shedeur Sanders
Date of Birth
February 7, 2002
Birth Place
Texas, Unites States
Nick Name
Shedeur
Religion
Christian
Nationality
American
Ethnicity
African-American
Zodiac Sign
Aquarius
Age
20 years old
Height
6'2″ (1.87 meters)
Weight
200 lb (91 kg)
Hair Color
Black
Eye Color
Dark Brown
Build
Athletic
Father's Name
Deion Sanders
Mother's Name
Pilar Sanders
Siblings
4, Deon Jr., Shilo, Shelomi, Deiondra
Education
Trinity Christian High School
Jackson State University
Marital Status
Single
Girlfriend
None
Kids
None
Profession
College Football Player
Position
Quarterback
Teams
Jackson State Tigers Football
Career Achievements
State Championship
TCAL National Champions
Jersey Number
2
Social Media
Instagram, Twitter
Net Worth
$1.5 million
Website
deionsandersdurags.com
Merch of Deion Sanders
Jersey, Autographed Rookie Card
Last Update
May, 2022
Who is Deion Sanders?
Deion Sanders is a former American athlete who played baseball and football simultaneously at the professional level. He is the only sportsman who has ever participated in both Super Bowl and World Series.
He played three sports- basketball, football, and baseball when he was at college. In addition, he was also a state honoree in all three sports. However, in 1989 he became a professional in two of the three sports, baseball and football.
The Atlanta Falcons drafted Sanders in National Football League (NFL) draft. Shortly afterward, he also signed a contract with the New York Yankees to play baseball. As a result, he played simultaneously for both teams.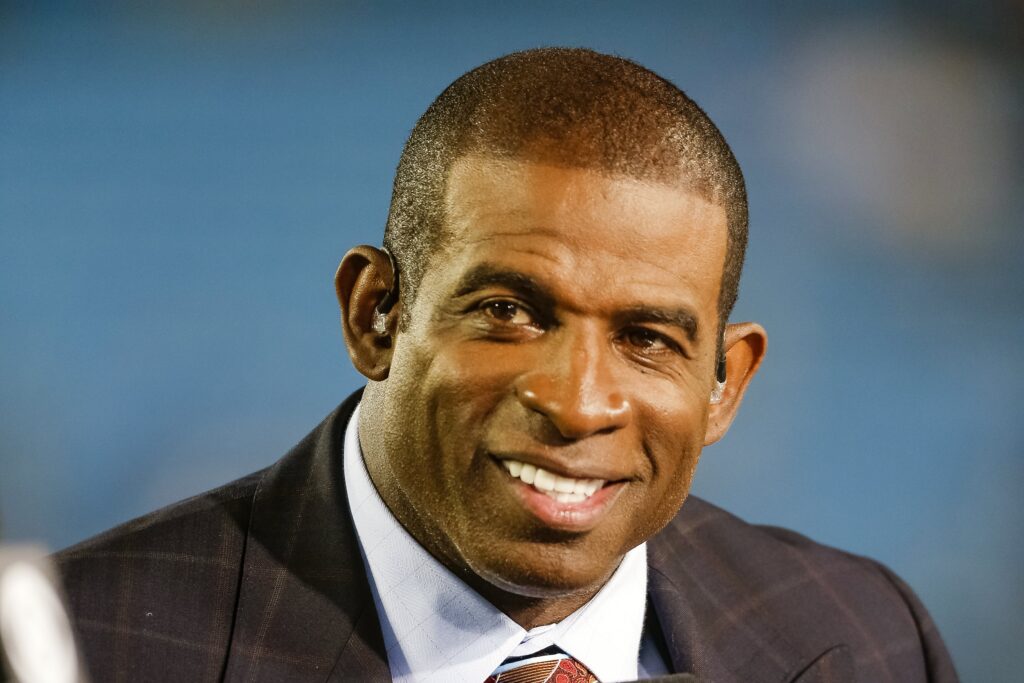 Moreover, he also became the first-ever sportsman to hit a major league home run and gain a touchdown within a week. In his much more successful professional career, he made an immediate impact.
Sanders intercepted five passes in his rookie season, was a full-time starter in his second season. In addition, he also was named to his first of eight Pro Bowls in his third.
Later after he retires from his playing career, he founded the 'Prime Prep Academy Charter School.' He coached there until 2015, when the school was stopped due to financial insolvency. Presently, he works as an NFL Network analyst.
Deion Sanders' Kids
The famous football and baseball, Deion Sanders has five children from his two marriages which ended up in divorce.
He had two children- Deion Sanders Jr. and Deiondra Sanders from his first marriage with Carlyon Chamber. Furthermore, he had three children– Shilo, Sheuder, and Shelomi from second marriage with Pilar Sanders.
The divorce proceedings between Sanders and Pilar were a chaotic affair, with the concluding claiming that she was heartbroken and did not want to be separated.
However, Sander's oldest daughter, Deiondra, exposed Pilar on social media, questioning her commitment to her kids and the marriage.
Deion was awarded primary custody of his two sons eventually. However, by 2017, Shelomi and Shilo were in the primary custody of Pilar, and she was pushing for full custody of Shedur, as well.
Let's get to know about Deion Sanders' kids in more detail.
Deion Sanders' Eldest Son: Deion Sanders Jr.
The eldest son of Sanders, Deion Jr. was a cornerback and wide receiver for the Southern Methodist University Mustangs football team. Sander Jr. was born and raised in Texas.
He attended Atlanta Sports Academy and was a 3-star collegiate recruit. He was involved in both football and track during his time there.
In 2014, during his sophomore season, he was named to the 2nd team All-American Conference as a kick returner. The following year he set a record in a game with 203 for kick return yards.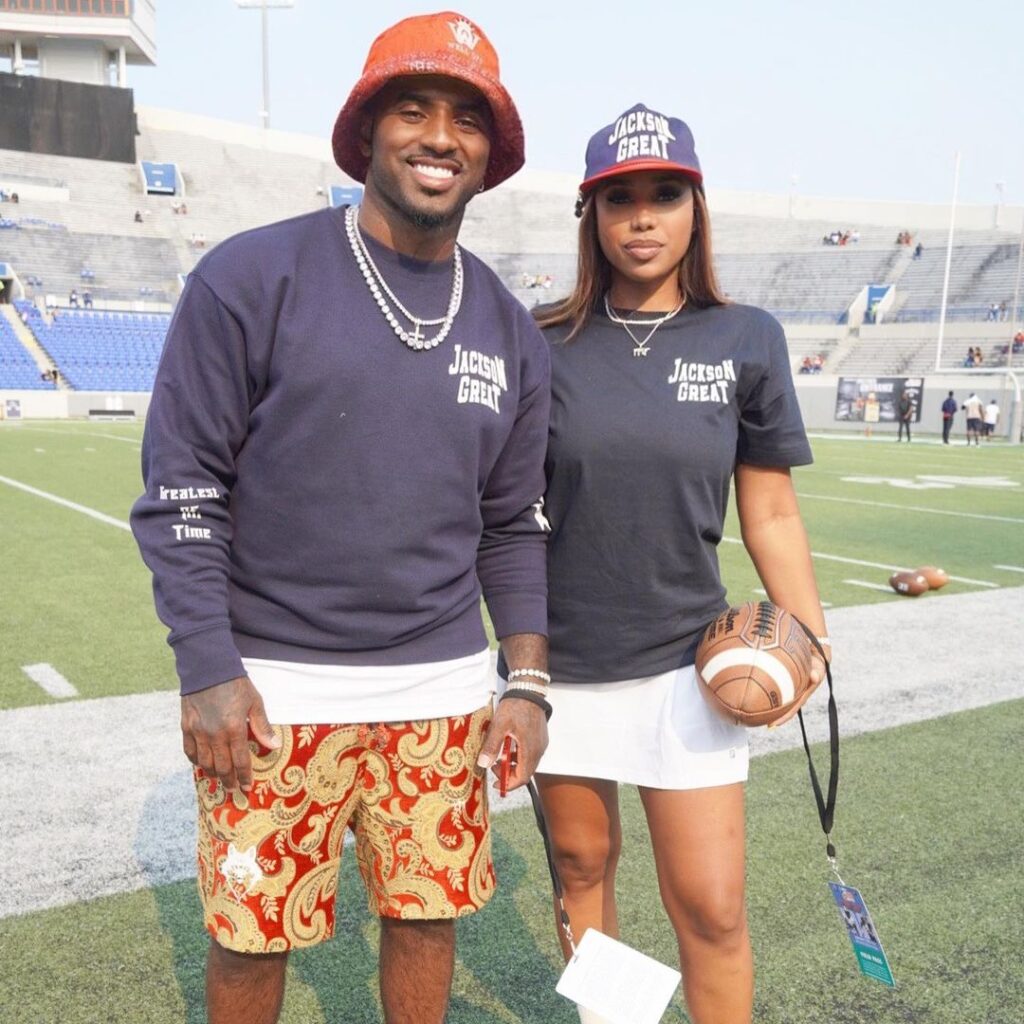 He released a song named 'Money and Girls' and runs a clothing line named 'Well Off.' He even admitted that he was loaded with money. Deion Sanders Jr. has a total net worth of $1.5 million.
Deion Jr. could not make it to the SMU's roster as he was not listed. In addition, Deion Sr. publicly complained about his playing time.
Deion Sanders Jr.: Social Media Profile
Deion Jr. is very active on various social media platforms. He is also known for the social media controversy between his dad and him. Deion Sr. shamed his son on Twitter when he bragged about money.
He consistently shares pictures and videos of his gameplays. You can find him on Instagram as @deionsandersjr. Besides that, he is also present on Twitter as @DeionSandersJr.
Deion Sanders' Eldest Daughter: Deiondra Sanders
Deiondra Sanders, born on April 17, 1992, is known as the reality star. She is famous for her appearances on the reality show 'Deion's Family Playbook' which aired on Oprah Winfrey Network. She also appeared on 'Deion & Pilar Sanders: Prime Time Love.'
However, she is mainly known as the daughter of NFL star Deion Sanders from his first marriage with Carolyn Chambers.
Moreover, Deiondra is also the joint owner of the online shoe store House of Sole and the hair extension line Love Me Extensions founder.
Deiondra has dated Love & Hip Hop star, Nia Riley.
Like his big brother, Deion Sanders Jr., her estimated net worth is also $1.5 million.
Deiondra Sanders: Social Media Profile
Health and beauty enthusiast Deiondra is pretty active on social media. Her feud with her ex-stepmother on Twitter was quite a hot topic.
She publicly made allegations on Pilar via Twitter. She even referred to her as a gold-digger when Deion and Pilar were going through a controversial divorce.
Nevertheless, you can find her on Instagram as @deiondrasanders. Deiondra is present on Twitter as @DeiondraSanders.
Deion Sanders' Middle Son: Shilo Sanders
Born on February 9, 2000, Shilo Sanders is the middle son of Deion Sanders from his second marriage with Pilar Sanders.
He moved from South Carolina's program to join his father and brother at Jackson State University. The 194 pound and six-foot Shilo redshirted in 2019 for the Gamecocks. He tallied 32 tackles in nine games in 2020.
His father hiring at JSU and South Carolina's head coach Will Muschamp's firing were the catalyst for the transfer from the SEC school.
Shilo has a passion for music and wants to follow in his father's footsteps as a football player. Moreover, he also appears on the reality show Deion's Family Playbook. His net with is estimated at around $1.5 million.
Shilo Sanders: Social Media
Shilo Sanders is on Instagram as @shilosanders. His social media is mainly known for the mocking between him and his father, Deon.
The father-son duo frequently trolls each other on social media, which fans find fun and adorable. You can also find Shilo on Twitter, @ShiloSanders.
Apart from Instagram and Twitter, Shilo also has a Youtube channel where he posts behind the scene of his games and game-day vlogs.
Also, read about; Dwight Howard's wife: Te'a Cooper Carrer & Love Life.
Deion Sanders' Youngest Son: Shedeur Sanders
Deion's youngest son Shedeur Sanders naturally wants to follow in his father's footsteps. We are assured that Shedeur has the brightest future in coming years if he remains dedicated to the sport.
So far, he has had a staggering high school career. In Sheuder's first two years as a starter, Shedeur has won two state championships. In addition, he has thrown for 76 touchdowns and almost 5500 yards.
Shedeur still has two more years of high school ahead, so he has the chance to improve his passing number and win two more state championships.
Deion's son worked on his throwing mechanics to help his development. Sheuder's coach praised his work ethic, both on the practice field and in the film room.
But, if he perpetuates his hard word, the sky is the limit as a high school quarterback. Shedeur's current net worth is approximately $1.5 million.
Shedeur Sanders: Social Media Profile
Shedeur Sanders is not as active as his siblings on social media. However, he does post some of his pictures during game time.
He goes on Instagram by the username @shedeursanders. Shedeur is also present on Twitter.
Deion Sanders' Youngest Daughter: Shelomi Sanders
Shelomi Sanders, the youngest daughter of Deion Sanders, is an avid basketball player. She even made it to the news when she hopped on the TikTok trend showing her basketball skills.
Shelomi was born in Plano, Texas, the United States, on December 14, 2003. She has four siblings, among which two are step-siblings. In 2013, she was stuck in the middle of her parents' custody battle and divorce.
Shelomi is listed as a 5-foot-7 inches shooting guard. She plays for Rockwall-Heath High School in Rockwall, Texas.
Read next; Hulk Hogan's Daughter: Everything You Need to Know.
In 2008, Sanders appeared on a previous reality show named Deion and Pilar Sanders: Prime Time Love. She also appears on Deion's Family Playbook.
As per other sources, Shelomi Sanders has a net worth of $1.5 million.
Shelomi Sanders: Social Media
Shelomi is on Instagram as @shelomisanders. Sanders has accumulated 54.5k followers (as of Oct 2021) at such a young age, thanks to her dad's fame and popularity.
Deion Sanders' Sons Involvement in Sports
As we can assume, all three of Deion Sanders' sons can have a pretty substantial genetic advantage. However, even with that perk, they don't seem like they'll be outshining their father's legendary record anytime soon.
After graduation, Deion couldn't choose between football and baseball, so he decided to play both sports professionally. However, his highest heights came on the gridiron, batting 263 with 186 stolen bases and 558 hits over nine part-time seasons.
Through Deion's athletic history, it's unsurprising that his sons have also taken to the gridiron. Unfortunately, their talent, however, hasn't matched up to their prominent father.
His oldest son, Deion Sanders Jr., played his college football at SMU. As per trusted sources, he lined up as a wide receiver during three seasons with the Mustangs, catching 69 passes for 1499 yards.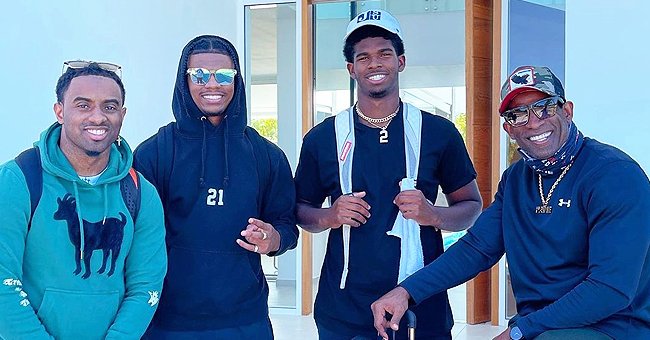 Just like his father, Deion Jr. also indicated some potential as a return man. But, unfortunately, after his junior years, his football career ended. While most of the fans think that Deion Senior complained about his son's playing time.
However, SMU's spokesman explained to The Dallas Morning News that there was no specific reason why Sanders was off the team.
Moreover, these days Deion Jr. is known as the man behind the Well Off brand. According to the brand's website, he stopped playing football in his junior year in college. He didn't go to the league. So he had to look for another way to 'ball' without sports.
He had to find another way to be creative and express himself. He had to find something else that he loved doing and that he could put his time into.
Shedeur Sander's Future in the NFL
We can only wonder if Shedeur will make it into the NFL. He has the perks of his dad's experience and knowledge. However, only his hard work and determination can determine if he makes it to the NFL.
To show that he can play at a high level, Shedeur needs the chance to begin as a college QB. However, starting all four years is unnecessary as players like Kyler Murray and Mitch Trubisky were only required to create one year to be top NFL picks.
Moreover, he will also have to beat other brilliant college quarterbacks to become a starter. If he can't win the QB battle, he may need to move to other schools to find a better opportunity.
However, he can make it to the NFL if he works on his mechanics, improves his quarterback decision-making, and becomes stronger. Nevertheless, we are sure that he'll mark his territory in sports like his father.
Sander's Two Younger Sons Potential for Sports
Sander's middle son, Shilo, presently plays football at the University of South Carolina. He plays defensive back like his dad. However, Shilo didn't make much of an impact during his freshman seasons.
Sanders made it to the two games for the Gamecocks, recovering one fumble and making two total tackles.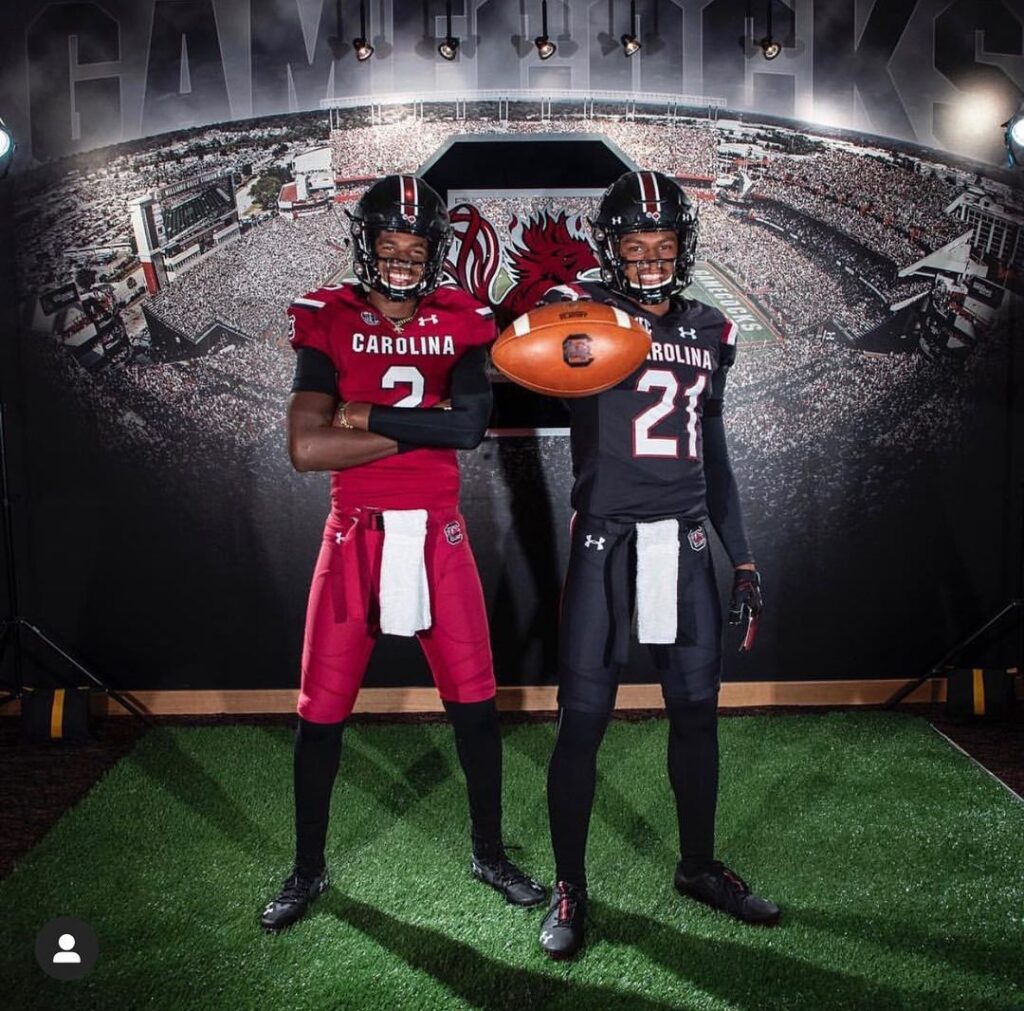 Shedeur Sanders is the youngest of three boys who plays quarterback, currently made news for working out with Tom Brady. In comparison, it's challenging to appraise soaring high school seniors' pro potential accurately.
Shedeur seems to be a promising talent. ESPN gave him a four-star ranking and ranks him as the 40th best player in the class of 2021. He reportedly has offers from several schools, including Florida, Alabama, and Oregon.
Only time and hard work done by Shilo or Shedeur will tell if they'll reach their father sports status.
Frequently Asked Questions
Does Deion Sanders have a son?
Deion Sanders married twice, and during his marriage, he gave birth to five children. Among which he has three sons.
He had a first son named Deion Sanders Jr. from his marriage to Carolyn Chambers. The other two sons- Shilo and
Shedeur Sanders
, are from his second marriage to Pilar Sanders.