Derek Fisher is a former NBA player, head coach, and general manager of the Women's National Basketball Association's Los Angeles Sparks (WNBA).
Fisher played 18 seasons in the NBA, the most of which he spent with the Los Angeles Lakers, with whom he won five NBA titles.
Derek has also played for the Golden State Warriors, the Utah Jazz, the Oklahoma City Thunder, and the Dallas Mavericks.
Likewise, the player has also served as the National Basketball Players Association's president (NBPA).
Fisher held the all-time NBA record for most postseason games played until LeBron James passed him in 2020.
The former NBA player also made a buzzer-beater with 0.4 seconds remaining in game 5 of the 2004 Western Conference Semifinals.
The match was against the San Antonio Spurs while playing for the Lakers. Fisher ranks this as the 18th-greatest playoff moment of all time.
Do you want to learn more about Derek Fisher and his entire life journey? If so, please read the entire article and you will be good to go!
But first, here are some informational quick facts about the legendary player.
Quick Facts
Full Name
Derek Lamar Fisher
Birth Date
August 9, 1974
Birth Place
Little Rock, Arkansas
Nick Name
D-Fish
Religion
Christianity
Nationality
American
Ethnicity
Black
High School
Parkview Arts and Science Magnet (Little Rock, Arkansas)
College
University of Arkansas
Playing Career
1996 – 2014
Zodiac
Virgo
Chinese Zodiac
Tiger
Father's Name
John Fisher
Mother's Name
Annette Fisher
Siblings
Duane Washington
Age
48 years old
Height
6 feet 1 inch
Weight
95 kg
Chest Size
44 inches
Biceps Size
34 inches
Waist Size
36 inches
Shoe Size
Not known
Food Habits
Non-veg
NBA Draft
1996, Round: 1, Pick: 24th overall (Selected by the Los Angeles Lakers)
Hair Color
Black
Eye Color
Black
Career Highlights and Awards

5× NBA champion
1996 Sun Belt Player of the Year
2× All-Sun Belt

Build
Athletic
Marital Status
Married
Wife
Candace
Ex-Wife
Gloria Govan
Retired on
2014
Position
Point Guard
Profession
Former Professional Basketball player, Head Coach, TV analyst
Net Worth
$50 Million
Coaching Career
2014 – present
League
NBA
Social Media
Instagram, Twitter, Facebook
Merch
Basketball Cards
Last Update
June 2023
Early Life and Family
Derek Fisher was born in the city of Little Rock, Arkansas. His mother's name is Annette Fisher. Likewise, his father's name is John Fisher.
Derek's work ethic and tenacity were obvious from an early age, but basketball was always his driving force.
Duane Washington, Derek's elder brother, went on to play briefly for the New Jersey Nets and Los Angeles Clippers, demonstrating the hard effort and sacrifice required to achieve his aspirations.
Derek went to Parkview Arts and Science Magnet High School in Little Rock. He was a basketball letterman there.
Even as a teenager, his leadership abilities were evident to everybody who came into contact with him.
Nonetheless, despite his exceptional abilities, Derek was not widely recruited by collegiate schools throughout his junior and senior seasons.
D-Fish chose to attend the University of Arkansas in Little Rock to be near his family while honing his skills in preparation for larger things.
The player studied communications at the University of Arkansas at Little Rock for four years.
Fisher finished his undergraduate career at Arkansas-Little Rock, second all-time in points (1,393), assists (472), and steals (189).
Over 112 games, the player averaged 12.4 points, 4.4 rebounds, and 4.2 assists, and he topped the club in assists and steals every year.
Professional Career
Derek Fisher had established himself as one of the top point guards in the country by the time he graduated from college.
In 1996, he was picked by the Los Angeles Lakers alongside Kobe Bryant and Shaquille O'Neal. From 2000 to 2002, the three played a key role in the triple series victory.
Kobe and Fisher, in particular, were close friends who pushed each other to be better players.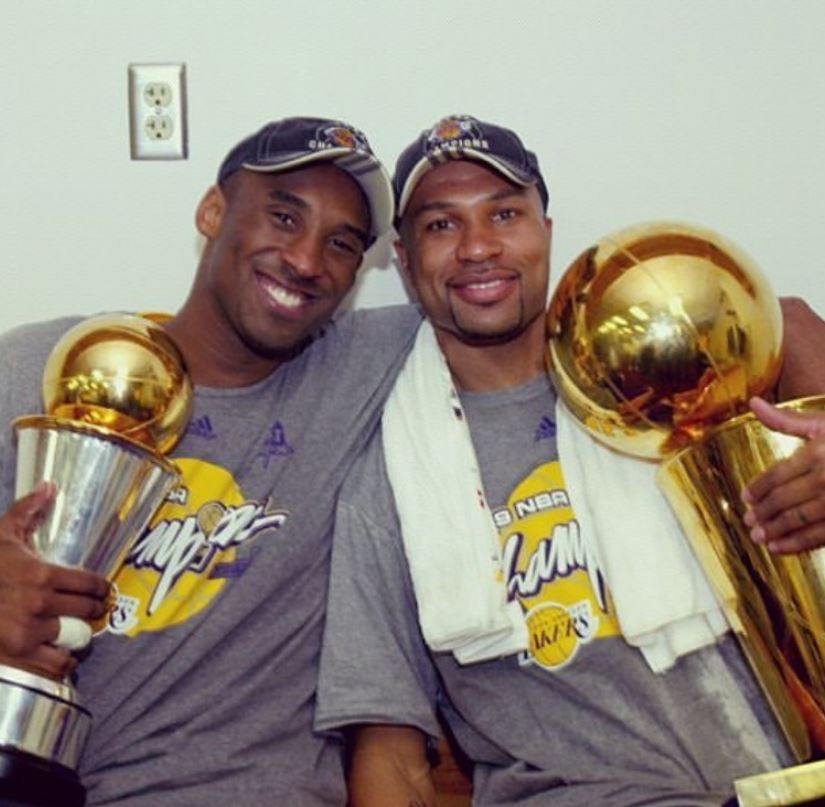 Derek Fisher quickly established himself as one of the most regarded players in NBA history due to his dedication and work ethic. Fisher spent most of his career as a point guard, averaging 6 points per game.
Likewise, Derek Fisher made history in 2004. The Los Angeles Lakers were knotted 2-2 with the San Antonio Spurs and desperately needed a win to go to the NBA playoffs.
They blew a one-point advantage with only 0.4 seconds remaining in the game. That's when the Fisher magic kicked in.
Derek received a pass and put the ball past the rim, scoring for his team and winning the game before the clock expired.
It was a spectacular accomplishment and demonstration of speed and agility with barely 0.4 seconds to spare.
The Los Angeles Lakers advanced to the NBA Finals. However, the Lakers were upset in the finals by the Detroit Pistons. Following this, the Lakers' stars parted ways.
Derek then joined the Golden State Warriors and played for them for two seasons. He later joined Utah Jazz.
Marc Gasol was born in Barcelona, Spain, on January 29, 1985. The player currently plays for Bàsquet Girona in the LEB Oro. Click here to learn more about the player!
Derek Fisher as a Coach
Fisher was appointed as the head coach of the New York Knicks in 2014. His first season was a flop, as the Knicks finished with a franchise-worst 17-65 record.
However, Derek was dismissed in early 2016 when the team's record slipped to another awful low.
Fisher has enjoyed more success as the head coach of the WNBA's Los Angeles Sparks, which he took over in late 2018.
In his debut season, the squad finished 22-12 and advanced to the playoffs. The squad finished 15-7 in his second, truncated season.
Fisher was eventually named Sparks general manager in 2020.
Derek Fisher: TV Analyst
Throughout his career, Derek made guest appearances on television broadcasts. Fisher featured as an analyst on TNT's Inside the NBA and NBA TV several times throughout the NBA season.
However, the player started working professionally as a broadcaster only in the spring of 2016.
He was fired from his coaching career in early 2016. So, we can say that Derek found a way to be back in the NBA arenas via TV table.
The former player began working as a studio analyst for Spectrum SportsNet's Lakers coverage at the start of the 2016-17 season.
After that, he began his TNT duties in February with the launch of the network's "Players Only" schedule.
It is a series of Monday games in which the studio and game analysts are all former players.
Derek appreciates being able to provide a viewpoint that a commentator who has never played, as well as the opportunity to travel and visit friends.
As a TV analyst, Derek worked with his many former colleagues, including Shaquille O'Neal.
Dancing with the Stars
Fisher, a five-time NBA champion, also competed on Dancing with the Stars for the Mirrorball Trophy in 2017
Derek and his partner Sharna Burgess finished eighth out of 13 competitors in their first week, scoring 18 out of 30 points.
The former Los Angeles Laker switched from the hardwood court to the dance floor, but he appeared at ease with his ballroom dancing partner.
In his first performance, he flaunted his tiny body, dribbled a basketball, and wore purple and gold once more.
Fisher claims that the program helped him "develop as a man" and as a human by allowing him to be something greater than himself. He goes on to say that the event altered him for the rest of his life.
Upon elimination, Sharna dedicated a post on Instagram to Derek. She wrote:
"Our journey was only short, but what a wonderful one it was. You know I adore you, and I'm so glad you got to share that moment with and for Tatum last night before we left"
Sharna further mentioned that she was proud to be Derek's coach.
Derek Fisher: Body Measurements
The retired NBA player Derek Fisher stands tall at the height of 6 feet 1 inches and weighs around 95 kg.
Likewise, his other body measurements are 44 inches in the chest, 34 inches in the biceps, and 36 inches in the waist.
Derek Fisher: President of the Player's Union
Fisher served as a player representative for the NBPA before joining the union's executive committee.
In 2006, he was chosen president of the union. During the NBA's 2009 lockout, he stood by the referees.
During the 2011 NBA lockout, Fisher was more engaged than his predecessors, sharing leadership with Billy Hunter, the union's full-time executive director.
Derek was quietly negotiating with Stern on an agreement to accept a lesser amount of money for the players, and Hunter approached Fisher about it.
Fisher branded the allegations questioning his devotion "absurd" in a letter to the players and requested a retraction for the slanderous and defamatory falsehoods through his counsel.
Similarly, Hunter stated that Derek and he had a great friendship and there was no argument.
Hunter convinced the union's executive committee to decide to request Fisher's resignation later on.
However, Fisher refused to quit and instead advocated for an outside inquiry of the union. The results condemned Hunter's leadership.
After their annual meeting during the All-Star break in 2013, the union voted Hunter out as executive director 5-0.
Fisher was re-elected president despite the fact that he was not on an NBA roster at the time. However, he remained eligible owing to his tenure with Dallas earlier in the season.
Fisher's presidency ended in the summer of 2013.
Lawsuit
Hunter filed a lawsuit against Fisher and Jamie Wior, Fisher's publicist and business partner, in May 2013, demanding compensation and punitive damages.
The lawsuit claimed that Fisher had allegedly struck a secret arrangement with NBA owners during the lockout.
However, the court rejected all of Hunter's allegations against Wior and Fisher in January 2014. Following that, Hunter abandoned his appeal in May.
Ryan Anderson is a former professional basketball player from the United States. He was a California Golden Bears basketball player in college. Click here to know more about the player!
Marital Life
Fisher married Candace in 2005, and they have four children together; Marshall, Chloe, and twins Tatum and Drew.
However, the couple divorced in 2016. Later that year, Derek started dating Gloria Govan, the ex-wife of his former teammate Matt Barnes.
After dating for three years, the couple got engaged in April 2018 and started planning to marry soon.
However, they were forced to postpone their marriage due to the coronavirus epidemic. Finally, the couple exchanged their vows in July 2021.
After a week of the wedding, Gloria came out on Instagram to express her love for Derek. She wrote:
"As I start to ascend off cloud nine, I look back at our wedding just a week ago and can't help but smile. Our love isn't perfect; it's not a fairy tale or storybook, and it doesn't always come easy…"
Restraining Order
Fisher obtained a temporary restraining order against a 40-year-old female stalker who had been harassing him since 2001 in 2009.
She asserted that she and Fisher were married, even changing her surname to match his. He had the order extended for three years, and it expired in May 2012.
Arrest
Derek was arrested on suspicion of DUI on June 4, 2017, after a car crash in Los Angeles in which his vehicle overturned.
His girlfriend at the time (now his wife), Gloria Govan, was also in the car. However, she was not injured.
Derek later pleaded no contest in the case.
Net Worth
Fisher has been recognized as a gem in the world of basketball. During his time in the NBA, the player achieved enormous victories and has laid down a legacy for the upcoming generations.
The victories provided Derek with fame and reputation and helped him make a hefty sum of money. The approximate net worth of the retired NBA player is around $50 million.
Real Estate
Derek spent $5.5 million on a property in Hidden Hills, California, in 2009. In September 2017, he sold this residence for $6 million.
Likewise, the former NBA player listed his Tarzana, California, property for $2.5 million in November 2020. The house was sold for $2.31 million a month later.
Social Media
Instagram: 209k followers (As of April 2022)
Twitter: 902.9k followers (As of April 2022)
Facebook: 1 million followers (As of April 2022)
FAQs
Are Derek Fisher and Duane Washington related?
Derek Fisher is the younger brother of Duane Washington, a former NBA player. Duane is 10 years senior to Fisher.
Does Derek Fisher have faith in God?
Yes, Derek is a devout Christian and has publicly discussed his religion. Moreover, the player feels that his faith bestows him with the skill and ability to play basketball.