Born on January 15, 1993, De'Vante Bausby, the Kansas City native is a dominant cornerback player of the NFL.
He is a cornerback player who made his way from a high school footballer to a player of NFL. He is known for his excellent gameplays as a cornerback player.
Young Bausby went to Hogan Preparatory for his high school and to Pittsburg State College. He has shown outstanding performance throughout his career.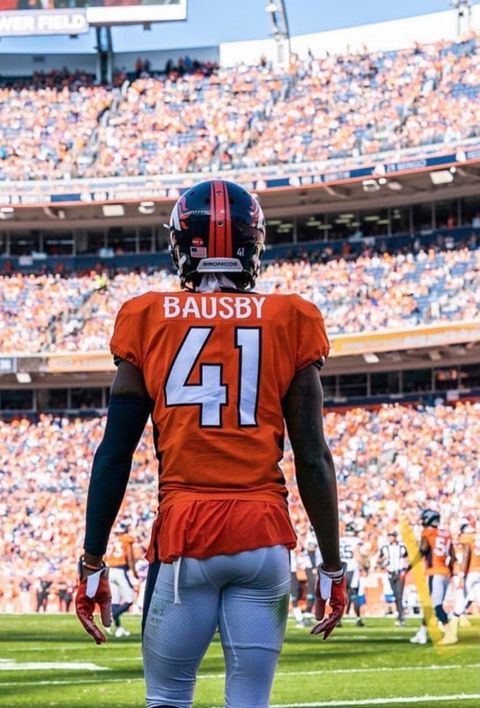 Likewise, Bausby has played for different teams like Las Vegas Raiders, Arizona Cardinals, Denver Broncos, etc.
Today, in this article, we will talk more about Bausby and his career, personal life, and more.
De'Vante Bausby | Quick Facts
| | |
| --- | --- |
| Full Name | De'Vante Bausby |
| Birth Date | January 15, 1993 |
| Birth Place | Kansas City, US |
| Nick Name | Bane |
| Religion | Not Known |
| Nationality | American |
| Ethnicity | American-African |
| High School | Logan preparatory |
| Horoscope | Capricon |
| Father'sName | Hosea Bausby |
| Mother'sName | Tasha Word |
| Age | 30 |
| Height | 1.88 m (6'2″) |
| Weight | 86 kg (190 lb) |
| Squad No | 41 |
| Hair Color | Black |
| College | Pittsburg State |
| Build | Athlete |
| Marital Status | Married |
| Girlfriend | Not Known |
| Position | Cornerback |
| Profession | NFL player |
| Net Worth | over $10 million |
| Salary | $990,000 |
| Currently Plays for | Las Vegas Raiders |
| League | NFL |
| Active Since | 2015- present |
| Social Media | Twitter, Instagram |
| Merch | Las Vegas Raiders Jersey, Raiders' Apparel |
| Last Update | March, 2023 |
Childhood of Bausby
Bausby was born and raised in Kansas City. He has been playing football since he was little. But, unfortunately, the economic condition of his family was not very fulfilling.
He even was a member of a non-profit corporation called Operation Breakthrough, established in 1971. Its mission was to provide a nurturing and safe environment for children in poverty.
Likewise, Bausby spent his time playing football, and Operation Breakthrough prepared his future in football.
De'Vante spent a lot of his time with his uncle; that's how he came to love football.
According to Bausby, his uncle was the one who instilled that love for the game in him, and Operation Breakthrough helped him play.
You might be interested in another formal NFL player James Harrison >>
Pre-draft measurables of Bausby from NFL
According to his pre-draft measurables, De'Vante's records for 40-yard dash is 4.35 sec, 20-yard suttle is 4.32 sec, and three-cone drill is 7.24 sec.
Likewise, the vertical jump records at 37.5 in (0.95 m), the broad jump at 11 feet (3.35 m), and finally, the bench press is recorded at 14 reps.
Bausby's High School & College Life
Bausby was very popular during his high school and college life because he was very talented in football since he was young.
He was a three-time all-state champion while he was at Logan Prep High School. The Kansas-native received All-State honors for the defensive back in 2008 and 2010.
Similarly, Bausby received All-State honors at wide receiver in 2009 and 2010.
He had 15 touchdowns, 88 career passes, and 178 career tackles with 22 inceptions during his high school.
As a freshman at Pittsburg State College, Bausby was a talented cornerback player of the Pittsburg State Gorillas; he played as a member of the Gorillas. Even as a rookie, Bausby played exceptionally.
Even though Bausby chose marketing as his major subject, he wasn't interested in reading. Instead, he wanted to focus on football. And later on, he pursued football as his career because it was something he loved.
Bausby even has a degree in Business marketing.
Professional Career
Start with the Kansas City Chiefs
Bausby started his career with his first-team Kansas City Chiefs in 2015 as an undrafted free agent.
He had signed a $1.575 million contract with the Kansas City, but unfortunately, Bausby broke his collarbone during an OTAs in June 2015.
Following that, De'Vante had to go through surgery, and the Chiefs released him with an injury appointment.
Chicago Bear & Return to the Chiefs
On January 4, 2016, Bausby signed a reserve/future with the Bears' during which he played three games as a reserved and was released on September 3, 2016.
And on November 19, 2016, he was released by the Bears and re-signed on November 21.
Finally, Bausby was waived by the Chicago Bears on May 1, 2017. Two days later, Kansas City Chiefs signed De'Vante Bausby. It was his second chance to impress the Kansas City Coach.
However, on September 2, 2017, he was waived by the Chiefs.
Numerous Contract and Injury
Not long after Bausby was waived from the Kansas City Chief, he signed in with the Philidelphia Eagles on September 12, 2017, in their practice squad.
Bausby spent most of the time in practice squared but finally appeared in six games late in the season.
But after the Eagles got a 53 player limit, they had to let go of some players, and Bausby was one of them.
Likewise, on April 8, 2019, Bausby signed a one-year contract for $655,000 with Denver Broncos.
During a game with the chargers, Bausby suffered a cervical sprain injury during the second quarter due to an accidental helmet-to-helmet collision with liner back Alexander Johnson.
After fully recovering from the injury, the Broncos re-signed Bausby a one-year $825,000 extended contract on March 19, 2020.
On October 24, 2020, the Denvers activated cornerback player A.J. Bouye who was on injured reserve, and then released Bausby.
Following that, De'Vante played one game for the Cardinals but was waived off.
Bausby's debut at Alliance of American Football

(AAF)

After Philidelphia Eagles waived Bausby, he was picked up by San Antonio Commanders.

He then made his first debut at Alliance of American Football as a player of San Antonio Commander on January 9, 2019, and finished the game with an interception and three tackles.

Bausby then signed a one-year $990,000 contract with Las Vegas Raiders on June 17, 2021. It was the fifth team he joined throughout his career.

The Las Vegas Raiders make a roaster move to reach the 85 player limit, so they released a few players, and Bausby was one of them.

13 Best Safeties in the NFL [2021 Update] >>
Bausby's connection with the Kansas City Cheifs
A former player of the Kansan city chiefs, De'Vante Bausby, has a deep connection with the Cheifs.
Bausby was a member of a non-profit organization called Operation Breakthrough. The chiefs played a huge role in this organization.
He idolized the players of the Cheifs a lot, and he grew up in the shadows of the players of Cheifs.
De'Vante Bausby | Personal Life & Wife
Bausby is not only a professional football player but also a family man and a good father. He is married and has a son.
Likewise, Bausby is happily married and is not involved in any affairs with anyone.
According to his recent interview, his name was kept by his mom being inspired by a boyband, and she kept his name to De'Vante Bausby.
De'Vante Bausby | Social Media Presence
Aside from being a professional player, Bausby is very active on both Instagram and Twitter.
He tweets about his daily life and posts videos of his training. He also interacts with his fan through Twitter. However, he mainly posts his and his family's photos on Instagram.
Instagram: 10.6k followers
Twitter: 4.09k followers
De'Vante Bausby | Net Worth & Salary
The cornerback's net worth has been growing significantly from 2019-2020. Bausby collected most of his earnings from his Yeezy sneakers.
The money he pulled in from his profession was real–enough to rank as one of the biggest celebrity cashouts of all time.
Similarly, his basic income source is mainly from being a successful NFL player.
Bausby a robust NFL player has a net worth of over $10 million in March, 2023.
De'Vante Bausby | Career Record & Stats
Throughout his career from the Kansan City Chiefs, and has changed teams many times. Similarly, Bausby has recorded 58 tackles and has been rewarded with a Superbowl ring.
Also, the cornerback is an outstanding cornerback player who made his way to the NFL in a short period even after being severely injured many times.
He has shown true dedication and passion towards American Football, and his journey continues.
NFL: 15 Greatest football teams of all time >>
FAQs | De'Vante Bausby
Which team is De'Vante Bausby playing for?
On June 17, 2021, the Las Vegas Raiders signed De'Vante Bausby as their cornerback player and have been with them ever since.
Does Bausby have siblings?
No, De'Vante Bausby doesn't have any siblings. He is a single child of his parents Hosea Bausby and Tasha word.