Devin White, the prominent linebacker for the Tampa Bay Buccaneers, has emerged as one of the most notable personalities in the National Football League (NFL) since he was drafted as the fifth overall pick in 2019.
With his exceptional swiftness, agility, and hard-hitting tackles, he has garnered the admiration of fans, coaches, and teammates.
The player won the Super Bowl championship in the 2020 season in a 31–9 victory over the Kansas City Chiefs in Super Bowl LV.
Likewise, White led the SEC in tackles with 133 in his sophomore season at LSU and became the first player in SEC history to be named Defensive Player of the Week four times in the same season.
In this article, we will delve deeper into the life and profession of Devin White, exploring what attributes him as such a formidable force in the NFL.
But, before that, here are some quick facts.
Quick Facts
Full Name
Devin Marcel White
Date of Birth
February 17, 1998
Age
Years Old
Birth Place
Springhill, Louisiana, USA
Nationality
American
Ethnicity
Black
Zodiac Sign
Aquarius
Height
6 feet 0 inches (1.83 meters)
Weight
237 pounds (108 kgs)
High School
North Webster High School in Springhill, Louisiana
University
Louisiana State University
Father's Name
Carlos Thomas
Mother's Name
Coesha Standokes
Siblings
J'Marco Jewel Greenard (Died June 2011)
Wife
None
Son
Connor White
Profession
NFL player
Position
Linebacker
League
NFL
Team
Tampa Bay Buccaneers
Jersey Number
45
Active Years
2019–Present
NFL Draft
Round: 1, Pick: 5 (2019)
Highlights & Awards

Super Bowl champion (LV)
Second-team All-Pro (2020)
Pro Bowl (2021), etc.

Net Worth
$5- $10 Million
Salary (Average)
$7,328,954
Social Media
Instagram
Merch
Signed Photo
Last Update
May, 2023
Age & Body Measurements
Devin White was born in the year, 1998. Hence, he is years old as of 2023.
The player stands 6 feet (1.83 meters) tall and weighs about 237 pounds (108 kilograms).
Additionally, his arm length is 32 1/8 inches (0.82 meters), and his hand span is 9 3/4 inches (0.25 meters).
At the NFL Combine 2019, White recorded impressive results, such as a 4.42-second 40-yard dash, a 39.5-inch vertical jump, a 118-inch broad jump, and a 7.07-second three-cone drill.
Early Life and Family
Devin White's birthplace and hometown is Springhill, Louisiana. He was born on February 17, 1998, to Carlos Thomas and Coesha Standokes. Unfortunately, Carlos died at the age of 45 on Nov 13, 2022.
Devin's parents separated when he was just four years old. After the divorce, his mother remarried Willie Standokes, who became Devin's stepfather.
Growing up, Devin lived with his mother and stepfather in a small town with less than 1,000 people.
He had a brother named J'Marco Jewel Greenard, who was six years his senior and played an important role in his life, both on and off the field.
Tragically, J'Marco died in a car accident in June 2011 when Devin was only 13 years old.
J'Marco's untimely death was a turning point in Devin's life, inspiring him to pursue his dreams and honor his brother's memory.
Education
Devin White attended North Webster High School in Springhill, Louisiana, where he played football as a standout linebacker and running back.
The player was invited to "The Opening," an all-star summer prospect camp on the Nike Campus. He rushed for 5,031 yards and 81 touchdowns on 270 carries in high school.
Devin then enrolled at Louisiana State University in 2016 and played for the Tigers from 2016 to 2018. He majored in sports administration and was a two-time member of the SEC Academic Honor Roll.
The player led the SEC in tackles with 133 in his sophomore season and won the Butkus Award as the nation's top linebacker in his junior season.
Devin decided to forgo his senior year and enter the 2019 NFL Draft. The player graduated from LSU in 2021.
Career
Devin White's NFL career began in 2019 when he was drafted by the Tampa Bay Buccaneers in the first round as the fifth overall pick.
The player scored two defensive touchdowns his rookie year and was a huge part of the Bucs' Super Bowl championship season in 2020.
In the Super Bowl against the Kansas City Chiefs, Devin recorded 12 tackles, two tackles for loss, and the game-sealing interception off a pass thrown by Patrick Mahomes in the end zone to secure a 31–9 victory for his team.
The player was named NFC Defensive Player of the Month for September 2022.
White has a career total of 453 tackles, 20.5 sacks, 6 forced fumbles, 1 interception, and 2 defensive touchdowns as of this writing.
Career Highlights And Awards
Super Bowl Champion (LV)
Second-team All-Pro (2020)
Pro Bowl (2021)
PFWA All-Rookie Team (2019)
2× First-team All-SEC (2017, 2018)
Butkus Award (2018)
Consensus All-American (2018)
Second-team All-American (2017)
Relationship
Devin White has a son named Connor, who he frequently posts about on his Instagram account.
It is unclear who Connor's mother is, as White has not revealed her identity to the public.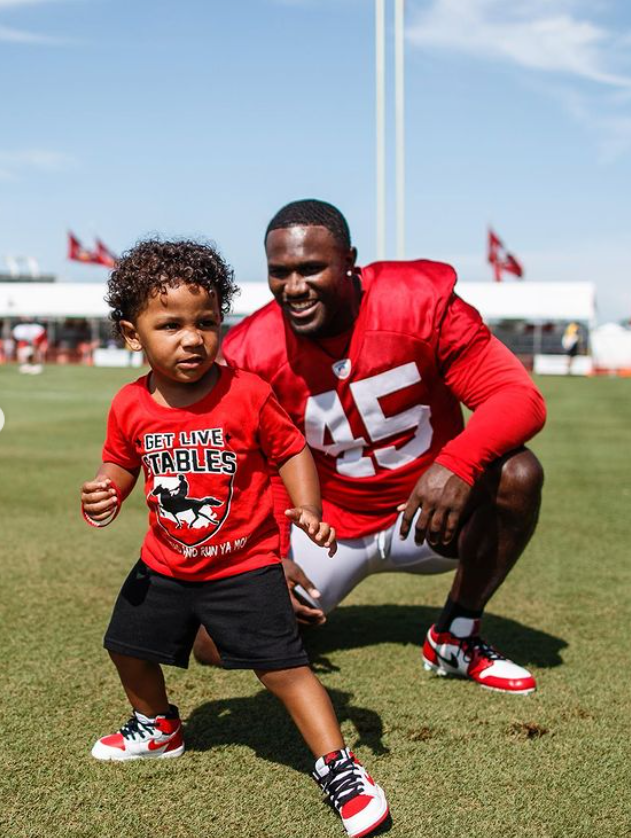 Connor was born while White was still attending Louisiana State University, where he played college football before being drafted by the Tampa Bay Buccaneers in 2019.
White often shares pictures and videos with Conner, showing his fans and followers his special bond with his son.
Controversies
Devin White has had his fair share of controversies in his career, both on and off the field. Here is a list of some of the controversies he has been involved in:
In November 2015, he and his teammate Keuntra Gipson were arrested for engaging in sexual activities with a 14-year-old, which was considered a misdemeanor in Louisiana.
One month later, White was again arrested for misdemeanor charges of careless operation of a motor vehicle and fleeing from an officer. As a result of his legal troubles, he was dismissed from the 2015 Under Armour All-America Game.
In February 2021, he made a controversial comment about competing with fellow linebacker Lavonte David to see who could get more fines for hitting quarterbacks, a statement that could raise eyebrows in the league office.
In November 2021, he was criticized for his poor performance and lack of accountability in the Buccaneers' 3-5 start. In response, he blocked fans and media on social media, drawing criticism from fans and the media.
Contract
Devin White signed a four-year contract worth $29,315,814 in 2019 after being drafted fifth overall in the 2019 NFL Draft. The contract included a $19,340,592 signing bonus, $29,315,814 guaranteed, and an average annual salary of $7,328,954.
This makes him the 14th highest-paid inside linebacker in the NFL and the third highest-paid player on the Buccaneer's roster.
White's contract also has a fifth-year option available for 2023, which the Buccaneers exercised in April 2022. Hence, White will remain with the team for at least another year, with a base salary of $11,706,000 for 2023.
Net Worth & Endorsements
Devin White's estimated net worth is around $5- $10 million as of 2022, mainly from his NFL contract worth $29.3 million over four years, including a fifth-year option for 2023.
Additionally, he has signed an endorsement deal with Nike, which adds to his wealth.
White has also expressed his ambition to earn a $100 million contract in his second NFL deal, which he will be eligible for after the 2023 season.
The player has publicly stated that he aims to become one of the highest-paid players in the league and is determined to achieve this goal.
Interesting Facts
One of Devin White's favorite pastimes is horse riding. The player is the proud owner of seven horses.
White has a passion for riding his horses, and he even brought one of them, Daisy Mae, to LSU's campus as a student.
After winning the Super Bowl, White rode his horse around Raymond James Stadium, a gesture that endeared him to many fans.
Frequently Asked Questions
What college did Devin White attend?
Devin White attended LSU from 2016 to 2018, playing football as a standout linebacker and winning the Butkus Award as the nation's top linebacker in 2018.
What number is Devin White?
Devin White wears the number 45 for the Tampa Bay Buccaneers of the NFL. The player used to wear 40 when he played college football at LSU, but he chose 41 when he was drafted by the Buccaneers in 2019. White later switched to 45 before the 2020 season. He said he wanted to honor his late brother J'Marco Jewel Greenard, who wore 45 when he played high school football.