Devon Larratt is a well-known Canadian arm grappler and a former member of the Canadian Armed Forces. He is widely considered one of the best arm wrestlers of all time and is currently the #1 ranked arm wrestler in North America.
On June 25, 2022, Devon lost to Levan Saginashvili Larratt at King of Table 4 (KOTT 4) in Dubai, making Saginashvili the #1 arm wrestler in the world, both left and right-handed.
Larratt has an impressive record of beating stronger and bigger men in arm wrestling. His stunning performance has made him one of the greatest arm wrestlers, with a net worth of $300 – $500k in 2023.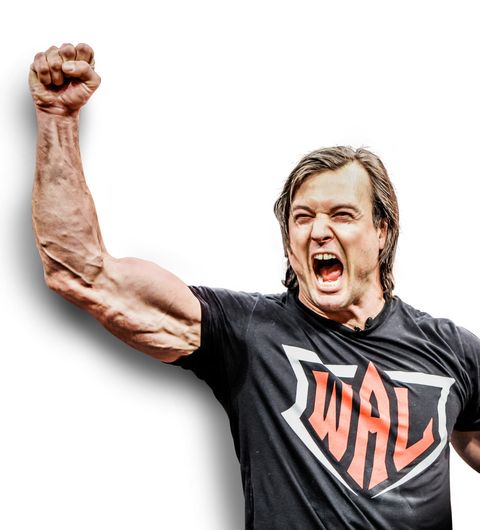 Besides, Devon is one of the few arm wrestlers credited for popularizing sports worldwide.
Larratt has competed since 1999, claimed 54 out of the 63 major matches from the right and left-hand champion titles, and holds the "legacy hammer" trophy.
Devon is still an active player, and his most recent victory was with Evgeny Prudnik (3-0) at the East vs. West 5 event in November 2022.
However, despite his popularity, you might not know about his personal and professional information.
Thus, we have arranged this respective article about Devon's personal life, career, net worth, and noticeable events in his life. All things considered, let's start.
Quick Facts
Name
Devon Larratt
Nickname
No Limits
Birthdate
April 24, 1975
Age
47 Years Old
Nationality
Canadian
Zodiac
Taurus
Birthplace
Victoria, British Columbia
Body Type
Athletic
Height
6'5″/1.96m/196 cm
Weight
129.5 kg/285.5 lb.
Forearm Size
38 cm/0.38 m
Bicep Size
43.5 cm/0.435 m
Eye Color
Light Green
Hair Color
Dark
Skin
Fair
Profession
Arm Wrestler
Titles

2014 – WAL Championships – 1st Place, Heavyweight (Left Hand)
2015 – WAL Championships – 1st Place, Heavyweight (Left Hand)
2016 – WAL Championships – 1st Place, Heavyweight (Right Hand)
2017 – WAL Championships – 1st Place, Heavyweight (Left Hand)
2016 – WAL Championships – 1st Place, Heavyweight (Left Hand)
2015 – WAL Southern Regionals – 1st Place, Heavyweight (Left Hand)
2016 – WAL Northern Regionals – 1st Place, Heavyweight (Left Hand)
2017 – WAL Championships – 1st Place, Heavyweight (Right Hand)
2016 – WAL Northern Regionals – 1st Place, Heavyweight (Right Hand)

Relationship Status
Married
Wife
Jodi Larratt
Wife's Profession
Children
Auden Larratt, Habree Larratt & Milo Larratt
Social Media
Instagram
Net Worth
$300k – $500k
Merch
Arm Wrestling Equipment
Last Update
April 2023
Early Life, Ethnicity & Family
Devon Larratt, aka "No Limits," was born on April 24, 1975, in Victoria, British Columbia, to a German-speaking mother, although her name is not revealed.
Fans across the world inquire about Larratt's personal life. Sadly, he prefers to keep his personal information out of the spotlight, and very less information is available.
Hence, there is no factual information regarding his parents and brothers, if he has any. As for his nationality, Devon is Canadian, while his ethnicity is unknown.
Professional Background
The professional arm wrestler Devon built his interest in arm wrestling during high school. Later, he started to face other Canadian arm-wrestling powerhouses at the age of 21.
He had to stop contending in 2013 because of a medical complication. Devon had to undergo a medical procedure to correct both his elbow.
It was reported that it constrained him to contend and affected the functionality of his hand.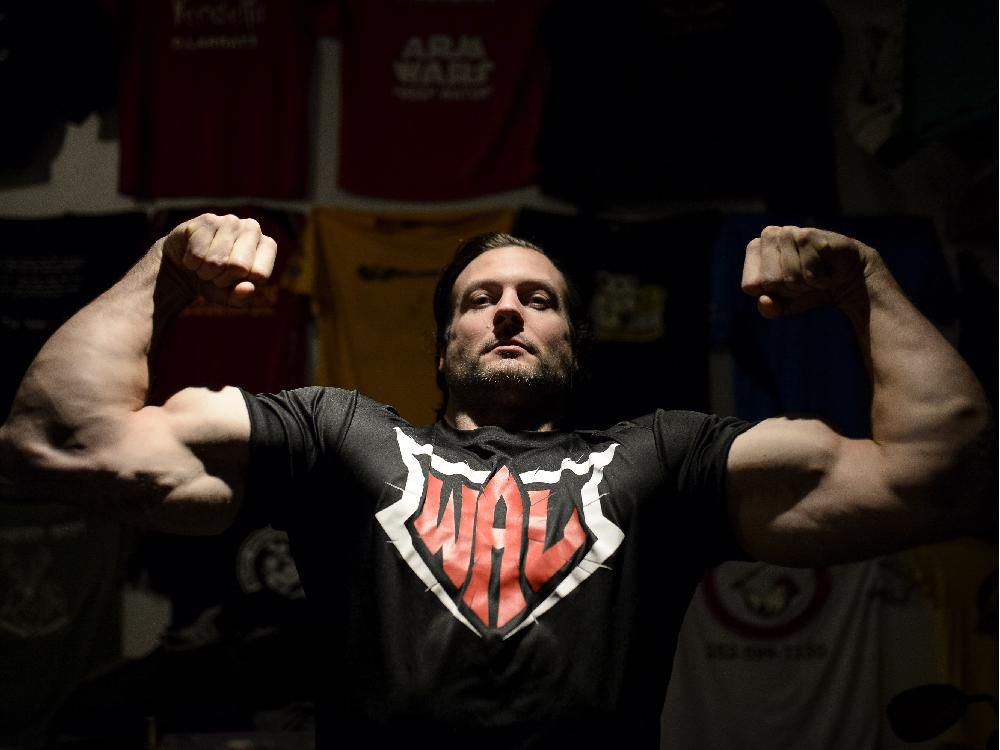 In 2016, Devon Larratt had a similar surgery on his left elbow. Unlike the last complication, it recuperated a lot quicker.
Consequently, he recovered just in time to win the World Arm Wrestling Class that year.
Devon is famous for overpowering the arm grappler John Brenk. Besides, he has also earned the reputation for being the best arm grappler on the planet.
Career
Many might not know this, but Larratt, aside from being an arm wrestler, is also a former military man.
During his military career, Devon trained and competed against fellow soldiers. Arm wrestling was a common sport in military bases.
Thus, it helped Devon to flourish exponentially. While serving in the Canadian Special Forces, Devon toured Afghanistan and even got shot.
After leaving the Special forces, Devon focused solely on arm wrestling and gained fame in late 2000.
Larratt received worldwide fame after his win against the legendary John Brzenk in 2008. This led to the growth of his legacy and popularity across the world.
Devon holds the record for winning the world titles simultaneously for both right and left hand.
Besides dominating the sport and winning numerous championships, he had to limit his ability because of his elbow surgery.
"The Hands Of Steel"
Devon has been competing actively and defending his title; he made history after winning the WAL Championship for both Right-Arm and Left-Arm Heavyweight class in 2017.
He lost the WAL Championship Right-Arm Super Heavyweights in 2018 against Michael Todd, followed by another loss with Denis Cyplenkov.
Then, he faced off against Dave Chaffee in the same year and won 3-1. Additionally, he had a comfortable 3-1 win against Wagner Bortolato in 2019 at WAL 506.
Larratt defeated Janek Kwias on March 2021 in a super match at BAL 204.
Recent Matches
Devon is still active in competitions. The most recent match he played was with Saginashvili on June 25th, 2022, where Devon lost 6-0 at King of Table 4 (KOTT 4) in Dubai.
After that, Devon won in his November 2022 match with Evgeny Prudnik (3-0) at East vs. West 5.
| | | | | |
| --- | --- | --- | --- | --- |
| Year | Opponent | Result | Hand | Event |
| 2022 | Evgeny Prudnik | Won (3-0) | Right Hand | East vs. West 5 |
| 2022 | Levan Saginashvili | Loss (0-6) | Right Hand | KOTT 4 |
Devon Larratt's
Wife | A Strong Bond Through "Arm Wrestling."
Devon is married to his wife, Jodi Larratt. The couple has three beautiful children as of now.
He is a family man who loves spending time with his family. Besides supporting her husband, Jodi has also expressed her love for arm wrestling.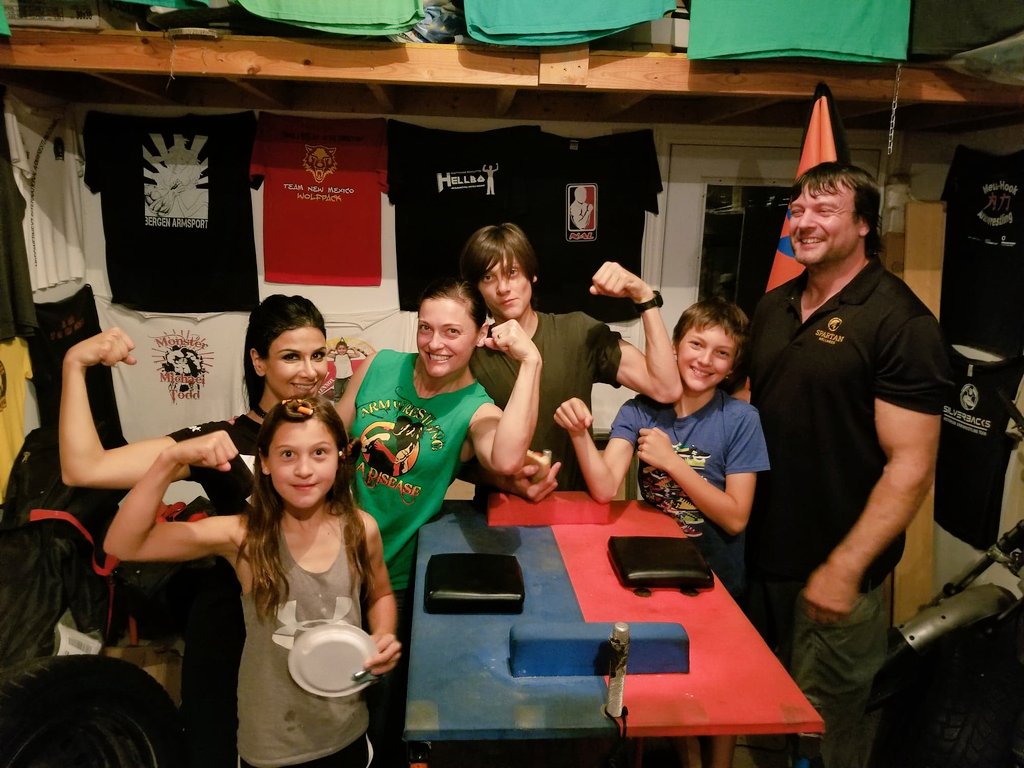 Devon states that his wife had trained much harder than before and improved her skill.
In addition, the couple's Ottawa home has recently become a destination for a basement gym for arm-wrestling enthusiasts.
Apart from being an arm wrestler, Jodi is an actress and is still pursuing her acting career; she was a guest cast in the show "Son Of A Critch."
Devon Larratt vs. Shaquille O'Neal
Devon made a special appearance in 2018 during the TNT episode. The respective episode was hosted by Ernie Johnson Jr, Charles Barkley, Kenny Smith, and Shaquille O'Neal.
During the program, Devon and Shaq faced off against one another. However, despite having a height and weight advantage, Shaq was not a match for the Canadian giant.
Devon revealed his secret to dominance against Shaq was the pronator. It is a muscle, which is located just below the elbow.
"The pronator is really what starts to set arm wrestlers apart," Larratt told MensHealth.com in an interview.
"It's your best sword, your best weapon. I can say with 100 percent conviction—you can train your forearms every day, multiple times a day, and get fantastic gains."
R

ecord & Titles

Devon has participated in numerous tournaments and has won matches across the world. It is noteworthy that Larratt has won these titles while recovering from surgery.

He is renowned for defending his WAL title of both hands (right and left). Larratt defeated Jerry Cadorette in 2018 during a super match at WAL 402.

Although he lost during the WAL 406 against Michael Todd with a margin of 3-2, he also defeated Russian Superstar Denis Cylenkov via a 6-0 scoreline in Zloty Tur, Poland.
Workout
Here are his workout routines for those curious to know how Devon keeps his arm ready and warmed up for tournaments.
Cupping/Wrist Flexion (

1 set, 25 to 50 reps)
Standing Cable Wrist Curls (

1 set, 25 to 50 reps)
Pronation Forearm Flex (

1 set, 25 to 50 reps)
Pullups with Wrist Engagement (

As many reps as possible)
Height, Weight & Arm Size
Devon is a huge man in arm wrestling with a 0.435 m bicep and 0.38 m forearm.
Likewise, the Canadian wrestler currently stands at a stunning height of 1.96 meters and weighs around 285.5 lbs.
The athlete follows the intense body and arm workout to maintain physical fitness. In addition, he engages himself in a strict diet to keep his performance at its very best.
Net Worth
Devon has earned a fortune by competing in arm wrestling tournaments worldwide. As of 2023, Devon's estimated net worth is $300k – $500k.
He primarily competes in WAL and appears in TV deals with ESPN.
Each of the events costs $2.99 on PPV. In addition, the league has streaming rights with the likes of Fanseat.
Also, it was mentioned that Larratt earns about $75,000 from his tournament prizes and an additional $1,000 daily for giving seminars.
He has collaborated with companies such as Rogue, CrossFit, and The Beard Struggle for endorsement deals.
Devon believes in charity too, for which he did a few charity matches, one of which was "Premier 101 International Charity Arm Wrestling 2018".
Social Media
The athlete is quite famous on Instagram. He has 390k followers under the username @devlarratt.
However, despite his popularity on the internet, he does not seem to have a Twitter.
View this post on Instagram
Devon Larratt likes adventurous activities, which include fishing. As we can see on his Instagram, he has posted his video while fishing.
He also has a YouTube channel with 589k subscribers and uploads his training videos there.
Search Graph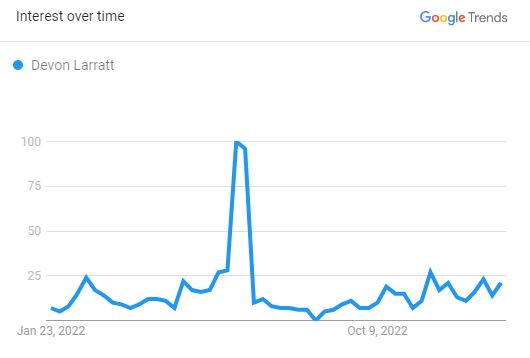 Frequently Asked Questions (FAQS)
Where does Devon live?
Devon has not revealed his location of residence because of security reasons. However, it is known that he, along with his family, lives somewhere in Ottawa.
Is Devon dead or alive?
Devon is currently alive and in good health. Additionally, there have been no reports of him having health-related issues.
Where is Devon now?
Devon Larratt is currently pursuing his career in arm wrestling. He recently faced off against Evgeny Prudnik.