Being born to celebrity parents automatically gets you so much more attention. The same is true for Drew's children. They got into the limelight as soon as they were born.
We all are familiar with NFL legend Drew Brees' magical skills on the football field. The former Super Bowl-winning quarterback for the New Orleans Saints reigned the NFL every season.
Brees was always seen celebrating the triumph with his adorable family with every record he broke, which has garnered much interest from his fans about his personal life.
In 2021, he retired from NFL, even though the fans are always eager to know about Brees' exciting life.
After just one season working as an analyst for Notre Dame games and in the studio for NBC's Football Night in America in 2021, Drew announced in June 2022 that he would not return to the network this year.
Brees explained his decision as, "The reason I didn't do it this year, from a broadcasting perspective, is my family. You have to be gone for the weekends, and that's what I basically did as a player. These are such valuable moments for my kids. I want to be as active and involved in their weekend activities. That doesn't quite mesh right now with a broadcasting career."
Today, we will discuss everything about Drew's four children. In addition, we will also learn briefly about his wife, including his net worth.
Let's not waste any time and dig out more information about Drew Bree's kids. But first take a glance at quick facts about Drew Brees' kids.
Drew Brees' Kids | Quick Facts
Note: Every information mentioned in the box contains details about Baylen, Bowen, Callen, and Ryden, respectively.
Full Name
Baylen Robert Brees
Bowen Christopher Brees,
Callen Christian Brees &
Rylen Judith Brees
Birth Date
January 15, 2009
October 19, 2010
August 15, 2012, &
August 25, 2014
Birth Place
New Orleans, US
Nick Name
Not Available
Religion
Christianity
Nationality
American
Ethnicity
White Caucasian
Education
Not Available
Famous For
Children of Drew Brees
Horoscope
Capricorn, Scorpio & Leo
Father's Name
Drew Christopher Brees
Mother's Name
Brittany Brees
Siblings
4
Age
14, 12, 10 & 8 years old
Height
Not Available
Weight
Not Available
Hair Color
Blonde
Eye Color
Not Available
Build
Not Available
Net Worth
$160 Million (Drew Brees)
Merch of Drew Brees
Funko Pop, Signed Rookie Card, Ball
Last Updated
June, 2023
Who is Drew Brees?
Andrew Christopher Brees, born on Jan 15, 1979, is a retired American football quarterback. Brees played in the NFL for 20 seasons. Brees played for the New Orleans Saints for most of his career.
Born to an athlete family, Brees' mother is a former all-state athlete in three sports in high school, and his father played basketball for the Texas A&M Aggies men's basketball team.
Drew is the NFL leader in career completion percentage, regular-season passing yards, and career pass completions. In addition, he also became second in career pass attempts, and career touchdown passes.
Brees was born in Dallas and raised as a Christian.
He became committed to his faith at the age of 17 when he was at church with a torn ACL and pondered who he was and his purpose in life.
Drew was drafted by San Diego Chargers in the 2001 NFL Draft. Later he signed his first contract with New Orleans Saints in 2006.
After playing for 20 professional years, Brees declared his retirement on March 14, 2021. Thus, the Saints positioned him on their retired list on June 11, 2021.
In June 2010, Former President Barack Obama appointed Drew to be co-chair of the newly renamed President's Council on Fitness, Sports and Nutrition, accompanied by former Olympic gymnast Dominique Dawes.
Who Did Drew Brees Marry?
Brees was married to his college sweetheart Brittany Dudchenko in February 2003. The couple attended Purdue University.
They first met one another at a college party. After dating for a few years, Drew and Brittany tied the knot. Their marriage was intimate, with a small ceremony attended by close friends and family.
The couple shifted to California when The San Diego Chargers drafted Brees.
Brees was later traded to the New Orleans Saints. It was during the same time that Hurricane Katrina destroyed the region.
After the catastrophic disaster, he and Britanny decided to shift to New Orleans permanently and raise their children in Big Easy.
In 2003, Brees and his wife, Brittany, established the Brees Dream Foundation. The Foundation supports cancer patients and research in memory of Brittany's departed aunt, who died of cancer.
To date, the Foundation has donated over $45 million to charitable causes around the world.
Drew Brees' Kids
Andrew and Brittany have four children together. They have three sons; Baylen, Bowen, and Callen. They also welcomed one daughter named Rylen in August 2014.
The proud father of four children already has his sons following the family legacy in sports. In addition, he also coaches their flag football teams.
As for his daughter Rylen, Brees revealed that the little girl had him wrapped around her finger since birth. As per the sources, Drew had a vasectomy after the birth of his daughter, which means Rylen might be their last child.
Also, Read About Serena Williams's Daughter: Bio, Tennis & Name>>
Drew Brees' Kids | Eldest Son, Baylen Robert Brees
Baylen is the eldest son of the Brees. He was born on January 15, 2009. Baylen is a very creative child, as the boy is into arts and acting. During the pandemic, the boy got his hands on the arts.
The boy made art on the shoes, and dad Brees was so proud of him. With his custom shoes, Baylen accumulated over $11,000 for COVID-19 relief.
Baylen is bringing the best version of himself. During the quarantine, he had been very productive, following an exciting hobby and setting an excellent example for his younger siblings.
In an interview, Brew said, "Baylen has become friends with the guy who designs all my shoes for my cause, my cleats – Marcus Rivero."
He further added, "They've actually facetimed together, and he's given him some tips. We've got the Whole airbrush setup at home. He got that for christmas, so he's been making cleats now for guys on the team."
Baylen is also a sports lover and athletic like his dad. Thus, he might continue his family legacy.
Drew Brees' Kids | Second Son, Bowen Christopher Brees
Bowen Brees is the second child of the lovely couple Drew and Brittany. He was born on October 19, 2010.
Similarly, he is also very enthusiastic about sports like basketball and football. He is often seen playing basketball with his elder brother.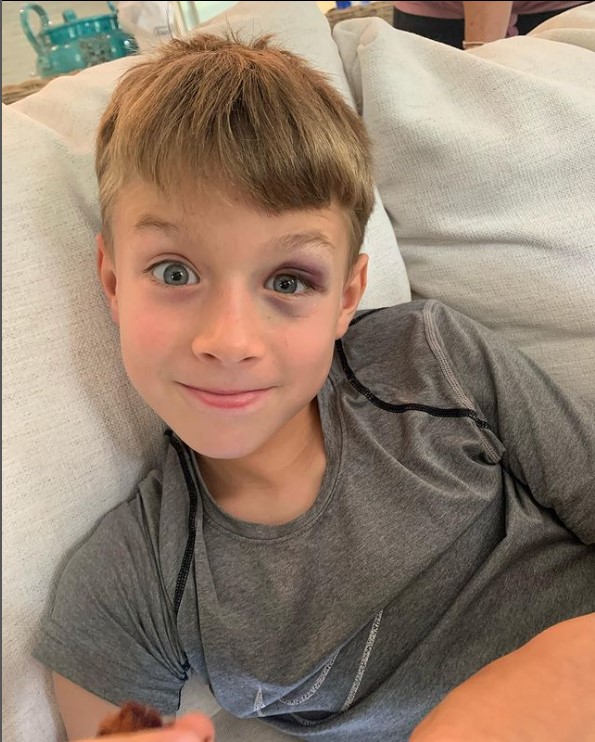 In addition, Drew often shares his kids' photos and videos on his social media handle.
He frequently posts about Bowen jumping on the trampoline, playing basketball with his brothers, and playing football. The kids have brought loads of delight and happiness to Brees's family.
Drew Brees' Kids | Youngest Son, Callen Christian Brees
Callen is the youngest son of Drew and Britanny. He was born on August 15, 2012.
The small boy is a massive fan of basketball and the NBA player Stephen Curry. Drew's all sons are interested in basketball, and Callen generally plays basketball with his brothers. Like, father, they love doing trick shots and slam dunk shots.
Callen's favorite football player is his father. Just like his dad, Callen has also turned out to be a sports lover.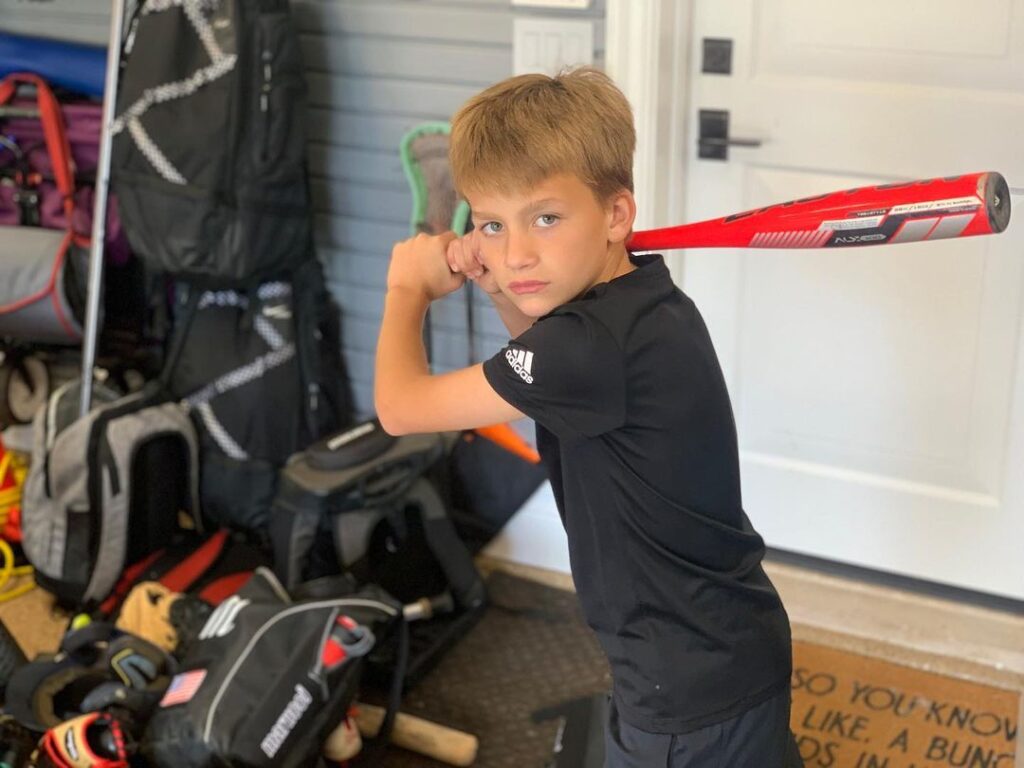 We don't know what Callen's future holds, but we can predict that he could be a football or a basketball player.
Once, a bear attacked Callen, but the brave boy wrestled the animal. Brees shared the picture of his son with a scarred face on Instagram, captioning about an attack by a bear.
Read About Stephen Curry's Daughter, Riley Curry, And How She Became Internet Sensation>>
Drew Brees' Kids | Daughter, Rylen Judith Brees
Drew has the sweetest daughter Rylen Brees, born on August 25, 2014. She is the youngest kid in the Brees family and the only daughter after three sons.
Rylen is a very pampered child in the family, and she is undoubtedly daddy's girl. She is an adventurous kid. She is often seen playing golf and trampoline with her brothers.
Likewise, she loves fishing with her father on weekends. As the youngest member of the family, Rylen probably gets a lot of attention from her family.
Whenever she is seen outside with family, she catches the public's attention due to her overloaded cuteness.
Brees' On Daughter Birth After Having Three Sons
When Rylen stepped into the world, undoubtedly, Brees was the happiest person as he shared the most intimate details from the delivery room. Her three little brothers were more eager to welcome her.
However, the younger one, Callen, who was just two back then, was in a significant momma phase. So Brees joked, "So anything that's averted attention away from him is probably not something he's not going to be a fan of right now."
According to Brees, his three sons always wanted a baby sister. Well, they are lucky that their mommy and daddy granted their wish.
The couple didn't think about the little girl's name as they wanted to spend time with her and feel her personality to name her accordingly, which we guess was very thoughtful of them.
Brees has his ideal family, a girl, and three boys. It's the way he always drew it up from the start. "When dad can't be around, there's enough of built-in protection — that was the design," he said.
Drew Brees | Net Worth
As of 2023, Drew Brees has an estimated net worth of $160 million. Most of Drew's wealth is accumulated from his professional career as a football quarterback.
Through out his professional career, he garnered more than $247 million.
Besides that, he also earns a decent amount by doing several endorsements and sponsorships.
Drew endorses multi-million dollar brands like Nike, PepsiCo, Microsoft, Proctor & Gamble, Verizon, Nyquil, Dayquil, and Wrangler products.
He earned approximately $13 million through endorsements in 2018. And he is reported to have pocketed over $13,000 for every sponsored tweet and social media post in 2022.
Drew Brees Kid's Reaction To His Retirement
Drew Brees shared the idea of retirement with his kids when he first started thinking about retirement from football. Little did he know they'd had some strong opinions on the matter.
The former football quarterback revealed in an interview that it took his four children a bit of time to digest the fact that he was thinking about retirement.
According to Bress, he told his children about the news in 2020 while driving in the car. He said, "'Boys, what would you think if Dad wasn't gonna play football anymore?" And they were shocked by the question their dad asked.
The innocent children denied the father's idea, and their concern was that they would not be able to go to the games and Saints facility anymore.
However, the father of four joining NBC Sports as a football analyst explained to his children that he'd have enough time to spend with them if he were to retire.
However, the kids were still not convinced.
Subsequently, Brees' children became a lot more adaptable to the idea of him retiring.
In his interview with Ellen DeGeneres, he explained that he gave his kids one last zeal on the field after his final football game.
Drew Brees Refers To His Kids As A Best Medical Team
Drew Brees was on injury leave after the Saint Diego Chargers game against the San Fransico 49ers in November 2020.
He entered the game with one cracked rib, and during the game, he had multiple breaks and a lung issue.
The following day, Drew shared an Instagram picture of himself exhaling into a toy breathing device as his kids held a miniature stethoscope to his chest and a toy otoscope to his ear.
He wrote in the caption, " I've got the best medical team in the world. Will be back in no time!" We can say that his kids are very adorable and appealing.
However, he returned to the game on December 19 after missing four games. A week later, Brees became the first player in NFL history to surpass 80,000 passing yards.
Drew Brees Kids Announced His NFL Retirement
Drew Brees declared his plans to retire from his 20 years long NFL career on March 14, 2021. He got his kids to help him announce the news in a heartwarming video.
In a retirement video of Brees featuring his four children, the kids explained that their dad would finally retire from football.
View this post on Instagram
The children revealed the information in turn. Furthermore, they added to the footage unitedly with excitement, " So he can spend more time with us! Yay!"
The proud father previously shared how he balanced his athletic career and parented his young children with his wife, Britanny.
He managed his time during the season by being efficient, while in the offseason, he got a lot more consistent time and spent time with his children.
Drew Brees | Social Media Presence
However, Drew consistently shares an adorable pictures of his family with funny captions on his social media account. The fans can't stop showering love for his children's cute photos and videos.
Drew Brees | FAQs
How good is Drew's son?
Drew Brees' eldest son, Baylen Brees, appears to have chosen a slightly different path than his father.
The young boy is more interested in arts, and he has designed many custom cleats on his own, which many famous players like Teddy Bridgewater and Deonte Harris wore.
However, Baylen also plays basketball and football with his brothers. Perhaps he loves basketball more than football.
How many Super Bowls did Drew play in?
He played in one Super Bowl in his career. He led his team New Orleans Saints, to the team's first Super Bowl championship and was the Most Valuable Player of the game.
Read Next Carli Lloyd Bio: Early Life, Career, Relationship & Net Worth>>