A legend in football, Drew Brees is a former American football quarterback who played college football at Purdue and was a member of the New Orleans Saints of the National Football League (NFL) for most of his career.
He started his career as a quarterback at Westlake High School, later enrolled at Purdue University, and led the Boilermakers to a Big Ten Championship and a Rose Bowl appearance.
The NFL's San Diego Chargers drafted him in 2001, where he earned his first Pro Bowl selections in 2004.
Later he moved on to the New Orleans Saints in 2006, where he led the team to victory in Super Bowl XLIV in 2009. He holds numerous league records for completions, passing yards, and touchdowns.
Before we dive into the details of his life, here are some quick facts.
Drew Brees |
Quick Facts
| | |
| --- | --- |
| Full Name | Andrew Christopher Brees |
| Birth Date | 15 January 1979 |
| Birth Place | Austin, Texas, U.S. |
| Zodiac Sign | Capricorn |
| Nick Name | Drew Brees, Breesus, Hurricane Drew |
| Religion | Christianity |
| Nationality | American |
| Ethnicity | White |
| Father's Name | Eugene Wilson "Chip" Brees II |
| Mother's Name | Mina Ruth (nee Akins) |
| Siblings | Reid Brees (Younger Brother), Audrey Brees (Half-sister) |
| Education | Westlake High school; Purdue University |
| Age | 44 Years Old |
| Height | 6'0″ (1.83m) |
| Weight | 209 pounds (or 95 kg) |
| Body Build | Muscular |
| Hair Color | Brown |
| Eye Color | Brown |
| Marital Status | Married |
| Spouse | Brittany Dudchenko |
| Children | 4; three sons (Baylen, Bowen and Callen) and one daughter (Rylen) |
| Profession | Former Football Player, Broadcaster |
| Position in team | Quarterback |
| Affiliations | San Diego Chargers (Former), New Orleans Saints (Current) |
| Net Worth | $160 Million |
| Social Media | Twitter: @drewbrees Facebook: Drew Brees Instagram: @drebrees |
| Merch | Jersey, T-Shirt, Autographed Jersey and Card, Autographed helmet, Rookie Card |
| NFL draft | 2001/Round 2/ Pick 32 |
| Jersey Number | 9 (New Orleans Saints/ Los Angeles Chargers) |
| Last Update | May, 2023 |
Drew Brees | Early Childhood And Education
Drew was born on 15 January 1979 in Austin, Texas, U.S. He is the eldest child of Eugene Wilson "Chip" Brees II, a prominent trial lawyer, and Mina Ruth (nee Akins), an attorney. He has a younger brother Reid Brees.
Drew comes from a very athletic family. His father played basketball for the Texas A&M Aggies men's basketball team, and his mother was a former all-state in three sports in high school.
His maternal grandfather, Ray Akins, is one of the great coaches in Texas high school football history, and his uncle Marty Akins was an All-Southwest Conference quarterback in 1975.
Reid, his brother, was an outfielder for the Baylor Bears baseball team. Also, his grandfather fought in the battle of Okinawa.
When he was seven, his parents divorced, and they shared custody of the kids. While it was difficult for Drew and his brother, the whole situation brought the brothers closer.
They have a half-sister named Audrey from their father's remarriage to Amy Hightower, daughter of late U.S. Representative Jack English Hightower.
Drew enrolled at Westlake High School in 1993. In high school, he excelled in basketball, baseball, and football.
The fall of 1996 was his senior season, and he led the club to a perfect regular-season record and a state championship.
Drew enrolled at Purdue University, where he continued to play as a quarterback. During the four years, he helped the Boilermakers win a Big Ten Championship and a trip to the Rose Bowl.
He graduated in 2001 with a degree in industrial management and was a Sigma Chi fraternity member.
Drew Brees | Age, Height, And Physical Appearance
Drew is 44 years old, and since he was born on 15 January, his zodiac sign is Capricorn.
He stands 6 feet 0 inches (or 183 cm) tall and weighs 209 pounds (or 95 kg). He follows a strict diet regimen to remain healthy and stay fit to continue playing football.
Drew follows a strict diet, avoiding gluten, dairy, and nuts due to food allergies. His brown hair and brown eyes compliment his smooth skin, not to mention his muscular body structure.
Drew Brees | Career
Drew has had a spectacular career throughout his life. Here we dive into his career details.
High School Football
He initially considered playing college baseball, but he blew out his knee, after which his prospects changed. He became a quarterback as a junior in 1995.
However, he was not your typical quarterback; he was skinny and shorter than the usual quarterbacks. But his arm was the hero; when he made a pass, it flew straight and hard to the receiver.
In 1996, during his junior year, he was selected as Most Valuable Offensive Player. He led the high school football team to a 16-0 record and a state championship.
Drew completed 314 of 490 passes (64.1 percent) for 5461 yards with 50 touchdowns. He was given an honorable mention in the state high school all-star football team and the All-USA high school football formation.
College Football
Drew truly shone during his sophomore year. He was an important part of Joe Tiller and Jim Chaney's unorthodox "basketball on grass" spread offense and served as offensive captain during his junior and senior years.
During his junior year, he got the option to be in the 2000 NFL Draft but decided to return for his senior year to complete his studies.
In 2000, he led the Boilermakers to their first Big Ten Championship since 1967. Because of the win, Purdue won the invitation to the 2001 Rose Bowl, their first appearance since 1967.
Throughout his college career, Drew set two NCAA records, 13 Big Ten Conference records, and 19 Purdue University records.
He completed 11792 passing yards, 90 touchdown passes, 12,693 total offensive yards, 1026 completions, and 1678 attempts, setting many records. In 2009, he was included in Purdue's Intercollegiate Athletics Hall of Fame.
San Diego Chargers
Drew was selected by the San Diego Chargers with the first pick in the second round of the 2001 NFL draft. He started as the backup to Doug Flutie.
Later on, he was named the starter. In the 2004 season, he started 15 games and led the team to a 12-4 regular-season record.
The San Diego Chargers won the AFC West for the first time in 10 seasons, and he was selected to the 2004 Pro Bowl. He was named 2004 NFL Comeback Player of the Year.
Drew continued to be the starter quarterback for the 2005 season. He posted a career-high in passing yards with 3576. However, in his last game, he got injured and tore his labrum.
New Orleans Saints
After the 2005 season, Drew started looking for other teams as he was unsatisfied with San Diego Chargers' offer. On 14 March 2006, he signed a six-year, $60 million deal with New Orleans Saints.
He set an NFL record with 5476 passing yards in 2011 and a career-best 46 touchdowns.
On 7 February 2010, the New Orleans Saints defeated the Indianapolis Colts 31-17 in Super Bowl XLIV. Drew won the Super Bowl Most Valuable Player Award.
He threw for 288 yards and 2 touchdowns. He was named the 2010 Sports Illustrated Sportsman of the Year.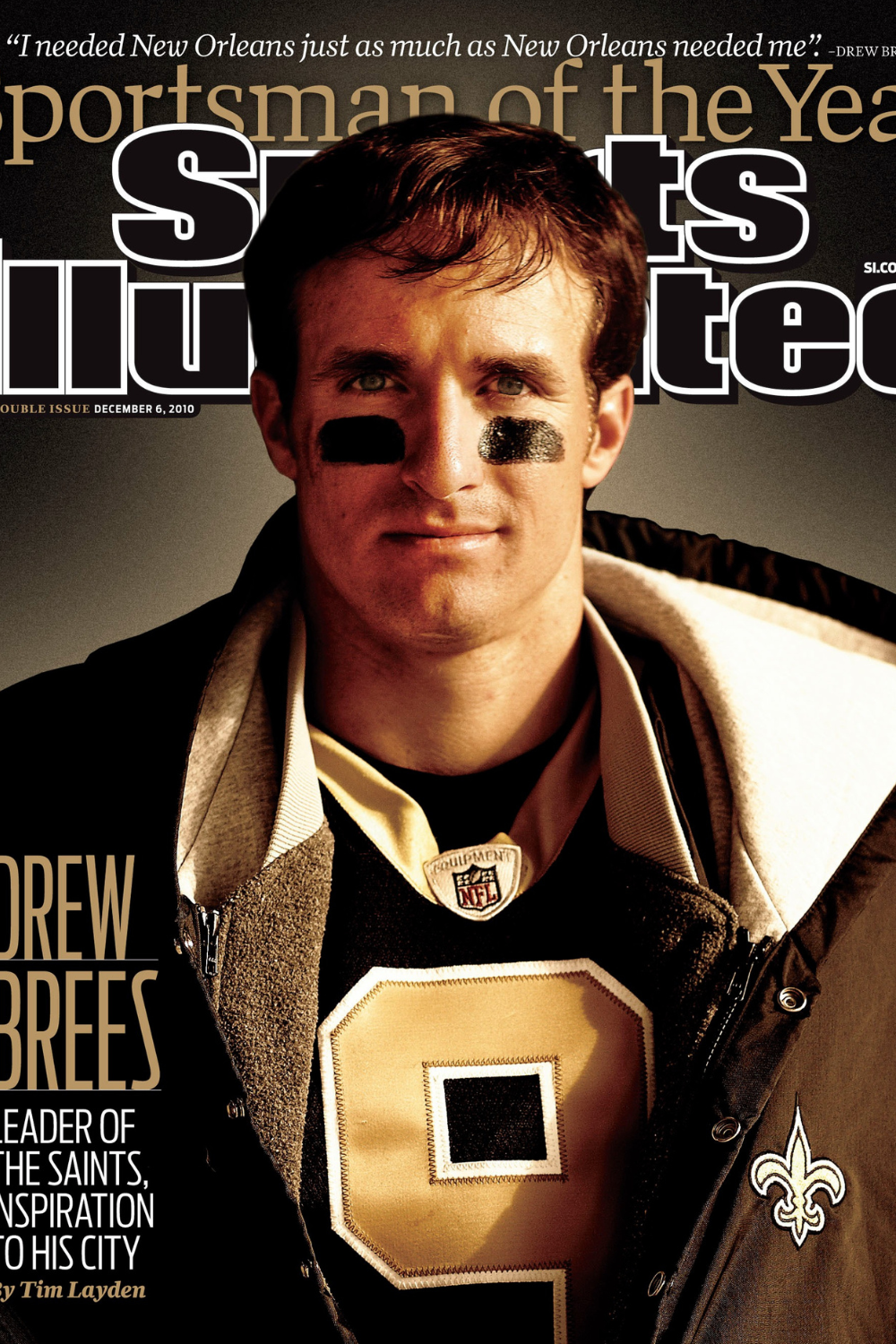 For the next decade, Drew continued to break different records. In 2018, he surpassed the NFL records for completions and passing yards. He also completed a personal best 74.4% of his throws and earned a 12th Pro Bowl selection.
As of 2020, he has signed a two-year, $50 million contract extension with the New Orleans Saints.
Retirement
Entering into 2021, the Saints rearranged Brees' contract to save salary cap space, which decreased his salary to $1.075 million for the upcoming season.
On March 14, 2021, fifteen years after signing his first contract with the New Orleans Saints, Brees declared his retirement after 20 seasons. He was placed on the reserve/retired list on June 11, 2021, by New Orleans Saints.
Broadcasting
After his retirement from his football career, he immediately joined NBC for the 2021-2022 campaign. As expected, the start of his broadcasting career was a little rough, given his very little experience as an NFL game analyst.
Amazon and Fox are patting their eye on the former quarterback to include him in their broadcast team.
Michael Thomas pens down a heart-touching message after Drew's retirement
Thomas himself is known to be the best receiver in the NFL. When Drew announced his retirement, Michael got all emotional and penned down his thoughts to remind him how much he meant to him.
Thomas and Brees set several records together, and the most notable one was the single-season receptions record for most in a season held by Indianapolis Colt receiver Marvin Harrison.
Thomas grabbed 149 passes in 2019 for 1,725 yards, both career highs. He also was titled the NFL Offensive Player of the Year in 2019.
Drew Brees | Net Worth
Drew is one of the greatest quarterbacks in NFL history. In his 19-year career, he has broken many records and earned hundreds of millions of dollars.
As of March 2020, he signed a two-year contract with the New Orleans Saints worth $50 million, including a $23 million signing bonus. Over the course of his career, he has earned more than $247 million.
According to online sources, Drew has a net worth of $160 million.
To add on, according to Forbes, Brees was among the NFL's highest-paid players in 2017, making over $24 million.
In 2022, he is reported to bag over $13,000 for every tweet he makes.
Check out Drew Brees Net Worth: Cars, Contract & Endorsements for more information >>
Drew Brees | Personal Life
In February 2003, Drew married his college girlfriend, Brittany Dudchenko. Together, they have four children; three sons, Baylen, Bowen, and Callen, born in January 2009, October 2010, and August 2012, respectively, and a daughter Rylen in August 2014.
He lives in Uptown, New Orleans, with his family. They moved there after the devastation caused by Hurricane Katrina. Drew made valuable contributions to the New Orleans community post the aftermath.
He has participated in five USO trips visiting Kuwait, Iraq, Afghanistan, Germany, Turkey, Djibouti, Dubai, Okinawa, and Guantanamo Bay.
Drew prioritizes four things in his life: faith, family, football, and philanthropy. He follows Christianity. Drew is a Republican.
Know more about his wife and children Drew Brees Bio: Children, Wife, Career & Net Worth>>
National Anthem Protest
On June 3, 2020, during the George Floyd protests, Drew stood by his 2016 opinion that kneeling during the national anthem was disrespectful to the flag and the US.
Many athletes expressed disappointment and anger at the statement. He apologized early the next day.
Brees Dream Foundation
Drew and his wife Brittany established the Brees Dream Foundation in 2003. It was founded to support cancer patients and research the memory of Brittany's aunt, who died of cancer.
Since then, they have expanded their horizons to providing assistance for Hurricane Katrina rebuilding projects. They have contributed over $45,000,000 to improve the quality of life for cancer patients and provide care, education, and opportunities for children and families in need.
In March 2020, they announced plans to donate $5 million to charities to feed Louisiana families during the coronavirus pandemic.
In July 2020, they partnered with Ochsner Health System and donated $5 million through the Brees Dream Foundation to help build numerous healthcare centers throughout Louisiana.
You might be interested to read about Osi Umenyiora Bio: Age, Career, Relationship, Net Worth, Instagram Wiki >>
Winning $6.1 Million In Jeweler Lawsuit
NFL quarterback Brees and his wife filed a lawsuit against a San Diego jeweler, CJ Charles Jewelers, for selling him lower-grade colored diamonds for about $15 million. In contrast, the actual worth was $6 million.
The couple came across the reality through an independent appraiser, as per the report from the San Diego Union-Tribune.
According to an earlier complaint, Brees and his wife claimed that the jewelry store owner Vahid Moradi (whom he has stayed in touch with for 15 years and believed him as an expert in valuing diamonds), sold them colored diamonds continually.
But the jeweler commented that he priced the diamond high as he believed the diamonds could be resold for that price in 10 to 15 years.
For all that, when the duo removed the diamonds from their settings to prepare them for sale, they understood the settings had been colored to make the stone look more aesthetic.
However, the couple's lawyers contradicted his statement and said the diamonds were procured to diversify the Brees investment portfolio.
And according to CBSNews.com, the San Diego court allowed Brees a $6.1 million judgment against the jeweler.
Brittany Brees stood by her husband through thick and thin
Drew Brees's wife Brittany comes in support of her husband and shares additional injuries her husband went through during the 2020 regular season.
If we have to align through Brittany's Instagram post, we would clearly get that Drew faces these injuries; Torn Rotator Cuff (Shoulder), Torn Fascia (Foot), 11 Broken Ribs, Collapsed Lung.
Talking about the whole 2020 season, Drew completed with 2,942 passing yards, 24 touchdowns, and six interceptions in 12 games.
While Drew was still recovering from 11 fractured ribs, he survived Week 10's victory against the San Francisco 49ers.
Brittany's post might be a justification for Drew's underperformance. We also know he has not notched three interceptions in a game since the 2016 season.
Additionally, when an athlete goes through a torn plantar fascia, it reduces the ability to plant his feet on passes. Drew Brees suffered a foot injury after a 35-27 defeat to the Detroit Lions on December 21, 2015.
NFL's Drew Brees is also an owner of a sandwich fast food restaurant
New Orleans Saints quarterback Drew Brees shares a different obsession with cheesy sliced sandwiches topped with leafy veggies or chicken.
Initially, Drew grew his love for sandwiches when he was still in college at Purdue University. He recalls the moment when he used to order Jimmy John's to his dormitory thrice a week.
But, talking about now, Drew himself is the owner of 5 Jimmy John's Gourmet Sandwiches' franchises and plans to own 20 more, according to Franchise Times Brees. Isn't that interesting? An athlete on the field and an avid entrepreneur off the field. Two in one!
Drew Brees in the Kentucky Derby
Drew also had his sight on Kentucky Derby with Horse Holy Candy. He owned a part of the 3-year-old colt Holy Candy who ended up running at Churchill Downs in Louisville on the first Saturday in May 2012.
Holy Candy has been in this competition four times and won only once. For the fifth time, he was placed in Saturday's $750,000 Santa Anita Derby, a race that has generated 15 Kentucky Derby winners.
Social Media Presence
Twitter: 3.1 million Followers
Instagram: 1.7 million Followers
View this post on Instagram
Facebook: 1.9 million Followers
Drew Brees | Popularity
The graph below demonstrates how interested the people of United States are in Drew Brees.
Due to his social media presence and his philanthropic work, he is frequently being searched on the internet.
Drew Brees | FAQs
What companies do Brees own?
He's co-owner of Surge Adventure Parks with 15 locations, and have made investments in Dunkin' Jimmy John's, Walk Ons Bistreaux and Bar, Happy's Irish Pub and Stretch Zone.
How many Super Bowl wins does Drew Brees have?
Drew Brees has one Super Bowl win; New Orleans Saints won the Super Bowl XLIV.
You might be interested to read about Kyle Sloter Age, College, Stats, Football, Vikings, Highlights, Net Worth, Instagram >>