Eli Tomac is a professional Motorcross and Supercross racer. He is a 2-time Monster Energy AMA Supercross Champion in 2020 & 2022.
The American biker initiated his career in 2010 and has captured the hearts of many with different titles.
When it comes to motocross racing, the one undeniable name for the fans is Eli Tomac. He won his first outdoor 450cc event at the 2014 Spring Creek National in Millville, Minnesota, US.
He is a 4-time AMA Pro Motocross 450 Class Champion (2022, 2019, 2018, 2017) with 32 career AMA Pro Motocross 450 Class wins.
Eli was fifth at the Supercross Tampa 2023, whereas Cooper Webb came in first.
There is no doubt that motocross racers fans are known of Eli Tomac's professional career.
However, most of them are unknown about his personal life. Below, we have included everything you need to know about the pro motocross racer.
Before that, we can leap into his quick facts.
Quick Facts
Full Name
Eli Tomac
Birth Data
November 14, 1992
Birth Place
Cortez, Colorado, America
Nick Name
The Shark
Religion
N/A
Nationality
American
Ethnicity
White Caucasian
Education
High School Graduate
Horoscope
Scorpion
Fathers Name
John Tomac
Mothers Name
Kathy Tomac
Siblings
Half-Sibling (Greg Oswald) (C-17 pilot)
Age
30 Years Old
Height
5'9″/175cm/1.75m
Weight
165 lb./74 kg
Hair Color
Brown
Eye Color
Grey
Career Highlights & Awards

Championships
•2012 Monster Energy Supercross 250cc West
•AMA 250cc Motocross (2013, 2017, 2018, 2019)
•Monster Energy Supercross (2020 & 2022)
•2022 AMA 450cc Motocross
Wins
AMA 250cc Supercross: 12 AMA
125cc Motocross:12 AMA 450cc
Supercross: 47 AMA 450cc
Motocross: 32 Combined:103
Best Male Action Sports Athlete ESPY Award At The 2022 ESPY Award

Build
N/A
Marital Status
Married
Partner
Jessica Steiner
Kids
Lev Loe (Daughter) & Noah Grey (Son)
Profession
Motocross Racer
Net Worth
$5 Million
Salary
$19,910 – $187,200
Active Since
2010
Social Media
Instagram, Facebook & Twitter
Merch
Eli Tomac Bag
Last Update
June 2023
Following The Footsteps Of His Father
Eli Tomac, a professional motocross racer, was born on November 14, 1992, in Cortez, Colorado, USA. Born under the birth sign Scorpio, he is passionate, ambitious, and assertive.
Besides, he holds American nationality and belongs to the white ethnicity. He was born to professional cyclists John Tomac (father) and Kathy Tomac (mother).
John is an American former professional cyclist who competed from 1985 to 2005. John is also the Mountain Bike Hall of Fame inductee (1991) and the U.S. Bicycling Hall of fame (2004).
Among Eli and his elder half-brother Greg Oswald, only Eli followed his father's path, whereas Greg chose to be a C-17 pilot for the U.S. Air Force.
Turning back and putting some flash into his education, Eli attended Rock Charter School in McElmo Canyon.
After eighth grade, he got homeschooled for his high school education. Subsequently, Tomac decided to focus on his career rather than pursue higher education.
Height & Weight
Being a sports person, Eli Tomac likes to keep his body fit and healthy. He has a well-maintained athletic body standing 1.75 m tall and weighing 165 lbs.
Eli has got brown colored hair and beautiful grey-colored eyes. Apart from this, he has not disclosed his other body measurements or shoe size.
Career
As in the saying, "the sun shows the day," Eli Tomac has shown his interest in motocross since his early childhood.
Eli gave a kick to his professional racing career in 2010. Later the same year, he competed in AMA pro-Motocross. Luckily, he became the second rider to win the AMA Pro Motocross in his debut season.
He was a 2013 250cc Class champion. Keeping his success on the track, he also won his first 450cc Class championship in 2014.
Due to his remarkable success, Monster Energy Kawasaki signed Eli in 2016.
However, in 2016 he had to take a break after sustaining a shoulder injury after losing control of his Honda CRF450R at the 2015 Thunder Valley.
Eli proved that his success had a long road after a big comeback in 2017, winning the AMA Motocross Championship with 5 consecutive moto wins and 5 consecutive overall wins.
Eli clinched the 450cc title in Denver's 16th round of the 2022 AMA Supercross Championship.
It was his 2nd 450cc title in Supercross and his first-ever year on the Monster Energy/ Star Racing Yamaha.
He was honored with the Best Male Action Sports Athlete ESPY Award at the 2022 ESPY Awards.
Even after qualifying as the third-fastest qualifier at Raymond James Stadium in the Supercross Tampa 2023, Cooper Webb won the first position, and Eli was fifth.
Awards & Achievements
Tomac won the Monster Energy Cup in 2018 with a prize of $1 million. Besides, Eli became the first rider to win his professional 250cc AMA Pro Motocross debut on the 2010 Hangtown season opener.
He had a sturdy 250cc Supercross season with two wins and six podium finishes in 2011.
Eli received the 250cc Supercross championship with seven podium finishes, and five first-place main event wins in 2012.
In 2013, he finished 2 points behind Ken Roczen in the 250cc Supercross championship.
He finished second at Ryan Dungey in the 450cc Supercross Championship with eleven podium finishes despite his injuries in 2014 & 2015.
In 2017, Eli found himself 29 points behind Supercross points leader Ryan Dungey due to poor results, including a mechanical failure.
However, he won 8 of the first 14 races to lead the standings with Dungey at the start of the 15th round.
In 2022, Eli was designated with the team captaincy position in the MXGP (Motocross Grand Prix) due to his AMA Supercross and AMA Motocross title wins.
Is Eli Tomac Married?
The 30 years old professional motocross racer has a huge fan following.
His fans seem to be interested in knowing about his relationship status. He married his partner Jessica Steiner on November 7, 2021, in Paradise Valley, Arizona.
The couple first met at the Downtown Phoenix Farmers Market in 2015. Since then, the couple had been dating each other very seriously despite all the ups and downs in their relationship until they tied the knot.
On March 2, 2021, Jessica took her Instagram and announced they finally got engaged. Jessica is the founder of Mountain Paws Rescue Centre.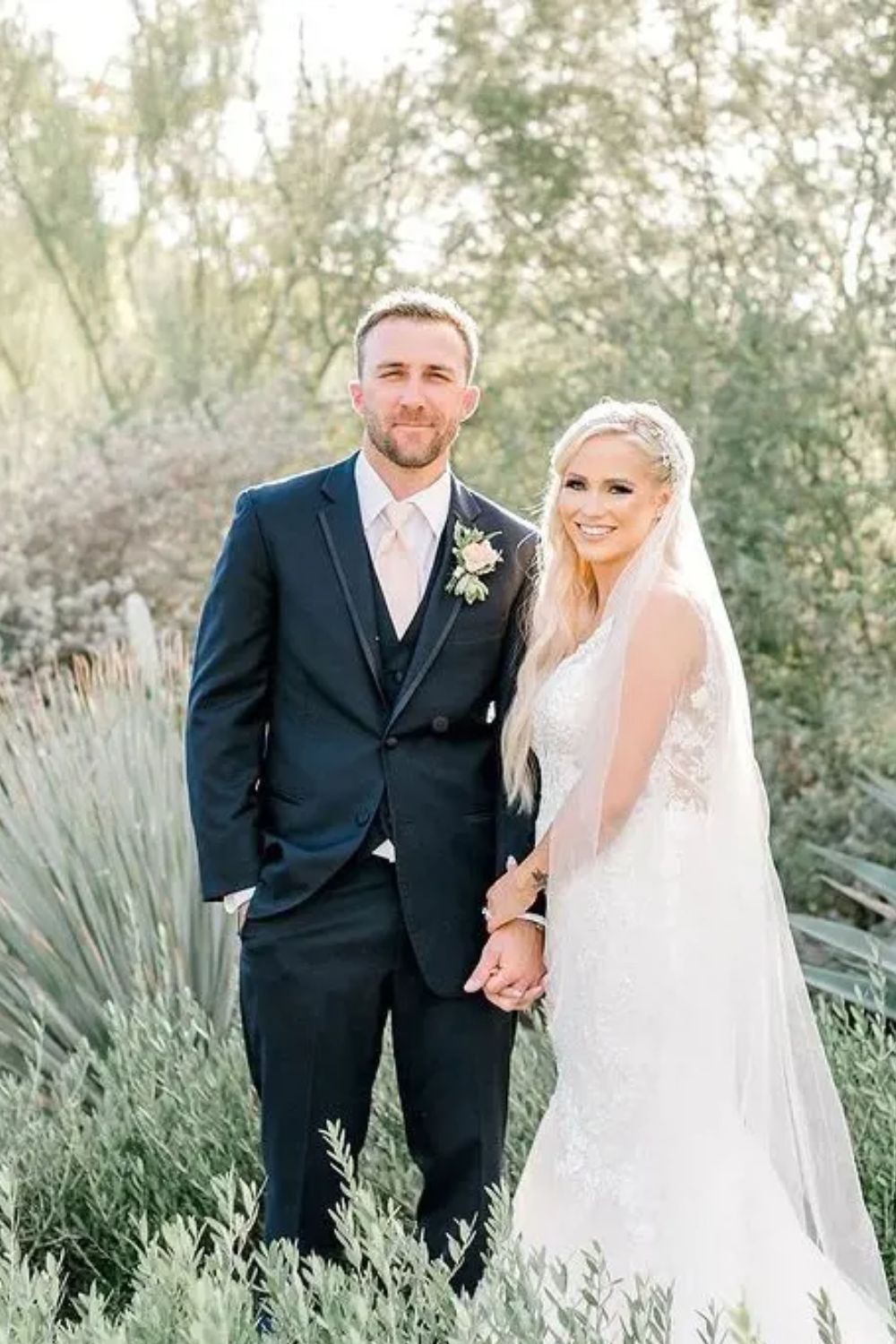 Apart from this, Eli and Jessica are already the parents of two kids. They welcomed their daughter Lev Loe Tomac in April 2020. It was also disclosed that Tomac's daughter was 7lbs 5oz at birth.
The perfect duo also welcomed their second child, a baby boy named Noah Grey, a homebirth on September 21, 2021.
Now, they are a small and happy family of four.
On December 27, 2022, Jessica posted a picture of her sweet family on Instagram and wished everyone "Merry Christmas from the Tomac family!".
Crash
Eli Tomac didn't get the best start at the 2023 Anaheim 2 Supercross, but he worked his way and got around Adam Cianciarulo to secure third in the first round.
Tomac got charged through the race's mid-point but settled for the final podium spot in the 13th position.
In the (third) Main Event, he crashed on a tough block but, surprisingly, was not hurt. Overall, Sexton (1-5-1) won the Main Event, and Tomac (3-2-13) was in the sixth position for 450SX.
Net Worth
Eli Tomac lies on the list of richest motocross racers. As of 2023, he has an estimated net worth of over $5 million. He has achieved this enormous wealth through his successful career as a motocross rider.
The salary range of motocross racers is from $19,910 to $187,200. The average range makes $28,400, and the top 75% earn $187,200.
A significant portion of his net worth comes from participating in events like AMA Supercross. Talking about his salary, he hasn't disclosed his actual annual wage. Being one of the best motocross racers, he probably gets a very handsome salary.
Tomac received a prize of $1 million for winning the Monster Energy Cup in 2018. Besides his motocross career, Eli earns extra money through brand endorsements, sponsorships, and social media appearances.
Tomac was a Monster Energy Kawasaki team member from 2016 to 2022. However, fans were shocked when news of Tomac's move from Kawasaki to Yamaha started to surface in the media.
Besides this, Eli owns the online store Eli ET3 Merchandise and keeps promoting his mom's wine business, FLying T, on his Instagram.
Eli is also sponsored by Oakley, which supports Bicycles Change Lives, a nonprofit fostered on changing lives with bicycles in Africa.
Social Media Presence
Eli Tomac is very active on social media platforms. He likes to update about his life and share his beautiful moments with his fans.
Currently, he is active on Instagram (@elitomac), Facebook, and Twitter. His Instagram has 1 million followers, his Twitter has 132.6k followers, and his Facebook has 337k followers.
View this post on Instagram
Eli promoted his Anaheim 2 "Red Plate" edition, in which The Diry Shark Crew spent a day with the Tomac squad while he took his 450 SX win of the year.
Trivia
Eli runs his online accessible ET3 merchandise store at store.elitomac.com.
Tomac's hobby is hunting in his leisure time.
Search Graph
Popularity graph of Eli is highly fluctuating, as shown in his graph from the month of Feb to the month of October for the year 2022.
The graph shows Eli's popularity over the past 12 months.
Frequently Asked Questions (FAQS)
Which team is Eli Tomac currently signed?
Eli signed with Monster Energy Star Yamaha 450 Racing team in 2022 and was bound to leave Kawasaki as he wanted to improve as a racer.
Did Eli crash recently?
Eli star racer had a huge crash in the final race of Anaheim 2 Triple Crown Supercross on 28 January 2023, but surprisingly he wasn't seriously injured.