Eliud Kipchoge is a Kenyan world record-holder in the marathon and previously specialized in the 5000-meter distance. He broke his own record of 2:01:39 he set at the 2018 Berlin Marathon by setting a new one at the 2022 Berlin Marathon with a time of 2:01:09.
With such performance and record, he has been called "the greatest marathoner of the modern era."
The 2022 Sports Personality of the Year (SOYA) ceremony went down on Friday night with many personalities extending their winning capacity.
On 20 January 2023, the 2022 Sports Personality of the Year (SOYA) crowned Eliud Kipchoge 2022 Athletes of the Year at the Kenyatta International Convention Centre (KICC).
He beat other nominees in Commonwealth Games 100 meters category and world 800 m champion Ferdinard Omanyala and champion Emmanuel Korir, respectively.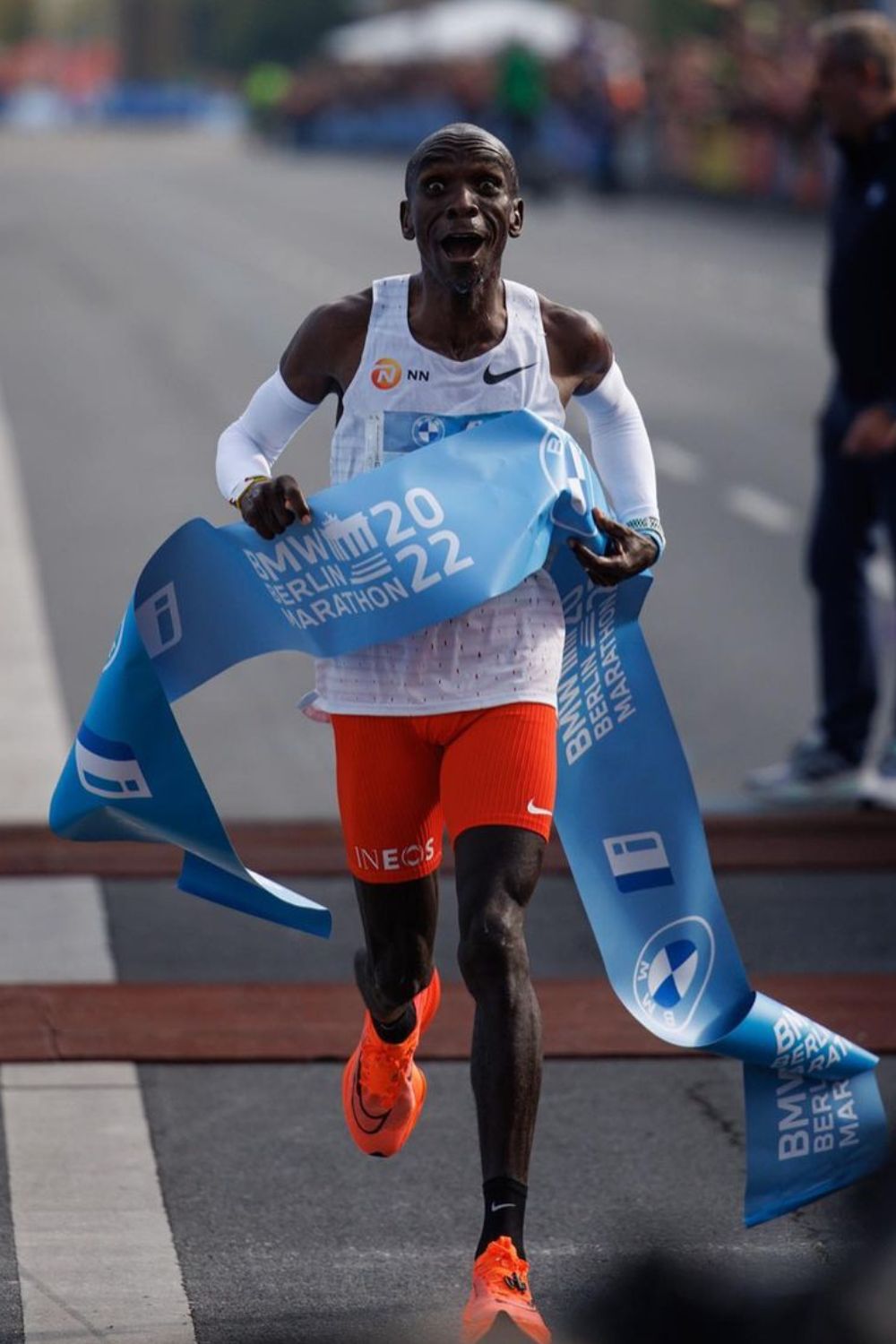 At eighteen, in the 2003 Championships in Athletics, Kipchoge became the senior 5000 m world champion.
Before diving into the achievements and career journey of the renowned Eliud Kipchoge, here are some interesting quick facts.
Quick Facts
Full Name
Eliud Kipchoge EGH
Nickname
Eliud Kipchoge
Birthdate
5 November 1984
Birthplace
Kapsisiywa, Nandi Country, Kenya
Nationality
Kenya
Ethnicity
Not Mentioned
Religion
Roman Catholic
Zodiac Sign
Scorpio
Age
38 Years Old
Father's Name
Not Mentioned
Mother's Name
Janet Rotich
Sibling
Five Brothers
Sibling Name
Not Mentioned
High School
Kaptel Secondary School
College
Not Mentioned
Gender
Male
Marital Status
Married
Wife's Name
Grace Sugutt
Ex-Wife
Not Mentioned
Children
Three Children (Two Sons, One Daughter)
Children's Name
N/A
Weight
52 kg/114 lbs
Height
1.67 m/167 cm/5 ft 6 in
Eye Color
Dark Brown
Hair Color
Black
Sports
Athletics
Profession
Marathon Runner
Events
Marathon, 5000 m
Coached By
Patrick Sang
Achievements
World Finals
Olympic Finals
Personal Bests
Speed
13.16 MPH
Salary
Not Mentioned
Net Worth
$3 Million
Social Media
Instagram, Twitter
Merch
Paperback, Poster
Last Update
May 2023
Early Life
Eliud Kipchoge was born on 5 November 1984 in Kapsisiywa, Nandi County, Kenya, to Janet Rotich and to father of whom he has no memory as he passed away when the runner was very young.
He is the youngest of four brothers and was raised by their mother, a nursery school teacher.
While on the way to school, Kipchoge used to run two miles daily, and later, in 1999, he graduated from Kaptel Secondary School.
At 16, he met his trainer Patrick Sang ( a former Olympic medalist in the steeplechase), who guided him through his career in 2001.
Career
When Kipchoge was 17, he won the Kenyan trials for the 2002 IAAF World Cross Country Championships junior race.
Similarly, he also came fifth in the World Cross Country Championship held in Dublin and was involved in the Kenyan junior team and won gold.
At the 2003 Bislett Games, Eliud Kipchoge set a world junior record in the 5000 m with a finished record of 12:52:61 minutes.
Until 2012, his record stood as the world and African junior record, but Hagos Gebrhiwet of Ethiopia broke it with 12:47.53
In 2003, he won the gold medal at the 2003 World Championships and a bronze medal at the 5000 m final in the 2004 Athens Olympics.
World Championships & Olympics
During the 2006 World Championships held in Moscow, he won the bronze medal in the 3000 meters.
At the New Year's Eve 10 km road race, Eliud Kipchoge won the San Silvestre Vallecana in a time record of 26:54 minutes, beating his own record by 40 seconds in 2006.
Moreover, in the final of the 2007 World Championship held at Osaka, he won a silver medal in the 5000 m race with a time of 13:46:00.
He won a silver medal in the 2008 Olympics in Beijing, China, in the 5000 m event with a time record of 13:02:80.
During the 2009 World Championships in Athletics, he could not reach the podium leading him to finish fifth. Similarly, he also came ninth in the 3000 m at the 2009 IAAF World Athletics Final.
Half Marathon Debut & World Records
With victory in the 5000 m Qatar Athletic Super Grand Prix, Kipchoge debuted in the 2010 IAAF Diamond League.
He participated in the Carlsbad 5000 in CA, USA. To participate in the Belgrade Race through, he flew back to Europe. During the race, his shoe fell off, and after putting it back on, Kipchoge came in second place.
Later, Kipchoge made his half marathon debut in the Lille Half Marathon with a new course record with a time of 59:25, which earned him third place.
With such a new record, he was named the second-fastest Half Marathon debut. He also participated in the 2012 IAAF World Half Marathon Championships on 6 October 2012 in Kavarna, Bulgaria.
Eliud Kipchoge started his 2013 season with a victory in the Barcelona Half Marathon with a time record of one hour and four seconds.
In April, he made his debut, demonstrating a smooth transition to the longer distance winning the Hamburg Marathon title in a time of 2:05:30 hours, setting a new course record.
During the Berlin Marathon, he came second with a time record of 2:04:05, making the fifth-fastest time in history. This was one of the 11 world records set at the Berlin Marathon since 1977.
Rio Olympic Games
Kipchoge took part in the 2015 Ras al-Khaimah Half Marathon and came in sixth place with a time of 1:00:50.
He won the 2016 London Marathon for the second consecutive year with a record of 2:03:05. This performance broke the course record in London, making it the second-fastest marathon time in history.
At the 2016 Summer Olympics, Eliud Kipchoge won a gold medal in the marathon event. On 21 August 2015, the last day of the Rio Olympics, he won the medal in a time of 2:08:44.
Despite winning the medal, the time record of 2:08:44 was Kipchoge's slowest marathon time. With this victory, he became the second Kenyan male after Sammy Wanjiru to win an Olympic marathon gold medal.
IAAF World Athlete Of The Year & Achievements
For the Nike Breaking 2 project on the Monza Formula 1, Kipchoge and Zersenay Tadese and Lelisa Desisa participated in the first sub-two-hour assisted marathon near Milan, Italy.
He also won the Berlin Marathon with a record of 2:03:32 in September 2017. After participating in the 2018 London Marathon, he won against other well-known racers.
With a new time record of 2:01:39, Eliud Kipchoge won the 2018 Berlin Maraton, breaking the previous world record by 1 minute and 18 seconds.
Due to his outstanding performance in the 2018 season, he received numerous awards and accolades. That year, Kipchoge was honored as IAAF World Athlete of the Year.
Likewise, Eliud Kipchoge came first in the 2019 London Marathon with a time record of 2:02:37, making it the second-fastest marathon of all time.
After the London Marathon, he participated in the Ineos 1:59 Challenge, the sub-two-hour marathon.
Guinness World Records recognized the achievement in this race with the titles 'Fastest marathon distance (male)' and 'First marathon distance run under two hours.'
Similarly, he also participated in the 2020 London Marathon and came in 8th place with a time of 2:06:49.
While preparing for the 2021 Olympics on 18 April, Kipchoge won the Enschede Marathon at an airfield in the Netherlands.
Eyeing On The Gold Medal At The Tokyo Olympics 2021
The world record holder Kenyan Eliud Kipchoge was looking forward to running at the much delayed Tokyo Olympics 2021, and he finally ran, becoming the third man after Cierpinski and Ethiopian legend Abebe Bikila (1960, 1964) to win back-to-back Olympic marathon gold medals.
Kipchoge also did a run staged 500 miles with 106 runners participating on 8th August 2021 at the Tokyo Olympics Games men's marathon, which took place in Sapporo.
Additionally, when asked if the race in Sapporo would be his last or not, Kipchoge replied,
"The end of my career will come automatically, that's for sure; that's in front of my mind, but for now I still want to compete for more. Moreover, I still want to go around the world and run, inspire people."
Kipchoge added his disappointment with fans not being around, cheering for the players, and giving tremendous hope.
His Dream
He announced his desire to win all 6 Abbot World Marathons Majors on 20 January 2022. With that, he won the Tokyo Marathon with a time of 2:02:40- a course and all-comers' record.
The marathoner broke his world record by 30 seconds which he made in 2018, a 78-second improvement over the existing best since 1967; it is the greatest improvement time.
Eliud's 2.01.09 2022 Berlin Marathon win was validated by World Athletics on 16 January 2023.
He equaled the record achievement of Halle Gerbrselassie with his fourth win in Berlin. It was his eighth time in a row that the men's record was set in Berlin and his 12th record there.
He is not just a marathoner but has actively created awareness among distance runners about how drugs they use to enhance their performance will also negatively impact their health.
On January 17, 2023, Eliud shared his concerns as the number of doping cases has increased among Kenyan athletes.
He said, "Let each and every athlete make it a personal decision to protect their career and health."
"When you consistently use drugs, your health deteriorates. This affects your sporting career and personal life."
Eliud Kipchoge 1:59 Documentary
Kipchoge has braced himself to celebrate his victory after winning Tokyo Olympics 2021 gold medal with a documentary that will tell the story of how he prepared for the colossal events.
After the release of a trailer for the Kenyan's new film, Kipchoge took it to social media and wrote: "I hope by watching this film you will also feel inspired to run."
Ridley Scott Creative Group, the movie's producers, said in a statement that the film would allow people to have exceptional access to Eliud.
"The movie also includes footage from his home in Kenya, interviews with those closest to him, minor and vague details of the daily rituals of his life and the dynamics within his team and community."
Shoes
The Kenyan's famous shoes he wore during that history-breaking attempt have since been placed in London's Victoria and Albert Museum.
The art and design museum got the Nike AlphaFly shoes for a new permanent gallery called "Design 1900-Now".
Diet & Training
The Olympic medalist Eliud Kipchoge's diet and training are simple compared to many other athletes. His diet consists mainly of fruit and vegetables.
Rather than indulging in protein shakes, he prefers to drink two liters of tea with sugar. Kipcohoge gives as much time to rest as he gives to running. During his rest time or break time, he relaxes and sleeps.
Kipchoge does not focus on intense training and workouts; rather, he mainly engages in running.
Along with running, he also works significantly on strength and core work.
Wife & Children
The world record-holder racer, Kipchoge, is married to Grace Sugutt. According to his wife, Grace, they were schoolmates and neighbors, and she fell in love with the racer when she was 19.
After dating for a year, the couple started living together solemnized in a traditional ceremony. Not long after their married life, the couple was blessed with their firstborn, Lynne.
Later, they were blessed with two other wonderful children. But nothing has been revealed when it comes to their names and whereabouts.
Net Worth
The phenomenal athlete has a whopping net worth of $3 million.
Most of his earnings are through his primary career as a racer; however, he also earns well through his sponsorship with the famous sports brand Nike.
Eliud was announced as Techno's brand ambassador, and he attended the launch of the techno Phantom X2 series phone in Nairobi on 16 January 2023.
Non-Fungible Token
Kipchoge was part of Kenya's first considerate NFT– non-fungible token – auction. NFTs are special digital items stored online on blockchains, which sounds much like cryptocurrency.
The top-ranked runner sold two high-quality videos of his biggest accomplishments, the Ineos 1:59 run and his 2018 Berlin Marathon world record run (2:01:39).
He also sold a personalized message for U.S. $37,351.07 – around 31,300 euros.
Social Media Presence
The Olympic Champion and world record holder Eliud Kipchoge is active on social media such as Instagram and Twitter. He has a roaring amount of followers.
View this post on Instagram
In his social media, he updates his fans and followers about his daily lifestyle and various activities he gets himself involved in.
One can follow him to learn more about his achievements and activities.
Instagram (@kipchogeeliud): 2.1 m followers
Twitter (@EliudKipchoge): 508.3 k followers
Popularity Graph
Eliud Kipchoge is a long-distance runner who competes in the marathon and formerly was in the 5000 m distance.
The above graph shows Kipchoge's popularity over the past twelve months.
Frequently Asked Questions (FAQS)
Did Eliud Kipchoge break for 2 hours?
The world record holder attempted to become the first human in history to run 26.2 miles in under two hours in a test that took place in Vienna. Eliud Kipchoge completed this breathtaking record by finishing the test in 1 hour, 59 minutes, and 40 seconds.
How fast can Eliud Kipchoge run a mile?
The Olympic gold medalist, Eliud Kipchoge, can run 4:34 minutes per mile or 2:50 minutes per km. He also admitted that he would like to run even longer miles beyond the marathon's 42.195 km. "I would love to try 80km, 60km. I need to go to California and hike for six hours," he said to Flotrack.
What is Eliud Kipchoge's lowest finish in his career?
Kipchoge's lowest finish of his marathoning career was when he was placed 8th in the 2020 London Marathon in October with a time of 2:06:49.