If you follow basketball, you know how much of a dream NBA is for all the basketball players. Like many basketball players, Evan Fournier also had the same vision, to be a part of the NBA.
By god's grace, luck was in his favor, so not only did he fulfill his dreams, but he was also living his dream life.
Let's not call it luck only; his hard work and dedication also paid off. You may have heard about many NBA players, but Evan is one of a kind.
Besides the NBA, Evan has also been part of the Olympics and has won medals to represent his country. Likewise, he also plays EuroBasket and has been part of the FIBA World Cup.
Today in this article, we discuss the life of Evan Fournier. Here, we discuss his early life, career, love life, and many other things. Please stick with us till the end to find some exciting information about Evan, and we bet you wouldn't get bored.
But before we proceed with our article, let us have an instant glance at the quick facts.
Quick Facts
| | |
| --- | --- |
| Full Name | Evan Mehdi Fournier |
| Date of Birth | 29 October 1992 |
| Birth Place | Saint-Maurice, Paris, France |
| Known As | Evan Fournier |
| Religion | Christianity |
| Nationality | French |
| Ethnicity | Algerian |
| Zodiac Sign | Scorpio |
| Age | 30 Years Old |
| Height | 6 ft. 6 inches (1.98 m) |
| Weight | 93 kg (205 lbs) |
| Hair Color | Black |
| Eye Color | Black |
| Father's Name | François Fournier |
| Mother's Name | Meriem Fournier |
| Siblings | Not Available |
| Education | INSEP |
| Sexual Orientation | Straight |
| Marital Status | Unmarried |
| Girlfriend | Laura |
| Kids | Elias |
| Profession | Professional Basketball Player |
| Position | Small Forward, Shooting Guard |
| Active Since | 2009-Present |
| Affiliation | NBA |
| NBA Draft | 2012 |
| Net Worth | $30 Million |
| Social Media | Instagram, Twitter |
| Merch | Autographed Card, Notebook |
| Last Update | June, 2023 |
Even Fournier: Early Life and Education
Evan's love for basketball sprouted from a very early age. So, how much of a craze does he has for basketball? Let's know this now by diving deep into his childhood.
Evan Mehdi Fournier, also known as Evan Fournier, was born on 29 October 1992 in Saint-Maurice, France, Paris. However, he lived in a small suburb outside the great city of Paris. Therefore, we can say Evan lived an everyday life away from city lights from this.
His father, Francois Fournier, was from France, and his mother, Meriem Fournier from Algeria. And Evan is a mixture of both cultures and traditions. Not until 2002 did he has any interest in basketball.
But after 2002, Evan started growing interest in basketball after watching the match against the Sacramento Kings. After that, there has not been looking back for Evan, and he dedicated his childhood to learning basketball.
You don't get much chance to hear about women in the NBA. Becky Hammon is one inspirational woman who not only played in the NBA but made a promising career out of it. Learn more about her!
Similarly, he went to the National Institute of Sport, Expertise, and Performance (INSEP) for his primary school-level education. After finishing school, he joined Emlyon Business School, where he graduated with a degree in business.
Unfortunately, we couldn't find his parents' actions and how they lived. But as soon as we find any information regarding it, we will update you soon.
Evan Fournier: Career
While Evan was in INSEP, he was a part of junior basketball; his official journey as a basketball player started.
But his professional journey started in 2009 after he signed a year coming with JSF Nanterre. But after one year, he left JSF and signed a contract with Poitiers again. However, he couldn't do much in these teams, and his career graph didn't improve.
But little did Fournier know his life was about to change after 2012. In June 2012, he even got drafted by Denver Nuggets, so his biggest dream to be a part of the NBA came true.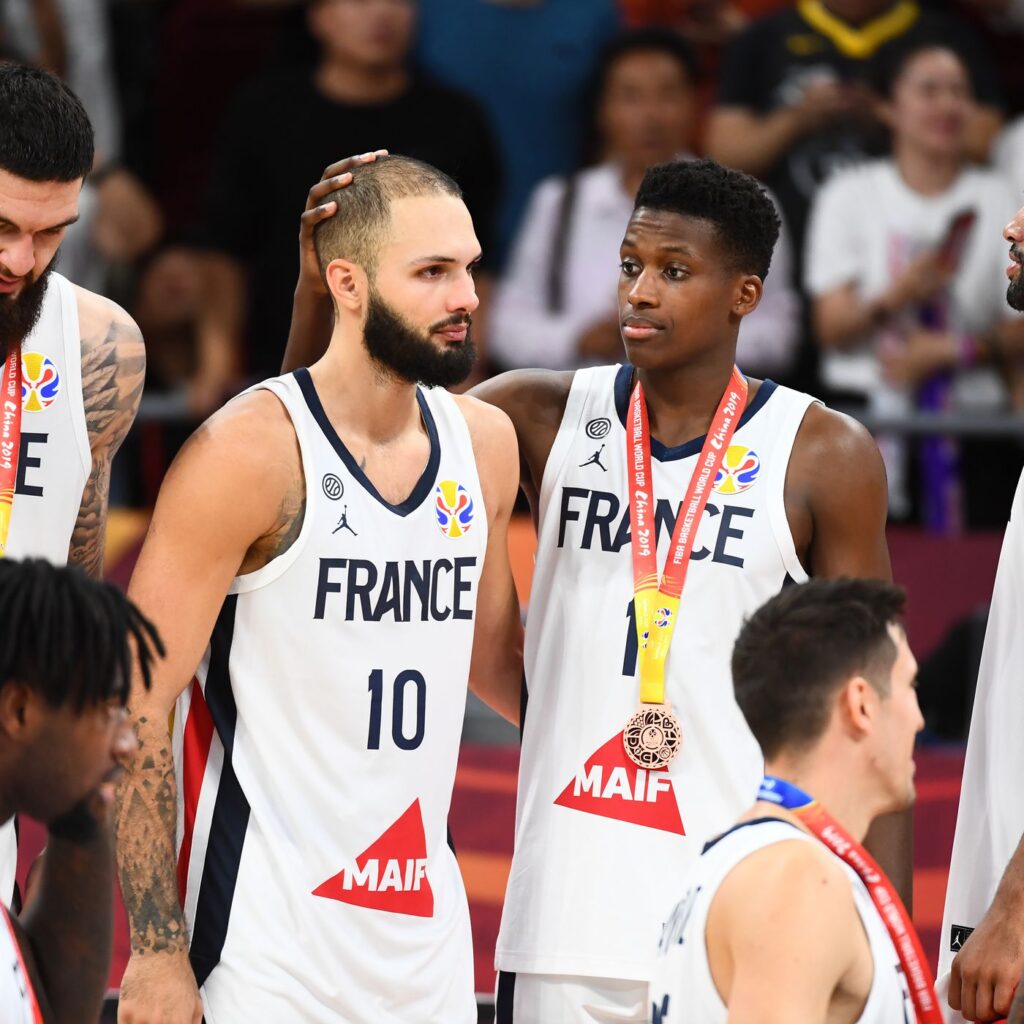 In the first season, he appeared in only twenty-nine matches. His average for that season was 12.3 points, and his season-best was 24 points. Maybe he was new to this, so he was given limited appearance time.
Nuggets extended their term period for Evan and kept him with them for one more year. However, after finishing that season and making 27 points, Evan left Nuggets and joined Orlando Magic.
From 2014 to 2021, Evan has been associated with Orlando Magic. Being in Orlando was a good move for Evan as he learned many things from there and achieved a lot of success.
Furthermore,
Nonetheless, 2015 was one of the best years for Fournier in their career. He averaged personal highs in scoring (15.4 ppg), rebounding (2.8 RPG), assists (2.7 APG), steals (1.2 SPG), and minutes (32.5 mpg).
Due to his marvelous performance, Magic couldn't let Fournier go and resigned him for their next season by giving him a whopping $85 million.
In 2018, Fournier again set new records for his career-high 28 points and won against Minnesota Timberwolves. But, sadly, he couldn't play much that season due to a ligament tear and had to rest.
In 2021 he was signed by Boston Celtics in exchange for Jeff Teague. Fournier was doing well with his career. He scored 23 points in the fourth quarter, making him the second player from the Celtics to have scored cent percent in a quarter since Paul Pierce.
Things were going in favor of Evan until the whole COVID-19 pandemic.
After the pandemic, Evan missed several matches due to safety protocols and NBA safety rules.
When everything started getting regular, NBA games reopened. After COVID pandemia Evan was drafted to New York Kinks. In the first match of that season, Fournier scored career-high 32 points; again, in 2022, he broke his record and scored 41 points.
In 2021 Evan also participated in the Summer Olympics 2020 held in Tokyo. He represented his country France in Olympics. He and his team performed exceptionally well and won the silver medal for their country.
Therefore, Evan is going well with his career, but there still is a long way to go. Hopefully, Fournier gives his best shot and marks his name in the history of the NBA.
Achievements and Accolades
Two times LNB Pro A Best Young Player.
LNB Pro A Most Improved Player, twice.
LNB All-Star in 2012.
Silver medal in 2020 Tokyo Olympics.
Evan Fournier: Body Features
Being an athlete, you need to consider many things to stay in shape. Evan also has a routine to follow to keep himself healthy and physically fit, like every other athlete.
Undoubtedly, his athletic body is the result of his vigorous workout. He is around 93 kg.
Similarly, he has a splendid height of 6 ft. 6 inches. And we all know how important measurement is to play basketball, but people of lesser size are also doing great in basketball. Still, there always is a perception that basketball players should be of a good height, and Evan matches that conception.
His beautiful black hair and alluring brown eyes compliment him the most.
Besides, he is of mixed ethnicity, Algerian and French, as his parents are from two different nations.
Evan Fournier: Net Worth
Evan has worked professionally since 2002, and his primary income source is basketball. Undoubtedly, he has earned quite a lot of money from his career.
Evan is expected to have a net worth of $30 million. So it should not surprise you because Magic Orlando offered him $85 million for a five-year contract.
It is good to see how youths are making their way to NBA and creating history. One such inspirational youth is Donte DiVincenzo. Read all>>
Similarly, New York Yankees signed Evan for a four-year contract worth $73,000,000. From which he would receive an annual salary of $18,250,000 and $54,000,000 as guaranteed signing.
Likewise, he comes on the list of the top 100 best-paid players in the NBA. Besides, Evan lives in a lavish 6,384 sq. ft. house in Winter Park Estates, Florida, worth $2.9 million.
Further, Evan loves sports cars and has a sports car collection. The best car from his car collection is the Mercedes Benz AMG GT.
Evan Fournier: Personal Life
Everyone needs someone special in life with whom one can share their happiness and sadness, who gives strength and peace of mind. Evan also has someone special in his life.
Evan is deeply in love with Laura. They have been blessed with a son named Elias. But, for now, we only know that Laura is an Instagram model.
Evan is a private person, as we have mentioned earlier. There are no details of his and Laura's love story. Plus, nobody knows when his son was born.
To make everything official Evan posts it on his social media handle, and that's only where we can know about his personal life.
But as soon as we find any information about Evan's love life, we will update you.
Social Media Presence
Evan Fournier is active on both Instagram and Twitter. Apart from that, he is not active on any other social site.
Besides, Evan knows what his fans want to see, so he posts on his Instagram. Evan has a vast fan following and around 285k followers on Instagram (as of Jan 2022). Most of the pictures he shares are related to his career and his NBA journey.
Similarly, he has 357.5k followers on his Twitter account and has far made 9,375 tweets.
It is incredible how Bol Bol achieved this much success in his early 20s. You would not want to miss the opportunity to learn about this inspirational guy, do check this article to learn more about him>>
Frequently Asked Questions (FAQs)
What is Evan Fournier's jersey number?
Evan Fournier's jersey number is 10 for France National Basketball Team.
What are Evan Fournier's career-high points?
Evan Fournier's career-high point is 41 PTS 15-25.
How much does Evan Fournier earn in a year?
In a year, Evan earns around $16 million.