Fedor Emelianenko is a Russian mixed martial artist who currently competes for Bellator MMA and Rizin Fighting Federation. He is considered one of the greatest heavyweight champions in mixed martial arts (MMA) history.
Fedor Emelianenko is a five-time MMA Pride Fighting Championship titleholder. He is also a sambist with a 1st Razryad Grandmaster ranking and three FIAS World Combat Sambo Championship wins.
Additionally, Emelianenko is a black belt and International Master of Sport in Judo. He earned the bronze medal in the 1998 and 1999 Russian Judo Federation National Championship.
He was named the 2000s Fighter of the decade by American sports magazine Sports Illustrated. Similarly, FightMatrix ranked him as the number one heavyweight champion from April 2003 to April 2010.
Despite his overwhelming success, Fedor Emelianenko has remained humble his entire career. He had a rough childhood because of poverty, so it taught him to be grateful for everything in life.
To learn more about Emelianenko, popularly known as The Last Emperor, make sure to read this article until the very end!
Quick Facts: Fedor Emelianenko
| | |
| --- | --- |
| Full Name | Fedor Vladimirovich Emelianenko |
| Native Name | Фёдор Владимирович Емельяненко |
| Date Of Birth | September 28, 1976 |
| Birth Place | Rubizhne, Ukraine |
| Residence | Stary Oskol, Russia |
| Age | 46 |
| Gender | Male |
| Sexual Orientation | Straight |
| Height | 6 feet (1.83 m) |
| Weight | 106 kg (233 lb) |
| High School | Not Available |
| University Name | Belgorod State University |
| Horoscope | Libra |
| Religion | Christianity |
| Nationality | Russian |
| Ethnicity | Russian-Ukrainian |
| Father's Name | Vladimir Alexandrovich |
| Mother's Name | Olga Fedorovna |
| Siblings | Marina, Aleksander, and Ivan |
| Hair Colour | Black |
| Eye Colour | Light Blue |
| Skin Colour | Fair |
| Marital Status | Married |
| Partner | Oksana Emelianenko |
| Kids | Elizabeth, Vasilisa, and Masha |
| Profession | Mixed Martial Artist |
| Division | Heavyweight |
| Style | Sambo and Judo |
| Stance | Orthodox |
| Net Worth | $18 million |
| Salary | $300k-$2 million |
| Social Media | Instagram |
| Merch | Autobiography Book, MMA RVCA T-Shirt |
| Last Update | March, 2023 |
Fedor Emelianenko: Early Life, Family, and Education
Fedor Vladimirovich Emelianenko was born on September 28, 1976, in Rubizhne, a city in Luhansk Oblast of Ukraine.
He was only two years old when his parents, Vladimir Alexandrovich and Olga Fedorovna, decided to move to Russia. They lived in Stary Oskol, Belgorod Oblast, where his father worked as a welder and his mother was a teacher.
Fedor's family struggled financially so that they could eat a proper meal only once a week. Similarly, the younger brothers had to wear the hand-me-down clothes of their older siblings.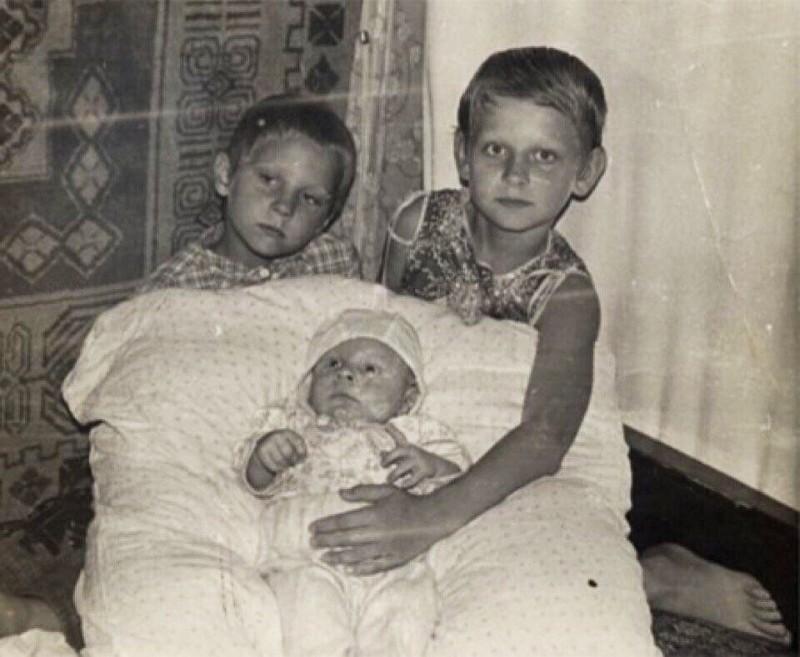 Emelianenko was 11 when he started practicing Sambo and Judo under the instructions of Vasily Ivanovich Gavrilov. Likewise, he began taking proper sports classes with coach Vladimir Voronov at age 12.
He completed high school in 1991 and enrolled in a professional trade school. In 1994, he graduated with honors from the trade school as an electrician.
Then, Emelianenko joined the Russian Army and became a military firefighter.
Similarly, he was in the tank division near the city of Nizhny Novgorod. To sum up, Emelianenko served in the Russian Ground Forces from 1995 to 1997.
Emelianenko received the title of "Master of Sports" in Sambo and Judo in 1997. After that, he joined the Russian national team, but he had to leave the team in 2000 because of monetary problems.
He attended Belgorod State University in Russia and graduated in 2008. Besides sports, Fedor is interested in reading, drawing, and listening to music.
Similar Article: Webb Simpson Bio: Wife, Net Worth & Career Earnings >>
Fedor Emelianenko: Career
Fedor Emelianenko became a Russian Top Team (RTT) member after leaving the Russian national team. It was associated with the Japanese combat sports promotion Fighting Network Rings.
Therefore, he had the opportunity to train under Volk Han and Andrei Kopylov. He soon left RTT to join the MMA academy Red Devil Sport Club in St. Petersburg, Russia.
On May 21, 2000, Emelianenko started his career as an MMA fighter for Rings. He recorded four back-to-back wins that year, but a loss in December affected his winning streak.
Emelianenko was competing against Tsuyoshi Kohsaka when his opponent's elbow struck his head. The elbow strike, which was illegal for the event, opened up Emelianenko's cut from a previous fight.
However, Emelianenko remained victorious for the next 28 fights of his career until his first loss in June 2010.
Pride Fighting Championships
On June 23, 2002, Emelianenko made his debut at the Pride Fighting Championships against Dutch kickboxer Semmy Schilt. He defeated Schilt unanimously and went to win his next fight against MMA fighter Heath Herring.
Emelianenko competed against former Interim UFC Heavyweight Champion Antônio Rodrigo Nogueira at Pride 25 held on March 16, 2003. He dominated the fight for twenty minutes with ground-and-pound while surviving Nogueria's guard.
Likewise, Fedor Emelianenko won the Pride Heavyweight Championship with a unanimous decision from the judges.
In 2004, he participated in the Pride 2004 Heavyweight World Grand Prix tournament.
Firstly, he won the semi-finals against Japanese judoka Naoya Ogawa. Then he went on to face Antônio Rodrigo Nogueira in the finals.
Their showdown was declared a no-contest because of an unintentional injury on Emelianenko's head.
In other words, the two had a rematch, and Emelianenko completely overpowered Nogueira with punches and Judo throws. Once again, he won the heavyweight championship unanimously.
At Pride Final Conflict 2005, he competed in a title defense match against Croatian kickboxer Mirko Cro Cop. He won after twenty minutes of the fight.
He defended his heavyweight title for the last time against Mark Hunt at Pride Shockwave 2006, winning the tournament by submission.
In short, Emelianenko was a reigning Pride Heavyweight Champion from 2003 to 2007.
M-1 Global
After his contract with Pride ended, Emelianenko competed in several MMA events under a two-year deal with mixed martial arts promotion M-1 Global.
In 2007, he fought South Korean kickboxer Hong-man Choi, at Yarennoka! The MMA event was held in Japan on New Year's Eve, and Emelianenko won the fight within the first round by submission.
A year later, he competed for the Japanese MMA organization Dream, seeing that the organization had a close alliance with M-1 Global.
Then, on July 19, 2008, he fought former Heavyweight Champion Tim Sylvia at Affliction: Banned.
Emelianenko won by submission via a rear-naked choke within 36 seconds of the fight. Secondly, on January 24, 2009, he faced Andrei Arlovski at Affliction: Day of Recking and won the fight by knockout.
UFC President Dana White tried to sign an exclusive UFC contract with Fedor Emelianenko several times.
There were rumors that he offered Emelianenko a contract of just under $2 million per fight. But UFC and M-1 Global failed to make a negotiation.
M-1 Global wanted to work with UFC as a co-promotion. However, White refused to accept their terms. So instead, Emelianenko agreed to compete for Strikeforce.
Retirement
On November 7, 2009, he won a fight against Brett Rogers at the Strikeforce: Fedor vs. Rogers main event. But Emelianenko lost the first match of his career against Fabrício Werdum on June 26, 2010, by submission.
Emelianenko was already considering retirement before the fight due to increasing physical injuries.
However, he lost the next two fights at Strikeforce before leaving the MMA organization for good.
On December 31, 2011, he returned to Japan to compete at Fight for Japan: Genki Desu Ka Omisoka. He won the match against Satoshi Ishii by knockout.
He further won an M-1 Global event against Pedro Rizzo on June 21, 2012, by knockout. Subsequently, Emelianenko announced his retirement as a competitor.
However, he continued to act as the president of the Russian MMA Union until October 2018.
Emelianenko has been a member of Russia's Presidential Council on Physical Fitness and Sports since 2012. Likewise, he entered the political world as the deputy of the Belgorod Regional Duma for a five-year term in 2010.
You may also like: Top 10 Point Guards in the NBA >>
Return to MMA
On July 14, 2015, he returned to the MMA scene under Rizin Fighting Federation as an active competitor. He won his first fight after his return against Indian heavyweight kickboxer Jaideep Singh by submission.
On June 17, 2016, he faced Fábio Maldonado in a promotional event held in St. Petersburg, Russia. Emelianenko was declared the winner due to majority votes, but they overturned it to a draw after media outrage.
He officially signed a multi-fight contract with Bellator MMA. After that, Emelianenko defeated Matt Mitrione by knockout at the Bellator NYC event on June 24, 2017.
Fedor Emelianenko competed in the 2018 Bellator Heavyweight Grand Prix for the title of the Bellator Heavyweight Champion. On April 28, 2018, he faced former UFC Heavyweight Champion Frank Mir at Bellator 198, winning the fight by knockout.
On October 13, 2018, he defeated Chael Sonnen via TKO in the semi-finals of the event. However, he lost the final event to Ryan Bader, who became the Bellator Heavyweight Champion on January 26, 2019.
Emelianenko faced Quinton Jackson at Bellator 237 on December 29, 2019, winning the fight by knockout. Moreover, he defeated Timothy Johnson at Bellator 269 on October 23, 2021, via knockout.
Fedor Emelianenko: Marriage and Kids
Emelianenko married his high school sweetheart Oksana in 1999, and the couple welcomed their daughter Masha the same year. However, the pair legally separated in 2006.
On December 29, 2007, Emelianenko had his second daughter, Vasilisa, with his girlfriend Marina. There were rumors that the two were having an affair while Emelianenko was still married to Oksana.
They shared their wedding vows in 2009, and their younger daughter Elizaveta was born in July 2011.
After seven years together, Fedor and Marina had a divorce in 2013. He remarried his first wife, Oksana, a year later.
Fedor Emelianenko: Net Worth
Fedor Emelianenko is one of the top ten richest MMA fighters in the world. Depending on the MMA promotion, he makes anywhere near $300,000 to $2 million in salary for an event.
his estimated net worth is $18 million.
Emelianenko has made more than $8 million in career earnings. Moreover, he is currently the co-owner of M-1 Global, based in St. Petersburg, Russia.
Check out: Roger Federer Wife: More on Mirka Federer, Bio & Family >>
Fedor Emelianenko: Social Media
You can find Fedor Emelianenko on Instagram. He prefers to keep his private life away from social media, so he mostly shares content related to MMA and his fighting team.
However, Emelianenko does not have an official Twitter or Facebook page.
Instagram: 1.1 million followers
FAQs
Who is Aleksander Emelianenko?
Aleksander Emelianenko is a mixed martial artist and three-time Russian National Combat Sambo Champion.
Additionally, he is known for being the younger brother of former Pride heavyweight champion Fedor Emelianenko.
Who has defeated Fedor Emelianenko?
As of 2021, Fedor has suffered six losses out of the 47 MMA events of his career. He lost five fights by knockout and one by submission.
Moreover, some of the MMA fighters who have defeated him include Dan Henderson, Antonio Silva, and Fabricio Werdum.