Women in sports are not still that common. They need to endure harder to break the psychological and societal barriers to succeed.
Yet, some daring women pursue extreme sports that can cost their lives. Their strength and bravery are quite admirable. Felicia Spencer is a perfect example of courage and physical strength.
The fearless athlete Spencer is a Canadian Mixed Martial Artist (MMA) who now fights in the Featherweight division of the Ultimate Fighting Championship (UFC).
She has a black belt in both Taekwondo and Brazilian Jiu-Jitsu. Moreover, Felicia is a simple, down-to-earth girl who has the power to influence the upcoming generation in sports.
The UFC star Spencer was born on November 20, 1990, in Montreal, Quebec. The mighty girl, Felicia, started Taekwondo, a Korean martial art, at the age of four, and later she learned Brazilian Jiu-Jitsu and kickboxing.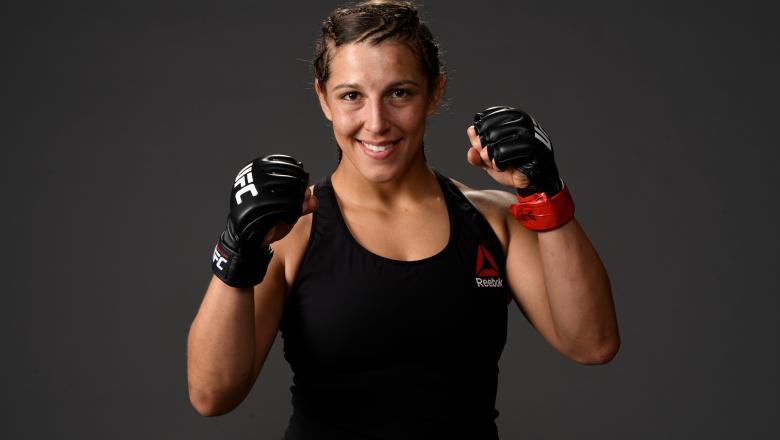 When Felicia joined the University of Central Florida, After training in Jungle MMA, she decided to train in Mixed Martial Arts.
Out of 10 matches, Spencer has won 8(2 by knockout, 4 by submission, and 2 by decision) and lost 2 (by decision).
The Canadian athlete Spencer started her career with Tuff-N-Uff Future Stars of MMA. After having an excellent record, she was signed by Invicta FC in 2015.
After four successful years in Invicta FC, the UFC signed her in March 2019. She had an undefeated record of 6-0 in the Invicta FC.
Before we get any further about the mighty player, Felicia, let's check the quick facts.
Quick Facts about Felicia Spencer
| | |
| --- | --- |
| Full Name | Felicia Dawn Spencer |
| Birth Date | November 20, 1990 |
| Birth Place | Montreal, Quebec, Canada |
| Nick Name | Feenom |
| Religion | Not Available |
| Nationality | Canadian |
| Ethnicity | White |
| Education | Lemon Bay High School, University of Central Florida |
| Horoscope | Scorpio |
| Father's Name | Not Available |
| Mother's Name | Not Available |
| Siblings | 2 brothers |
| Age | 32 Years Old |
| Weight | 66 kg |
| Height | 5 feet 6 inches |
| Hair Color | Dark Brown |
| Body Measurement | Not Available |
| Build | Athletic |
| Married | Yes |
| Husband | Todd Coppinger |
| Profession | Professional Mixed Martial Artist |
| Style | Taekwondo, Brazilian Jiu-Jitsu, Kickboxing |
| Children | Addie (Stepdaughter) |
| Net Worth (2020) | $500,000 |
| Retirement | Active |
| Social Media | Twitter, Instagram |
| Last Update | March, 2023 |
Spencer | Age | Height | Weight | Horoscope
The powerful athlete Spencer turned 30 last November 2020. She has been active since she was just four years old.
Being overweight will never feel good for an MMA fighter, so Felicia has correctly maintained her weight to 66kg. She stands 5 feet and 6 inches tall and has a muscular body that suits a fighting career.
Moreover, Spencer is a Scorpio in Western astrology. Scorpios are deep and determined personalities.
Unlike other signs, it is hard to guess what goes in a Scorpio's mind. These mysterious phenomena are timid and emotional souls. It takes hard work to understand them.
Spencer's coaches, Seth Petruzelli and Mike Lee, often could not figure out how lonely she felt while making her way up in her career. She once confessed that she had a hard time making friends.
In Chinese astrology, Felicia is a Horse. People born in the horse year are usually positive-minded and hard-working. Also, they are warm-hearted yet independent folks.
Spencer | Family | Personal Life | Husband
Even though Felicia was born in Canada, she moved to the United States with her two brothers and parents when she was just four years old.
Spencer started Taekwondo training along with her two brothers. Then she started Jiu-Jitsu when she was 12 and added kickboxing. Now she has black belts in both Taekwondo and Jiu-Jitsu.
Her family details are not disclosed in any media outlets, but she has a decent relationship with her family. Spencer is a humble and good human being. She must be brought up well by her parents.
Geoff Neal: Career, Health, Personal Life, UFC & Net Worth >>
Though she grew up in Florida, Felicia is still deeply connected with her Canadian roots. She was cheered by the Canadian Crowd saying "Let's Go Spencer" when she fought Cyborg at UFC 240 in Edmond.
Furthermore, Felicia felt humbled watching the whole nation cheering her up and praying for her success.
One cute picture Felicia posted of herself as a 5-years old girl.
Moreover, Spencer was a shy kid and would not make friends easily. Later she admitted that martial arts helped her work on her confidence and build friendships.
Husband
Felicia is married to Todd Coppinger, an MMA fighter. Besides being an MMA fighter, Todd is a gentle and understanding man who knows how to take care of his lady love.
The lovebirds met long before they got married in 2019. The couple looks great together.
In one of Spencer's interviews, she confessed that everything made sense when she met Todd; everything Spencer thought she did wrong turned right.
She found her best friend and a supportive partner who understands her and her profession deeply.
Moreover, the couple works out together; they train together and support each other immensely.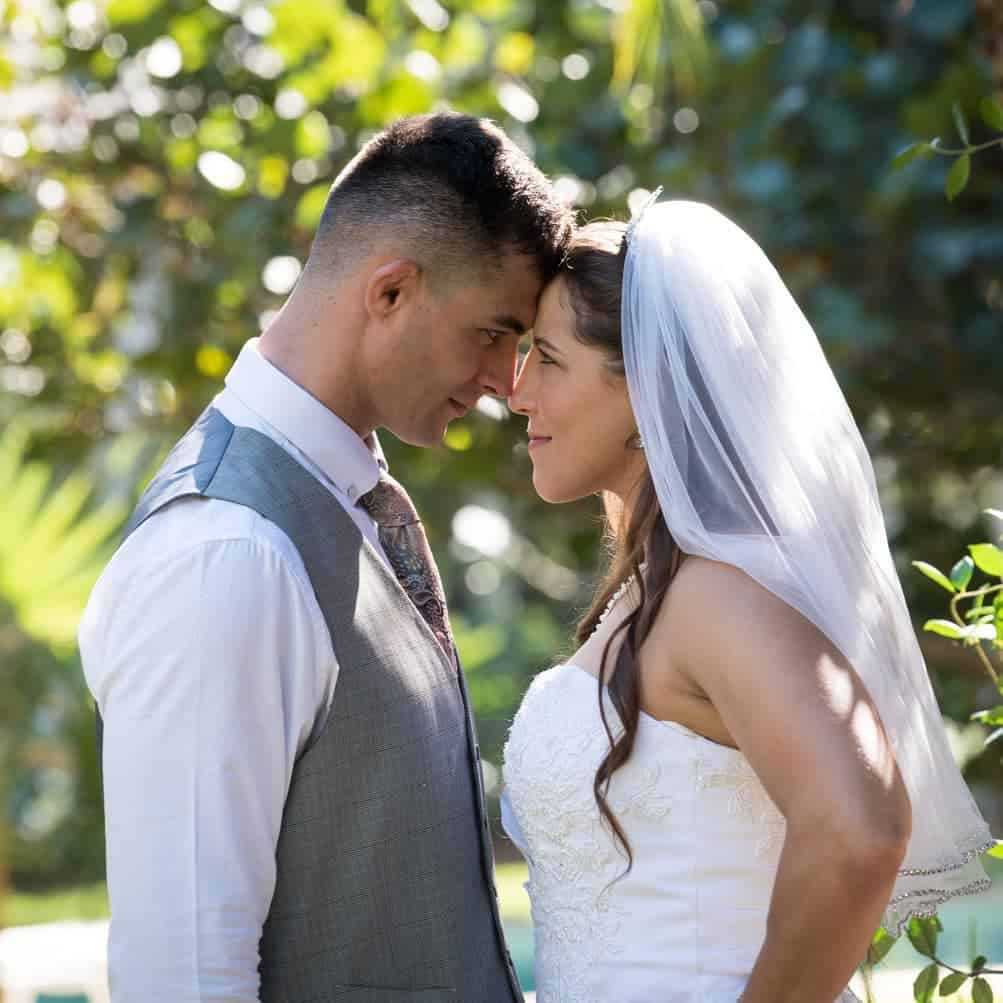 When Todd was asked, what he saw in Spencer, he said a perfect wife. They are happy together; that's what everyone can see when they see the lovely couple.
Moreover, Coppinger has a nine years old daughter name Addie from a previous relationship. Felicia happily became the stepmother of Addie, and now Spencer can teach a lot of different skills to their daughter.
Coppinger and Felicia take care of Addie together. We can see them spending a lot of time together as a family.
Check out the Instagram post where Felicia is spending time with Addie.
You may want to read about another daring MMA fighter, Maycee Barber.
Also, read Maycee Barber's Bio: Mixed Martial Arts, UFC, Family & Early Life >>
Felicia | Career
After training in Taekwondo, Brazilian Jiu-Jitsu, and kickboxing for so many years, she started her career in 2012 with the "Tuff-N-Uff Future Stars of MMA."
She knocked out Jessica Eve Richer and submitted Leanne Foster at the second Tuff-N-Uff-Xtreme. This victory led her to sign with Invicta FC in 2015
Spencer | Invicta Fighting Championships
Spencer, the Featherweight champion, defeated Rachel Wiley in 2015 at Invicta FC 14: Evinger vs. Kianzad with a technical knockout.
In March 2017, she faced Madison McElhaney at Invicta FC 22: Evinger vs. Kunitskaya 2; she won through a unanimous decision.
Moreover, in July, she stood against Amy Coleman at Invicta FC 24: Dudieva vs. Borella and won the game with a rear-naked choke.
On January 13, 2018, Felicia defeated Akeel Al-Hameed at Invicta FC 27: Kaufman vs. Kianzad. Furthermore, Felicia faced Helena Kolesnyk in July and defeated her with a rear-naked choke at Invicta FC 30: Frey vs. Grusander.
In November 2018, Spencer fought against Pam Sorenson at Invicta FC 32: Spenser vs. Sorenson and won via a rear-naked choke.
Felicia | Ultimate Fighting Championship (UFC)
With an undefeated record of 6-0 in Invicta FC, the rising fighter Felicia officially entered the UFC in March 2019.
In May 2019, Spencer's first opponent in her debut game was Megan Anderson, whom she defeated with a rear-naked choke in the first round.
Spencer faced her major defeat when she faced Cris Cyborg in July 2019 at UFC 240. This defeat did not crush her, but she came stronger later in other games.
After Cyborg, Felicia faced Zarah Fairn Dos Santos at UFC Fight Night 169, and she won again.
On June 6, 2020, Spence faced another fighting legend, Amanda Nunes, known as Lioness. Amanda is a bantamweight and featherweight UFC champion.
She is one of the four UFC fighters to rule the two-weight class at the same time after Daniel Cormier, Conor McGregor, and Henry. Though Spencer lost against Nunes, she was more optimistic about future bouts.
Teaching and Coaching
When Spencer joined the University of Central Florida, she pursued mathematics, a different field from her real passion. So she is not only a fighter but also an online math teacher at Florida Virtual School.
Moreover, Felicia has a gym where she teaches martial arts to younger kids. She enjoys being there helping kids to boost their self-confidence which she lacked when she was a little girl.
She said it feels so small to us, but it's such a big deal to the kids.
Therefore Spencer keeps showing up at the gym and teaches the kids.
Here's another MMA Fighter that you must know of: Nadia Kassem Bio: Mixed Martial Arts, Family & career >>
Felicia Spencer | 2020 Injury
During the match against Amanda Nunes at UFC 250 on June 6, 2020, Spencer suffered a huge forehead injury.
As the bout was in progress, the featherweight fight showcased a brutal injury at the end of the fourth round when Nunes dominated her opponent, Spencer.
Apparently, as Nunes dropped a flurry of punches in a go, she caught Felicia with a chokehold. By the end of the match, Nunes' punches had left Spencer with a hematoma on her forehead.
Therewith, as the medicals rushed into her help, Spencer was already bleeding a lot. It's a surprise how Spencer kept going inside the octagon despite her injury.
Later, with an examination, it was revealed that Spencer suffered from a broken orbital and nasal fracture.
All in all, she now needs clearance from the maxillofacial surgeon on the left orbital floor and nasal fracture. Simultaneously, Nunes was also injured and needed an X-ray of her right tibia and fibula.
Felicia Spencer | Achievements
Spencer is quite suited for her nickname, "FeeNom." Indeed, she is a person of phenomenal ability and no stranger to fighting.
Apart from it, Spencer is a versatile MMA fighter who even portrays her role as a math teacher at Florida Virtual School.
At present, Felicia Spencer trains under the head coach Mike Lee, under Team Jungle MMA.
Fighting out of Orlando, Florida, United States, Spencer features a black belt in Taekwondo and a black belt in Brazilian Jiu-Jitsu.
As of now, Spencer portrays statistics of eight wins with two losses among the total ten games she has played.
Furthermore, her wins consist of two via knockouts, four by submission, and two by decision. As for her loss, she had both her losses by decision.
Net Worth
The brave fighter Felicia Spencer acquired her net worth mainly from MMA. She started her UFC career in 2019, and it is likely to flourish in the future.
Felicia Spencer has an estimated net worth of $500,000.
Moreover, she has spent two years in the UFC, and more is yet to come. Spencer will surely add more to her total net worth through her fights and exploring other ventures.
Even though she is an online math teacher and owns a gym, these are not building her economic status. It is only for helping out the kids.
Spencer | Social Media
Felicia Spencer is a simple and shy person who likes to keep things low-key. Yet, she is an emotional human being who knows how to spread love and the right words to her fans and followers.
Spencer has profoundly built a good relationship with her fans through social media.
Spencer is active on Instagram and Twitter, where she shares posts related to her career, husband, and other beautiful life events. She puts out there on social platforms what she is.
Twitter handle (@feenom479): 14k followers, 530 followings.
Instagram handle (@FeeNom479): 77.3k followers, 513 followings.
Common Questions about Felicia Spencer
Where does Spencer live?
Florida. Felicia was born in Montreal, Quebec, Canada, but she moved to the United States when she was 4; she has been there since then.
Does Spencer live in Canada?
No. Spencer was born and lived in Canada until she was four. She, along with her two brothers and parents, moved to Florida, USA.
Who is Todd Coppinger?
Todd Coppinger is an MMA fighter. The brave fighter is married to Felicia Spencer. Moreover, they have been together for a long time. Coppinger has a 9-year-old daughter from his previous relationship.