Behind every fearless player is a brave coach who refuses to let them be anything but the best they can be. So, Franklin Mitchell Beamer, better known as Frank Beamer, is an excellent example of it.
Now a retired American college football coach and once a player himself, Frank is most known for his work at the Virginia Tech Hokies.
Because he started as an assistant coach in Radford High School, Frank knows what starting from the bottom and working your way up means because he did that himself.
Here are some quick facts about Frank Beamer.
Quick Facts: Frank Beamer
Full Name
Franklin Mitchell Beamer
Birth Date
October 18, 1946
Birth Place
Mount Airy, North Carolina
Nick Name
Frank Beamer
Religion
N/A
Nationality
American
Ethnicity
White
Education
Virginia Tech University, Radford University
Horoscope
Libra
Father's Name
Raymon Beamer
Mother's Name
Herma Beamer
Siblings
Older Brother
Age
76 Years Old
Height
1.67m
Weight
86 kgs
Hair Color
White
Eye Color
Brown
Build
Athletic
Profession
Football Coach, Special Assistant to Athletic Director
Teams
Playing Team;
Virginia Tech Hokies Football TeamCoaching Team;

Maryland (GA)
The Citadel (DL)
The Citadel (DC)
Murray State (DC)
Murray State
Virginia Tech

Position
Head Coach
Active Years
1972 – present
Marital Status
Married
Wife
Cheryl (née Oakley)
Kids
Shane Beamer, Casey Beamer
Net Worth
$10 million
Social Media
Twitter
Merch

Let Me Be Frank: My Life at Virginia Tech, Autographed Virginia Tech Footballs

Last Update
March, 2023
Where is Frank Beamer from? – Early Life and Family
Frank Beamer was born in Mount Airy, North Carolina, on October 18, 1946, to mother Herma Beamer and father, Raymon Beamer.
Despite being born in North Carolina, he was raised in Carrol County, Virginia. An interesting fact about him is that he is the descendant of the infamous Allen Clan of Carrol County in Virginia.
Likewise, Frank's great-uncle named Floyd Allen fired rounds of a gunshot in a courtroom that killed five people, including the judge, prosecutor, and the county sheriff, due to his ill-temper.
When Frank was seven years old, he almost died due to a fire accident. As per reports, Frank used a push broom to maintain burning trash in place. He did not see the fire in the broom and placed the broom back in the garage.
The broom caught a small can of gasoline and caused a fire. His eleven-year-old brother saved Frank by rolling his body around the ground.
As a result of this incident, Frank had to go through skin reconstruction surgery multiple times and has permanent scarring in his shoulders, chest, and right side of the neck.
As a teenager, Frank Beamer attended a high school in Hillsville, Virginia. Additionally, his brilliance in sports earned him eleven varsity letters in three different sports: football, basketball, and baseball.
Frank Beamer went to college to Virginia Tech, where he played football as the starting quarterback for three years, from 1966 to 1968.
For his graduate studies, he chose Radford University, and at the same time, he worked as the Radford High School assistant coach. This is where his journey as a coach officially began.
Nick Saban Bio: Quick Facts, Professional Life, Net Worth & Salary >>
Starting of a Great Career – Frank Beamer
Getting Started
Frank started his journey as a coach by becoming an assistant coach at the Radford High School in 1969 when he joined Radford University for his Graduate Studies.
His first college coaching opportunity came with the University of Maryland, College Park as a graduate assistant.
After spending a season there, he was promoted as the assistant coach at The Citadel, The Military College of North Carolina.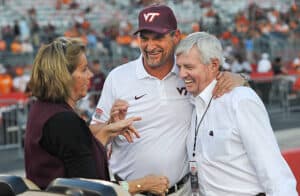 There, he spent seven seasons. So, in the last two seasons at The Citadel, he was promoted as the defensive coordinator.
After spending seven seasons there, he was hired as the Murray State University defensive coordinator under the head coach Mike Gottfried.
Frank got promoted as the Head Coach of the Murray State University football team after two years. Hence, he worked as the head coach for six years, where he amassed the record of 42-23-2(.642).
After spending eight years in Murray State Team, Frank got hired as the head coach of Virginia Tech in 1986. He replaced Bill Dooley, the best coach Virginia Tech had to date, who had to resign after multiple rules violations.
Jürgen Klinsmann- Football Career, Coach & Charity Work >>
Thus, Frank Beamer signed a four-year contract with Virginia State with an annual income of $80,000.
Due to the violations of rules Dooley had made, the Virginia Tech Hokies could only give out 85 scholarships in 1987 and 1988 and only 17 new scholarships only in 1989.
Moreover, this rule caused a huge setback in the Hookies team. So, Frank only completed a combined score of 5-17 in 1987 and 1988. After his first six seasons, Frank's record was 24-40-2 with a win percentage of only .385.
Hokies' athletic director Dave Braine believed in Beamer and thought he deserved more time to prove himself. And as Braine thought, Hokies started performing better under Beamer's watch again.
Making a Name in Coaching
After he began success, the Virginia Tech Hokies began to win matches after matches. Hokies went 9-3 and got victory over the Independence Bowl, the fourth time in school history to have won nine games in a season.
From 1993 to the 2000s, the Hokies had gathered a total record of 75-21. They also appeared in the major bowl for the first time in school history.
Hokies reached their top level when they completed a season with 11-0 and earned a spot in the 2000 Sugar Bowl. Therefore, they competed against Florida State for the BCS National Championship.
But, the Hokies lost to the Florida State in the early fourth quarter. They finished the season by placing third in the AP Poll and Second in the Coaches' Poll.
This was the highest-ranking they had received in their history and highest for the Divison I team belonging from the Commonwealth.
ACC Championships – Beaver's Vision
The early 2000s were golden for Virginia Tech because they maintained their bowl eligibility throughout the time and won the 2004 ACC Championship in its first time playing in the league.
The years from 2005 to 2011 were fantastic for the Virginia Tech Hokies as they won at least 10 games every season. This was special as they were the only team in the entire country to do so.
Speaking personally for Frank Beamer, his record from 1993 to 2011 was 185-58 with a winning percentage of .761. During this period, the winning percentage was the fourth highest in the country.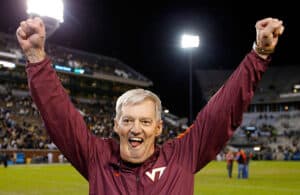 In the 2012 to 2015 seasons under Frank, the Hookies finished their seasons with a winning record and an opportunity to bid in the bowl.
On November 1, 2015, Frank Beamer officially resigned from his position as the Hokies' head coach. He had a long coaching career and an equally long history with the Virginia Tech Hokies.
In his last game, he won with 55-52 over Tulsa in the Independence Bowl. As an honor to him, he has carried off the field in the final regular-season game to become eligible.
To replace him, Virginia Tech hired Justin Fuente, the ex-coach of the University of Memphis, at the 2015 season.
Frank Beamer – Awards and Accolades
Throughout the years, Frank Beamer had a quite impressive run as the Coach. During his time with multiple universities and different coaching positions, he has won several awards to recognize his excellent work as a Coach.
Hence, here is a list of the awards he has received through his long career in the sports industry:
AFCA Coach of the Year (1999)
Associated Press Coach of the Year (1999)
Bobby Dodd Coach of the Year Award (1999)
Eddie Robinson Coach of the Year (1999)
Paul "Bear" Bryant Award (1999)
Walter Camp Coach of the Year Award (1999)
George Munger Award (1999)
Joseph V. Paterno Coach of the Year Award (2010)

3 Time Winner of Big East Coach of the Year (1995, 1996, 1999)
2 Time Winner of ACC Coach of the Year (2004/2005)
Paul "Bear" Bryant Lifetime Achievement Award (2019)
College Football 150's Top 25 Coaches in Bowl History (2019)
Records During his Time
During his 29 years as coaching, he has created multiple records. Some of them are mentioned below:
Firstly, Beamer coached in Hokies has always reached the Postseason play after 1993 until his retirement in 2015.
Under his guidance and coaching, Hokies appeared in the Bowl consecutively for the country's longest time in that time.
Moreover, Beamer was the coach in all of the 11 seasons that the Hokies won in school history.
Under Frank Beamer, the Hokies also win the Big East Championships.
Frank also led his team to win the Big East Championship three times.
Additionally, Beamer coached his team into winning the ACC Championship four times.
Life After Retirement – Frank Beamer
When Beamer retired in 2015, he was the winningest coach in the Division I FBS with over 280 career wins. He is also the sixth winningest coach in the history of the Division I FBS level.
Due to this expertise and achievements, Frank Beamer is a coach at a different level. Moreover, considering all of these activities, Beamer was appointed to the College Football Playoff Committee in Early 2017.
Furthermore, the job was a three-year appointment, and Beamer joined the committee as the 14th person in there. Consequently, they create weekly polls of the country's top 25 teams by meeting in each of the final six weeks of a regular season.
Apart from that, Beamer also signed an eight-year contract with Virginia Tech to work as the Special Assistant to the Virginia Tech Athletic Director, Whit Babcock, to focus on athletic development and advancement.
Frank Beamer has also been awarded many honors like Beamerball, Beamer Way, #25 beamer Jersey, Frank Beamer Day, Beamer-Lawson Indoor Practice Facility, Frank Beamer Statue, etc
Moreover, Beamer was also a huge influence in the voices against the Virginia Tech shooting on April 16, 2007. Further, he was quoted as saying,
"We can't let one person destroy what goes on here every day, the caring, the thoughtfulness. We can't let one person destroy that."
Frank Beamer Marriage and Personal Life
Beamer is married to his wife, Cheryl (née Oakley), who he met on a blind date arranged by her sister, Sheila. As a result, the two tied the knot on April 1, 1972.
Together, they have two children, Casey Beamer and Shane Beamer. They also have five grandchildren.
As a result of playing football in Virginia Tech under Frank's guidance, Shane Beamer now works as the head coach of Football at the University of South Carolina.
Did you know that Frank Beamer is also a writer? Because he has published a children's book and his wife Cheryl called Yea, It's a Hokie Game Day!
Quotes
This is our last opportunity to show we're a good football team. I believe this is one of the best football teams Virginia Tech has ever had. Getting to 11 wins would be something–and so would finishing in the top 10.
I knew there was one kind soul . . . you stand out in this crowd.
I didn't think I was going to accept the job when I went there to visit, and I had no idea I was going to like it.
FAQs
What is Frank Beamer doing now? What is his coaching record?
Beamer is working as the special assistant to the Virginia Tech Atheltic Director and serving the College Football Playoff Committee.
At present, he maintains a head coaching record of 11–12 in bowls, 0–1 in tournaments, and 280–143–4 overall.
Does Frank Beamer have cancer? When was the final game of his career?
He did have cancer, but he beat it and is back to living his everyday life.
As for the final game of Frank Beamer's career, it was back on December 26, 2015. Initially, he announced his retirement on November 1, 2015, but played his last game after beating Virginia in the final regular season. Also, his last game was a 55–52 win over Tulsa in the Independence Bowl.
How much is Beamer worth? What is his bowl record?
Frank Beamer is worth about $10 million because of his long coaching career. Well, he has a bowl record of 11–12.
Does Frank Beamer have Social Media?
Frank Beamer seems to have a Twitter account. However, we are not sure if that is the official one.
Is Frank Beamer in the Hall of Fame?
In December 2018, Frank Beamer has inducted into the College Football Hall of Fame during the 61st NFF Annual Awards Dinner in New York.