The potent shooting ability and alluring personality of the Hawkeyes guard Gabbie Marshall brought curiosity into her personal life- if she has a boyfriend.
Yes, Marshall does have one. She not only enjoys the collegiate basketball stardom but also has a blissful relationship. Her boyfriend is none other than Spencer Touro, a fellow alum of Iowa.
Even if she tries to keep her relationship reflection away from her Instagram profile, it won't be easy to pull off from eagle-eyed fans.
Her boyfriend, Spencer, often makes adorable comments on her IG profile.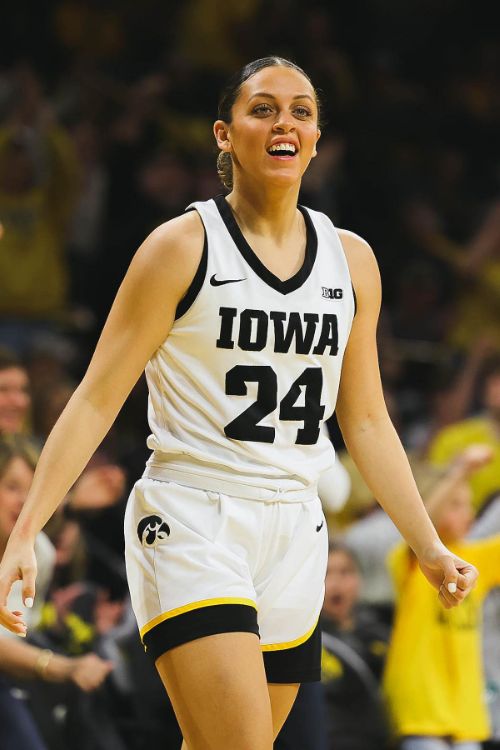 Gabbie, the Cincinnati resident, currently plays college basketball for the Hawkeyes alongside Caitlin Clark, Molly Davis, Jada Gyamfi, and Hanna Stuelke.
She enrolled at the University of Iowa in 2019, with the 2023-24 season being her 5th year as a student-athlete.
A four-year varsity player at Mount Notre Dame High School, Marshall gets natural agility and talent from her parents, who both played basketball.
On March 21, 2019, she scored her then-career-high 22 points at Rutgers during her freshman year. The scoring board would jump to her new career-high 27 points in her sophomore year.
Fans are eager to see if Marshall continues her basketball journey through the WNBA, joining with the elite names Breanna Stewart, A'ja Wilson, Alyssa Thomas, and Jackie Young, to name a few.
Gabbie Marshall Boyfriend: Is She Dating Spencer Touro?
Yes, Gabbie is dating Spencer Touro. Like her, the basketball star's boyfriend is also an alum of the University of Iowa.
Even if the duo has yet to open up about their courtship, there is no denying that they met at college and started dating afterward.
Moreover, since both were student-athletes (Touro played football & basketball), it sparked a connection between them.
Even though fans were taking up hints from 2021 that something must be cooking between these two, it wasn't until 2023 that it got a confirmation.
On August 20, 2023, Spencer took to Instagram and shared a picture with his collegiate basketball star girlfriend, Gabbie.
He captioned, "Ending summer the right way," to which she replied with three heart emojis & wrote, "the best end to summer."
Despite limited pictures together on social media, the couple can't help but show their adoration via comments.
Earlier, in March 2023, in Marshall's IG picture of celebrating their victory in the Big Ten Conference Tournament, Spencer commented, "That's a champ" with a ring emoji.
Later, in May of that year, he wrote, "Proud of you" with a heart emoji in her convocation picture.
On her part, Gabbie made a supportive comment, "Let's goooo," with a heart emoji on her boyfriend's IG post after he announced the offering of online training programs.
What Does Gabbie's Boyfriend Do?
According to his LinkedIn profile, Spencer graduated from Iowa in 2023 with a Sports and Recreation Management degree.
Now, he is the head sophomore baseball coach at Benton Community High School (May 2022- now).
Also, Touro is a certified trainer who interns as a wellness coach at Pro-Fit Gym.
Previously, he did odd jobs as a delivery driver at DoorDash, a cleaner at Fareway Stores, Inc., and a salesperson at Kelly's Auto Center.
Gabbie Marshall Family: Parents And Siblings
Born on August 23, 2000, in Cincinnati, Ohio, the 23-year-old basketball player is the daughter of Ernest and Marne Marshall.
Marshall's parents are former college athletes; her father played basketball at Bellarmine University, while her mother had a brief basketball stint at Aquinas College.
Her mom has been the VP of Product Marketing at United HealthGroup since April 2023; she joined the company in 2008.
She grew up with her three siblings (two brothers & one sister): Noah, Luke, and Lily.
Her elder brother, Noah, born on May 12, 1997, is 26 years old as of 2023.
He graduated from Vanderbilt University in 2019 with a BE in Mechanical Engineering. Later, he enrolled at Georgia Institute of Technology and obtained a master's in data analytics in 2022.
According to his LinkedIn profile, Noah is a customer account manager at GE Aviation (2022- now).
Gabbie often shares pictures of her parent and siblings on her Instagram (@gabbie.marshall).