Glenn Robinson is a former American professional basketball player. He played as a small forward for four clubs in his eleven-year-long NBA career.
Robinson had begun his NBA journey with the Milwaukee Bucks back in the 90s, signing a contract worth the highest amount for any rookie in the league's history.
But he later proved that the amount was worth it as he had an incredible NBA journey. Even though he was arrogant and short-tempered at times, he was always popular among basketball fans.
He earned the nickname such as The Chosen One definitely for that reason.
He had a very successful NBA career earning an NBA All-Star selection twice consecutively in 2000 and 2001. Moreover, Glenn won a championship ring in his last season in 2005.
Before that, Robinson had an influential college career at Purdue University, winning the National college player of the year in 1994. His performance for Purdue Boilermakers earned him the first selection in the 1994 NBA draft.
Even though he faced difficult times while growing up, he always stood by his passion for basketball, and in turn, the sport gave him everything. His life is truly an inspiration for everyone who dreams of achieving big in their life.
This article will discuss his life and the struggles he did to become the person he is today. But first, let's check out the quick facts about him.
Quick Facts
Full Name
Glenn Alan Robinson Jr.
Known As
Glenn Robinson
Date of Birth
January 10, 1973
Birth Place
Gary, Indiana, the USA
Nick Name
The Chosen One, Big Dog
Religion
Christianity
Nationality
American
Ethnicity
African-American
Zodiac Sign
Capricorn
Age

50

years old
Height
2.01 m (6 feet 7 inches)
Weight
240 lb (109 kg)
Eye Color
Dark brown
Build
Athletic
Father's Name
Glenn Robinson Sr.
Mother's Name
Christine Bridgeman
Siblings
Not available
Education

Theodore Roosevelt High School (Gary, Indiana)
Purdue University (West Lafayette, Indiana)

Marital Status
Unmarried
Sexual Orientation
Straight
Wife
None
Kids
Glenn Robinson Jr., Gelen Robinson, Jaimie Robinson
Profession
Basketball player
NBA Draft
1994 / Round: 1 / 1st pick overall
Position
Small forward
League
National Basketball Association (NBA)
Active Years
(1994–2005)
Net Worth
$20 million
Currently Plays For
Retired
Jersey Number
3, 13, 31
Social Media
None
Merch
Basketball Card
Last Update

May 2023
Early Life, Family & Education
Glenn Robinson (Glenn Alan Robinson Jr.) was born on January 10, 1973, in Gary, Indiana, United States. He is the only son of his parents, Glenn Robinson Sr. and Christine Bridgeman.
Both his parents were teenagers at his birth and thus were unmarried.
When Glenn Jr. was still a small kid, he lost contact with his father, so he grew up with his mother. As she was immature at that time, Christine had a tough time raising him.
Moreover, the town of Gary was very infamous in the whole country for huge crime rates. The unemployment rate was also around 13.1%, one of the highest in America.
So, the streets were full of drug peddlers, and murders were part of daily life.
However, his mother did her best to seclude him from a dangerous environment and raised him well. Glenn attended the Theodore Roosevelt High School in Gary but was not very serious in his studies.
Undoubtedly, the bad familial conditions had profound psychological effects on him. As a result, he could never bring good marks in exams. Fed up with his bad performance, his mother pulled him out of school.
He worked at an air-conditioning and refrigerator shop for a while when his mother did not send him to school.
Despite many troubles, he enthusiastically played basketball as he found solace in it. However, he did not compete to secure a place on his high school team until he reached grade nine.
His mother later died in 2005 at the age of 48.
Furthermore, he was later readmitted to Roosevelt High School and graduated in 1991. After his graduation, he joined Purdue University for further education.
Glenn Robinson | Basketball Career
High School Career
Glenn studied at the Theodore Roosevelt High School in Gary, Indiana, and played basketball for their high school team. Robinson was a slow starter and started playing organized basketball tournaments only when he reached grade nine.
He was self-aware of his shortcomings, so he worked on his skills before trying for a place on his high school team. As a result, he performed exceptionally well right from his first season.
Glenn became part of three IHSAA Sectional title teams and two Regional title squads during his high school years.
The 6'9″ American-born Ryan Bowen is a former professional basketball player who played for NBA and is at present serving as an assistant coach. Read more!
Moreover, he led his team to the Indiana state championship victory in his senior year. For his performance in that year's finals, he got featured in The Road to Indianapolis and Indiana High School 20 Most Dominant Players.
College Career
Robinson joined Purdue University in Indiana to pursue his college career. Sadly, he missed out on the whole freshman season due to his low SAT scores. So, he redshirted that season and worked as a welder instead.
In his sophomore year, the Boilermakers listed Glenn on the team, and he played his first college season. He stood out as the team's best, finishing the season with an average of 24.1 points and 9.4 rebounds per game.
Glenn was highly received for his performance and won a few honors, including First Team All-Big Ten that season.
Glenn had an even better junior season in which he averaged 30.3 points and 10.1 rebounds per game.
After that season ended, he decided to forgo his last year and went for the NBA draft in 1994. He was the only Boilermaker to score over 1000 points and 500 rebounds when he left Purdue.
Professional Career
Glenn had entered the NBA draft as one of the top prospects in 1994. Consequently, the Milwaukee Bucks selected him with the first overall draft pick.
With that selection, Robinson became the first Boilermaker after Joe Barry Carroll to make it into the NBA as the first pick.
He performed excellently in his first NBA season and won several awards. Finishing the season with an average of 21.9 points per game, Glenn became the NBA Rookie of the Month twice.
Robinson played seven more NBA seasons with the Bucks and never disappointed the team with his game. He averaged over 20.0 points per game every season except for one.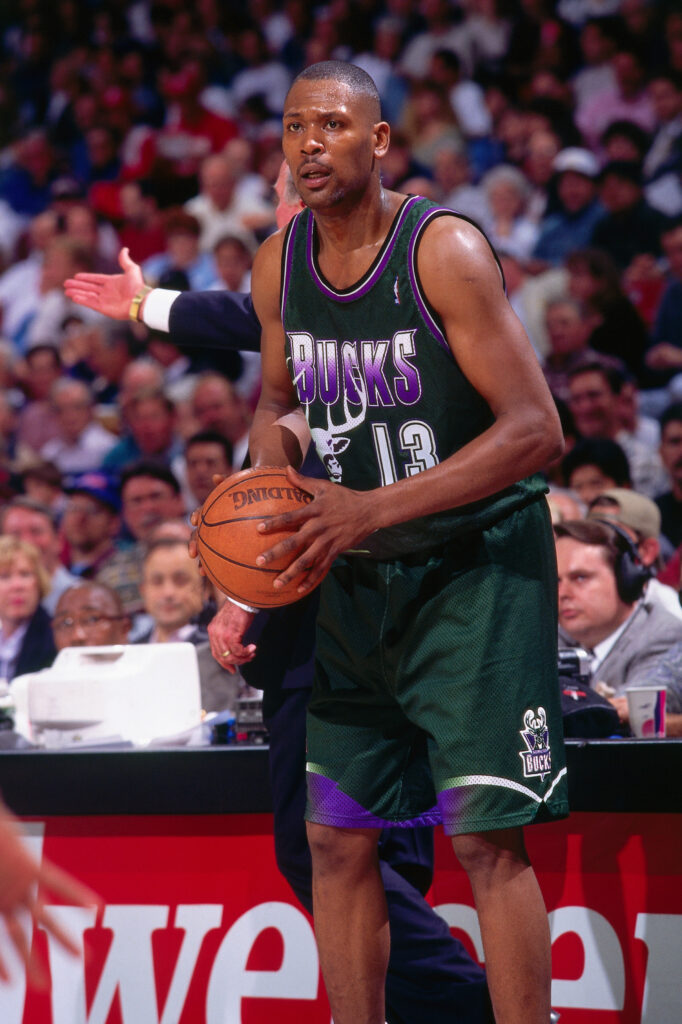 The Bucks eventually traded him to the Atlanta Hawks on August 2, 2002. However, his time with them ended without lifting a championship trophy.
He continued his top-notch performance after moving to the Hawks team as well. He finished the 2002-03 season with an average of 20.8 points and 6.6 rebounds per game.
Furthermore, Glenn played two more seasons with two different NBA clubs, but his performance declined in his last league appearance.
Even though he remained with the San Antonio Spurs for a brief time, he won his first-ever and the only championship trophy with them in the 2004-05 season. After that season, Robinson decided to leave his professional career and announced his retirement.
Awards & Achievements
Some of his awards and achievements are:
NBA Champion (2005)
Big Ten Player of the Year (1994)
Indiana Mr. Basketball (1991)
NCAA season scoring leader (1994)
NBA All-Star (2000, 2001)
McDonald's All-American (1991)
NBA All-Rookie First Team (1995)
Consensus second-team All-American (1993)
Consensus first-team All-American (1994)
National college player of the year (1994)
John R. Wooden Award (1994)
Naismith Award (1994)
Glenn Robinson | Net Worth & Earnings
One of the highest-paid basketball players of his time, Glenn Robinson, has a net worth of around $20 million.
In his eleven-year NBA career, Robinson accumulated approximately $80 million. He had debuted for the Milwaukee Bucks in 1994, signing a contract worth $68 million, which is the highest contract signing to date.
However, he had wanted a $100 million contract at first. Consequently, the Bucks paid him around $2.9 million for his rookie season alone.
He kept performing well for the club, which kept him for the next seven seasons, from which he made earnings amounting to nearly $45 million.
Moreover, he played professional league basketball for three more clubs, from which he generated over $30 million in the last three seasons.
Duncan Robinson had initially failed to make it in the NBA draft. However, his fate completely changed after the Heat gave him an opportunity in the 2018-19 season. Here are the details!
Additionally, he made a lot of money through brand endorsement deals, including Reebok's shoe company.
Injuries
Glenn Robinson perhaps would have appeared in a few more NBA seasons had he not suffered from frequent knee injuries. He had no initial plans to retire in 2005, but his games declined for two straight seasons.
Consequently, he gave up and retired sooner than everyone expected.
However, that was not the only time he had suffered a major injury. He had first experienced a significant blow when he had suffered a back strain during his junior college season.
Likewise, he kept suffering from fractures and strain now and then in his long playing career. He had even missed an event as massive as the US Summer Olympics back in 1996 due to a severe injury.
Glenn Robinson | Personal Life
Even though Glenn has already reached around fifty, he has never been married in his life. However, he had a beautiful girlfriend at one time with whom he remained loyal until they parted ways.
Her name is Shantelle Clay-Erving, and she gave birth to his two children. Glenn and Shantelle met each other during their high school days and stayed lovers for many years.
Glenn liked her the moment he saw her, but she approached him first for his autograph as he was a high school celebrity. He asked her for her phone number, and that's how their relationship began.
Shantelle gave birth to their first child, Glenn Robinson III, on January 8, 1994.
But, he was born prematurely, due to which they had to keep him in an incubator for around two months until he gained normal weight.
Robinson III followed in his father's footsteps, which is why he became an NBA player.
Similarly, their second son, Gelen, was born nearly one and a half later in 1995. The second son chose a different sport and played football.
Although Glenn lived separately from his family, he always loved them and gave Shantelle financial support to raise the children. In 2008, Shantelle married another man, but they remain friends to this day.
Also, he has a daughter with another woman named Jonta French. They call their daughter Jaimie, and she is also an athlete.
Robinson Accused of Assault
Glenn earned a lot of money and respect in his life by playing basketball for many years. Although he is known for occasionally losing his temper, he has a good reputation among his fans in general.
However, the NBA star was once accused of a serious crime involving his ex-fiancee, Jonta French.
He reportedly assaulted French and threatened to shoot her when he visited her on the pretext to see his youngest daughter in 2002.
Consequently, the Cook County court convicted him of assault and domestic violence charges on May 16, 2003. They ordered him to take a five-day class for anger management and a year of conditional discharge following the verdict.
Body Features
As of 2023, Glenn Robinson is 50 years old.
About his physical stats, he stands 2.01 meters (6 feet 7 inches) tall and weighs around 240 lb (109 kg).
Further, he has a tattoo on his chest which references his nickname "Big Dog," which he got while in his college days.
Frank Ntilikina is a young basketball player from France who plays in the NBA. Read this article to know more about him!
Frequently Asked Questions
Is Glenn Robinson a Hall of Famer?
Yes, Glenn Robinson is a Hall of Famer. He was included in the Indiana Basketball Hall of Fame in 2017.
Why was Glenn Robinson called Big Dog?
Nobody knows the exact reason why people call Glenn the Big Dog, but his school custodian had given him the name before he began playing for the Boilermakers.