Without a doubt, Goran Ivanisevic is one of the legendary former tennis players. His wife, Nives Ivanisevic, is a Croatian radio host and TV and film actress widely popular for her role in Dolina Sunca and Children of the Fall.
Goran Ivanisevic is a former Croatian tennis player who now serves as a coach to tennis GOAT, Novak Djokovic.
Ivanisevic turned professional in 1988 and quickly made a name in doubles by winning his first career title in Frankfurt.
Although he focused primarily on his singles career, Ivanisevic also achieved notable success in doubles, claiming nine titles and reaching a career-high doubles ranking of 20.
His most notable accomplishment was winning the Wimbledon singles title in 2001 as a wildcard, an unprecedented achievement.
Ivanisevic reached the final of Wimbledon three times during his career and achieved a career-high singles ranking of world No. 2 in July 1994.
After retiring, he became a coach and famously helped Marin Cilic win the 2014 US Open. Since 2019, Ivanisevic has been coaching the current world number 1, Novak Djokovic.
His impressive achievements were recognized in 2020 when he was inducted into the International Tennis Hall of Fame.
Goran Ivanisevic Wife Nives Ivanisevic
Nives Canovic Ivanisevic is a well-known television personality and actress born in Zagreb, Croatia 1982. She grew up with her sister, Nenad Canovas, but the names of her parents have not been disclosed.
Nives is a great actress, and she played the character of Augustina Vitezonvic in the 2009 television series Dolina Sunca.
Alongside her television work, she has made appearances in a few Croatian films. In 2008, Nives appeared in the Croatian play Sve Ce Biti Dobro and contributed to Goran Rukavina's program Children of the Fall in 2013.
As an attractive TV host, Nives has been active in her profession since 2009, maintaining a successful career in the industry.
She gained fame as the spouse of tennis coach Goran Ivanisevic, with whom she exchanged vows in Zagreb in December 2017.
The couple welcomed their first child, a baby boy named Oliver, in 2018, one year after their marriage.
Before Nives, the tennis coach was married to model and entrepreneur Tatjana Dragovic. After 5 years of marriage, the couple decided to separate in 2013.
Goran has two kids, Amber and Emanuel, from his marriage with Tanja. Emanuel plays tennis just like his father. He has already competed in several junior tennis tournaments.
Coach Of Novak Djokovic
After retiring as a professional tennis player, Goran has taken up a coaching career. He has been coaching Novak Djokovic since 2019.
Novak Djokovic, a Serbian professional tennis player, currently holds the top spot as world No. 1 in singles.
Djokovic has an impressive record of being ranked world No. 1 for a total of 388 weeks, spanning 12 different years, and finishing as year-end No. 1 player a record seven times.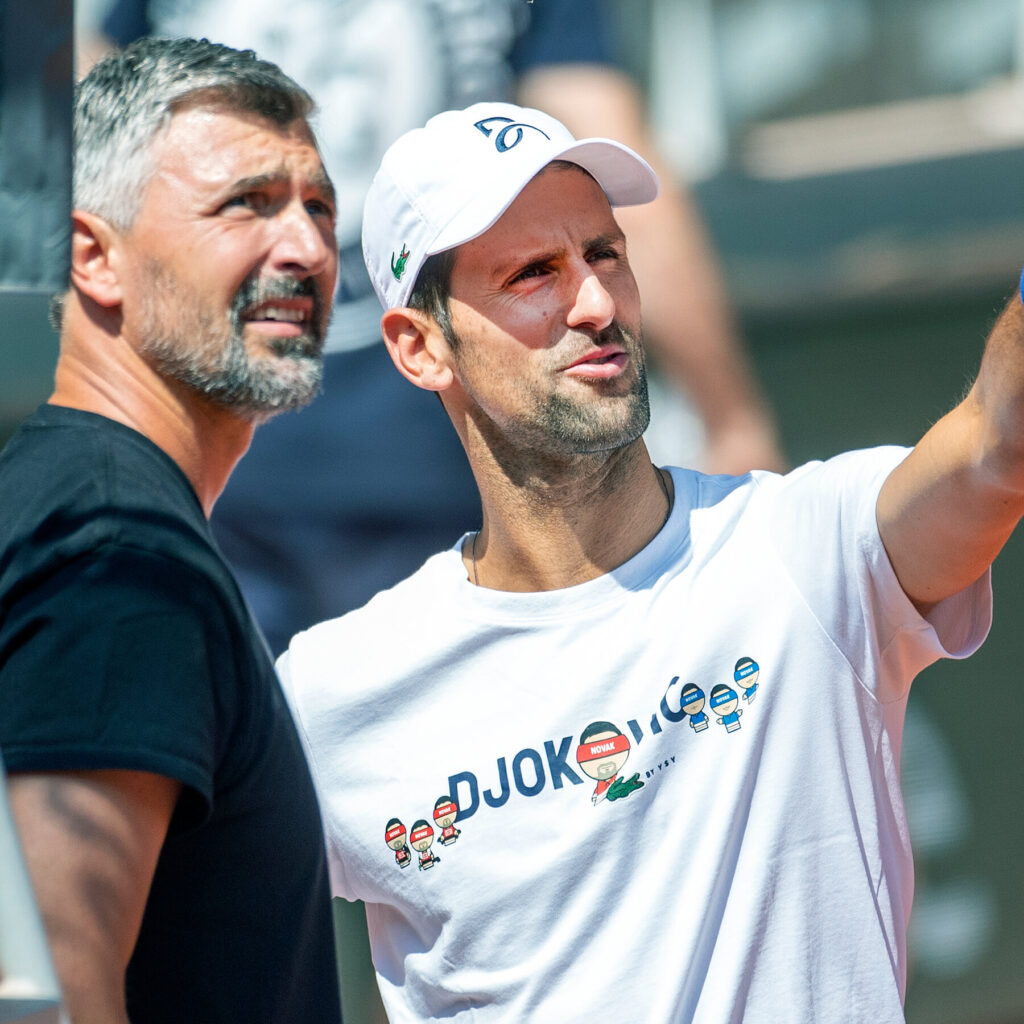 With a remarkable tally of 23 Grand Slam men's singles titles, including a staggering ten Australian Open titles, Djokovic holds the all-time record.
He recently secured his 23rd men's singles Grand Slam title, setting a new record. Novak won his title after defeating Casper Ruud in the French Open final on June 11, 2023.