Standing at the height of 6'10", Greg Kite is a retired American professional basketball player. The legendary figure of the NBA started his professional career with Boston Celtics.
Furthermore, he also played for Los Angeles Clippers, Charlotte Hornets, Orlando Magic, New York Knicks, and Indiana Pacers.
Besides NBA, he also played for Rapid City Thrillers (semi-professional basketball team) and Fort Wayne Furry. He then played college basketball for BYU.
After taking a break from basketball in 1986, he is now serving as a Florida Basketball Association commissioner. Furthermore, back in 1997, he also worked as an interim assistant basketball coach at Brigham Young University.
Without a doubt, he is an incredible NBA player of his time. Today we will figure out his net worth, earnings, flashy NBA career, and other facts.
Quick Facts
| | |
| --- | --- |
| Full Name | Gregory Fuller Kite |
| Date of Birth | August 5, 1961 |
| Birth Place | Houston, Texas |
| Nick Name | N/A |
| Religion | Christian |
| Nationality | American |
| Ethnicity | White |
| Zodiac Sign | Leo |
| Age | 61 Years Old |
| Height | 2.11 m (6 feet 11 inches) |
| Weight | 113 kg (250 lbs) |
| Hair Color | Black |
| Eye Color | Brown |
| Father's Name | N/A |
| Mother's Name | N/A |
| Siblings | Four Siblings |
| Education | Pershing Junior High School, Madison High School, BYU |
| Marital Status | Married |
| Wife | Jennifer |
| Kids | 10 adopted children |
| Profession | Retired Basketball player, Former Basketball Coach Commissioner of Florida Basketball Association |
| Basketball Team | Boston Celtics, Orlando Magic, Charlotte Hornets, Sacramento Kings, Los Angeles Clippers |
| Basketball Year | 1983-1996 |
| Coaching Years | 1997 |
| Jersey Number | 50 (Celtics), 32 (Clippers, Hornets, Kings), 34 (Magic), 40 (Knicks), 54 (Pacers) |
| Net Worth | $5 million |
| Social Media | Facebook, Twitter |
| Merch | Boston Celtics Jersey, Celtics Hats |
| Last Update | June, 2023 |
Greg Kite | Early Career and Education
Kite started playing basketball at the age of 10. Other than basketball, he also played sports like soccer and football.
For his education, young Greg went to Pershing Junior High and played basketball for a couple of years. Later, he went to Madison High School, where he played under coach Lee Tynes.
As someone who stood 6 feet 10 inches, 15 years old, Greg chose basketball and gave up on other sports.
Likewise, Kite played high school basketball for three years. In 1979, Madison ranked 5th in the nation and 1st in Texas. However, with an impeccable record of 39-0, Madison lost the semifinals with Lufkin High School in Texas.
That year Kite was also selected to play for McDonald's All American Game with Sam Bowie, Isaiah Thomas, Sidney Green, and several other players.
College Career
Duke, UCLA, and Kentucky recruited Kite. However, he decided to play for Brigham Young University under the supervision of Frank Arnold.
Furthermore, he also played with his future teammates Danny Ainge and Fred Roberts in his college years.
He played with some major teams during his college years, including Princeton, UCLA, and Notre Dame.
Furthermore, he also got the opportunity to play in the 1981 NCAA Divison Basketball Tournament.
Also Read Chennedy Carter Bio: Early Life, Career, Net Worth & Awards >>
Professional Basketball Career
Playing with Boston Celtics
In total, Kite enjoys 12 years of healthy career with the NBA. Greg won two championships during his time at the Celtics as a center.
Though he stayed with the Celtics for three years, he got the minimum chance to perform for his team.
While playing for the Celtics, he also got to play against the Kareem Abdul-Jabbar. He was a center-forward player of the Los Angeles Lakers (1975-1989). Center forward Kite played five seasons with the Celtics before he left the team in 1988.
The basketballer claimed that during the 1987-88 season, the Celtics put him on the injury list even though he wasn't injured. They said that he had a bad back and brought in Artis Gilmore.
Kite then played for Los Angeles Clippers, followed by Charlotte Hornets, and finally for the Sacramento Kings.
Sadly, Kite didn't get much more opportunity while playing for the Sacramento. He made only 3 pointers while playing against the Portland Trail Blazers with the team.
Later in 1990, he went to play with the Orlando Magic from 1990 to 1994. While playing with Orlando, he was just behind Shaquille O' Neal in the game's final two seasons.
Greg Kite vs. Shaquille O' Neal
Here we compare head to head between NBA star performers Shaquille O' Neal and Greg Kite.
Who scored more points in his career?
Who had a good average in the playoffs and won more MVP? Which player led the seasons more time?
The below info includes awards, rebounds, assists, points, and many more.
NBA Championships & Seasons
NBA Championships – Shaquille (4), Greg Kite (2)
Playoffs Played- Shaquille (17), Greg Kite (5)
NBA Seasons- Shaquille (19), Greg Kite (12)
All-Star Games- Shaquille (15), Greg Kite (0)
Honors & Awards
Rookie of the Year- Shaquille (1), Kite (0)

Scoring Leader- Shaquille (2), Kite (0)

ALL-NBA First Team- Shaquille (8), Kite (0)
NBA Regular Season Stats
Points Per Game- Shaquille (23.7), Kite (2.5)

Rebounds Per Game- Shaquille (10.9), Kite (3.8)

Assists Per Game- Shaquille (2.5), Kite (0.5)

Steals Per Game- Shaquille (0.6), Kite (0.3)

Blocks Per Game- Shaquille (2.3), Kite (0.6)
NBA Playoffs Stats
Points Per Game- Shaquille (24.3), Kite (0.9)

Rebounds Per Game- Shaquille (11.6), Kite (1.6)

Assists Per Game- Shaquille (2.7), Kite (0.3)

Steals Per Game- Shaquille (0.5), Kite (0.1)

Blocks Per Game- Shaquille (2.1), Kite (0.1)
Total Stats
Points Greg Kite (57), Shaquille O'Neal (5,250)

Rebounds: Greg Kite (97), Shaquille O'Neal (2,508)

Assists: Greg Kite (17), Shaquille O'Neal (582)

Steals: Greg Kite (6), Shaquille O'Neal (117)

Blocks: Greg Kite (13), Shaquille O'Neal (459)

Games: Greg Kite (61), Shaquille O'Neal (216)
After playing with the Orlando Magic, he also being drafted for other NBA teams. He played with New York Knicks. Furthermore, his NBA career finished with Indiana Pacers in 1995.
Other Ventures
Besides NBA, the former Celtics also played for the semi-professional basketball team, Rapid City Thrillers.
Above all, his basketball career ended with Fort Wayne Fury (Continental Basketball Association).
NBA Highlights, Achievements & Other Accomplishments
Greg Kite played 12 years of a basketball career with his shooting, passing, and dribbling skills. He has a total of 680 games, starting 225 of them.
Moreover, he averaged 2.5 points, 2.3 fouls, and 3.8 rebounds in 14 minutes per game.
Throughout his professional career, he bagged several awards. Some of them are NBA Champion (1984, 1986), McDonald's All American (1979), and Second Team Parade All-American (1979).
After Retirement
After retiring as a professional player, Kite traced his steps in the world of coaching. First, he worked as an interim basketball coach for Brigham Young University. After that, however, he didn't spend much more years as a coach.
As of now, Greg resides in Florida and serves as a financial advisor plus commissioner of the Florida Basketball Association.
Besides basketball, he actively participates in charities and social work. He is associated with some non-profit organization in Florida that works for homeless children.
Greg Kite | Personal Life, Wife & Children
Some celebs are less talkative regarding their personal life, and Greg is no different. Kita and his wife didn't share much info about their married life.
And we are totally fine with that. But, just like some other celebs, Greg is also entitled to his own life.
Moreover, the NBA champion Greg Kite is also leading a conjugal life. He married his wife, whose name is Jennifer but has not disclosed the date and place.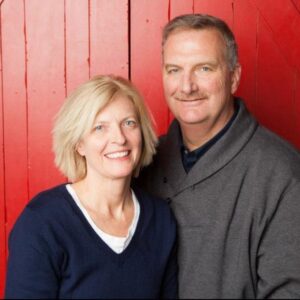 Surprisingly, the pair adopted 10 children, not one but ten. And as part of his personal life, the former player has not shared details on them either.
All in all, we can say they are both living a happy married life. And there is no issue of separation between them as of now.
Greg Kite | Early Life, Age, and Body Measurements
Former NBA star Kite was born in the fourth largest city in the U.S, Houston, Texas. He was born on August 5, 1961. Hence, he is 61 years now.
By nationality, he is American, while his ethnicity happens to be white.
Similarly, Greg has an older brother and two older sisters. As the youngest of his parents, he was cared for adequately by his parents. Sadly, there seems to be no information about his parents.
On the other hand, Kite's has a tremendous height of 6 feet 10 inches, which is around 2.11 m.
Added to that, he has an athletic body. His weight is about 113 kg (250 lbs). His hair is brown, and his eye color is brown too.
What is the Net Worth of former Celtics player Greg Kite?
There's no hiding that this phenomenal player played 12 years of basketball. He played with the Celtics, Orlando Magic, and many other professional teams in the league as a prominent player.
So what is his current net worth, or how much has he made throughout his career?
According to Hoopshype, Greg's past salaries range between $5,50,000 to 4,80,000 in 1995. However, not much can be confirmed.
But it seems he did make a fortune from his professional earnings and salary. Furthermore, he was associated with several NBA teams.
At this time, he is holding the position of commissioner of the Florida Basketball Association. Undoubtedly, this reputed position is paying him a lot too.
We will make sure to update you guys on this matter as soon as we get some new information.
Greg Kite | Social Media Presence
Greg kite is less active in social media. He is merely connected with lots of people. As suspected, Kite is not available on Instagram as other basketball stars.
Although one can find him on Twitter and Facebook, he rarely posts on them. To date, he has 167 following and 312 followers on Twitter.
Likewise, his last tweets came on December 31, 2020. Despite laying low on social media, he has massive fans and followers from around the world. His contribution to basketball is admirable.
If you are interested in buying Greg Kite's basketball cards, click the link to follow!
Common Queries (FAQs)
How many seasons did Kite play in NBA?
The former Celtics center, Greg Kite, played eleven NBA seasons.
What is the net worth of Greg Kite?
Greg's net worth is still under review.
What is Greg Kite's college statistic like?
Throughout Greg Kite's four-year college career, he played a total of 112 games while averaging 6.4 points and 7.6 rebounds.