Hicham El Guerrouj is a renowned runner from Morocco. He is believed to be an Ace of the middle-distance runner and long-distance runner.
Additionally, he is the first athlete to hold the world record in the 1,500-meter race outdoors and indoors. Further, he is a four-time world champion and two-time Olympic gold medalist.
Besides, Hicham also holds seven out of ten fastest runs in the mile records. Moreover, he took the world by storm when he achieved both 5000m and 1500m titles in the same Olympic event.
As a result, the runner was inducted into the (IAAF) International Association of Athletics Federations Hall of Fame in November 2014.
Before we dive into his biography, let us have a swift look at his quick facts.
Quick Facts
Full Name
Hicham El Guerrouj
Nick Name
King of the Mile
Birthdate
September 14, 1974
Age
48 years old
Birthplace
Berkane, Oriental
Nationality
Moroccan
Sibling
Seven
Height
5'9″/176 cm
Weight
58 kg/128 lb.
Body type
Athletic
Eye color
Black
Hair color
Black
Skin
Fair
Profession
Middle-distance runner
Turned Pro
1994
Retired
2004
Events
Mile: 1,500m, 2,000, and 5,000m
Olympic finals
1996 Atlanta
2000 Sydney
2004 Athens
World Finals
1995 Göteborg
1997 Athens
1999 Seville
2001 Edmonton
2003 Paris
1996 Atlanta
2000 Sydney
2004 Athens
Olympic medals
1,500m (Gold)
5,000m (Gold)
Relationship status
Married
Wife
Najoua Lahbil
Children
Daughter
Social Media
Instagram
Twitter
Net Worth
$10 million
Runner's Merch
Shoes
Last Update
June, 2023
Hicham El Guerrouj

| Early Life & Family

Hicham was born on September 14, 1974, in Berkane, Oriental. He also goes by his nickname هشام الكروج or "King of the Mile."

He is one of seven children of his parents. Hicham's family used to own a small restaurant in Morocco.

In addition, Hicham fetched bread from a bakery, which was a mile away from his family's restaurant.

His sibling used to cheer him up when he ran a mile to the bakery and back to the restaurant.

Besides, despite his current popularity, no information regarding his family has been disclosed to the public.
On the other hand, Hicham loved playing football. He was a goalkeeper on the local football team in his hometown.
However, Hicham stopped playing football when his mother was unable to wash his muddy clothes every day. So, he was asked not to play football and help with other household chores instead.
Thus, to channel his dynamic energy, Hicham El Guerrouj started to run. He even finished second during a cross-country race when he was 14 years of age.
Consequently, Hicham won the national cross-country championship a year later.
Not to mention, Guerrouj joined the National Training Center against his parent's wishes and trained as a runner. He also served as a coach to the Abdelkader Kada group.
Hence, he promised himself that he couldn't afford to lose as he had to prove to his family that he had taken the right decision.
You might also like to read about the Brooklyn Nets' top of the East: Kyrie steps up as James leaves due to injury >>
Zodiac Sign & Nationality
According to astrology, Hicham's zodiac sign is Virgo. Individuals with Virgo as their zodiac sign pay attention to small details and have a sense of humanity.
Further, Hicham is known to approach life as if there is no second chance. On the other hand, his ability to express his feeling is often misunderstood.
As for his nationality, the Olympic winner is Moroccan.
Hicham El Guerrouj

|

Age, Height & Weight

As of 2023, Hicham is 48 years of age. Despite his age, he can keep himself physically fit and healthy.

Additionally, he follows a similar diet and workout routine in his everyday life.

He stands at an astounding height of 5 feet and 9 inches and weighs around 56 kg. His physical stature is lean because of his career as a competitive runner.
Hicham El
Guerrouj |
Personal Life, Wife, and Daughter
Hicham is currently a happy married man. He exchanged wedding vows with his lovely bride, Najoua Lahbil.
She was attending the University Al Akhwaine when the two started dating.
Like his other personal information, Hicham is more than careful to let his family's information get out.
Likewise, the duo was blessed with a baby girl just after Hachim's victory at the World 1500m championship.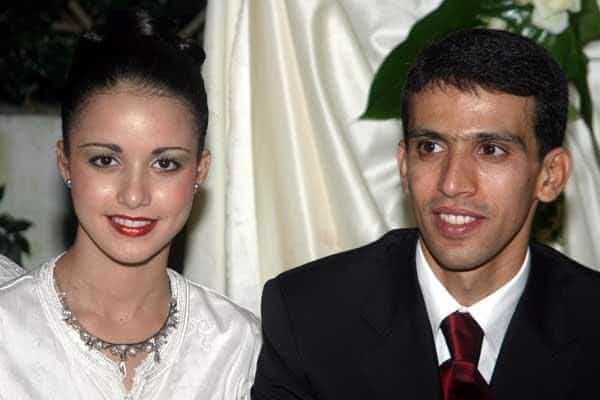 Hachim's wife Nahoua Lahbil, gave birth to the baby in a private hospital on Rabat's outskirts. On June 4, 2004, the baby was christened at Hicham's parents' house.
Not to mention, Guerrouj is a simple person and loves to enjoy his private lifestyle. Despite owning a spacious apartment and a villa, he loves spending time in a one-room apartment.
Hicham El Guerrouj

| Track

Career

Hicham was inspired by Said Aouita, a fellow countryman who won the gold medal in the 5,000m race at the Los Angeles Olympics in 1984. It inspired Hicham as an athlete, and he started running as a teenager.

Shortly after, Hicham entered the 1992 Junior World Championship in Seoul at the age of 18. He finished third in the 5000m race during the event, behind Ismael Kirui and Haile Gebrselassie.

In addition, Hicham El Guerrouj finished second in the World Junior Cross Country Championships.

Then Hicham pursued Noureddine Morceli from Algeria. Morceli was the world's top middle-distance runner, and Hicham looked up to him as a chief rival.

During the 1,500m race at the 1995 outdoor Olympics, Hicham finished second to Morceli.

Moreover, Hicham ran one of the most dramatic races in his career at the 1996 Olympics in Atlanta, Georgia.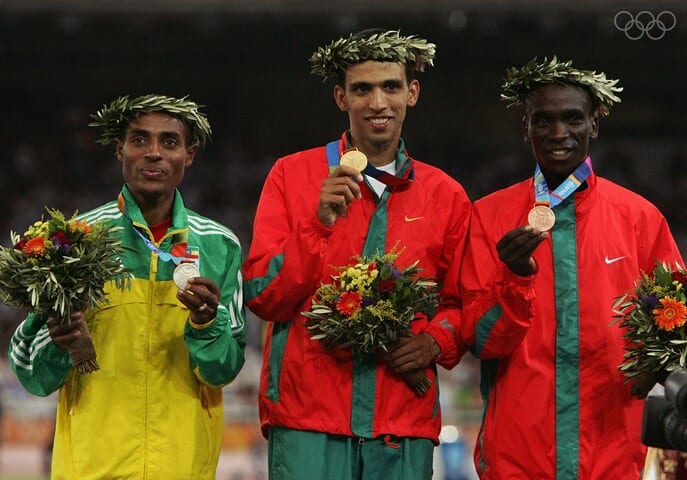 During the 1,500m race, Hicham lost his lead to Morceli after tripping on his rival's feet. Consequently, he fell just 400m away from the finish line.
It devastated Hicham El Guerrouj, but he returned to the track and finished last. Further, after the race, he cried uncontrollably on his way back to the Stadium tunnel.
So, King Hassan II of Morocco called him and said, "Do not cry; you are a champion in the eyes of the Moroccan people."
Despite the unfortunate incident, Hicham did not lose hope and dedicated himself to winning against Morceli.
Finally, in the same year, he caught Morceli and won the Grand Prix final in Milan, Italy.
You might also like to read about Usain Bolt's Lifestyle: Net Worth & Endorsements >>
King of the Mile
After his win, Hicham did not stop and progressed further. Furthermore, he only lost one race in 1997.
Besides, Hicham sets a new world record in the 1,500m indoor race(3 min 48 sec) and indoor mile (3 min 48.45 sec).
Moreover, he continued his record-breaking streak in 1999 by setting a world record in the mile at the time of 3 min 43.13 sec. It was the fastest mile indeed, and the record stands proud to this day.
In addition, he also won the 1,500-meter event during the outdoor world championships.
Further, Hicham El Guerrouj won a silver medal in the 1,500m race at the 2000 Olympics Games held in Sydney. He also won the world championship back in 2001 and 2003.
The Moroccon athlete added a second gold to his tally after a win in the 5,000m race. Guerrouj, in his decade-long professional career, raced 86 finals in the 1,500m and the mile.
Among these races, he won 83, both as two of his three losses were unfortunate losses in the Olympics.
Awards
Hicham received the International Association of Athletics Federations award for humanitarian efforts in 1996. Further, he received the IAAF World Athlete of the Year award in 2001, 2002, and 2003.
Besides, he also won the IAAF Golden League prize for his unbeaten run of more than 20 races. Hicham was the first athlete to win the respective award in three consecutive years.
Moreover, "Track and Field" named Hicham the best athlete of the year in 2002. Also, he was elected as a member of the IAAF Athletes Committee in 2004.
Furthermore, apart from awards, Hicham El Guerrouj won a share of the jackpot of 50 Kilograms of gold worth $1 million. El is the only athlete to have won it three times in a row.
Achievements and Highlights
Hicham El Guerrouj set a new world record while running the mile in 1999. He broke the previous record set by Morceli with a time of 3:43.13.
In addition, Hicham set a new world record in Berlin at 4:44.79 in the 2000m race. The Olympic medalist broke the previous record by more than three seconds.
Moreover, he also ran the second-fastest 3,000m race, which was held in Brussels.
Post-Retirement
Further, after his retirement, Hicham fulfilled the role of UNICEF Goodwill Ambassador. Additionally, he was a member of the IOCAC (International Olympic Committee Athlete's Commission) from 2004 to 2012.
Besides, Hicham El Guerrouj is also the Ambassador for Peace and Sport, a Monaco-based international organization.
Moreover, he also spends his time in the "Champions for Peace" club. It is a committee filled with 54 famous athletes.
Hicham El Guerrouj

|

Net Worth and Income

Hicham is one of the wealthiest athletes in Morocco. He has accumulated a tremendous amount of wealth from his days as an athlete and a runner.
However, despite his popularity and wealth, he prefers to humble and straightforward lifestyle. Hicham loves spending time with his family and friends.
His current net worth stands at an estimated $10 million.
You might also like to read about P.V Sindhu Bio: Early Life, Training, Career, and Endorsement >>
Hicham El Guerrouj

|

Social Media Presence

Hicham is known for his shy personality and private nature. Nonetheless, he remains active on social media platforms like Instagram and Twitter.

You can catch him on these platforms posting pictures of his professional and personal life. He has accumulated over 10k followers on Twitter under the username Hicham El Guerrouj هشام الگروج.

Similarly, his presence on Instagram is noticeable as well.

You can stay updated on his latest life update and follow him under the username @elguerroujhicham. He has over 23k followers on the respective platform.
Hicham El Guerrouj | FAQs
What are Hicham El's personal bests in the 1500m and the mile events?
His personal best in the 1500m event is 3:26.00 which is also a world record for the best time. Likewise, he has also set a world record in the mile event after recording a top speed of 7.222 m/sec and finishing at 3:43.13.
Did Hicham use to work in a restaurant?
Yes, his family used to own a restaurant, and Hicham used to do chores for his family.