P.V Sindhu is 27 years old professional Indian badminton player. Throughout her career, she has always entertained fans with her performance.
Sindhu can be called as best Indian female badminton best player of the decade.
From becoming the youngest Indian female athlete to win an Olympic medal to become the first Indian World Champion, she definitely has tasted success throughout her career.
Sindhu's journey to becoming the best should be credited to her dedication to badminton. She used to travel 60 km to train during her childhood.
Her performance in court has definitely benefited off the court. She is the most marketable female Indian athlete.
P.V Sindhu is a fitness freak, strictly following her workout routine and diet to improve her game. Furthermore, her hobbies are watching movies and doing yoga.
You win some and lose some. It's all part of the game. You have to take it in a very positive way.
Quick Facts
| | |
| --- | --- |
| Name | Pursarla Venkata Sindhu |
| Date of Birth | 5th July 1995 |
| Birth Place | Hyderabad, Andhra Pradesh, India |
| Nick Name | Miss Mallika |
| Age | 27 years old (as of July 2021) |
| Gender | Female |
| Religion | Unknown |
| Nationality | Indian |
| Ethnicity | Hindu |
| Horoscope | Cancer |
| Body Measurement | Unknown |
| Height | 5 ft 10 inches (1.79m) |
| Weight | 65 kgs (143 lb) |
| Build | Athletic |
| Shoe size | Unavailable |
| Hair Colour | Black |
| Eye Colour | Black |
| Tattoo | No |
| Father name | P.V. Ramana |
| Mother name | P. Vijaya |
| Siblings | P.V. Divya |
| Relationship | Single |
| Children | No |
| Profession | Badminton Player |
| Handedness | Right |
| Coach | Pullela Gopichand |
| Current Ranking | 7th |
| Highest Ranking | 2nd |
| Year Active | 2011-present |
| Education | Auxilium High School, St. Ann's College for Women |
| Net worth | $10 million |
| Social media | Instagram, Twitter |
Early Life & Personal Life
P.V Sindhu was born on 5th July 1995 in Hyderabad, India. She was born to her mother, P.V. Ramana, and her father, P. Vijaya.
Both of Sindhu's parents were national-level volleyball players. Furthermore, her father won a bronze medal in the 1986 Asian Games in Seoul, representing India. Ramana was honored with the 2000 Arjuna Award.
Sindhu also has a sister named P.V. Divya. Divya is a national-level handball player. Currently, her elder sister is a doctor. Moreover, in her childhood, Sindhu also wanted to become a doctor.
She attended Auxilium High School and later studied at St. Ann's College for Women.
As of 2021, Sindhu is single. Her past relationship has not been disclosed yet to the public.
P.V Sindhu has already been honored with India's third and fourth highest civilian awards Padma Bhushan and Padma Shri. Likewise, in 2016 she was honored with India's highest sporting honor Rajiv Gandhi Khel Ratna.
Similarly, on 24th September 2013, Sindhu was bestowed with Arjuna Award.
In March 2020, Sindhu donated 5 lakhs each to Chief Ministers Relief Fund and Andhra Pardesh to cope with Covid 19.
Favorites
Besides badminton, Sindhu also has other hobbies too. She loves watching movies and doing yoga. At present, she is watching sports documentaries. Likewise, Sindhu also loves listening to music.
Sindhu's favorite actors are Prabhas and Mahesh Babu from Tollywood and Hrithik Roshan and Ranveer Singh from Bollywood.
Likewise, her favorite athletes are Roger Federer, Rafael Nadal, and Usain Bolt.
Learning from childhood idol
Every player has someone who inspires them to reach the top level. For her, Pullela Gopichand was one.
Sindhu got the inspiration to play badminton from Pullela Gopichand's success at the 2001 All-England Open Badminton Champion.
Later, at the age of 8, Sindhu started playing badminton. She initially began her training with Mehboob Ali. She trained at the Indian Railway Institute of Signal Engineering and Telecommunications.
But, Sindhu soon joined Gopichand Badminton Academy, owned by her idol Pullela Gopichand's.
She displayed huge dedication towards badminton and became an elite player.
P.V Sindhu traveled 56km daily to train at Gopichand's Academy
However, she always arrived on time every day. For three continuous years, she trained with the coach from 4.15 am daily. Sindhu won many titles after joining the academy.
Read Also: Timea Babos Bio: Early Life, Tennis Doubles & Net Worth
P.V Sindhu | Body Measurement & Training Routine
Sindhu stands 5 ft 10 inches (1.79m) and weighs around 65 kg (143 lb). She has an athletic body and has amazing fitness level.
Training
P.V Sindhu has an intense fitness routine. Sindhu begins her day early. Usually, Sindhu wakes up at 3.30 am and later begins her training at 4.00-4.30 am with Gopichand. She trains until 7 am.
Then after having breakfast, she begins group sessions for 2 hours. Likewise, her third training session begins at 11 am.
Finally, in the evening, Sindhu hit the gym for some running sessions and weighted exercises for a couple of hours. Sindhu trains six days per week or 6-7 hours daily.
Sindhu's amazing flexibility credit goes to intense cardio, jogging, and swimming. Moreover, she does 100 pushups and 200 situps per day.
Food
Sindhu also has a nutrition diet routine. For her breakfast, she eats eggs, fruits, and milk. Later, for lunch and dinner, she eats rice, vegetables, and meat.
Sindhu always carries a snack kit bag during her workout. She also mentions her cheat meal, which is biryani, sweet curd, and ice cream.
P.V Sindhu | Professional Career
Youth
Sindhu's breakthrough came after she won the gold medal at U-14 51st National State games. At the age of 14, Sindhu entered the international circuit.
Later, she won a bronze medal in the 2009 Sub-Junior Asian Badminton Championship at Colombo. Sindhu also reached quarters in the 2010 World Junior Championship in Mexico.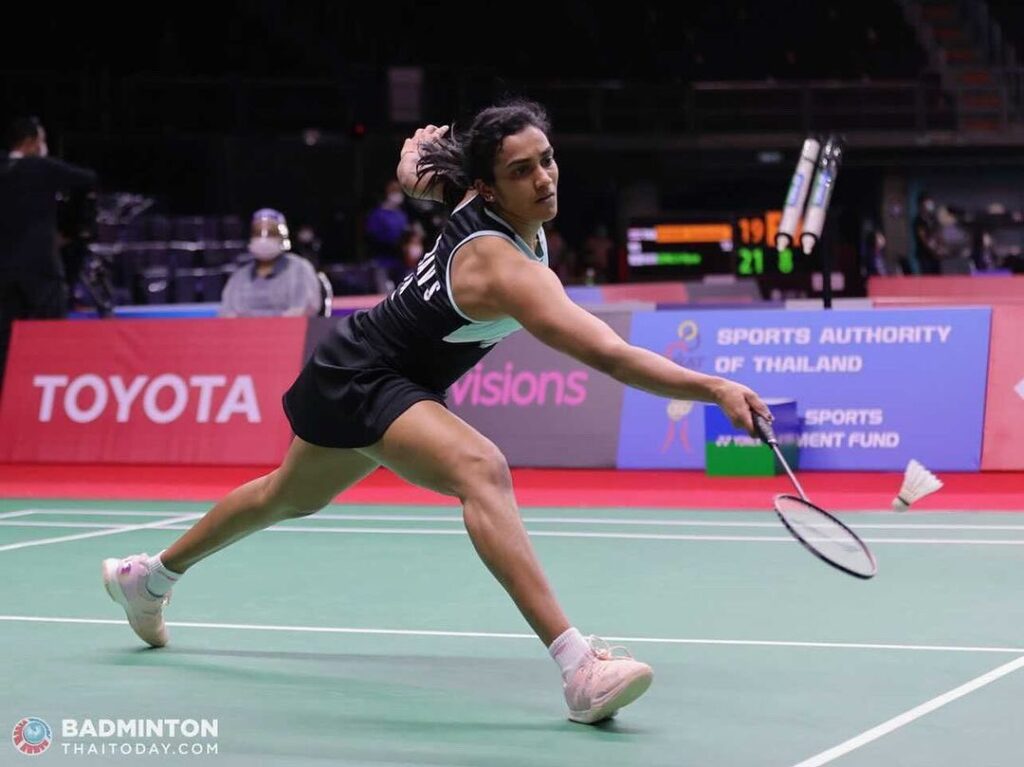 In 2011 she won Swiss International, and India International, and reached the second round in the 2011 BWF World Junior Championship.
Sindhu bagged her first senior international tournament in 2011, winning Malaysian International. Later, in 2012, she became runner-up at Senior National Badminton Championship held at Srinagar.
Later, in 2012 at the age of 16, Sindhu competed in the All England Open Championships, reaching the main draw.
In 2013, she also won her first-ever Grand Prix Gold title. She won the Malaysian Open title defeating Singaporean Gu Juan by 21-17, 17-21, and 21-19.
Likewise, in 2014 Sindhu completed her journey to the 2014 India Open Grand Prix Gold. However, she was defeated by Saina Nehwal.
Major Achievements
One of the specialties of Sindhu's career is the improvement she makes in every event.
This pattern has followed in every event so far. In 2012 she won Asian Junior Championship after coming to the third previous year.
However, P.V Sindhu's biggest achievement to date seems to be a second-place finish in the 2016 Rio Olympics. On her way to the finals, she defeated Tai Tzu Ying, Wang Yihan, Nozomi Okuhara. However, in the gold medal match, she lost to Spanish Carolina Marin.
After her second-place finish in Olympics, she became the youngest Indian and the first female Indian athlete to win an Olympic medal.
Likewise, in World Championship also she has shown a similar trend. From 2013 to 2018, she won 2 bronze and 2 silver medals.
In the 2017 World Championship in Scotland, the Sindhu finals against Okuhara lasted 110 minutes. It later became the second-longest Women's Singles match in badminton history.
However, in 2019 she finally grabbed the first World Championship gold medal defeating Japenese Nozomi Okuhara 21-7, 21-7. She is the first Indian to become a World Badminton champion.
Similarly, in the commonwealth games, she won bronze in 2014. After four years in 2018, she won silver in singles and gold in the mixed categories.
In 2016, Sindhu made her first Super Series finals appearance. In her first appearance in the tournament, Sindhu qualified for the semis.
However, in 2017 she later India Open Superseries beating Carolina Marin in a straight set. Later, she became the first Indian to win Korea Open beating Okuhara by 22-20, 11-21, and 21-18.
In April 2017, Sindhu reached her career-best World ranking, becoming number 2.
Some of the honors she has received to date are as below.
January 2020: Padma Bhushan Award, the third-highest civilian award in India
March 2015: Padma Shri Award, the fourth-highest civilian award in India
August 2016: Rajiv Gandhi Khel Ratna Award, the highest sporting honor in India
September 2013: Arjuna Award for badminton
Read Also: Fran Belibi Bio: Parents, Dunk, Stats & ESPN
Injury
One of the earliest injuries that came to P.V Sindhu was back in the 2012 China Open during which she injured her knees. Throughout her matches in the Japan Open and the nationals, she went on with the injury.
However, Sindhu skipped the World Junior Championship to get a rest cause of her injury. Later, in 2015, she suffered from a stress fracture that kept her away from the games for six months.
P.V Sindhu | Endorsements and Net Worth
According to Forbes, P.V Sindhu is ranked 13th in highest-paid athletes among females with 5.5 million. Moreover, she is the highest-paid Indian female athlete.
Furthermore, in 2017 she became the first female Indian athlete to feature in Forbes's top 10 lists of the highest-paid female athletes. She ranked in 7th place during that period.
Interesting fact is Sindhu earns 5 million from endorsements from his 5.5 million salary
In 2017, Sindhu also ranked 2nd in the highest-paid Indian athlete, just placing behind cricketer Virat Kholi.
Sindhu instantly became a marketable athlete after becoming the first Indian female to win a silver medal in Rio Olympics. Sindhu currently has endorsement deals with about 13 brands.
In February 2019, Sindhu signed a 4-year sports sponsorship deal with Li Ning worth $7 million. Moreover, the Sindhu deal is placed among the biggest in badminton. Breaking down, she will receive $5.6 million as sponsorship and the rest for equipment.
Previously, she had a deal with Yonex worth $4,90,000 per year for 3 years before resigning from Yonex.
Furthermore, Sindhu has sponsor deals with Visa, JBL, Stay free, Flipkart, Gatorade, Bridgestone India, Moov, Nokia, Apis Himalaya Honey, Visakhapatnam Steel Plant, Bank of Baroda, Central Reserve Police Force, Ojasvita, Panasonic, and GST.
Bharat Petroleum employed Sindhu in July 2013 as its assistant manager. Later, in 2016 she became their deputy sports manager.
Likewise, in 2017 Andhra-Pradesh government-appointed Sindhu as Deputy Collector.
The estimated net worth of P.V Sindhu is $10 million.
P.V Sindhu | Social Media
Instagram @pvsindhu1 (1.7 million)
Twitter @pvsindhu (2.9 million)
Facebook @ PV Sindhu (2.5 million)
Read Also: Lena Ovchynnikova Bio: Husband, Kickboxing & Next Fight
Frequently Asked Questions
What is the full name of P.V Sindhu?
The full name of P.V Sindhu is Pusarla Venkata Sindhu. She is 27 years old professional Indian badminton player.
Who is the youngest female Indian athlete to win an Olympic medal?
In the 2016 Rio Olympics, Sindhu became the first Indian to win a silver medal. In the final, she lost against Spanish Carolina Marin.
Moreover, she is also the youngest Indian to win an Olympic medal.
Who are P.V Sindhu's parents?
The parents of P.V Sindhu are P.V Ramana and P. Vijaya. Both of her parents are also national-level volleyball players.
Furthermore, she also has an elder sister P.V Divya who was a former national-level handball player.
What are the achievements of P.V Sindhu?
P.V Sindhu is one of the most prolific world badminton players in the 21st century.
Firstly, she is the first Indian female athlete to win a silver medal at the Olympics and gold in BWF World Championship.
Likewise, she has already been honored with Padma Bhushan, Padma Shri, Rajiv Gandhi Khel Ratna, and Arjuna Awards to contribute to sports.
What is P.V Sindhu's salary?
According to Forbes 2019 report, Sindhu ranks 13th among the female highest-paid athlete in the world. She reportedly earns $5.5 million.
Moreover, the majority of income comes from endorsements deal.
How's P.V Sindhu doing in Tokyo Olympics?
For the Tokyo Olympics, P.V Sindhu has made a dominating start by taking a victory over Israel's Ksenia Polikarpova in her opening Group 'J' match.