These femme Fatales are game changers; in most of the tiring games where male dominates, females have flourished all over. Get to know the top 13 smackingly hot female pool players streaming over the thrones of the pool game.
Take pool/billiard, for instance! Their skilled gameplays give us the thrill we seek in a game, while their natural beauty soothes our eyes and soul. Altogether, it leaves us with a content feeling at the end.
Today, we will take some of your time to talk about such ladies in the billiard arena who thrives with their breathtaking skills and beauty.
13 Hot Pool Players
Before we get into the hot pool players list, let us know that the list is simply a common belief. Additionally, it is not a ranked list as we believe everyone's charm flow naturally, and comparisons are worthless.
Ewa Mataya Laurance
Nickname: "the Leading Lady of Billiards" and "the Striking Viking"
Date of Birth: February 26, 1964 (age 59 Years Old ), Gävle, Sweden
Tournament Wins: World Champion, 9-Ball (1994)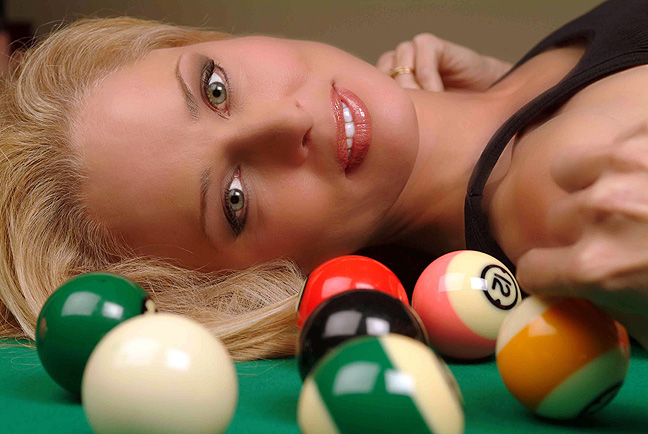 Indeed, Ewa Laurance has come a long way since her initial step at the tender age of fourteen. She is a gorgeous lady with blonde hair, grey eyes, and a toned body. With a net worth of $2 million, Ewa Mataya Laurance is a Swedish-American professional pool player.
Alongside her billiard journey, she is well-recognized for her Women's Professional Billiards Association career as a sports writer and sports commentator for ESPN. Likewise, she has also starred on TV as a host for several billiard shows along the way.
In the meantime, her perfect figure has also been made in several modeling campaigns and works.
Jennifer Barretta
Nickname: 9mm Barretta
Date of Birth: October 26, 1968 (age 54), Norristown, Pennsylvania, United States.
Jennifer Barretta is an attractive lady in the billiard industry who is voted into ESPN's "25 Sexiest Female Athletes of all time" and "The Top 16 Sexiest Female Athletes".
Jennifer stands at 5 feet 10 inches (1.77 meters) and has a toned physicality with blonde hair.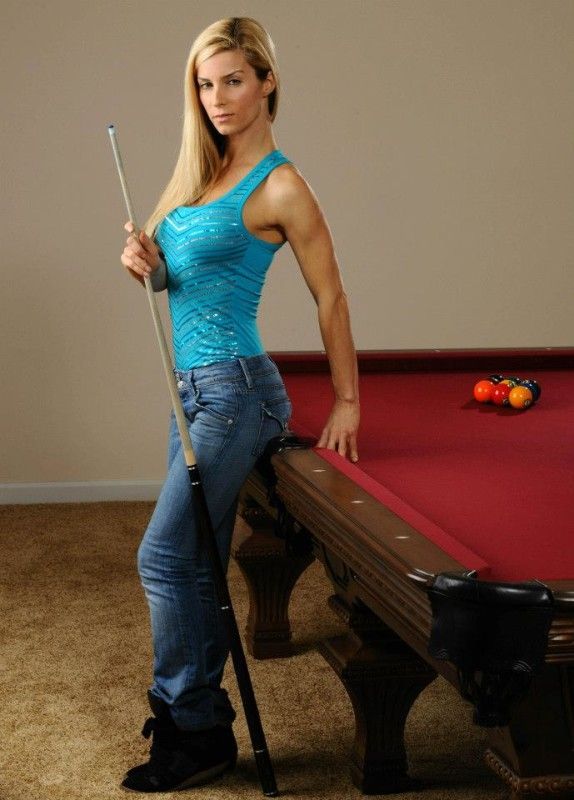 Talking about her gameplay, she is one of the deadly competitors. Initially, Jennifer commenced as a tennis player and was later enrolled in fitness pageants before turning to billiards.
Besides her movie-star looks, Jennifer has climbed up from Player of the Year to numerous titles. Furthermore, she has starred in several international and trade magazines and TV appearances.
Nickname: The Black Widow
Date of Birth: July 9, 1971 (age 51), in Brooklyn, New York
Jeanette Lee is a fearless and never aging beauty in the billiard industry. Often Billiards Digest has titled her as one of the sport's most influential people, and she has earned Player of the Year awards several times.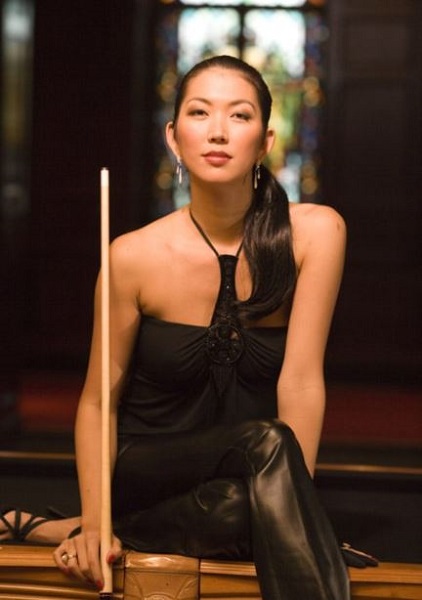 To date, she has garnered over 30 national and international titles and has also starred as the world's number one player formerly. However, while speaking of it, one shouldn't take her lightly due to her sweet demeanor.
Jeanette destroys everyone on the line while on the competitive ground.
"Passion and hard work make a great player, but the courage to get up every time you fall is what makes a champion."
-Jeanette Lee
Pan Xiaoting
Nickname: Queen of Nine-Ball
Date of Birth: February 25, 1982


Yanzhou District, Jining, Shandong
Pan Xiaoting is the foremost Chinese woman to play full-time on the WPBA Tour; she is also among the ones to rule the billiard board with her looks and skills. However, unlike others, Xiaoting commenced playing at the age of sixteen after visiting the pool with her father.
Her initial fame came after winning Japan's 35th World Women's 9-Ball Open. Later, she collected several awards and titles throughout her career.
As for her physical appearance, Pan Xiaoting stands at 5 feet 2 inches (1.6 meters) and flaunts her coal-black hair and eyes of similar color.
Shanelle Loraine
Nickname: Queen of Nine-Ball
Date of Birth: March 25th, 1982
Misawa, Japan

When Shanelle Loraine commenced billiard as Guam's best pool player, she was also well-received for her looks. Loraine stands at 5 feet and an inch (1.5 meters) with dark brown hair and golden brown eye color.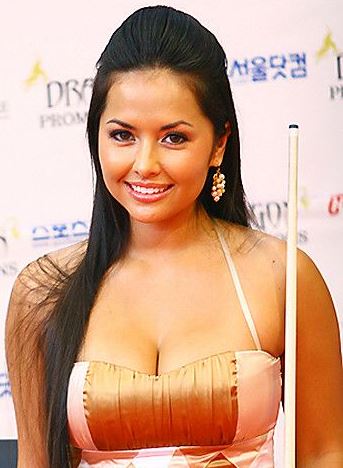 She has been a sensation for numerous years, and her fan following rises every time. First, she commenced her pool career in 2000 for the Central Florida pool team at the University level.
After defeating Jeanette Lee on live National Television at Dragon Promotions Women's World Pool Cup, she also won the Women's world 10-ball Championship, which was held in the Philippines (2009).
Emily Duddy
Nickname: The Billiard Bombshell
Date of Birth: October 23, 1983 (age 39)

As one of the top billiard players, Emily Duddy is one of the hottest women pool players. She commenced her journey at the age of eight at the Hollywood American Legion with her father and other veterans.
Similarly, she starred in her first tournament when she was nineteen and pursued her career through Amsterdam Billiard Club. Apart from being a professional player, she is also a skilled pool instructor and author of instructional/educational articles.
In the meantime, she is well-known for the glamorous outfits she carries herself in during events.
Emily Duddy is also an actress, worked in various movies and shows, in which the two through which she is widely known are The Hustlers (2015) and Harry (2016)
Neslihan Gurel
Nickname: Nes
Date of Birth: May 29, 1985
How can we miss this talented hot pool player, Neslihan Gurel, on our list?
It might come as shocking as it may seem that Neslihan Gurel is quite athletic and flourishes in numerous fields. Initially, she bagged the 1995 Ankara Swimming Championships.
Following it, she also tried her hands at both football and volleyball. To add to her talent list, she is also a champion dart player and has over 30 cups from international and local tournaments.
Lastly, our gorgeous player is currently involved in fashion design, focusing on shoes.
Anastasia Luppova
Full Name: Anastasia Vladimirovna Luppova
Date of Birth: June 26, 1985 (age 37)
Kazan, Soviet Union
Anastasia is one of the hot pool players with a small face, deep brown hair, and black eyes. Additionally, she has a toned physical figure.
Today, she stands as the two-time European champion in the Russian pyramid. Furthermore, she is also the champion of Moscow in the dynamic pyramid and a Russian Master of Sports.
As of now, she is a coach. At the same time, she also stood as an instructor in a series of video tutorials issued jointly by the publishing house "AIF" and the magazine "Billiards Sport."
Borana Andoni
Nickname: Killer B, Queen B
Date of Birth: February 9, 1986 Tirana Albania
Residence: Bronx, New York, Unites States

The next on our list of hot pool players is Borana Andoni, a gorgeous brunette lady who commenced playing billiards during the second year of her college.
Before this, she attended and took piano classes for twelve years and then took violin classes for four years.
Throughout the year, Borana gathered numerous titles and awards. As for her educational background, she graduated from LaGuardia Performing Arts High School. Later, she gained a bachelor's in Finance and a minor in mathematics from Fordham University.
Lastly, she also has a master's degree in statistics.
Favorite Quote: "Be careful what you wish for; you might get it!"
Yu Ram Cha
Nickname: Beautiful Billiard Girl
Date of Birth: July 23, 1987 (age 35 years), Incheon, South Korea
It won't be fair if we don't include this beautiful billiard girl on our list; hot pool players.
Yu Ram Cha is a professional pool player whose looks could kill. Well, she depicts a cute and sweet face that gets instantly gorgeous every time she is on the pool ring.
This Korean beauty stands at 5 feet 3 inches (1.63 meters) while weighing 45 kg.
Like most billiard players, she initially played tennis at an early age. During her career journey, she has bagged numerous titles and achievements.
Favorites
Favorite movie: Troy, Action, and Adventure
Favorite Books: Basically, all kinds of books
Mary Avina
Nickname: Princess, The Red Angel, Trick Shot Princess, and The Princess of Pool/Billiards
Date of Birth: February 2, 1993 (age years), Southern California, United States
Mary Avina commenced billiard games when she was just fourteen. Mary's family wasn't well-off in the early days, so she started going to Los Angeles for modeling.
Slowly, her interest in school also fell off. However, as she came across the billiard, she was sure to make a living. Therefore, she consulted numerous people related to the field and commenced working on it.
Furthermore, she would also paint and sell her art in the galleries.
Favorites
Favorite Billiard games: One-pocket and Snooker
Favorite Food: Chicken Adobo
Veronika Ivanovskaia
Nickname: Vero
Date of Birth: 1 February 1995


Saint Petersburg, Russia
Veronika Ivanovskaia is a beautiful lady who began to play in 2003 and later became part of the German national team. Initially, she was asked and encouraged to play the game at eight.
However, during that time, she was too short to reach the table, so she would step on the crate of Coca-Cola to play. She first won a title back when she was fifteen and even became the Junior European Pool Championships eight-ball winner.
She is a regular participant in World Championships and other international tournaments.
Angelina Paglia
Nickname: Angel
Date of Birth: September 23, Michigan, USA
Residence: Arizona, USA
As her nickname suggests, Angelina Paglia is an absolute angel in life. She commenced billiards at a young age and has garnered several awards.
Some of her awards include Tuffin Tour Championship, Arizona State 9-Ball championship three times, New Your Tri-State Tour Championship, All American Tour Championship, BCA North American Master Scotch Doubles Champion, and so on.
Besides being a billiard player, she is also a violinist and swimmer.
Summary
Herewith, we have come to the end of the hot pool players list. However, before we end our journey, below is a quick list of them in summary.
Ewa Mataya Laurance
Jennifer Barretta
Jeanette Lee
Pan Xiaoting
Shanelle Loraine
Emily Duddy
Neslihan Gurel
Anastasia Luppova
Borana Andoni
Yu Ram Cha
Mary Avina
Veronika Ivanovskaia
Angelina Paglia