Few goaltenders in NHL history had had such an immediate impression as Shesterkin did when he joined the New York Rangers in the middle of the season.
Shesterkin, a native of Moscow, was taken in the fourth round (No. 118) of the 2014 NHL Draft by the Rangers.
They then sat back and watched as Shesterkin grew into one of the best goaltenders in the Kontinental Hockey League.
He was 71-12-10 with SKA St. Petersburg from 2016-17 to 2018-19, and in his final season, he was 24-4-0 with a 1.11 goals-against average and.953 save percentage.
Learn more about Ion Shestyorkin through the article here.
Igor Shestyorkin: Quick Facts
Name
Igor Olegovich Shestyorkin
Full Name
Igor Shestyorkin
Nickname
Not Available
Date of Birth
December 30, 1995
Place of Birth
Moscow, Russia
Sexual Orientation
Straight
Age
27 years old
Zodiac Sign
Sagittarius
Chinese Zodiac
Not Available
Nationality
Russian
Body Type
Athletic
Hair Color
Brown
Skin
Fair
Height
6 feet 1 inch (185 cm)
Weight
183 lb (83 kg)
Profession
Ice Hockey Player
League
NHL
School
Not Available
College
Not Available
Team
New York Rangers
Position
Goaltender
Former Team
SKA Saint Petersburgh
Spartak Moscow
Playing Career
2014-Present
NHL Draft
118th overall, New York Rangers, 2014
National Team
Russia
Catches
Left
Father's Name
Oleg Shestyorkin
Mother's Name
Elena Shestyorkina
Relationship Status
In a relationship
Girlfriend
Anna Butusova
Children
None
Net Worth
$2.5 million
Merch
Notebook, Autographed NHL Pucks, Worn Jersey
Last Update
June, 2023
Early Life & Childhood
Shestyorkin was born into an athlete's family. His father, Oleg Shestyorkin, was a soccer player, and his grandfather was a volleyball fanatic. Reasoning the same, his parents had not intended for their son to play hockey from the start.
Also, the young Russian never imagined himself in a hockey arena; but who knows what destiny has planned. The start of Shestyorkin's career trip happened by chance.
It all started when the little guy went to see a game at the hockey palace near their home in Setun with his mother and a friend.
Igor couldn't suppress his excitement as he watched each athlete demonstrate their incredible skating ability during the match.
Shestyorkin went home after the game to tell his father about his experience. The aspiring goaltender voiced his desire to play professional hockey during their talk.
Shestyorkin's parents enrolled him in a hockey section in their neighborhood after noticing that their little son had already made up his mind.
Family
Igor has not shied away from paying tribute to his parents as his ice hockey career has progressed.
Although nothing is known about Shestyorkin's father, we can be assured that he has stood by his son through thick and thin.
Oleg Shestyorkin, Shestyorkin's father, was a professional football player in Russia but never made it to a prestigious team.
However, Oleg enjoyed participating in volleyball games in addition to soccer.
On the other hand, the football professional did not protest when his kid opted to pursue a career in hockey. Instead, he performed his father role by ensuring that Shestyorkin did not face too many difficulties in his professional life.
Mother
Every champion has a strong mother who encourages, motivates, and supports the child with her unconditional love.
Elena Shestyorkina is Igor's mother, and she has always shown him a lot of love since he was a child.
Elena is a powerful woman with a sound financial education, considering her youthful appearance.
Early Career
Shestyorkin began his career at Krylya Sovetov Moscow before being taken 43rd overall in the 2012 Kontinental Hockey League Draft by Spartak Moscow as a 16-year-old.
In the 2012–13 season, he played for MHK Spartak in the MHL, his first season with Spartak.
Igor made his professional and KHL debut midway through the following 2013–14 season. MHK recalled him to fill in for Alexei Ivanov in a 5–3 loss against HC Ugra on January 20, 2014.
He made his debut start three days later, surrendering two goals in a 3–1 loss against Lokomotiv Yaroslavl on January 23.
Also, read about Karch Kiraly- Career, Wife, Net Worth & Coach.
Achievement in KHL
On March 2, Shestyorkin earned his first win in his tenth appearance, making 33 saves in a 3–0 shutout victory over HC Slovan Bratislava.
Shestyorkin returned to the MHL and helped MHK Spartak win the MHL Championship with a 12–7 record in 19 playoff games, a 1.75 goals-against average, a.937 save percentage, and four shutouts.
Igor signed a contract with perennial powerhouse SKA Saint Petersburg on June 6, 2014, while still out of contract with Spartak and demonstrating high promise.
On June 28, Shestyorkin was taken in the fourth round, 118th overall, by the New York Rangers as the fifth-rated goalie entering the 2014 NHL Entry Draft.
Journey in New York Rangers
Igor signed a two-year entry-level contract with the New York Rangers on May 3, 2019.
On September 21, Shestyorkin made his NHL debut, stopping 36 of 40 shots in a 4–1 loss against the Philadelphia Flyers.
After that, he was sent to the Hartford Wolf Pack of the American Hockey League, the Rangers' minor league affiliate team.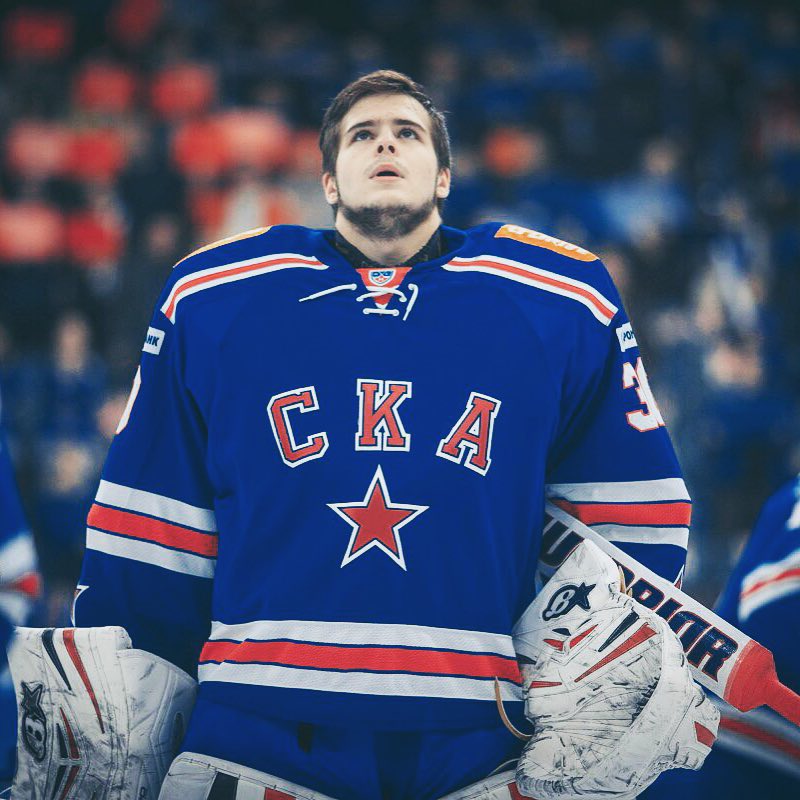 On October 5, Shestyorkin made his AHL debut, making 26 saves in a 5–3 win over the Charlotte Checkers in Hartford's 2019–20 season opener.
Shestyorkin was recalled by the Rangers on January 6, 2020, after posting a 15–4–3 record with the Wolf Pack and was named to the 2020 AHL All-Star Classic.
Achievement in New York Rangers
Shestyorkin recorded the first shutout of his NHL career in a 3–0 win over the New Jersey Devils on April 13, 2021.
Shestyorkin then went on to earn his second career shutout against the Devils in a 4–0 victory on April 15.
He became the Rangers' second rookie to record back-to-back shutouts and the first Ranger since Antti Raanta in December 2016. Igor also became the third Ranger in franchise history to have consecutive shutouts against the same opponent.
Igor signed a four-year contract extension with the Rangers on August 9, 2021. Shestyorkin made 40 of 41 saves in a 2–1 overtime victory over the Toronto Maple Leafs on October 18.
Since his NHL debut in January of 2020, he has won seven games with 40 or more saves, the most among all goaltenders in that period.
Igor Shestyorkin: International Play
At the 2018 Winter Olympics, Shestyorkin was a Russian Olympic Athletes team member. However, as the nation's third goaltender, he did not see any action during the tournament despite winning gold.
Shestyorkin represented Russia in the 2018 World Championships in Denmark, where he was one of the top goaltenders.
He finished with two shutout victories, a 1.46 goals-against average, and a.942 save percentage, both of which were among the top three in the tournament.
Don't miss out on Jade Jones: Early Life, Career, Olympic & Net Worth.
Igor Shestyorkin: Net Worth
Shestyorkin's net worth has risen to a respectable level after signing a two-year contract with the New York Rangers worth $7,550,000.
His contract, which will make him a Restricted Free Agent (RFA) in 2021, pays him a total annual salary of $925,000, excluding performance bonuses.
The majority of Igor's wealth is accumulated from his professional career as a hockey player. Besides that, Shestyorkin is also engaged in various endorsements that add a decent amount to his wealth.
Moreover, he is sponsored by several famous brands.
Based on his pay breakdown, Igor Shestyorkin's net worth is estimated to be $2.5 million. As he progresses in his work, his financial situation will almost certainly improve.
Igor Shestyorkin: Girlfriend
The 27-year-old goalkeeper's success did not go unnoticed, and he has been playing in the NHL since the beginning of 2020. According to TSN, the goalkeeper was ranked #1 among the 50 most promising NHL players.
Of course, the man is ecstatic about recent achievements, but the primary triumph was gained by him a long time ago – on a personal level.
Igor isn't left out when it comes to matters of the heart. But, of course, he has a long way to go before catching up to Robin Lehner, the Swedish goalkeeper.
On the other hand, Igor has already taken the first step in dating Anna Butusova, his lovely girlfriend.
Shestyorkin's girlfriend, Anna, has 300 thousand Instagram followers, roughly seven times that of her boyfriend (as of 2021).
Igor Shestyorkin: Lifestyles & Interests
The fact that the goaltender has acquired considerable money since his ascent to prominence is no longer news.
As things are, Igor makes sure he gets the most out of life. As a result, Shestyorkin lives a lavish lifestyle and does not rule out the possibility of owning exotic cars and luxurious homes.
Shestyorkin, like his father and grandfather, enjoys playing volleyball.
He was also a team member that won the beach volleyball championship at the Rixos Sungate Hotel Beach in Antalya.
Igor Shestyorkin: Injury
Igor Shesterkin was taken out of the New York Rangers game against the Columbus Blue Jackets in the third period.
It happened at 13:15 of the second period; a Blue Jackets goal trimmed the lead to 5-3.
Alexandre Texier was pushed into Shesterkin by defenseman Patrik Nemeth. Shesterkin was hit on the side of the head by Texier's knee. Igor lay still on the ice for a few seconds before kneeling.
The NHL decided to send Shesterkin to the locker room, and Alexandar Georgiev came in to finish the game in his stead.
Read next Michael Vick's Wife: All About Kijafa Vick.
Igor Shestyorkin: Contracts
This is referred to as a win-win situation. The Rangers receive their probable franchise goaltender for a price that will shortly offer them some much-needed salary room.
Igor Shesterkin is lavishly compensated with the chance to maximize his value on the open market in four years.
The 27-year-old goaltender and the Blueshirts have agreed to a four-year contract with an average annual value (AAV) of slightly under $5.667 million per year.
This is a good number for general manager Chris Drury in an atmosphere where every $250,000 saved is worth its weight in cap gold.
However, Shesterkin's performance in his formal rookie season improved as the year proceeded, and the Russian became more comfortable with his situation as Henrik Lundqvist's heir.
By the way, the money speaks for itself, with this agreement marking the highest second contract for a goaltender in NHL history, surpassing Sergei Bobrovsky's $5.625 million per year for two years with Columbus in 2013.
Two years of restricted free agency and two years of unrestricted free agency are included in the contract.
For the purpose of comparison, Detroit's 27-year-old Alex Nedeljkovic recently inked a two-year, $3 million contract after generating superior numbers for Carolina last season.
Likewise, Carter Hart of the Flyers recently inked a three-year second deal with an AAV of $3.979 million.
Social Media Presence
Igor is likely to handle Instagram, Facebook, and Twitter in a standard, common, and secure manner as a skilled and professional hockey player in the twenty-first century.
Igor also maintains a consistent and fair presence on social media. His fan base exploded after that, reaching thousands of followers and fans.
He, on the other hand, has a gregarious attitude. As a result, he is constantly seen sharing photos and videos and reacting to and replying to fan requests to keep his fans engaged, attentive, and cheerful.
Similarly, not only professionally but also personally, he is always in a skilled and trained state.
Following are the links to Shestyorkin's social media accounts, along with a recent number of followers (as of Nov 2021).
Frequently Asked Questions (FAQs)
What is Igor Shestyorkin's full name?
Igor holds the full name Igor Olegovich Shestyorkin. He plays hockey for New York Rangers.