Renowned for his dangerous strikes and punching power during his time, Igor Vovchanchyn is a retired Ukrainian professional kickboxer and mixed martial artist.
After his debut as an MMA fighter in 1995, Igor has won nine open weight mixed martial arts tournaments and possesses the second-longest unbeaten streak in MMA.
Likewise, he is also the second most successful MMA fighter, with several wins achieved by knockout.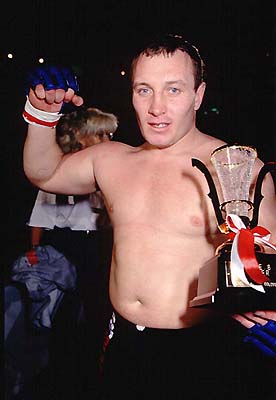 Despite Igor's small size, he is known for his strength and toughness. Furthermore, let's get to learn more about MMA's Ice Cold.
First, let's look into some of Igor's quick facts.
Igor Vovchanchyn | Quick Facts
Full Name
Igor Yaroslavovych Vovchanchyn
Birth Date
August 6th, 1973
Age
50 Years Old
Birth Place
Zolochiv, Kharkiv Oblast, Ukrainian SSR, Soviet Union
Nickname
Ice Cold
Ukraine Freight Train
North Weapon
Religion
Not Available
Nationality
Ukrainian
Education
Not Available
Horoscope
Leo
Father's Name
Yaroslav Losifovich
Mother's Name
Kladiya Michaylovna
Siblings
None
Height
5'8" (173 cm)
Weight
205 lbs (93 kgs)
Build
Muscular
Shoe Size
Not Available
Eye Color
Grey
Hair Color
Brown
Marital Status
Married
Spouse
Not Disclosed
Children
Zlata
Profession
Retired Mixed Martial Artist, Kickboxer
Division
Light Heavyweight
Heavyweight
Years Active
1995–2005
Style
Kickboxing, Sambo, Boxing
Team
Team Vovchanchyn
Net Worth
$3 million
Awards and Achievements
The honor of the Warrior Runner-up- 1995

Ukrainian Octagon Champion- 1996

World Vale Tudo Championship 5 Tournament Champion

Social Media
Twitter, Instagram
Merch
Igor Vovchanchyn, The King of Fighting, Igor Vovchanchyn Signed Shikishi Japanese Art Board
Last Update
November, 2023
Igor Vovchanchyn | Early Life, Family & Education
Retired Mixed Martial Artist and kickboxer Igor Vovchanchyn were born on August 6th, 1973, in Zolochiv, Kharkiv Oblast, Ukrainian SSR, the Soviet Union, to his father, Yaroslav Losifovich, and mother, Kladiya Michaylovna.
Igor was known for causing trouble and getting into street fights and several kinds of mischiefs growing up.
Thus, due to his behavior, there was a famous story that stated whenever Igor got upset, the villagers would ring a bell located at the center of town, which would signal everyone to stay in their homes until he calmed down.
However, in an interview, Igor stated that the story was a joke, although there was a bell located at the center of the town. You can check out the full interview here- Igor Vovchanchyn – Life after PRIDE.
Moreover, at the age of 17, Igor moved to the second-largest city in Ukraine called the Kharkiv, where he began competing in track and field.
Because of his love for fighting, he later went to box under trainer Oleg Ermakov.
Likewise, in 1993, Igor met the All Eurasian Kickboxing Federation's general secretary, Eugenia Borschevskaya, and learned kickboxing.
Later, he participated in the World Kickboxing Amateur Championships, representing the Ukrainian national team, and became the world champion.
Similarly, in 1994 Igor also won the Commonwealth of Independent States (CIS) kickboxing championship.
Age, Height, and Body Measurements
Igor turned 50 Years Old in 2023. As a mixed martial artist and kickboxer, he possesses a muscular build and stands at the height of 5'8" (173 cm) and weighs 205 lbs (93 kgs).
Moreover, Igor has grey-colored eyes and brown-colored hair, and his zodiac sign is Leo.
Education
The information regarding Igor's educational background is not available. As he was born and raised in Ukraine, we can assume that he graduated from Ukrainian education institutions.
WWE Carmella- Early Life, Career, Real Name & Net Worth >>
Igor Vovchanchyn | Carrer and Profession
The Honor of The Warrior
Igor transitioned from a kickboxer to an MMA fighter after Honor of the Warrior invited him to participate in the competition.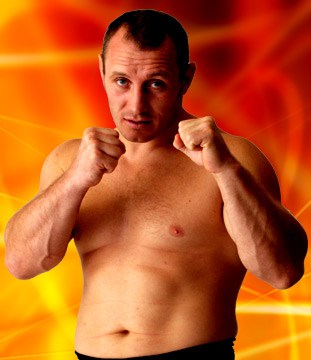 During the eight-man tournament, Igor knocked two opponents first, eventually losing to fellow Ukrainian fighter Sambist Andrey Besedin via submission.
International Absolute Fighting Council
Moreover, after fighting in a 32-man tournament, he participated in the inaugural International Absolute Fighting Council event in Russia.
One of his impressive performances was when Igor defeated Sergei Akinen via TKO.
Furthermore, during a match against a Gracie Jiu-Jitsu black belt, Adilson Lima Igor won via knockout within 56 seconds into the fight.
However, Lima's cornerman Renzo Gracie argued with the tournament organizers and demanded an instant rematch.
Thus, an immediate rematch was allowed, and during the fight, Lima's nose broke, and the fight was stopped a second time. Hence, Igor won the match once again vie TKO.
Mr. Strongman SEKAI
After Igor's dominant kickboxing style was presented during his win in the 8-man Mr. Strongman Sekai tournament in Minsk, Belarus, on January 23rd, 1996.
He became famous for being one of the few strictly stand-up fighters to overcome grappling-based opponents.
Moreover, Igor fought and won three different tournaments in March 1996, which were the DNRF: Ukrainian Octagon, IFC event: IFC 1: Kombat in Kiev, and the UCMAL: Ukrainian No Rules Championship.
Igor won 9 fights within these three tournaments where none of the matches went past the first round. Likewise, during the IFC tournament, all the contenders he faced weighed over 136 kilograms/300 pounds.
Furthermore, Igor's IFC Tournament fight against Paul Varelans became one of European MMA history's most significant fights.
Because of Igor's impressive performances, UFC 11 invited him to participate in their tournaments in September 1996.
However, he didn't get to participate in the tournament due to dissatisfaction with the offer and visa issues.
World Vale Tudo Championship
After achieving success across Ukraine, Belarus, Russia, and Israel, Igor participated in the World Vale Tudo Championship held in Brazil.
He won all three fights in one night via TKO/KO and a brutal 14-second knockout during the final.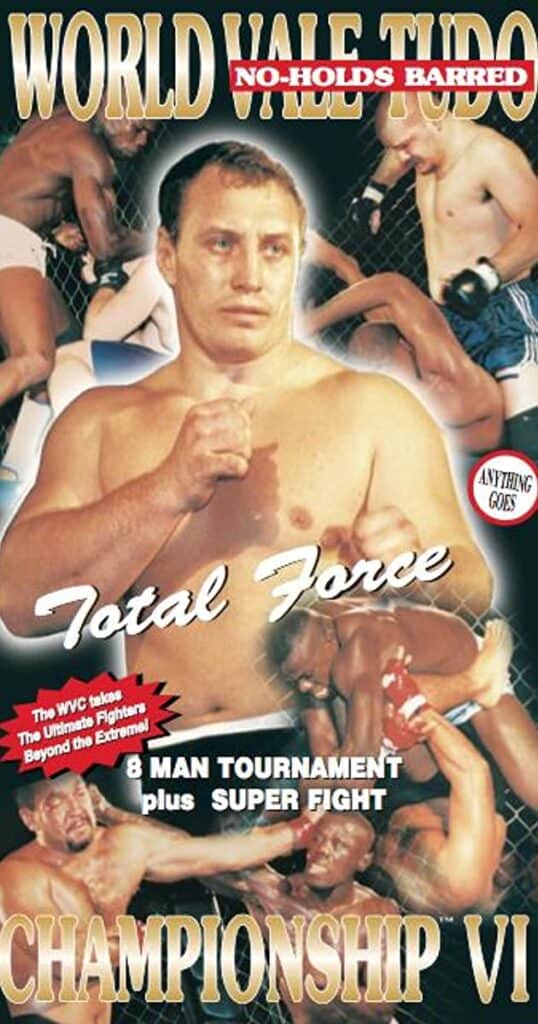 Furthermore, Igor won eight MMA tournaments on the World Vale Tudo Championship stage throughout his career.
Dan Henderson Bio: Career, Achievements, Net Worth & Wife>>
PRIDE FC
Igor was invited to the Japanese promotion PRIDE after he won World Vale Tudo Championship 5. He fought against Gary Goodridge for his debut and was taken down twice.
Moreover, after Igor's last venture outside PRIDE, he participated in a tournament called the InterPride, a four-person tournament in Ukraine.
In the InterPride, he won his first match via TKO and the finals via submission.
Furthermore, during Pride 7, Igor faced Mark Kerr and knocked him out Kerr from a north-south position with a knee.
However, the fight ended as a "no-contest" because the fighting style of knee strikes to the head on a grounded opponent was illegal.
Igor faced Mark Kerr once again for the unofficial title of #1 heavyweight in the world.
Almost all outlets that covered mixed martial arts considered Igor or the ADCC Champion and two-time UFC Champion Mark Kerr the best pound-for-pound and heavyweight fighter in the world.
Bueno Knockout
After Igor's fight with Mark Kerr, he fought Francisco Bueno, a Brazilian jiu-jitsu master. In the match, Igor knocked out Bueno with a vicious combination.
The knockout is to this day seen as one of MMA's history's most brutal knockouts.
Moreover, after defeating Bueno, Igor defeated more contenders and became an immense favorite fighter participating in the Pride Grand Prix 2000.
Pride Decline
During the start of 2002, Igor considered moving down to the Middleweight division, thinking he had a good chance of becoming a champion in that weight class, but the move did not happen.
In 2004, Igor broke his losing streak and defeated Dan Bobish, a former King of the Cage Super Heavyweight champion.
Moreover, after his exceptional fight, he was supposed to participate in PRIDE's upcoming 16-man heavyweight Grand Prix. However, he withdrew from the tournament because of an injury.
Aleksander Emelianenko- Wife, Net Worth, Tattoos & Record >>
Drop to Middleweight
Furthermore, in 2005, Igor moved down to a weight division and defeated Takahashi, a former Pancrase Heavyweight champion.
After the fight, Takahashi stated-
"I have never been knocked out by a single punch till today; I still feel dizzy and have a headache."
Moreover, after defeating Takahashi, Igor participated in PRIDE's 2005 Middleweight Grand Prix.
After moving down to the Middleweight division, Igor stated-
"It is about training. I was only 93 kg for the last two years in PRIDE when they introduced weight divisions. But my natural weight is around 103-104 kgs. Losing weight, I didn't feel as strong as before. 104 kg is the best weight for me, and I am really comfortable with it. I felt full of energy, strong, and powerful because of losing weight; I felt a lack of self-confidence."
Likewise, some experts state that Igor should have fought at the Welterweight division of PRIDE as he was an undersized heavyweight fighter.
Retirement
There was a rumor going around that Igor was going to fight against Wanderlei Silva at PRIDE 34.
However, due to several injuries, including a serious right-hand injury, Igor retired at 32 years old.
Moreover, various speculations stated that his last few fights were passive because of Ignor's right-hand injury.
Thus, Igor finished his career in PRIDE with an 18-8 record and one no contest. He had the second-most bouts, second-most wins in PRIDE history, and third-most wins through KO/TKO.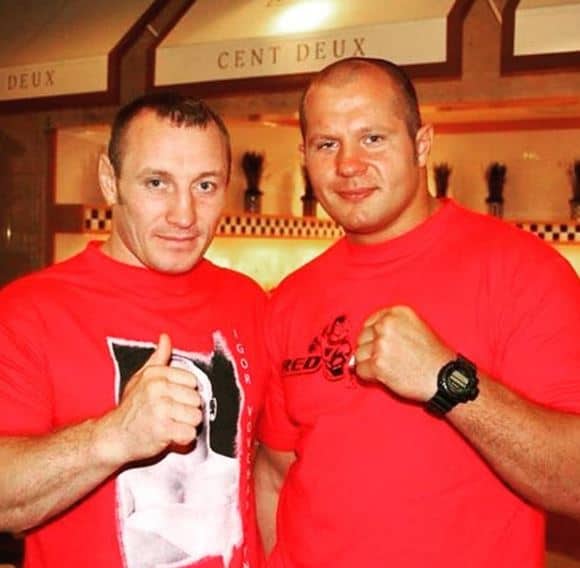 Likewise, Igor is one of the greatest European mixed martial artists, one of the best mixed martial artists of the 1990s, one of the best fighters in history to have never competed in the UFC, and MMA's hardest punchers.
According to FightMatrix, Igor was one of the top 10 heavyweight fighters from April 1996 to January 2001.
Igor Vovchanchyn | Awards and Accomplishments
Mixed Martial Arts
The honor of the Warrior Runner-up- 1995
Ukrainian No Rules Championship Champion- 1996
Mr. Strongman SEKAI Champion- 1996
Ukrainian Octagon/Octagon 2 Champion- 1996
International Fighting Championship- 1996
Absolute Fighting Russian Open Cup 3 Champion- 1997
1st Absolute Fighting World Cup Pankration Champion- 1997
Absolute Fighting Championship 2 Superfight Champion- 1997
World Vale Tudo Championship 5 Tournament Champion
WVC 6 Super Fight Champion
InterPride 1999: Heavyweight Final Champion- 1999
WVC 7 Super Fight Champion
2000 PRIDE Openweight Grand Prix Runner-Up
Second most bouts in PRIDE history
Third- most wins via KO/TKO in PRIDE history
Second most wins in PRIDE history
World Kickboxing Amateur Championships Winner- 1993
Commonwealth of Independent States (CIS/USSR) Kickboxing Champion- 1994
Igor Vovchanchyn | Net Worth
MMA Legend Igor has been a professional fighter since 1995. The highest-paid MMA fighters have a salary of almost $10 Million.
Although Igor has never revealed anything about his career earnings, we can assume that-
The presumable net worth of Igor Vovchanchyn falls around $3 million.
Igor Vovchanchyn | Wife and Children
Igor is very private about his personal life and has not revealed much about his family in any of his interviews.
However, various sources have revealed that he is married and has a daughter named Zlata.
Igor Vovchanchyn | Social Media Presence
Igor's social media presence is absent. However, his fans still post about him on various social media platforms.
Here we have provided you with Igor's most active hashtags on social media platforms.
Twitter- #IgorVovchanchyn
Instagram- #IgorVovchanchyn
Interesting Facts about Igor Vovchanchyn
Igor is close friends with a Russian heavyweight mixed martial artist, Fedor Emelianenko.
In a 2008 interview, Igor stated that after he retired from the MMA, he opened a local cafe bar called 'Champion.'
Ukrainian authorities have created an MMA tournament named after Igor called the Igor Vovchanchyn Cup.
Quote
"One should be able to think strategically and logically, possess firmness, be cold-blooded and patient."
– Igor Vovchanchyn.
Watch the top ten knockouts of Igor Vovchanchyn. Click to follow!
Igor Vovchanchyn | FAQs
Does Fedor have the same punching style as Igor Vovchanchyn?
As a matter of fact, yes, Fedor has taken in practice the punching style of Igor Vovchanchyn. Even during an interview, Igor stated that Fedor had taken in the style but only to some extent.