With the professional football player David Njoku's rising popularity, NFL fans are curious about him, including his religion. He comes from a devout Christian family and is, hence, a firm believer in Christ.
Growing up near Newark, New Jersey, he attended the Universal Church on Sundays with his parents. Even though he admits he did not think much about God as a kid, he has known his importance over time.
In this article, we will cover more about David Njoku's faith, ethnicity, origin, and family. Please read this article further to explore more!
David Njoku currently plays football for the Cleveland Browns of the National Football League.
Born and raised in New Jersey, Njoku attended Cedar Grove High School, where he honed his football skills as a teenager. As a result, he received scholarship offers from institutions like Ohio State, Boston College, etc., but he chose the University of Miami.
At Miami, Njoku continued performing better, recording 64 receptions and 9 touchdowns for 1060 receiving yards in two seasons.
He went for the NFL draft after the second year of his college, after which the Browns chose him as the 29th overall pick in the 2017 draft. He has already recorded 19 touchdowns and 209 receptions until his seventh season with the Browns.
David Njoku Religion: Is He Christian?
Yes, David Njoku is a Christian. A consistent team player for Cleveland in the past seven years, David passed through several hurdles to arrive at the position he is in today.
Although he always tried his best for the team, his health condition got worse after the second season, which not only forced him out of the game but also caused a lot of mental strain, which nearly became a career-ending episode.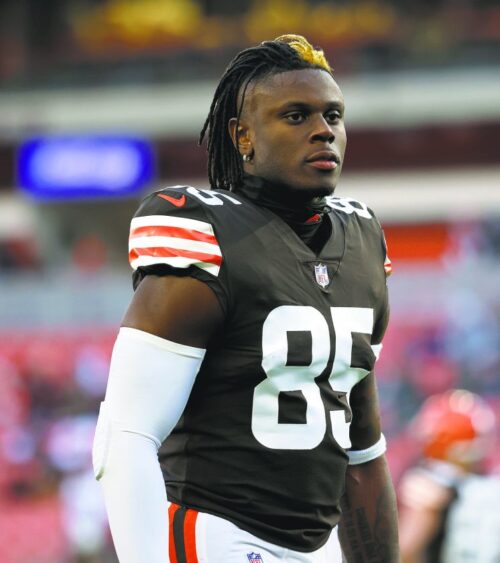 Even though he was not a practicing Christian from the beginning, David started taking God more seriously during his trying times, and he believes he turned his life around.
Speaking at an event organized by the Youth Power Group in Brooklyn, New York, he said, "I started taking God more seriously. I started challenging Him to do things in my life that I didn't think could be done."
Njoku further added that he started going to the Universal Church in Newark as a kid, but he did not know much about faith then. However, he has now become a regular visitor to the church and has learned more about his faith.
David Njoku's Family, Ethnicity And Origin
David Njoku was born to his parents, Innocent and Stella Njoku, on July 10, 1996, in Cedar Grove, New Jersey.
He is one of the nine kids of African-American parents who came to the United States in the eighties. Both his parents are Nigerian.
David's oldest brother, Innocent, who is currently a lead clinical research associate at Cleveland Clinic, was born in Nigeria. He obtained his medical degree from Cornell University in 2016.
Similarly, two of his other siblings, namely Chelsea and Faith Njoku, also pursued careers in the medical field.
David's younger brother, Evidence, played collegiate football for the Miami Hurricanes and Nevada Wolfpack. Similarly, his other brother, Charles, was a wide receiver for the UCLA Bruins.