Ishmael Larry Smith is an American professional basketball player. Ish Smith is a man of simplicity and a believer in faith.
As of 2020, Ish Smith is signed with Washington Wizards, making it the eleventh team Smith played for in the last eight seasons.
Before going undrafted in the NBA draft in 2010, he played college basketball for Wake Forest University. Ish is the only Wake Forest player with 1,000 points and 600 assists.
Smith has proved a valuable asset to the teams he played for. He uses his ability to make quick decisions, athleticism, defense, and attention to detail to be a solid player.
Although going undrafted in 2010, he has stayed on enough with the NBA.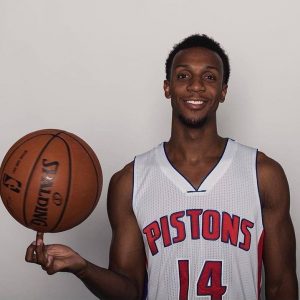 The 6-foot-tall point guard has lasted a decade with the NBA. Before going any further, let us look at the quick facts.
Quick Facts
Full Name
Ishmael Larry Smith
Birth Date
July 5, 1988
Birth Place
Charlotte, North Carolina
Age

34 years old

Nick Name
Ish
Religion
Christianity
Nationality
American
Ethnicity
African-American
Alma Mater
Wake Forest University
Central Cabarrus High School
Horoscope
Cancer
Father's Name
Larry Smith
Mother's Name
Gwen Smith
Siblings
Gerald, Serlethea, and Lativia
Height
6'0″ (1.83 m)
Weight
79 kg
Profession
Professional basketball player
Position
Point guard
NBA draft
2010/ undrafted
Jersey Number
14 (Washington Wizards)
Relationship status
Single
Salary
$6,00,0000
Social Media
Facebook, Instagram & Twitter.
Last Update
March, 2023
Ish Smith | Early Life, Family & Education
Ishmael "Ish" Smith was born to his proud parents, Larry and Gwen Smith, on June 5, 1988.
He was born and raised in Charlotte, North Carolina, alongside his brother Gerald and sisters Serlethea and Lativia. Smith attended Central Cabarrus in Concord, North Carolina.
Smith describes his parents as "very spiritual people" and were the role models who introduced him to church. Growing up, he attended Victory Christian Center.
During high school, he played for the high school basketball team. Smith finished high school with 1,775 points and made the school record of 687 assists.
Furthermore, he led his school team, MECA-6 Conference, and won the tournament title as a senior.
He was awarded the MECA-6 Conference Player of the Year for his efforts during the tournament in 2006. He also earned all-conference honors in 2005 and 2006.
Rivals.com ranked him as the No.28-point guard in the country and No. 17 by Scout.com during his graduation.
College Career And Injury
After graduating from Central Cabarrus, he joined Wake Forest University in 2006. He also played basketball for the team and received his bachelor's degree in Religion.
As a freshman, he played all 31 games and became the second-leading scorer on the team. Moreover, he also broke the record for assists, which Chris Paul previously held.
During his sophomore year, he started in all 30 games as a point guard. He was named the team captain, leading the team with 141 assists.
Ish Smith was named the team captain again during his junior year. He appeared in 29 games and was named the team's Most Improved Player award.
Athletes are no strangers to injury, and neither was Ish.
He missed the first two games of the season as he fractured a bone in his mid-September left foot.
Smith returned to the court in November against Winston- Salem State. Despite his injury, he finished the season, scoring double figures in seven.
During his senior season, he played all 31 games as a point guard and served as a team captain again. Ish received second-team all-district honors from the NABC.
Moreover, the NBA player's highlight of his career is receiving the Murray Greason Award and Team Assists Leader award.
The point guard finished his amateur career with four assists and 2 points during the NCAA Tournament. He is among one the top all-around players in school history.
Learn More About NBA Small Forward, LeBron James Bio: Early Life, Basketball Career & Net Worth.
Ish Smith | Age, Height, And Weight
The NBA player is 33 years old as of July 5, 2021. Furthermore, the athlete takes excellent care of his health and diet.
Hence, despite being in his 30s, he is pretty fit and has a toned physique. Besides that, the point guard is 6 feet tall and weighs 175 lb, i.e., 79 kg.
Ish Smith | Professional Career
After being undrafted in the 2010 NBA Draft, he signed with Houston Rockets. Smith was later assigned to Rio Grande Valley Vipers on January 17, 2011, but was again reassigned on January 24.
From 2011 to 2013, he was traded to and played for the Memphis Grizzlies, Golden State Warriors, Orlando Magic, and Milwaukee Bucks.
Phoenix Suns (2013-2014)
On August 29, 2013, Smith was traded to Phoenix Suns. With only in his third game, he made his career-high with eight assists against the New Orleans Pelicans.
In February 2014, he scored his then-career-high of 15 points against the San Antonio Spurs. The Suns later waived him on July 15, 2014.
Oklahoma City Thunder (2014-2015)
Ish signed with Houston Rockets on July 19, 2014. but was later waived off in October. However, in November 2014, Smith signed with Oklahoma City Thunder.
Philadelphia 76ers (2015)
The Thunders traded him with the Philadelphia 76ers on February 22, 2015. He recorded his career-high of 19 points with nine assists with the team, although leading to the loss against Toronto Raptors.
On March 11, he scored his career-high of 23 points. After acquiring Smith as their acquiring guard, the team's offensive numbers improved drastically.
New Orleans Pelicans (2015)
New Orleans Pelican signed with Smith in October 2015 and made his debut with the team the next day. In the first game itself, he recorded 17 points and nine assists.
On November 10, with 17 points, he recorded his first double-double and a career-high 12 assist against the Dallas Mavericks.
Ish broke his career-high assists for the third time after recording 17 points and 13 assists on November 20.
Philadelphia 76ers (2015-2016)
Ish Smith returned to the Philadelphia 76ers after the Pelicans traded him. He helped the team by scoring 14 points in his first game to record their second win against the Phoenix Suns.
He scored his career-high of 28 points with Philadelphia on January 9, 2016.
Detroit Pistons (2016–2019)
Smith signed with the tenth team of his professional basketball career on July 8, 2016. Smith was a three-year deal worth $18 million.
In 2017, he became the first Detroit player to have 15 assists off the bench in a 144-108 overtime.
In February 2018, Smith scored 25 points against a game with Miami Heat, leading to a win of 111-107.
Washington Wizards (2019-present)
Ish joined his eleventh team with the Washington Wizards on July 9, 2019. He scored 7 points in his first game with Washington on October 23, 2019.
Smith scored his career-high of 32 points with the Washingtons against the Denver Nuggets. The game led to the victory of 128-111 points after Troy Brown scored 25 points in January 2020.
Recently, the Wizards revealed that the athlete would be out for six to eight weeks as he injured his right proximal quad. Hence, he needs to rest to heal and recover from the injury.
You May Also be Interested in the NBA Point Guard Walt Lemon Jr. Bio: Life, Education, Career & Net Worth.
Ish Smith | Stats
| | | | | | | | | | | | |
| --- | --- | --- | --- | --- | --- | --- | --- | --- | --- | --- | --- |
| Year | GP | GS | MPG | FG% | 3P% | FT% | RPG | APG | SPG | BPG | PPG |
| Career | 542 | 142 | 19.4 | .427 | .306 | .678 | 2.4 | 3.8 | .7 | .2 | 7.4 |
Awards
Second-team All-ACC (2010)
Smith on Dunking
Point guard Smith is known for his mean crossovers and shooting threes. But you may not see him do a dunk.
He hasn't done it since the 2017-18 season. It is not that he cannot, but it is because he chooses not to.
Smith is a man with an extended vision; thus, this is how he has a rare level of longevity with the NBA.
He believes the negative consequences that come with dunking are not worth it.
In an interview with N.B.C. Sports Washington, he said, "I'm saving my legs." With every opportunity, the young Smith would dunk whenever he could, but now he is kind of over it.
Kevin Durant described Smith as one of the fastest players in the NBA. Smith has always been fast on games and says it is a gift.
His mother told him to use his strength for something to his advantage, which he has always done.
Ish Smith | Contract, Salary, and Net Worth
In 2016, Smith signed three year deal with the Pistons worth $18 million, which he accepted gracefully.
In 2019, Smith signed a two-year contract with the Washington Wizards worth $12,00,000. Ish Smith's base salary for 2020-21 is estimated to be $6,00,000.
He was the 7th best-paid player from the Washington Wizards for 2019-2020.
Moreover, he is set to become the 4th best-paid player of the Washington Wizards for 2020-2021. Smith has earned quite some money and fame over his career.
Although his exact net worth has not been disclosed, it is estimated to be around $10 million.
Don't Forget To Check Out NBA Player James Ennis III: Family, Education, Career, NBA & Net Worth.
Smith on Religion
Smith is a firm believer in God and believes that God's plan is the journey one goes through.
The obstacle one faces is testing your faith. Smith stands firm in his faith and believes that things are and will go great for him.
Smith acknowledges that he wakes up every morning, thanking God for the opportunity and giving the ability.
I was honored to be there!! Thanks for having me! #MHNationalsWeekend https://t.co/FbpndLk6CI

— Ishmael Smith (@IshSmith) May 21, 2018
Majoring in religion, he said, gave him respect for every religion. He often reads the bible, and he prays before every game and during the national anthem.
Besides, in an interview, he said that he has improved as a Christian man based on the reading, be it the bible or through his parents' daily devotions.
Ish Smith | Personality
Smith is an "all-star smile." He is always smiling, cheerful, and a humble, simple man. Besides, he respects his teammates and is a hardworking and tireless player who has played almost 40 minutes per game.
Looking at his social media, it seems like Smith lives a short and modest life. For the 2020 U.S. elections, Smith joined his head coach to thank the volunteers and greet the voters in Capital One Arena.
You Might Be Interested In Former Point Guard And Coach Muggsy Bogues Bio: Basketball Career, NBA & Net worth.
Ish Smith | Girlfriend And Relationship
Maintaining a personal and private life while being a public figure is difficult, but it looks like it is for Smith. He tries to keep his life very personal and confidential.
Thus, not much information regarding his dating life can be found online. There are no reports on his girlfriend or his dating life.
He is reported to be single and focused on his career and games.
Ish Smith | Social Media Presence
Smith has a small but loyal fan base regarding social media. Nonetheless, as of 2020, he has 55,102 followers on Facebook.
Likewise, he has 42.1 thousand followers on Instagram and 3,432 followers on Twitter. The player mostly shares NBA-related news, highlights, and events on his social media accounts.
Common Queries:
How old is Ish Smith?
Since the player was born on July 5, 1988, he is 33 years old as of 2021.
What is Ish Smith's real name? Is he a free agent?
The point guard's real name is Ishmael Larry Smith.
Ish Smith was a free agent; however, he has now signed a one-year deal with the Charlotte Hornet.
What NBA team does Ish Smith play for? What is his rating?
Currently, the basketballer plays for the Washington Wizards. He has been with the team since 2019. Previously, he played for Detroit Pistons, Philadelphia 76ers, New Orleans Pelicans, etc.
As of now, he stands at 73 in rating.
What position is Ish Smith? What is his career statistic like?
Smith plays the position of a point guard. Currently, he maintains a career statistic of an average of 7.7 points, 2.5 rebounds, 3.9 assists, and 0.7 steals.
Furthermore, he has played 654 career games and averaged 20.2 minutes per game.
As for his 2020 season stat, Ish played 44 games in total, maintaining an average of 6.7 points, 3.4 rebounds, 3.9 assists, and 0.7 steals. Likewise, he has played an average of 21.0 minutes per game.
How tall is Ish Smith?
The NBA player is 6 feet tall.
When did Ish Smith get injured?
Ish got injured quite recently. A week ago, The Athletic writer Fred Katz wrote that Smith has a right proximal quad injury.
As a result, the NBA player has to sit out for six to eight weeks. Nevertheless, Smith is going to be re-evaluated in three weeks.