Jac Collinsworth is the son of a former N.F.L. player and 15-time Sports Emmy Award-winner Cris Collinsworth. Consequently, although there are many advantages of having such a successful father, the pressure to match their achievements is just as daunting. However, Jac has overcome Cris's expectations and become a respected T.V. personality.
As a matter of fact, the father-son duo will be working together after young Collinsworth signed with N.B.C. in March 2020.
So, let's look at this article, where we will guide you through Jac's early life to his current days with N.B.C. You will also find details on his salary, net worth, nationality, age, family, relationships, and social media.
Here you can know about Jr. Collinsworth's famous father: <<Cris Collinsworth: Early life, Family, Wife, Career & Net worth>>
But, first, have a quick dose of Collinsworth's facts.
Quick Facts about Jac Collinsworth
| | |
| --- | --- |
| Full Name | Jac Collinsworth |
| Birth Date | February 13, 1995 |
| Birth Place | Fort Thomas, Kentucky, U.S.A |
| Nick Name | Not available |
| Religion | Christian |
| Nationality | American |
| Ethnicity | White |
| Education | Notre Dame University |
| Horoscope | Not available |
| Father's Name | Cris Collinsworth |
| Mother's Name | Holly Collinsworth |
| Siblings | Austin Collinsworth, Katie Collinsworth, Ashley Collinsworth |
| Age | 28 years old |
| Height | 6′ 3″ – 190 cm |
| Weight | 6′ 3″ – 190 cm |
| Shoe Size | 10 U.S. |
| Hair Color | Blonde |
| Eye Color | Blue |
| Build | Athletic |
| Married | No |
| Girlfriend | Nicole De Francisco ( Rumored) |
| Spouse | Not available |
| Children | No |
| Profession | Sports Broadcasting |
| Position | Host & Reporter |
| Net Worth | $2M |
| Salary | $75K |
| Social Media | Instagram, Twitter |
| Last Update | November, 2023 |
Is Jac Collinsworth Cris Collinsworth Son? | Early Life, Family & Education
Jac Collinsworth is the son of Cris Collinsworth and Holly Collinsworth. Jac was born on February 13, 1995, in Fort Thomas, Kentucky, U.S.A.
Cris is a former N.F.L. player who played eight seasons for the Cincinnati Bengals as their wide receiver. On the other hand, his mother, Holly, is an attorney.
Aside from that, Jac has three siblings that he grew up with, brother AustinCollinsworthand sisters Ashley Collinsworth and Katie Collinsworth.
Moreover, his brother Austin also played football at Notre Dame, just like Jac, while his sister Ashley was on the track and field team at Harvard.
Moving on to his education, Jac attended Notre Dame University, where he graduated with a film, television, and theatre degree in May 2017.
During his time at the Dame, Collinsworth hosted a weekly N.D. Live digital series focused on the college football team.
Jac Collinsworth | Career ( ESPN & A.C.C. Network)
Jac's career in sports media started when he was still at Notre Dame. To explain, he interviewed players on his weekly Showtime's A Season with Notre Dame Football podcast.
Also, Collinsworth filed weekly athlete features for Inside Notre Dame Football, a nationally syndicated television show.
He also covered a program for the N.F.L. Network called Notre Dame Pro Day from 2016 to 2017. However, that's not all because Jac also worked as an assistant sideline producer for his father's employers, N.B.C.'s broadcasts of Notre Dame's football games.
Upon graduation, Collinsworth took up a role at ESPN as a host and features reporter. Moreover, Jac interviewed star coaches and players in extremely unconventional settings that helped showcase their personalities.
Also, he worked as the host of ESPN's A.C.C. Network, The Huddle, in 2019.
Jac Collinsworth leaves ESPN & A.C.C. Network: N.B.C. Sports.
However, in March 2020, Jac left his job at ESPN to work for the same organization his father employed by N.B.C. Sports. He will work across a wide range of sports, including the Olympics, Notre Dame Football, and the N.F.L., on both linear and digital platforms.
Upon signing for N.B.C. Sports, Jac said,
"For as long as I can remember my dad has been my coach. Now we're teammates. Life doesn't get much better than that. It feels good to be home."
Thus, the understandable love and bond between the father-son duo from the quote mentioned above. So, let us all hope that Cris and his son can be fellow employees for a very long time.
Jac Collinsworth | Buffalo Bills & Josh Allen
Collinsworth is quite fond of Buffalo Bills quarterback Josh Allen. "How good is Josh Allen?" Collinsworth said in the season 26-15 of "N.B.C.'s Sunday Night Football." He spent most of the second half praising Allen, even though Allen struggled in the first half.
Similarly, he compared Allen with Steeler quarterback Ben Roethlisberger in his prime and Hall of Fame quarterback Brett Favre.
Know about Ben Roethlisberger in his prime: <<Ben Roethlisberger: Life, Career, Injury, Relationship & Net Worth>>
Moreover, he applauded Allen saying, "You can just feel a star being born, can't you" after Allen used his shoulder shimmy against Gabriel Davis, leading Buffalo Bills to a 23-7 lead.
In fact, Collinsworth continuously praised Allen's toughness and competitiveness.
Jac Collinsworth | Age, Body Measurements & Nationality
Unfortunately, Jac's birth date details have been kept a secret. As a result, his age also remains a mystery at this point. Nevertheless, we know that Collinsworth was born sometime around the early 1990s.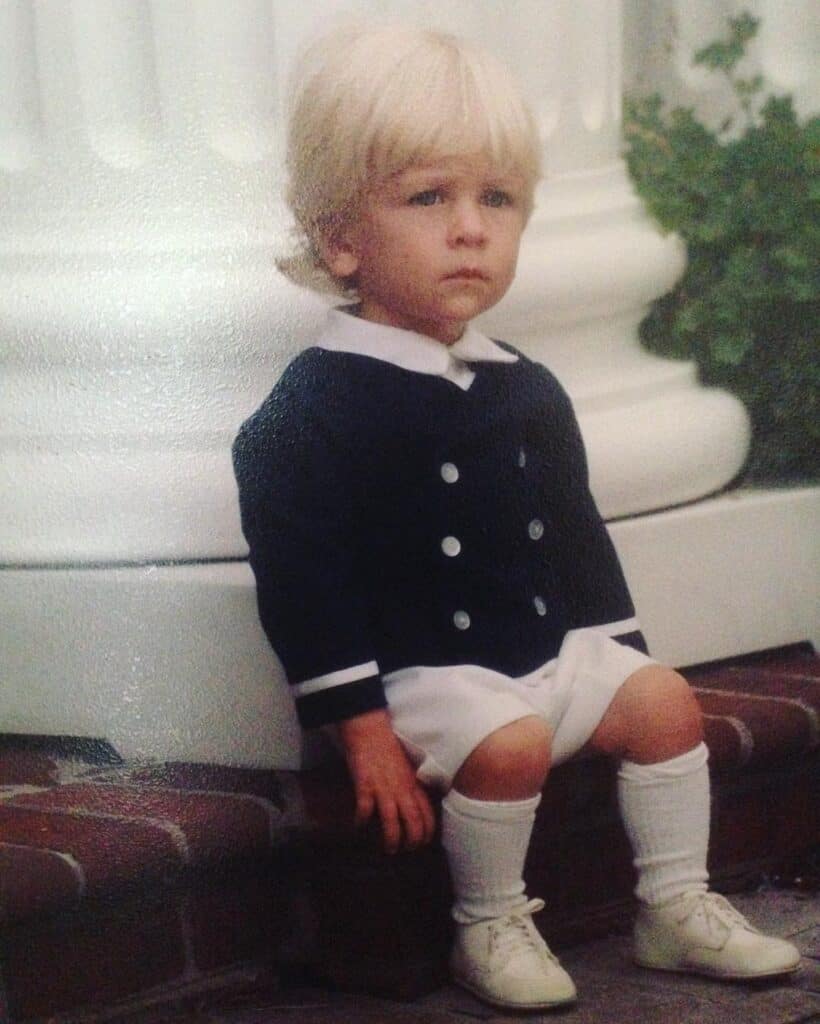 On the contrary, Jac's body measurements have also been kept under wraps. But, judging from his pictures on Instagram, we can confidently say that Collinsworth hits the gym pretty regularly.
And, about his nationality, Jac was born in Fort Thomas, which is located in Kentucky. Therefore, Collinsworth is a holder of American citizenship.
Jac Collinsworth | Voice
Jac got his challenging and convincing Voice from his father, Cris Collinsworth. You can hear Collinsworth men talk:
Jac Collinsworth | Net Worth & Salary
This uprising American sportscaster play-by-play announcer at NBC for the USFL and Atlantic 10 Conference, men's basketball, has a net worth of $2M.
His yearly salary of $75,000 is further emphasized as a features reporter for ESPN's Sunday N.F.L. Countdown. However, he left the job in March 2020 to join his father, Cris, at N.B.C. Sports.
Cris has a net worth of $20 million, which he amassed from his seven-year stay in the N.F.L. along with his broadcasting career. But, unlike his son, who still gets paid an average reporter's salary, Jac's father takes home $ 4 million per year.
Jac Collinsworth: Wife & Girlfriend
When it comes to his relationships, Jac is a highly private person. Moreover, he has not shared a single detail about his relationships, be it past or present. Hence, it is a bit difficult to say that he is married.
However, rumors have been circulating that Collinsworth is in a relationship with his longtime girlfriend, Nicole De Francisco. But, sadly, there are no concrete details to confirm the fact.
Nonetheless, judging from his handsome looks and successful career, we are pretty confident that Jac would be able to woo any girl he liked. Having said that, if Collinsworth is in a relationship with Nicole, then we wish him all the good fortune in their relationship.
Jac Collinsworth | Social Media Presence
Instagram:14.6k followers
Twitter: 19.7k followers
Common Queries About Jac Collinsworth
Is Jac Collinsworth Cris Collinsworth's son?
Yes, Jac Collinsworth is the son of American sports broadcaster and former professional American football player Cris Collinsworth.
Who is Jac Collinsworth?
Jac Collinsworth currently works as a host and a reporter for N.B.C. Sports. He has also worked for ESPN.