The New York Mets pitcher Jacob deGrom, a four-time MLB All-Star player, met Stacey Harris at a bull riding event. The two hit it off immediately, and today, deGrom and Harris are married with two kids; she was there by his side through it all and is a happy stay-at-home wife now.
When they first met, deGrom was still trying to make a name for himself as a baseball player, and Harris worked night shifts to earn a living.
In this article, let us share all we know about Stacey Harris and follow her and Jacob through the ups and downs in their lives.
Jacob DeGrom Wife: Stacey Harris | Quick Facts
| | |
| --- | --- |
| Full Name | Stacey Harris DeGrom |
| Nick Name | Stacey |
| Date of Birth | 1986 |
| Birth Place | Lake Helen, Florida |
| Residence | Upper East Side, New York City |
| Age | 37 |
| Gender | Female |
| Sexual Orientation | Straight |
| Height | Not Available |
| Weight | Not Available |
| High School | Not Available |
| University Name | Not Available |
| Religion | Christianity |
| Nationality | American |
| Ethnicity | White |
| Father's Name | Thomas Harris |
| Mother's Name | Nina Harris |
| Siblings | One (Amanda) |
| Hair Colour | Blonde |
| Eye Colour | Brown |
| Skin Colour | Fair |
| Marital Status | Married |
| Partner | Jacob deGrom |
| Kids | Two (Jaxon and Aniston) |
| Profession | Sleep Medicine Professional |
| Net Worth | Not Available |
| Salary | Not Available |
| Social Media | Instagram |
| Merch | Mets Jersey, Rookie Card |
| Last Update | November, 2023 |
Stacey Harris: Early Life, Family, And Education
Harris was born in the beautiful city of Lake Helen, Florida, in the year 1986. Her parents are Nina and Thomas Harris. She has a younger sister named Amanda Lynn.
Stacey lives a quiet life, and she has not shared much of her personal life on the internet. Her childhood, schooling, and other aspects of her life are not disclosed.
Apart from the few details that we know about her marriage to Mets player Jacob deGrom, Their kids, and public appearances, the blonde-haired beauty remains a mystery to Baseball fans.
Stacey Harris: Life After Marriage
Harris married two-time All-MLB First Team winner Jacob deGrom on November 8, 2014, And life turned into a smooth sailing boat with vacations, baseball games, and evening Strolls in Manhattan.
Jacob met Stacey for the first time at a bull riding event, and something about her made Him want to know more about her. So they continued to see each other until he finally Asked her to marry him on Christmas 2013.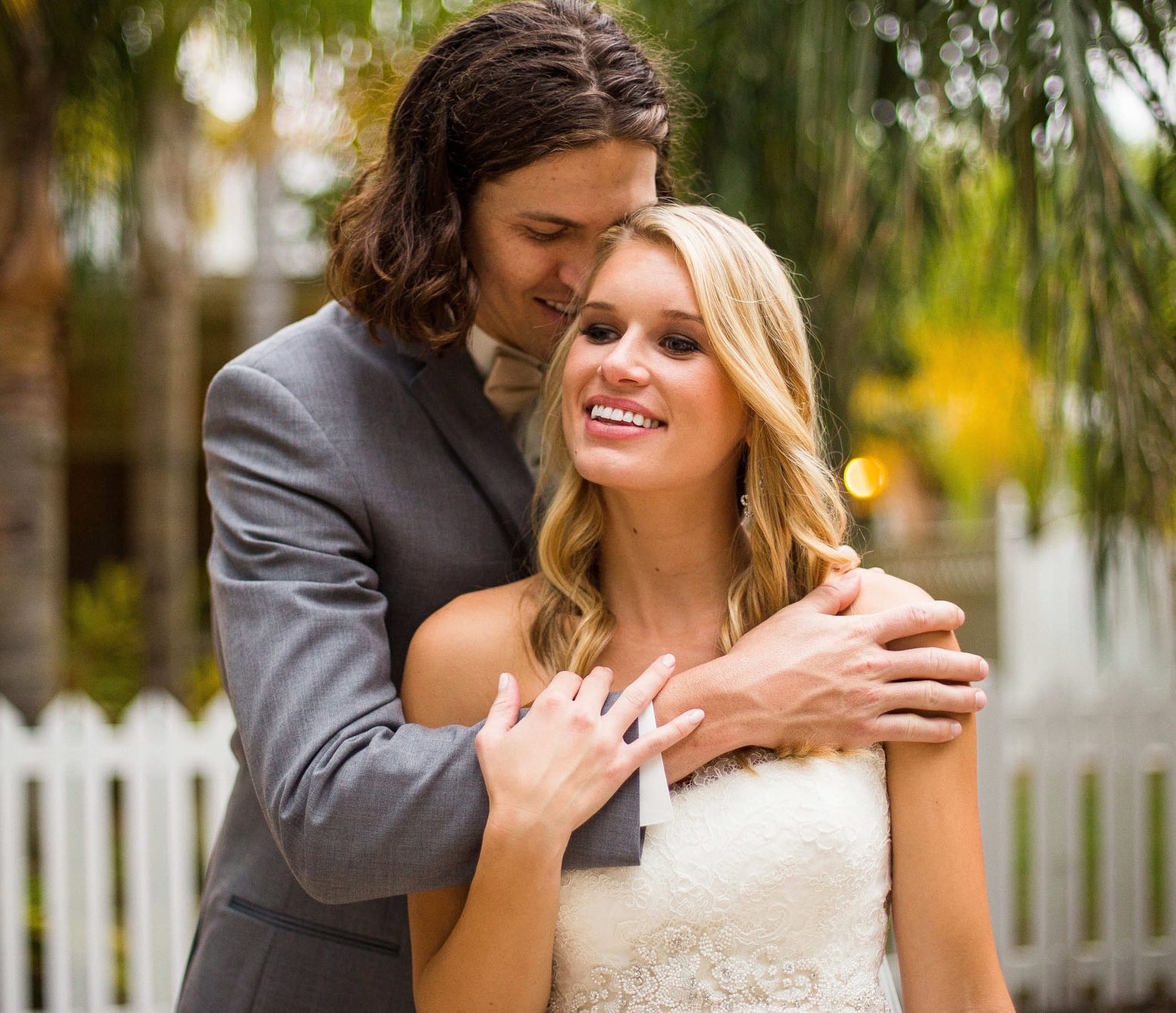 The newly married couple went to Maui, Hawaii, for their honeymoon. They stayed at the Four Seasons resort, drove around Hana, and went to see a volcano. The two also enjoyed ziplining, paddleboarding, and snorkeling.
After their marriage, the couple lived in DeLand, Florida. They got a dog named Pixie, a mix Between a Maltese and a Yorkie, so Harris wouldn't feel lonely when deGrom was gone for Work.
Now, they live on the Upper East Side in New York City. Stacey and Jacob love to explore The city, try new food, and experience the culture. In addition, they enjoy roaming around Central Park and Times Square in their free time.
Stacey Harris: Kids
Harris and deGrom have two children together, Jaxon and Aniston. Jaxon Anthony was born On April 11, 2016, in DeLand, Florida. However, some complications during his birth caused him to stay in the hospital for some time.
The Mets placed Jacob on the MLB family emergency list to take some time off and look After the new mother and child.
Aniston Grace was born two years later, on February 21, 2018, and the couple was more Than happy to welcome a new member to their home.
Stacey Harris: Career
The mother of two, Stacey, worked as a sleep medicine professional while her husband was Still playing in the minor leagues. Her husband, Jacob deGrom, called her a "Very Determined Girl" in an interview with Steve Serby for the New York Post.
Harris worked night shifts performing polysomnography, also known as a sleep study, for Patients with sleep apnea. It was exhausting for her, but she was extremely dedicated to Her work.
She quit her job after deGrom entered the major league. Therefore, she spends most of her time caring for her children or cheering on her husband in his baseball games.
Jacob DeGrom Wife: Net Worth And Salary
Since Stacey Harris is a stay-at-home mom at the moment, she doesn't exactly have a stable source of income. But before she decided to become a housewife, she worked with patients who had sleep apnea.
Therefore, she must have earned around $100-$200k annually, the average salary of someone working in the field of sleep medicine.
Unfortunately, her net worth has not been revealed, but keep reading if you are interested in Jacob deGrom's salary and net worth.
Stacey Harris: Social Media
Harris uses social media, but it is a private account accessible only to her close friends and family. She is not interested in the public celebrity lifestyle and wishes to share pictures with people who know her personally.
Instagram: 354 followers (Private)
Jacob DeGrom: Why Is He famous?
Jacob Anthony deGrom happens to be a professional baseball player for the New York Mets of Major League Baseball (MLB). On June 19, 1988, he was born to Tony and Tammy deGrom in DeLeon Springs, Florida.
His father, Tony, works as a lineman in AT&T Inc. Likewise, his mother, Tammy, is a customer service representative at a company. The MLB star has two older sisters, Sarah and Jessica.
DeGrom went to Calvary Christian Academy in Ormond Beach, Volusia County, Florida. Anthony played baseball and basketball in high school. He tried for the MLB draft after finishing school, but he did not get selected.
Jacob then played college baseball at Stetson University. He started as a shortstop for the Stetson Hatters in his freshman year, then became a pitcher in his junior year.
In the 2010 MLB draft, deGrom was selected by the Mets in the ninth round with the 272nd overall pick. After playing in the minor leagues for a few more years, he made his MLB debut on May 15, 2014.
Jacob DeGrom: Career Honors
DeGrom was named the National League's (NL) Rookie of the Year in his debut year. Moreover, he was awarded the Cy Young Award twice (2018 and 2019), an award given every year to the best pitchers in MLB.
Jacob deGrom is a four-time MLB All-Star and a two-time All-MLB First Team winner. In addition, he was titled the NL ERA Leader (2018) and the NL Strikeout Leader (2019, 2020).
Overall, deGrom has surely managed to leave his mark in MLB history as an outstanding baseball player. Despite being held back by injuries several times, he is one of the best pitchers we have currently.
Jacob DeGrom: Net Worth And Salary
As a rookie playing in minor leagues, deGrom received a signing bonus of $95k from the Mets in 2010. Then, when he was promoted to the major league, he signed a contract for $607k in 2016.
His estimated net worth is $25 million.
In 2017, he made $4.05 million and $7.4 million a year later. So his salary increased to a whopping $17 million, and he also signed a five-year contract for $137.5 million with the Mets.
Jacob DeGrom: Social Media
Like Harris, deGrom doesn't enjoy being in the spotlight for too long. He is more than willing to be recognized for his pitching skills in the stadium, but he prefers to stay away from social media.
However, if you are still interested in following his baseball journey with his teammates, you can go to the Mets official Instagram and Twitter accounts.
Instagram: 1.4m followers
Twitter: 1.2m followers
FAQs
Is Jacob DeGrom married?
Jacob deGrom is married to Stacey Harris, and the couple tied the knots on November 8, 2014. The two had been dating for seven years before deGrom popped the questions on December 25, 2013.
Does Jacob DeGrom have a daughter?
DeGrom has two kids with his wife, Stacey Harris. He has a son, Jaxon, and a daughter, Aniston.