Carson Wentz, a.k.a Carson James Wentz, is a former quarterback of the Philadelphia Eagles currently playing in the Indianapolis Colts. One of the prominent quarterbacks of the NFL, Carson Wentz, has an estimated net worth of $45 million.
He is a five-time NCAA FCS national championship winner who debuted in NFL in 2016, drafted by Philadelphia Eagles.
Moreover, Carson Wentz had set several records as a rookie, such as most pass attempts and completions within his first year.
Exceptionally skilled athlete Carson Wentz has won the 2017 super bowl, Bert Bell Award, Super Bowl champion, and so on.
Likewise, in 2019, he was considered the first quarterback in NFL history to throw 4000 yards with no wide receiver over 500 yards.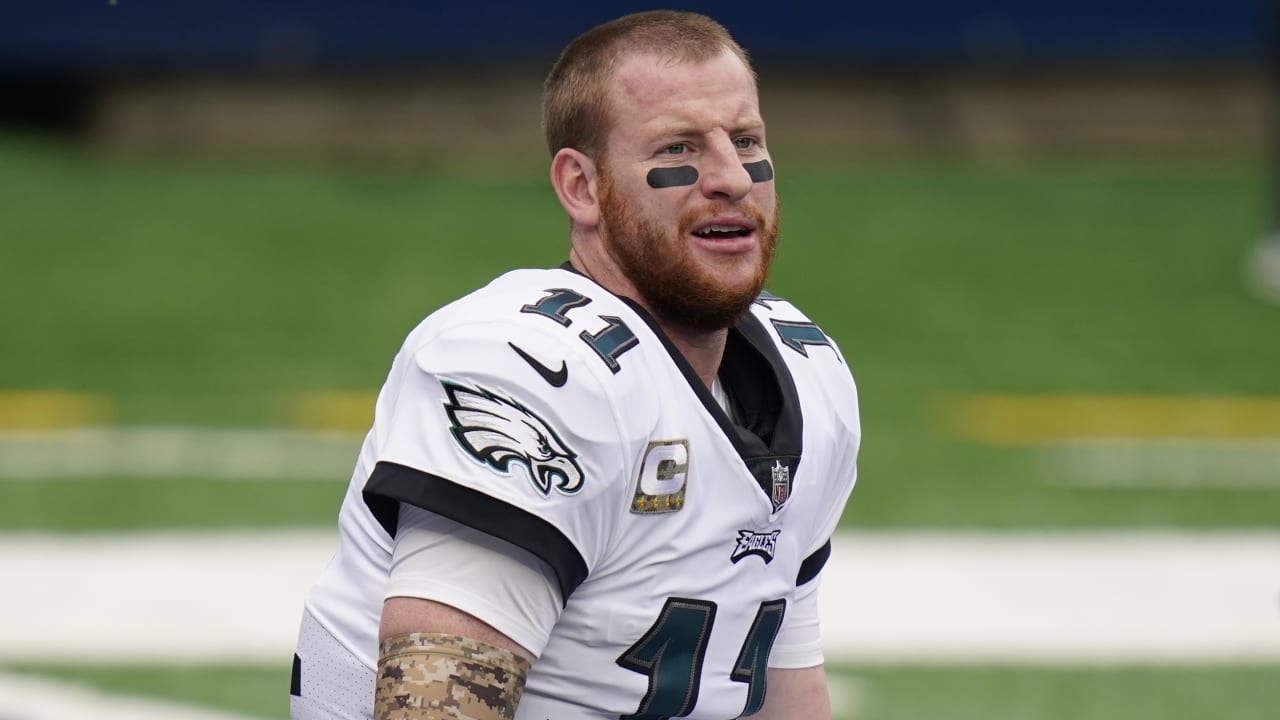 Former quarterback of the Philadelphia Eagles, Carson Wentz, completed his high school education at Century Bismarck, North Dakota.
Later, he graduated from North Dakota State, earning a health and physical education degree.
At the time of his graduation, he had earned Academic All-American of the Year by the College Sports Information Directors of America and all Division I sports.
Nevertheless, his departure from Philadelphia Eagles in February 2021 was one of the heartbreaking moments for the Eagles supporters.
However, his fans are now eager to see his performance with his new team, Indianapolis Colts.
Quick Facts:
Name
Carson James Wentz
Date of Birth
1992, December 30
Birth Place
Bismarck, North Dakota
Nick Name
Carson James Wentz
Age
30 years old
Gender
Male
Religion
Roman Catholic
Nationality
American
Ethnicity
White
Horoscope
Capricon
Home Town
South Dakota
Height
6'5″ (1.96 m)
Weight
107 kg (237 lbs)
Body Mass Index (BMI)
23.8
Build
Athletic
Shoe size
Unknown
Hair Colour
Light Brown
Eye Colour
Blue
Tattoo
Yes
Father name
Doug Wentz
Mother name
Kathy Domres
Siblings
Zach Wentz and Duke Domres
Relationship
Married (2018)
Wife
Madison Oberg
Children
Daughter Hadley
Profession
Professional NFL Player
Position
Quarterback
Education
South Dakota
Hobby
Playing video games and reading books
Professional Debut
2016
Team
Indianapolis Cot
Previous Teams
Philadelphia Eagles
Current Affiliations
National American League
Jersey Number
11
Salary
$32 million
Net Worth
$45 million
Social Media
Instagram, Twitter
Achievements
Super Bowl champion
Bert Bell Award
Pro Bowl
NFL Offensive Rookie of the Month
Shoe
Nike
Merch
Autographed Picture Print, Funko Pop, NFL Jersey
Last Update
March, 2023
Net Worth And Earning Of Carson Wentz
Many players in NFL had received overnight fame and wealth but failed to sustain it for a longer time.
But it's not quite relevant with Carson, who earns millions of dollars and has a luxurious life but is still consistent and loyal to his game.
He has earned $45 million so far in his playing career. His immense popularity is also helping him to gain additional millions of dollars, as Wentz's #11 jersey is considered the eighth-best-selling uniform in the league.
For instance, before he was traded to Indianapolis, Carson had signed a 4-year contract with the Eagles worth a massive $128 million.
The deal had also earned him $16 million as a signing bonus.
According to the source, his multi-million contract guaranteed to pay him $107 million. And as per this agreement, Wentz is liable to receive $144 million based on various performance-related incentives.
Carson and Eagle's 4-year contract was an exceptional agreement that includes most guaranteed money through 2024, despite Carson's major injuries in the last two seasons.
Net Worth Of Carson Wentz In Different Currencies
Also, look at Carson Wentz's net worth in different currencies.
| | |
| --- | --- |
| Currency | Net Worth |
| Euro | 38,644,853€ |
| Pound Sterling | 33,390,225£ |
| Australian Dollar | 62,262,675A$ |
| Canadian Dollar | 57,107,475C$ |
| Indian Rupee | 3,341,463,750₹ |
| BitCoin | 1,065฿ |
Carson Wentz Salary And Incentives
Being one of the popular players in the NFL, his current salary pre-2021 is $15,400,000, where he had received $5,000,000 as a signing bonus.
Nonetheless, in 2019, Carson Wentz received a salary of $15 million, whereas his roster bonus was estimated at $10 million, and his salary cap hit $34 million.
We can say that, so far, the quarterback of Indianapolis has earned immense wealth and fortune through his game.
Without a doubt, Carson is one of the finest quarterbacks in the NFL who is gaining salary and incentives in 7-digit figures.
Evidently, before joining Indianapolis, his annual salary was $39 million, for which he had received $5 million as a roster bonus.
Earning History Of Carson Wentz
In his 2016 NFL draft, Carson had signed a four contract with Philidelphia Eagles worth $26.67 million. This contract also earned him $2 million as a signing bonus.
In addition, on November 4, 2017, Carson was given the option to exercise $22.783 million for 2020. Nonetheless, his 4-year contract with the Eagles is one of the highest-earning deals in his career.
Carson Wentz is a multi-millionaire NFL player who is gaining tremendous wealth from his salary and roster bonuses.
2020 Roster Bonus: $8M
2021 Roster Bonus: $5M
2022 Roster Bonus: $5M
2023 Roster Bonus: $5M
2024 Roster Bonus: $5M
Luxurious And Lavish House Of Carson Wentz
If a person has an immense fortune, it's obvious that he will spend a good portion of his wealth buying lavish houses. Similarly, multi-millionaire Carson also owns multiple homes that cost millions.
He has a minimalist but luxurious rural home near Philadelphia, costing $1.8 million.
His 11 acres property is a 1995 custom build home located in an isolated area around southern New Jersey.
His wonderful House has glass partitions, a stone fireplace, big flank floors, and sliding doors for a barn home. Wentz's lavish House also includes a stylish bar, gym, and great theater.
Car Collection Of Carson Wentz
The 6 ft 5 in tall Carson is fierce in his game, but he seems very decent and down-to-earth. Although he has earned massive wealth, he still likes to live with modesty.
Maybe that's why he is not a huge fan of collecting expensive cars.
But he owns a few branded cars like Ford Escort in blue, which cost around $170,000.
Moreover, Carson has a Land Rover, which he often uses during his stay with the family. His white land rover cost $150,000.
Carson Endorsement And Sponsorship
As a widely famous athlete and idol of millions of youth, Carson has endorsement and sponsorship from several multinational brands and companies.
That said, Carson earns huge money through these sponsorships and endorsements.
Moreover, he is a brand ambassador of Sky Motors, and promoting their products must have earned him quite a lot of money.
In 2017 he was officially signed by the shoe giant Company Nike. To this day, he is endorsed by Nike. He is also supported by the companies like Amazon, NRG, and Bobcat.
He has been sponsored by Sanford Health Bose and BlackRidge Bank regarding his popularity.
Carson Wentz Fantasy Football News
Wentz performed admirably in his fast Saturday action, but he made a mistake by holding onto the ball for too long, which led the Commanders to punt their lone scoring opportunity with him at the controls.
Although it does not appear on the stat sheet, Wentz has a history of holding the ball for excessive time, which stops drives and makes it more difficult for him to generate strong fantasy performances regularly.
In 2023, fantasy managers should still consider Wentz a low-end bye-week streaming possibility.
Early Career Overview Of Carson Wentz
Wentz began his career in school in 2011 as a redshirt in his first season with the soccer team "North Dakota State Bison." The first FCS championship was claimed by his team that year.
The next year, he was a rookie and played as a quarterback backup. In a win over 'Prairie View A&M Panthers,' he tossed his first touchdown.
He finished the redshirt sophomore season of 2013 with his best showing against Delaware State as a second quarterback.
His first opening was in Iowa, where he had completed 18–28 pass trials for 204 yards at the Big 12 conference. In 2015, Wentz passed 335 yards, considered one of the best games for a fifth-year senior.
Interestingly, Wentz suffered from a fractured wrist but completed his game with16-of-28 compilation, 195 yards passing along two touchdowns.
With Bison, Carson made five consecutive FCS championships on January 9, 2016.
The same year, his exceptional game earned him the Most Outstanding Player for the second consecutive year in the I-AA Championship Division of NCAA.
Career Highlights And Awards
2011–2015: 5× FCS champion
2016: NFL Offensive Rookie of the Month, 3× Pepsi NFL Rookie of the Week
2017: 2× NFC Offensive Player of the Week, NFC Offensive Player of the Month, Second-team All-Pro, Pro Bowl, Bert Bell Award
Super Bowl champion (LII)
Charity And Donation
No wonder the quarterback of Indianapolis Colt, Carson, has a heart of gold. He has been engaged in uplifting people's lives with his fame and fortune.
With the motive of "Uplifting individuals and communities around the world by demonstrating God's love for His people."
Carson Wentz established the charity foundation known as AO1.
His foundation aims to help people deliver good quality food with excellence and a group approach.
Likewise, Wentz's charity also helps children with life-threatening diseases or other life-threatening medical conditions.
Early Life And Family Details Of Carson Wentz
Carson Wentz was born to U.S. parents Kathy Domres and Doug Wentz on December 30, 1992; his birth sign is Capricorn.
Wentz was born into a working-class family where his parents supported him in pursuing his passion for his game.
According to his parents, Carson had an athletic ability since his childhood. And as he grows young, his love for the game drastically inclined.
However, Carson was unsure about the NFL because he played baseball and basketball.
But things changed as he entered high school. After joining high school, Carson started to play football seriously. And he joined Dakota University to initiate his professional career in NFL.
For instance, Carson was raised with his two siblings. He has two brothers, Zach Wentz and Duke Domres were also born and brought up in Bismarck, North Dakota.
Married Life Of Carson Wentz
The dashing quarterback of Indianapolis is a married man as of 2023. He had tied the knot with his long-time girlfriend, now wife, Madison Oberg.
Likewise, the love birds have dated each other since college, and there are no rumors regarding their separation or divorce.
Carson Wentz and Madison Oberg march down the aisle in July 2018. There is not much information about Madison Oberg. It seems like Carson wants to keep his personal life a bit low and away from the media.
The two are also seen participating together in parties and festivals. To date, they have one child, a daughter.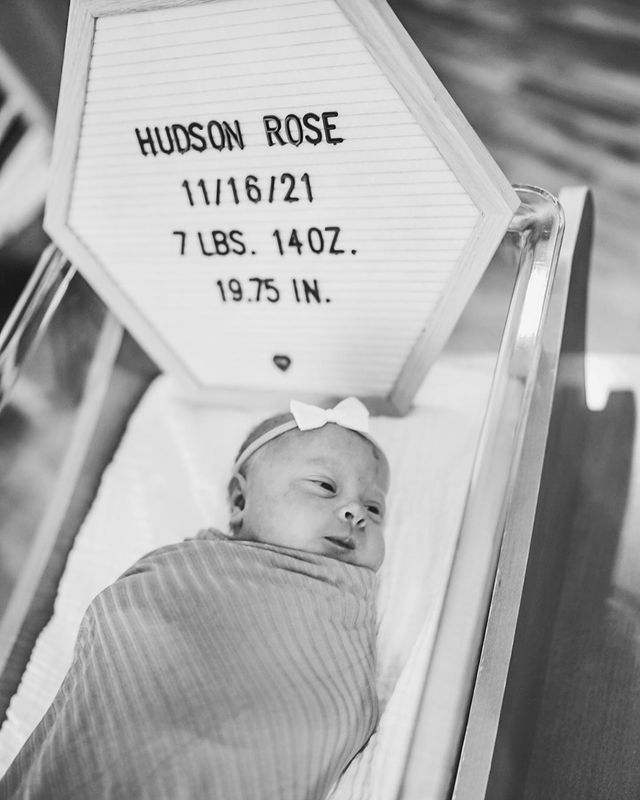 It was in April 2020 that the Wentz family welcomed Hadley Wentz into the world.
In the list Of Most Expensive Layers
According to the Board room tv list of the top 20 most expensive players for the year 2022, Carson Wentz is one of the most expensive players of the current year.
Commanders QB Carson Wentz: $28,294,119
Contract: 4 years, $128,000,000
Total guaranteed: $107,970,683
The first-ever starting quarterback for the newly rebranded Washington Commanders spent one season with the Indianapolis Colts. In a head-turning trade, Wentz returns to the NFC East.
As of March 9, 2022.
Washington Commanders
2022 salary cap space: $-1,705,073
Active contracts: $213,282,316
Dead money: $702,996
Total salary cap usage: $213,985,312
Indianapolis Colts
2022 salary cap space: $67,911,055
Active contracts: $141,142,560
Dead money: $1,568,711
Total salary cap usage: $142,711,271
As of this writing, the Colts now possess the most cap space in the NFL.
Colts-Commanders Carson Wentz Trade Details
Washington Commanders get:
Indianapolis Colts get:
2022 third-round pick
2023 third-round pick (becomes a second-rounder if Wentz plays 70% of snaps this season)
2022 second-round pick swap (Colts move up to No. 42 overall, Commanders move down to No. 47)
Injuries
2021- 4 weeks – Ankles
2021- 3 weeks – Ankles
2018- 17 weeks – Back
2018- 16 weeks – Back
2018- 15 weeks – Back
Interesting Facts About Carson Wentz
When Wentz's first year, he used 5 ft 8 in (1.73 m) in height and grew to 6 ft 5 in (1.96 m) as a senior.
He has won 3× Pepsi NFL Rookie of the Week and is the two-time winner of NFC Offensive Player of the Week.
Quotes
"Timing and accuracy matter at the end of the day."
"I view every day just as an opportunity."
It doesn't matter if you're winning or losing. You've got to be the same guy; you've got to prepare the same."
Some FAQs
Is Carson Wentz still playing from Philidelphia Eagles?
No, Carson Wentz was traded to Indianapolis Colts for the 2021 season, so he currently played for them after the Eagles.
Why did Carson Wentz have foot surgery?
Carson Wentz underwent foot surgery to remove a piece of bone that had broken loose in his foot.
How much is a Carson Wentz rookie card worth?
Carson Wentz's rookie cards are ranked by value in the Beckett Football Card database, and their price ranges from $2.63-$12.53.
What year did Carson Wentz hurt his knee?
Carson Wentz suffered a knee injury in the game against Philaphidia Eagle and Los Angeles Rams on December 10, 2017.
What injury did Carson Wentz have in 2018?
In 2018, Carson missed the first two games because of his knee injury; later, he suffered a back injury.
Did Carson Wentz win Super Bowl?
With Wentz's assistance, the Eagles could secure the top seed in the National Football Conference (NFC), and Super Bowl LII saw the team win its first Super Bowl.