Jason Ellis, a former skateboarder, auto-racer & MMA fighter-turned-radio host, is the eldest among three brothers. His younger half-brother Stevie tragically died at 24, which led him to find a way back into tracks away from substance abuse.
He has another younger brother named Lee Ellis, who pursued a similar career in motorsports. Lee competed in Motocross des Nations, representing Australia.
Whether it is about family or relationships, Jason, who is openly bisexual, has been in the media talks.
He made notable highlights after he opened up about being s**ually abused by his now-late father as a child & domestic violence from his then-wife Andrea.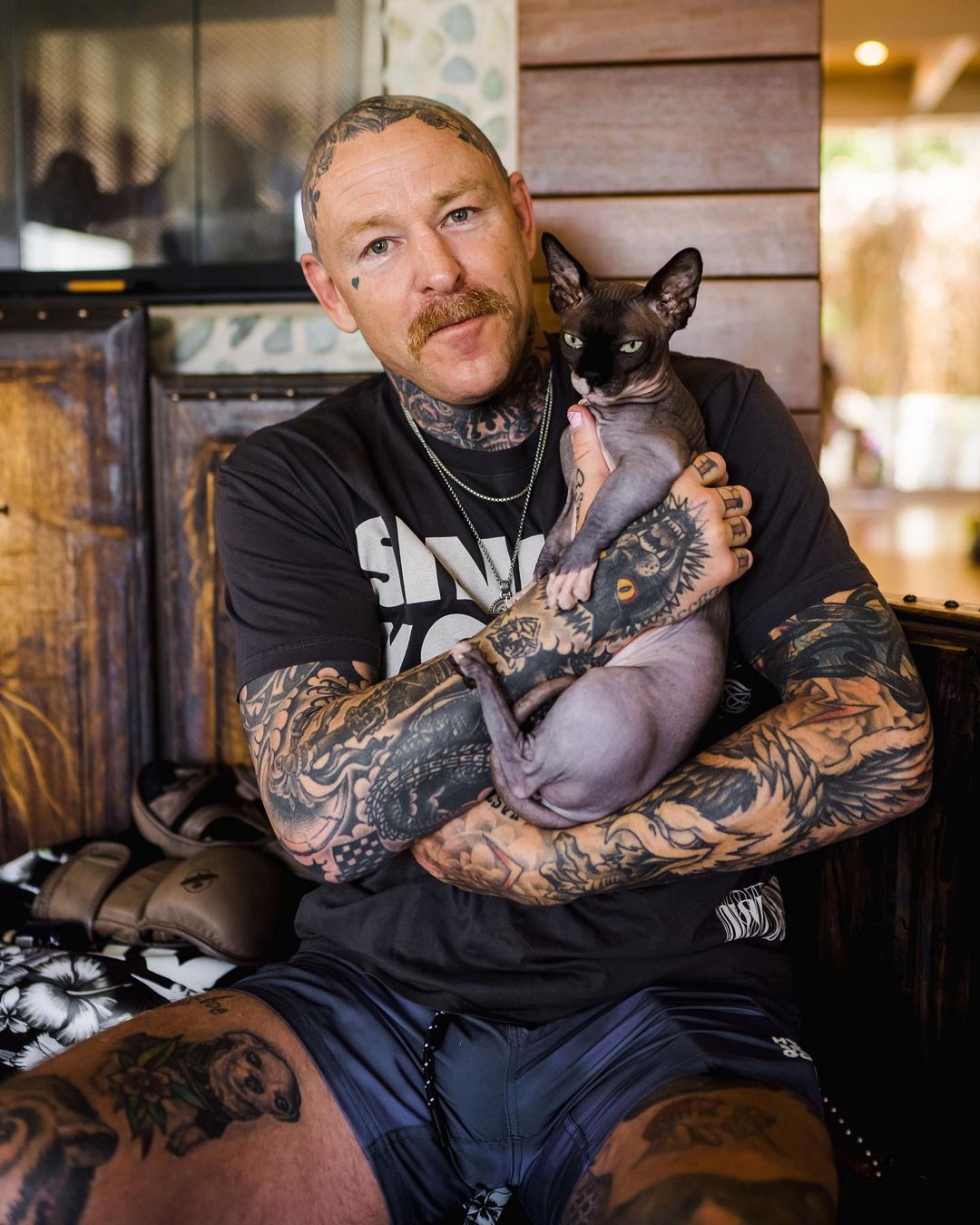 Born on October 11, 1971, Jason Shane Ellis is an Australian-born former professional skateboarder, auto racer, and singer.
To pursue his skateboarding career, he moved to the United States at 17 in 1985 & competed professionally until retirement in 2006.
He even set the 2001 Guinness World Record for the biggest drop on a skateboard (from a 70-foot skateboard ramp). The record broke in 2006 when Danny Way jumped 82 feet and three inches into a quarter pipe.
Moreover, Jason had two victorious MMA bouts: vs Tony Gianopulos (in 2009) and vs Gabe Rivas (in 2017).
Then, he would switch to a broadcasting career & was the host of The Jason Ellis Show on Sirius XM satellite radio from 2005 to 2020. After his show was canceled on the radio, he continued it as a podcast.
Jason Ellis Brother: Stevie Ellis (Deceased) And Lee Ellis
Jason, the eldest of three brothers, has now only one surviving brother named Lee Ellis after his younger half-brother Stevie died in an accident in 2006.
As reported, it was after a year of the death of their father due to a heart attack when the tragedy struck the Ellis family again.
Recalling the heart-breaking incident, he said, "his brother Stevie & his friends were hot-wiring a steamroller in the mountains. The vehicle lost control & knocked over posts on the side of the road before it tipped off the cliff."
At the time of death, Stevie Ellis (birth name: Steven Charles Ellis) was only 24 years old.
Born on March 22, 1982, the late Stevie had an age gap of nearly 10 years with his elder brother Jason Ellis.
The demise of his brother made Jason realize the value of his life, his family & loved ones.
He says, 'So I just try to do everything because he can't. It's like a switch ever since he passed away."
As a result, he made his leave from the quicksand of alcohol & drug abuse to become a good father & a family man.
The former MMA fighter often mentions his late younger half-brother & pays tribute to him.
On March 22, 2022, Jason wished a posthumous 40th birthday to Stevie & wrote, "My brother Stevie would be 40 today. Happy birthday Deebs, love you forever."
Younger Brother Lee Ellis Competed In Motorsports
Jason's other younger brother Lee Ellis prefers to keep himself away from social media. But the former auto racer cum skateboarder barely misses to mention him on his Instagram & Facebook posts.
He wished his brother a Happy birthday on Instagram on July 14, 2020.
He wrote, "Happy birthday to my younger brother Lee Ellis. I won't bother tagging him because he's not all about social media like his older brother. But I'm sure someone will show him. I love ya Lee! You're an awesome father, friend, and husband. I respect the hell out of you! Happy birthday mate."
By profession, Lee Ellis is a motocross racer and represented his homeland Australia in Motocross des Nations through 2004 & 2005.
Lee enjoys parenthood with his wife, Vic Ellis, though any further information about his relationship is under wraps.
Family Tree Of Jason Ellis- Parents & Relationship
Jason Ellis is the son of Stephen John Ellis and Lorraine Clark. After his parents separated, his father married Marilyn Ellis (his stepmom) in the mid-1970s.
The eldest of three sons, Jason grew up with his brother Lee Ellis and paternal half-brother Stevie (who died in 2006).
Ellis, 'The Jason Ellis Show' host, lost his father, Stephen, on January 1, 2005, who died of a heart attack at the age of 53. And a year after the incident, he lost his brother Stevie in an accident.
Disturbing Fact:

Jason & his dad had no better connections during his upbringing. He WAS S**UALLY ABUSED BY HIS FATHER as a child, which he opened up ABOUT during a 2011 interview ON the Howard Stern show. Moreover, he opened up more about the molestation on the Dr Drew podcast in 2016.
Jason Ellis' mother, Lorraine, a native of New Zealand, lives with her current husband, Alan Clarke. In a Facebook post from 2012, Alan mentioned about their 16th anniversary- indicating they have been together since 1996.
They share a daughter named Kate Gray (nee Clarke), now married to her husband, Joel Gray.
Ellis' mother, Lorraine, is a dog lover & runs her own business, Unleashed Doggie Daycare.
Other family members of Jason are an aunt named Trina & his grandparents: Jock and Cathy Ellis (deceased).
Married Twice & Father Of Two: Who Is His Current Wife?
Jason Ellis lives with his second wife, Katie Gilbert, and his two kids (from his first marriage) in Hollywood, California.
Sources report that their relationship began in 2012 fall & made their social media appearance together in 2013.
Jason, an openly bisexual, and Katie, who identifies as pansexual, got engaged live on-air in 2016 and married on August 20, 2017.
Previously, he was in a marital relationship with Andrea Brown from 2006 to 2012. While together, they became parents of two kids: a daughter named Devin, born in March 2005, and a son named Tiger Lee Ellis.
After their divorce, the retired skateboarder-turned-radio personality began dating Katie Gilbert & the rest is history!