Javier Fernández is famous for making history: he was the first Spanish skater to win a Grand Prix medal.
Moreover, he was the first Spanish skater to win a World medal and the first male Spanish skater to compete in the Olympic Winter Games in over 50 years.
He is also the first Spanish skater to win gold at the European Championships and the first to win back-to-back European titles since Evgeni Plushenko, one of Fernández's idols.
When he won the World Championship in ice skating in 2015, he made sports history beyond skating.
Because of Fernández's outstanding results, there has been a significant increase in media interest in skating in Spain.
He frequently receives a full page in the newspaper. There is also more media coverage. Let's explore more about the skater figure through the article here.
Quick Facts
Full Name
Javier Fernández López
Date of Birth
April 15, 1991
Birthplace

Madrid, Spain

Nick Name
Not Available
Religion
Not Available
Nationality
Spanish
Ethnicity
European
Zodiac Sign
Aries
Age
31 years old
Height
5 feet 8 inches (1.73 m)
Weight
Not Available
Hair Color
Black
Eye Color
Black
Build
Athletic
Father's Name
Antonio Fernandez
Mother's Name
Enriqueta Lopez
Siblings
Laura Fernandez (older sister)
Education
Not Available
Marital Status
Unmarried
Girlfriend
Miki Ando
Profession
Figure Skater
Skating Club
Skating, Toronto Cricket, and Curling Club
Ice Leganes Madrid
Choreographer
Antonio Najarro, David Wilson, Kurt Browning, Geoffrey Tyler
Coaches
Brian Orser, Tracy Wilson, Daniel Peinado , Nikolai Morozov, Ivan Saez, Carolina Sanz, Jordi Lafarga
Active Years
1997
Retirement
26 January 2019
Net Worth
$1-$5 million
Social Media
Instagram, Twitter
Merch
Figure Skating Pants
Last Update
March, 2023
Early Life
Fernández began skating lessons at age six after his older sister began. He also played tennis, soccer, and ice hockey for a time before focusing solely on skating when he was eight.
He began skating at a small rink in the San Martin district before moving to a rink in Majadahonda a year later.
One of his early coaches, Carolina Sanz, stated that he had natural talent but lacked discipline initially.
Fernández made his first triple jump when he was 12 years old. He was forced to leave Majadahonda when his sister decided to join the Jaca skating club to cover her expenses.
Six months later, the youngest Fernández joined his sister in Jaca.
Also, read Nathan Chen's Bio: Career, Education, Net Worth & Family
Fernández began competing in senior events in 2006–2007 but failed to qualify for the free skate at the European and World Championships in his first season.
After two years in Jaca, where he was teased and discouraged by his lack of skating improvement, he returned to Madrid and considered switching to hockey.
Fernández joined a summer camp in Andorra in 2008, where Russian coach Nikolai Morozov taught.
Morozov offered to train Fernández in the United States, to which Fernández quickly agreed. In the late summer of 2008, Fernández moved to Hackensack, New Jersey.
Despite sharing an apartment with a Spanish coach, Morozov did not charge him for coaching.
His monthly expenses in the United States ranged between €2,000 and €3,000, and he received no financial support from Spain.
He was the first Spaniard to qualify for the men's figure skating Olympics since 1956.
First Grand Prix
Fernández's first senior Grand Prix assignment was the Trophée Eric Bompard in 2009, where he finished 11th.
He finished eighth at the 2010 European Championships, earning two spots for Spain in the event the following year.
Fernández finished 14th overall, 16th in the short program, 10th in the free skate, and 16th in his first Olympics.
He was the first Spaniard to compete in Olympic figure skating in over a half-century, since Dario Villalba in 1956.
On his journey to a 12th-place finish at the 2010 World Championships, Fernández set a new personal best score. In the 2009–10 season, he added the 4T to his jump repertoire.
Don't miss out; Han Cong: Pair Skating & Net Worth
European Championship
After returning to Russia, Javier Fernández trained with Morozov in Moscow and Daugavpils, Latvia.
The 2010 Cup of Russia and The 2010 Skate Canada International were his assigned events for the 2010–11 ISU Grand Prix season.
At Skate Canada, he finished fifth, and at the Cup of Russia, he finished ninth.
Javier cut his hand during the warm-up at the 2011 Spanish Championships and had medical attention for twenty minutes, lending him no time to warm up again.
He was unable to secure his title and finished second to Javier Raya.
Due to Fernández's performance the previous year, Spain had two men's slots at the 2011 European Championships, so both skaters were sent to Bern, Switzerland.
Fernández fell twice in the short program, dropping him to eleventh, but he could step up to ninth after the free skate, earning Spain two spots at the next European Championships.
Coach Change
Javier landed two different quads (toe loop and Salchow) in the free skate at the 2011 World Championships.
He finished in the top ten for the first time at the event, giving Spain two spots in the men's event at the 2012 World Championships.
Fernández confirmed in June 2011 that he was no longer working with Morozov and would be temporarily training in Canada with Brian Orser.
This was due to the instability caused by Morozov's training group's frequent movement and Morozov's focus on Florent Amodio.
He stated that some of his 2011–12 season goals included adding a quad to his short program and blooming his basic skating.
Fernández finished fourth in his first competition, the 2011 Nebelhorn Trophy. During an interview at the event, he stated that he would continue to train in Canada with choreographers David Wilson and Jeffrey Buttle.
Fernández and Orser stated that they focused on conserving energy and improving their spins, transitions, and skating abilities.
Skate Canada International
Skate Canada and the Cup of Russia were Fernandez assigned events for the 2011–12 Grand Prix season.
Fernández won Skate Canada with the only clean quadruple jump in the short program, performing the lead over Daisuke Takahashi and Patrick Chan.
He completed second in the free skate and took silver overall, outscoring his combined total personal best by more than thirty points.
He was the first Spaniard to win a Grand Prix medal. At the Cup of Russia, he finished second overall with 241.63 points, finishing fourth in the short program and first in the free skate — only 0.03 points behind gold medalist Yuzuru Hanyu of Japan.
Read next; Everything About Alina Zagitova
Achievement & Records
When he qualified for the 2011–12 Grand Prix of Figure Skating Final, Fernández became the first Spanish skater to do so.
In Quebec City, he finished third in the short program and fourth in the long program to conquer the bronze medal, becoming the first Spaniard to do so at a Grand Prix Final.
Fernández successfully defended his national title, winning by more than eighty points.
The rest of the season was less fruitful for Fernández. Despite being a medal favorite at the 2012 Europeans, he finished sixth.
Fernández finished fifth in the short program but ninth after the free skate at the 2012 World Championships. Following these findings, he agreed to conduct more full run-throughs of his plan.
In his grandparents' hometown of Nava La Cruz, an art installation and plaza are also named in his honor.
Rising and Shining
Fernández began his season with a bronze medal at the 2012 Finlandia Trophy.
His first Grand Prix hap of the season was Skate Canada, where he clinched gold by beating Skate Canada and World champion Patrick Chan.
Fernández became the first Spaniard to grab a Grand Prix gold medal. Despite finishing fourth at the NHK Trophy in 2012, he qualified for the Grand Prix Final.
After conquering the free program with a 4S-3T jump combination, 4S, and 4T, he finished fourth overall in the final.
He became the second European to land three quads in one program (the first being Brian Joubert at the 2006 Cup of Russia, who landed a 4T-2T combination, 4T, and 4S) and the first European to do it with a quad-triple variety.
National Title
Fernández won his third national title in December 2012.
He missed some practice time at the 2013 European Championships because his skates were lost at the airport, but they were found one day before the competition began.
Fernández finished second in the short program and first in the free skate, landing three quad jumps with one in combination. He clinched the gold medal, becoming the first Spanish skater to do so.
He set a new personal best in overall scoring with 274.87 points. "I have to make sure I don't lose my skates again!" he joked later.
Spain had only 14 indoor rinks and 600 registered figure skaters at the time.
World Championships
Fernández finished seventh in the short program and fourth in free skating at the 2013 World Championships in London, Ontario.
His score of 249.06 points earned him third place, trailing three-time World champion Patrick Chan and silver medalist Denis Ten.
He became the first Spanish figure skater to stand on a World Championships podium.
Fernández was invited to compete as part of Team Europe at the 2013 Japan Open in October 2013 alongside Michal Brezina, Adelina Sotnikova, and Irina Slutskaya.
He won the men's event with a free program score of 176.91 points, while Team Europe finished third.
Fernández finished fifth at the 2013 NHK Trophy and third at the 2013 Rostelecom Cup during the 2013–14 Grand Prix season, but not high enough to qualify for the Grand Prix Final. He won his fourth national championship in December.
2014 European Championships
Fernandez was the defending champion at the 2014 European Championships in Budapest, Hungary.
He won the short program with a clean skate, finishing 6 points ahead of Russia's Sergei Voronov.
His points of 91.56 was a new personal best, and it was the first time he had broken the 90-point barrier in an international competition.
Fernández performed three quads (stepping out of the first toe loop and the second quad Salchow), a triple Axel, and five more triples in his free skate, but he doubled a Lutz underrotated the 2nd jump of his quad Salchow-triple toe loop combination.
He won the European title for the second year in a row after scoring 175.55 points in the segment and 267.11 points overall.
Winter Olympics
Fernández partook in the men's singles event at the 2014 Winter Olympics in Sochi, Russia. During the opening ceremony, he carried the Spanish flag.
He finished third in the short program with 86.98 points, trailing Yuzuru Hanyu and Patrick Chan after stepping out of his quad Salchow and triple Lutz-triple toe loop combination.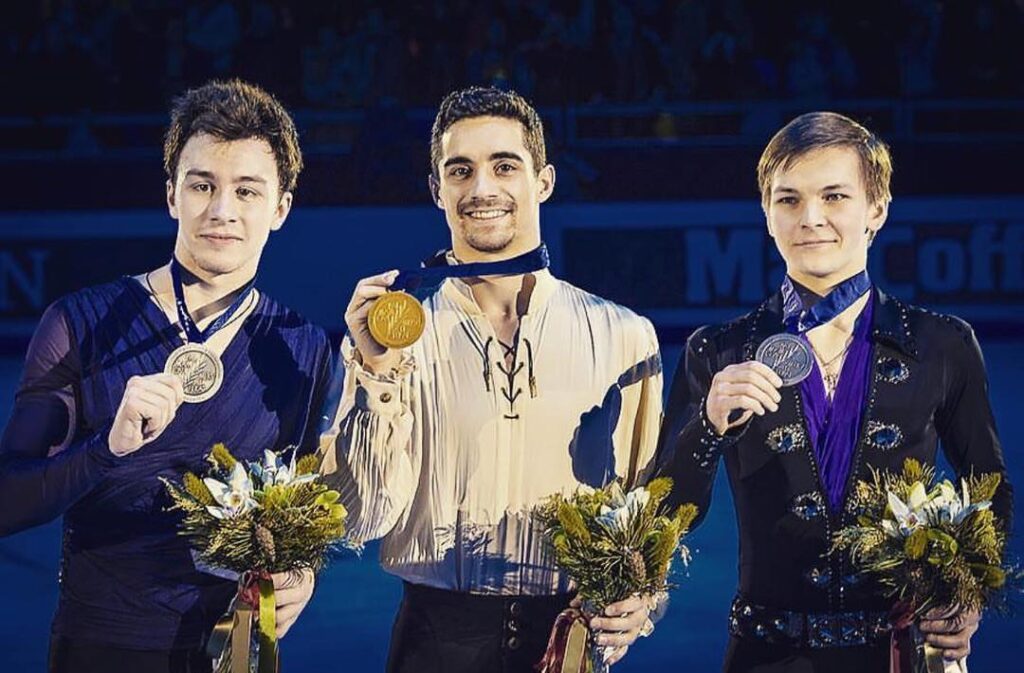 He completed another triple Salchow as the final jump of his skate, which was rated as an invalid component and received no points due to being repeated in the program.
He finished fourth, 1.18 points behind Olympic bronze medalist Denis Ten of Kazakhstan, after placing fifth in the free skate segment with 166.94 points.
Fernández addressed his "Modern Times" short program at the 2018 Winter Olympics, implementing a quad-triple toe loop combination, a quad Salchow, a triple Axel, and all level 4 elements.
He received nine perfect 10.00 scores in program components and 107.58 points, placing him second behind defending champion Yuzuru Hanyu in that segment.
2018 Pyeongchang Olympics
Fernández kicked off the season earlier than usual by competing in the Skate Canada Autumn Classic International.
Even though other skaters now included more quad jumps in their programs, Fernández stuck with two quads in the short program and three in the free.
Fernández was a member of Team Europe at the Japan Open invitational tournament in Saitama alongside Evgenia Medvedeva, Alina Zagitova, and Oleksii Bychenko.
He won the men's discipline with 189.47 points after performing two quads and two triple Axels in his free skate. The overall competition was won by Team Europe, who narrowly defeated Team Japan.
Fernández returned to Madrid, telling Spanish media he would not compete in the 2018 World Championships in Milan.
He cited his satisfaction with winning a bronze medal in Pyeongchang to cap off his season as the driving force behind his decision.
He also stated that he plans to leave Canada, where he has been training since 2011, and return to Madrid to explore figure skating in Spain.
Although he did not wholly rule out future competitions, he stated that he would not compete in another World Championships or Olympics.
Javier Fernandez: Retirement
On November 28, Javier Fernández announced his retirement from competitive skating, with the 2019 European Figure Skating Championships serving as his final competition.
In discussing his decision, he stated that he needed to consider the level of competition he desired to be at because he felt his body and mind were no longer there, which he had to accept.
He said he decided to retire when he was satisfied with his work and had plans for the future, referring to his Revolution ON Ice skating show, which he toured Spain in November and December 2018.
His retirement was widely publicized in both Spanish and international media.
Fernández returned to his home base in Toronto in early January to train for three weeks in preparation for the 2019 European Figure Skating Championships.
As a tribute to his homeland, he chose two Spanish-themed programs from his previous repertoire for his final competition: Malaguea for the short program and Man of La Mancha for the free skate.
Read Scott Moir Bio | Career, Awards & Net Worth>>
Javier Fernandez: Family
Javier Fernández was born in Madrid on April 15, 1991. He is the younger of two kids who returned to Enriqueta, a mail carrier, and Antonio, a mechanic in the army.
We were spending €450 a month between the two children when my earnings were less than €1,500," their Father explained.
To cover the costs of Javier's trip to the United States for training, Antonio took a second job repairing helicopters.
Laura, his older sister, competed in ladies' singles and ice dancing. After his competitive skating career concludes, Fernández plans to become a coach. He is a Real Madrid C.F. fan.
In the late summer of 2008, Fernández moved to Hackensack, New Jersey, in the United States. In the summer of 2011, he switched to Toronto, Ontario, Canada.
His ice skating career began modestly. Fernández went to the Igloo rink in Madrid with her older sister Laura when she was six.
Even though there wasn't much skating on Spanish television, Laura had seen what was there and wanted to give it a shot.
She competed at the World Junior Championships, the European Championships, and the World Championships.
Who Is Javier Fernandez Dating Now?
According to our records, the 31]– year-old Spanish figure skater has been dating Miki Ando since 2014.
Miky Ando gave birth to a baby girl out of wedlock on April 1, 2013.
Regarding his personal life, Javier Fernandez is quiet and prefers to live out of the public eye.
Details about Javier's girlfriends and previous relationships vary, so we can never be sure.
To ensure the accuracy of our dating information and facts, we consult various online sources, including DatingRumor.com and other publicly available data.
There isn't much known about Javier Fernandez's previous relationships and partners.
While it is usually easy to find out who Javier is dating, recording all his breakups, hookups, and affairs is more difficult.
Javier Fernandez: Book
Javier Fernández will chronicle what it takes to train and compete in an upcoming book about his life.
He claims he isn't old enough to write an official biography, but he does want to share stories about what it's like to be an elite athlete and the ups and downs of a competitive career.
He understands that defending the World Champion brings new challenges and is prepared to meet them.
"I know my skills are really good, and I know I have the potential," Fernández said. "But I have to train enough and compete well." "I have to maintain my confidence and go on."
Fernández has settled into life in Toronto and enjoys spending time downtown with friends, trying new foods, seeing the sights, or simply people-watching.
Javier Fernandez: Net Worth
Javier Fernandez's net worth is estimated at around $1- $5 million. He has accumulated massive wealth from his skating career.
The skater is also involved in various endorsements and sponsorship projects, contributing to his wealth.
In 2017, LaLiga went further to help Spanish sports by signing sponsorship deals with figure skater Javier Fernandez and badminton champion Carolina Marin.
As part of LaLiga's efforts to raise the visibility and profile of Spanish sport, two of Spain's most talented athletes flew the Spanish flag worldwide.
This dedication was exemplified by the LaLiga Sports project, which has garnered recognition and appreciation from across the country's sports scene since its inception and recently received a National Sports Award from His Majesty King Felipe VI.
By signing this contract, Fernandez joined the ranks of LaLiga sponsors such as Nicola Kuhn, Paula Badosa, and Joel Gonzalez.
Fernández secured a high public profile since winning the World title this year, meeting numerous celebrities from sports, film, television, and music.
He was shown several honors, including the prestigious Real Orden del Mérito Deportivo (Royal Order of Sports Merit).
Javier Fernandez: Friendship with Yuzuru Hanyu
Hanyu and Fernández have been competing against each other for years, but their friendship appears to have grown stronger off the ice.
Yuzuru Hanyu, a Japanese figure skater and Winnie the Pooh fan won the men's short program at the 2018 Winter Olympics and the Internet's heart thanks to his friendship with Spain's Javier Fernández.
Fernández was surrounded on the ice by the best skaters, including Olympic gold medalist Yuzuru Hanyu and Canadian Champion Nam Nguyen.
They worked with a group of coaches dedicated to helping them improve their skating.
Social Media Presence
Javier Fernández communicates with his fans via different social media platforms. He is very active and involved with his lover in any way possible.
The skater figure gives a glimpse of his personal life and captivates the heart of his fans and followers.
Below is the link to Fernandez's social media; you can follow him to keep updated about his life.
Instagram– 262k followers
Twitter– 104.6k followers
FAQs
What is Javier Fernandez doing now?
Javier Fernández, a two-time world champion, has opened a new figure skating academy in his native Spain.
On social media, the Olympic bronze medalist from PyeongChang 2018 expressed his feeling "unbelievably happy" that his academy was "finally a reality."
How old was Javier Fernandez when he retired?
When Javier Fernandez retired, he was 27 years old. He announced on Twitter. He is Spain's most successful winter athlete, with two world titles and an Olympic bronze medal.