Widely popularized as the most decorated athlete in the figure skating career, Scott Moir has bagged several accolades under his name.
Apart from his single flawless ice dance, he has a great team partner, Tessa Virtue.
The duo has been dance partners since 1997 and are the world record holders.
Together, they have bagged the Olympic titles and several other titles since their early days.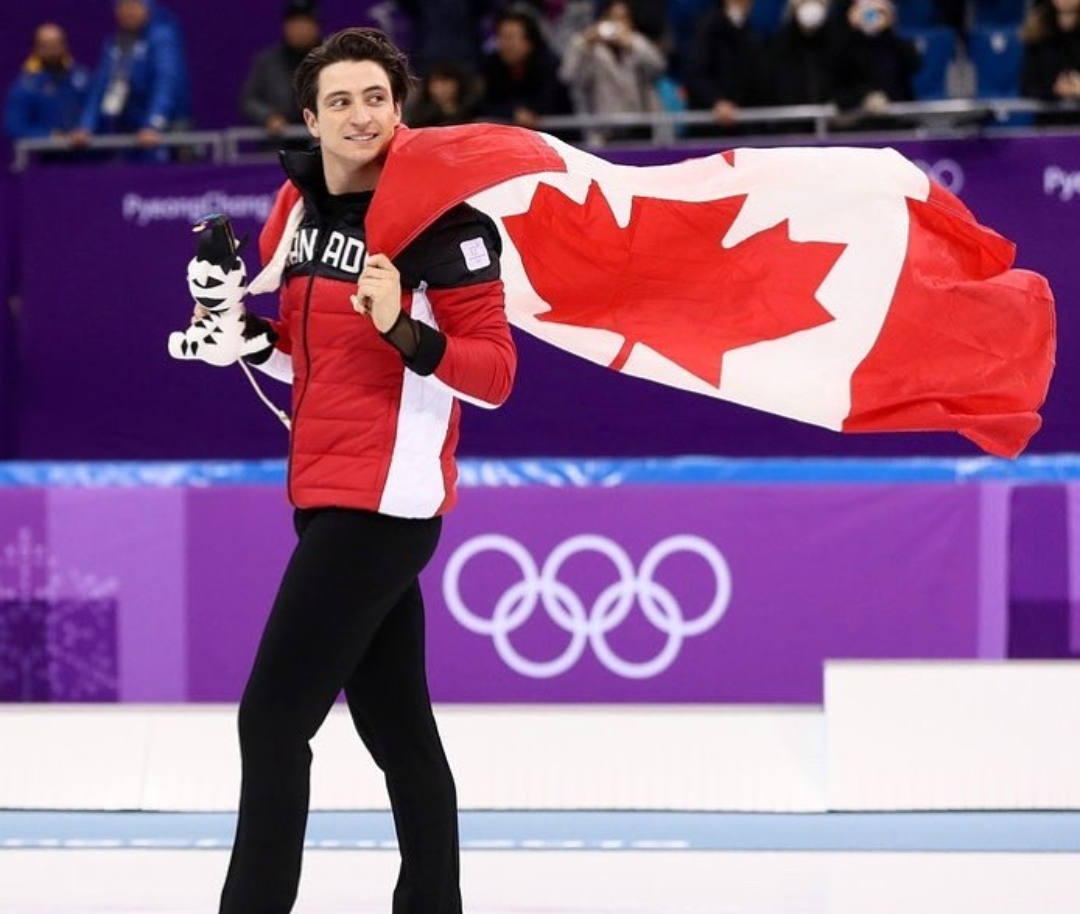 Today's article will discuss Scott Moir's highlighted career and his duo with Tessa Virtue. However, let us commence initially through a quick dose of facts.
Quick Facts
Full Name
Scott Patrick Moir
Date of Birth
September 2, 1987
Birth Place
Ilderton, Ontario
Nick Name
None
Religion
Unknown
Nationality
Canadian
Ethnicity
White
Zodiac Sign
Virgo
Age
35
Height
1.80 meters (5 feet 11 inches)
Weight
75 kg (165 lb)
Hair Color
Brown
Eye Color
Brown
Build
Athletic
Father's Name
Joe Moir
Mother's Name
Alma Moir
Siblings
Two brothers, Danny Moir and Charlie Moir
Education
Medway High School
Bluevale Collegiate Institute
Marital Status
Married
Wife
Jaclyn Mascarin
Kids
A daughter
Profession
Former Ice Dancer and Coach
Skating Club
Montreal International School of Skating
Choreographer
David Wilson
Marie-France Dubreuil
Samuel Chouinard
Former Choreographer:
Marina Zoueva
Igor Shpilband
Coaches
Marie-France Dubreuil
Patrice Lauzon
Romain Haguenauer
Former Coaches:
Marina Zoueva
Oleg Epstein
Johnny Johns
Igor Shpilband
Carol Moir
Paul MacIntosh
Suzanne Killing
Career Tenure
1990-2019
Net Worth
$3 million
Social Media
Instagram, Twitter
Merch
Our Journey from Childhood Dream to Gold (Hardcover)
Last Update
March, 2023
Body Measurements
Scott Moir is a man of decent height, standing at 1.80 meters (5 feet 11 inches) while weighing 75 kg (165 lbs). Well, he depicts an athletically built body with fair skin.
As for his facial structure, Scott portrays a rectangular shape with a sharp jawline. Furthermore, he has gorgeous hazel eyes and well-trimmed brown hair.
Read the details on Han Cong: Pair Skating And Net Worth!
Workout Routine
Scott Moir focuses on many old-school push-ups and planks and varieties of these. His well-balanced training includes loads of muscle exercises, such as glutes.
Additionally, he works much for his strength as he needs to hold the power to carry and work around with Tessa.
Moving on, Scott believes that the best cardiovascular exercise for him is skating itself. Often he would skate four hours a day and then go on to work out at the gym for extra two hours.
Likewise, his workout with Tessa Virtue usually includes cycling, Pilates, strength circuits, and sometimes even ballroom dancing.
Food Choices
When it comes to food, Scott Moir is a great cook, and often when he is at home, he likes to cook for his girlfriend. Similarly, Scott is more like a fresh ingredients guy and loves experimenting with spices and new cuisines.
Moreover, Scott states himself to be a steak and potatoes guy who loves sandwiches. Even when he loves spices and salty combinations, Scott keeps it bland before any competition.
He states that the blandness helps him keep him heavy with protein, so he munches chicken tacos or chicken sandwiches. Additionally, he tries to pair it with red wine when he eats red meat, while he pairs white wine with fish or chicken.
Furthermore, he is into iced tea, a nice gin, tonic, or vodka soda infused with something during summer.
Scott Moir | Early Life
Moir (fully named Scott Patrick Moir) was born on September 2, 1987, under the star sign of Virgo and raised in Ilderton, Ontario. He is the youngest of the three children of Alma (née MacCormack) and Joe Moir.
Well, Scott has two elder brothers, Danny Moir and Charlie Moir. Indeed, Scott Moir is athletic, as both his brothers were professional skaters.
Not to mention, his mother used to be a coach in the skating industry. In addition, Scott's cousins Sheri Moir and Cara Moir are members of Canada's NEXXICE team. They stood up initially for the 2007 World Synchronized Skating Championships.
You might be interested to read about Han Cong: Pair Skating & Net Worth>>
Education and Training
Talking about Scott's educational background, he accomplished his initial phase of studies at Medway High School (Arva, Ontario). Later, he then attended an electronic learning high school called AMDEC.
Since Scott has been in the skating industry from a young age, he took his training parallel to his education. Growing up in Canada, Scott later moved to Michigan, U.S., to train under Igor Shpilband and Marina Zueva.
After a few years there, he moved to Montreal, Quebec, where Marie-France Dubreuil and Patrice Lauzon coached him.
Scott Moir | Career
Scott Moir first commenced skating at the age of three. His mother encouraged him to figure skating as a way to improve his performance in hockey.
Later in 1997, Scott Moir was paired with Tessa Virtue by his aunt at the young age of nine.
Commencement of Partnership Between Scott Moir and Tessa Virtue
Indeed, Scott Moir and Tessa Virtue have had a long history together since they were kids. When they were partnered for the first time, Scott revealed that he was pretty nervous even to hold hands.
However, things progressed later, and they had little love in the early phase. As a fun fact, their childhood romance lasted for about eight months, ending when Scott's friends started teasing him.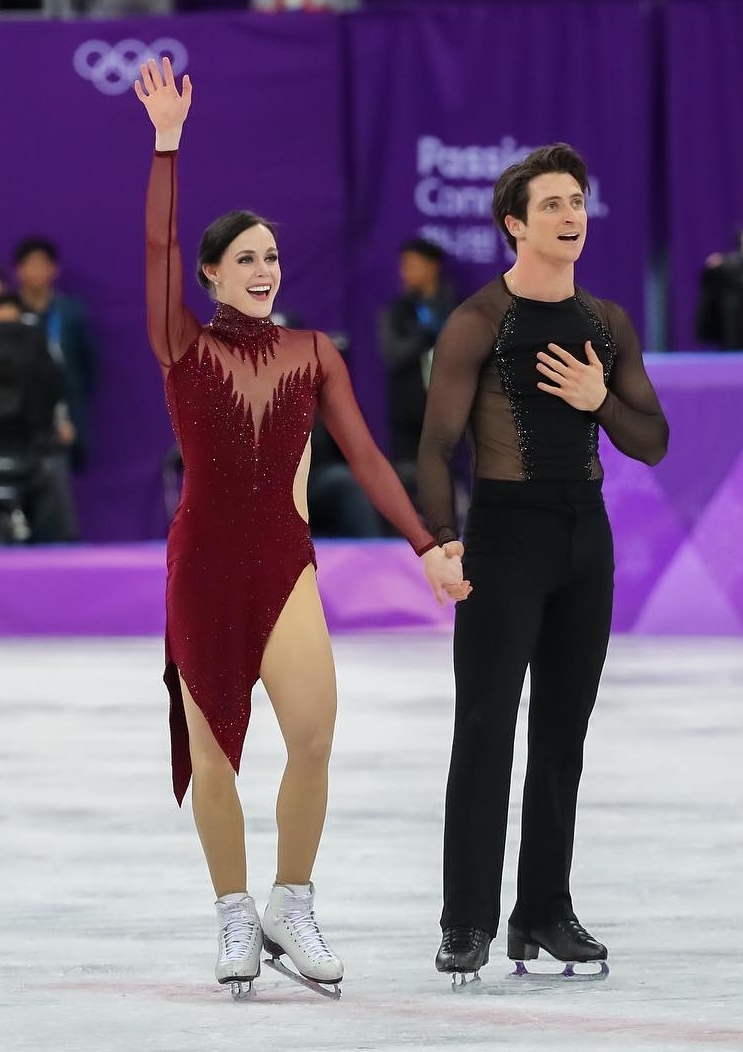 Later, Scott Moir called their relationship over the phone. After their childhood love ended, they started focusing on their expertise on ice as a duo.
Amateur Days
After teaming with Tessa Virtue, Scott Moir first trained in Kitchener-Waterloo, Ontario, under Paul MacIntosh and Suzanne Killing. One of their earliest titles was at the 2001 Canadian Championships.
They bagged bronze the following year at the 2002 Canadian Championships. They then stood seventh at the 2003 Canadian Championships. The next season, the duo moved to Canton, Michigan, and trained with coaches Igor Shpilband and Marina Zueva.
In the same season in 2003-04, Scott and Tessa made their ISU Junior Grand Prix debut and ended up in fourth place. However, they later bagged the 2004 Canadian Championships.
The following 2004-05 season, they reached a senior level in the national arena while competing as juniors in the international arena. Then, they bagged big at the ISU Junior Grand Prix, as they collected the win in China and silver in France.
Follow the details on Twelve Most Famous Ice Skating Couples of All Time>>
Senior Debuts
In 2005, Scott Moir and Tessa Virtue made their senior debut at the national level through the Canadian Championships.
After qualification, they bagged silver at the 2005 World Junior Championships.
During the 2005–06 season, Scott and Tessa had their senior debut at the international game. Moving on, they bagged bronze at the 2006 Four Continents.
Before their junior days ended, they became the first Canadian ice dancers to win the 2006 World Junior Championships.
Stepping into the old arena, they welcomed their days with a silver medal at the 2006 Skate Canada International. By the end, their World Championship debut became the highest debut by any team in over two decades.
Between the season 2007-08 to 2009-10, Scott and Tessa owned four Continent Titles under their name while winning the free dance segment with their program to The Umbrellas of Cherbourg soundtrack.
After that, they had back-to-back wins with gold at the 2009 Canadian Championships and silver at the 2009 Four Continents Championships.
Olympic and World Titles
By January 2010, Scott Moir and Tessa Virtue had won their third national title, placing first in all three competition segments. The duo holds the Canadian records for the free dance and the combined total right then.
At the moment, the duo entered their foremost Olympic match and won the gold medal overall with a total score of 221.57.
In the meantime, the duo achieved the feat that figure skaters have never attained under the International Judging System.
To explain, the duo received four 10.00 marks from the judges for the performance execution and interpretation. Right after their win, they were the first Canadian and North American ice dance team and the youngest dance pair to win the Olympics.
In the same year, in 2010, Scott and Tessa made the world record under the ISU Judging System with 70.27 points. Before the year ended, they had their World Championship title.
Later, in 2011, the duo didn't have much performance time due to their injuries. However, they were able to bag silver at the 2011 World Championship.
By the end of 2011, Scott and Tessa had won two events at the Grand Prix, moving to the finals. By January 2012, the duo had their fourth national title.
Well, they bagged yet another gold at the 2012 World Championship. Likewise, by 2013 the duo bagged their fifth national title on the go.
More Wins
By the end of 2013, Scott and Tessa won the 2013 Finlandia Trophy, the 2013 Skate Canada International, and the 2013 Trophée Éric Bompard. Altogether, they had a world record score of 190.00 at the Grand Prix Final.
The duo bagged silver at the 2014 Olympics match in Sochi. In 2016, they moved to Montreal and won gold at Skate Canada International.
The duo had posted the highest scores at a Grand Prix event not long after it. Likewise, by 2017, they had their seventh national title with the Canadian Figure Skating Championships.
During this whole season, the duo only won; hence, they were undefeated for an entire season. Following it, they won both Skate Canada International and the NHK Trophy.
However, the winning streak ended at the 2017 Grand Prix Final, their first loss in a year. Later with the 2018 Canadian National Championships, the duo bagged their eighth national title.
2018 Olympics and Beyond
Scott and Tessa became Canadian flag bearers for the 2018 Olympics in PyeongChang. The duo had the record for the most ever won by a figure skater with gold in this event.
They became the most decorated figure skaters on the field, with five Olympic medals by the end.
Read the detail about Nathan Chen's Bio: Career, Education, Net Worth & Family>>
Retirement
In September 2019, Scott Moir from his 22-year sparkling career in the skating field. He became one of the most decorated figure skaters with Tessa Virtue, and together, Canada's sweethearts ended their careers.
With the announcement of their career, the duo created a video skating around the rink with a simple "Thank you" and a love heart.
Thank you ❤️ #VirtueMoir #XXII pic.twitter.com/poZEnEljAp

— Tessa Virtue (@tessavirtue) September 18, 2019
"Twenty-two years and it's been — I can't put that into words. I'm not going to be emotional. This is my first selfie video, and I'm not going to cry in it." – Scott Moir.
Scott Moir | Coaching Career
Right after the end of his competitive career, Scott Moir began working part-time as a consultant coach.
He assisted teams such as Lagha, Fournier Beaudry/Sørensen, Hubbell/Donohue, and singles skater Nicolas Nadeau, during his tenure.
Recently, in February 2021, Scott Moir became the Managing Director and the Head Coach of the new Ice Academy of Montreal campus in Southwestern Ontario.
Not long after it, the American team of Christina Carreira and Anthony Ponomarenko came to train under Scott.
In June of the same year, Canadian ice dancers Haley Sales and Nikolas Wamsteeker became the second team Scott was going to train.
Scott Moir | Achievements and Awards
Scott Moir and Tessa Virtue became Canadian sweethearts during their long, expanded careers.
They are more than just the most decorated athletes but also the youngest and the first players to bag the Olympics.
They are also the first duo to carry the Canadian flag at an Olympic opening ceremony. Some of their career highlights are listed below.
Three-time senior World champions
Seven-time senior World medallists
Eight-time Canadian senior ice dance champions
Ten-time Canadian senior ice dance medallists
Junior Grand Prix Final (one gold and one silver)
World Junior Championships (one gold and one silver)
Grand Prix Final (one gold and five silver)
Four Continents Championships (three gold, two silver, and two bronze)
World Championships (three gold, three silver, and one bronze)
Olympic Games (three gold and two silver)
Honors and Recognitions
Canadian Olympic athletes of the year by CBC in December 2017
2018 Canada's Walk of Fame in the Sports and Athletics category
The partnership of the Year in 2018
Doctor of Laws, honoris causa (LLD) from the University of Western Ontario in 2019
2020 Members of the Order of Canada by the Governor-General of Canada
Other Career Choices
In October 2010, Scott Moir and Tessa Virtue, alongside co-writer Steve Milton, published a book about their career titled Tessa and Scott: Our Journey from Childhood Dream to Gold.
Although Scott hasn't been much to movies, he has appeared in several shows.
Later in 2013, Scott and Tessa were featured in the reality TV show Tessa and Scott, which only aired in January 2014. They have been on various ice shows such as Festa on Ice, Shall We Dance On Ice, All That Skate, and de: Art on Ice in Switzerland.
In 2018, Scott teamed with Tessa to produce their ice skating show, The Thank You Canada Your. Not to mention, they have also appeared on "The Ellen DeGeneres Show."
Right after, in 2019, they co-produced Rock the Rink Tour. Similarly, as a guest and participator, Moir appeared in the show "The Morning Show(2014)" and "Thank You Canada Tour (2019)."
Read about Evgenia Medvedeva: Net Worth & Boyfriend>>
Scott Moir | Net Worth
According to the sources, Scott Moir has a whopping net worth of $3 million. With each gold medal, it is known that the government pays them $37k.
Furthermore, he makes more from occasional appearances in TV shows and documentaries.
Moving on, Scott Moir is sponsored by several brands, such as Visa, Air Canada, Acura West, Lindt, and General Mills.
House
As per the information, Scott Moir resides in Ilderton, Canada. Well, his House portrays a wooden ceiling with a chandelier and a fireplace in a living room decorated with antiques.
He has the lush greenery of his garden just outside the massive windows.
Charity
Scott Moir, alongside his skating partner, Tessa Virtue, has helped different schools and communities across the seas. He has also assisted an organization called B2ten, which intensifies the Canadian sports and health sectors.
Further, the pair have also hosted their annual charity golf tournament and raised enough funding for various purposes.
Furthermore, in 2019, they also participated in an event to raise funding for the Salvation Army in Victoria and Vancouver.
Dive in to learn more about Scott Moir's net worth>>
Scott Moir | Personal Life
Scott Moir leads a luxurious life and tries to enjoy every bit of it. His favorite hobbies are reading books, watching movies and series, and enjoying his favorite food like BBQ steak and potatoes.
Apart from his everyday life, Scott Moir is in love and engaged with his sweetheart, Jackie Mascarin, a figure skater from Canada. The duo announced their engagement during the Hometown Walk of Fame Canada event.
Initially, the duo had plans for marriage in 2020. However, they had to postpone it due to the COVID-19 pandemic. Recently in October 2021, Scott announced that he was a Father of a seven-month-old daughter.
Social Media Presence
You might be interested in following Scott Moir's uploads and posts. Follow his social media sites. He is on Instagram as Scott Moir (@scottmoir14) with 219k followers.
Likewise, he is on Twitter as Scott Moir (@ScottMoir) with 92.7k followers.
You might want to read Aljona Savchenko: Figure Skating, Olympic & Husband>>
Frequently Asked Question
What are Scott Moir's ISU personal best scores?
Scott Moir maintains a combined total point of 206.07, a short dance point of 83.67, and a free dance point of 122.40.