To be famous and thrive in the world of athletics, it's safe to say one needs to put in hard work, dedication, and sacrifices.
Consequently, success would lie in the performance of significant events rather than photo shoots or red carpets.
Jennifer Suhr embodies pole vaulting's art and has been one of the front-running names for events that specialize in athleticism.
As a result, she has amassed a portfolio of 17 U.S. National Championship wins, multiple national and world records.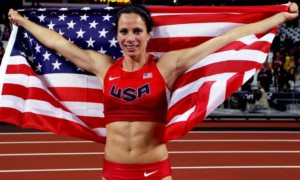 In addition, she has two top championship finishes in the Olympics; Suhr ranks among one of the greatest of all time in pole vaulting.
In today's article, you will find useful information regarding the player. So, let's dig deeper into Suhr's early life, career, height, weight, and other information.
Also, here are some quick facts about the player before we head any further into the details.
Quick Facts:
Name
Jennifer Lynn Suhr
Birthname
Jennifer Lynn Stuczynski
Birthdate
February 5, 1982
Age
41 years old
Zodiac sign
Aquarius
Chinese Zodiac
Dog
Nationality
American
Body type
Athletic
Hair color
Black
Eye color
Black
Skin
Fair
Height
6 feet(183 cm)
Weight
145 lb(66 kg)
Birthplace
Fredonia, New York, United States
Parents
Mark Stuczynski

Sue Stuczynski

Grandfather
"Bunk" Stuczynski
Agent
Mark Wetmore
Sponsor
Adidas
Hobbies
Camping and Boating
Education
Fredonia High School
Roberts Wesleyan College
Profession
Track and Field Athlete
Specialization
Pole Vaulting
Personal highest(s)
Outdoor:4.92 m (16'2″)
Indoor: 5.03 m (16'6″)
National wins
17 U.S. National Championships (7 Indoor, 10 Outdoor)
Highest world ranking
1st (2011)
Major Olympic results
2012 London – 1stPosition
2008 Beijing – 2ndPosition
2016 Rio – T-7th
Major World Athletics
2008 Valencia – Podium Finish (2nd)
2016 Portland – World Champion
Other career highlights
2015 Pan American Games – Bronze
Relationship status
Married
Husband
Richard Suhr
Car
BMW
Social Media
Instagram
Twitter
Net Worth
$5 Million
Merch
Running into the Headwind(Book), Trading Card
Last Update
March, 2023
Jenn Suhr | Early Life, Family, and Background
The record-breaking pole vaulter, Jenn, was born Jennifer Lynn Stucynski, on February 5, 1982, in Fredonia, New York.
Suhr was born to her father, Mark Suhr, and mother, Sue Stuczynski.
Her parents ran a modest grocery store in her local hometown. Likewise, Suhr had an affinity for sports from a very early age.
By the age of 10, she had already played softball and participated in an adult golf league with her grandfather, "Bunk" Stuczynski.
Consequently, Jenn played softball, basketball, soccer, and athletic games during her time at Fredonia High School.
As a result, she won the New York State pentathlon title in early 2000. After that, she attended the Roberts Wesleyan College in Rochester, New York.
While pursuing her undergraduate degree in Psychology, Suhr got a chance to play basketball and track and field as well.
Moreover, she graduated as the school's all-time leading scorer in basketball, amassing 1819 points.
You might also like to read about: <<Yelena Isinbayeva Bio: Pole Vault, Child & Net Worth >>
How old is Jenn Suhr? Age, Weight & Height
Jenn was born in the year 1982, which makes her 41 years old as of now. Also, her birthday falls on the 5th of February under the sun sign Aquarius.
She is one of America's most decorated female athletes, standing at the height of 6 ft(183 cm) and weighing 66kg.
Being an athlete, Jenn's physical fitness also plays a big part in her success.
Further, she trains and exercises with her husband regularly, owing to which she's kept herself healthy and fit.
Is Jenn Suhr Married? Know About Her Marital Status
Yes, the American athlete has a husband who goes by the name Rick Suhr. Her husband is a well-known coach in the local scene and has been training Jenn Suhr since 2004.
Besides, Rick was the one who advised her to make the switch to athletics after watching her play basketball in a pickup game.
Consequently, Jenn participated in the 2005 USA Indoor Championships as a heavy underdog. Additionally, she soon made a name for herself by clearing 4.35 meters, tying for third place.
Likewise, the couple got married in 2010 and has been living a blissful life. Apart from being a training partners, the two have been an immense support for each other.
Moreover, she deemed the time a "harsh winter" when her husband lost his parents in just three months in 2014.
Who is Rick Suhr?
Richard "Rick" Suhr was born in 1967 in the USA and is one of the most famous Olympic-level pole vaulting coaches.
Based in Rochester, New York, Richard trained Jenn Suhr from novice to world champion, who went on to win prestigious national and international tournaments.
For the second consecutive year, Richard was named National Coach of the Year at the professional level.
He also boasted as the only pole vault coach recipient of the United States Olympic Committee's Ikkos award.
Jenn Suhr | Career
After the recommendation from Richard, Jenn agreed and started vaulting with other high school girls despite not having a gymnast background.
Consequently, she found it tough hanging upside down and adapting to the backward perceptions.
At a certain point, she studied in school, aspiring to be a psychologist while training for pole vaulting, working part-time at a gas station making pizzas, and cleaning bathrooms.
Unsurprisingly she started feeling overwhelmed and realized she needed to make a choice.
Jenn decided to give up her education to devote her whole life to the sport as her coach remortgaged his house to ensure she could train effectively.
Likewise, Suhr surged into the scene as she won her first U.S. title (the indoor title) a year after committing her future as a vaulter.
Despite having trained barely ten months, she was able to record three personal best(s).
Rise to the top
Jenn never looked back after securing her first victory and what followed next was an unprecedented rise to the top. By 2006, Jenn had earned her first shoe contract with Adidas.
Consequently, after winning her first USA Outdoor title with a winning clearance of 4.55 m (14 ft. 11 in) and securing a third podium finish at the 2006 World Athletics.
She surpassed Stacy Dragila's previous American record by one centimeter to set a new outdoor pole vault record in her name at the Adidas Track Classic in Carson, California, with a clearance of 4.84 m.
One fortnight later, Suhr broke the American record for the second time at the Reebok Grand Prix, clearing 4.88 m (16 ft. 0 in), becoming the second-highest vaulter in history behind Russian Yelena Isinbayeva.
Consequently, Suhr set her eye on a new world record vault of 5.02 m (16 ft. 6 in) but failed to beat it on three attempts.
Pursuing the international dream
Suhr started her 2008 earning qualification for the 2008 IAAF World Indoor Championships – Women's Pole Vault in Valencia, Spain, after winning the Indoor U.S. Nationals.
Her biggest win was a podium first finish at the Diamond League in London and Zurich, as she got the best of four former world champions.
You might also like to read about: <<Rickie Fowler Bio: Career, Net Worth & Personal Life >>
Glory at Last
2012 started with massive momentum as Suhr reclaimed her spot as the world's second-best female vaulter in history after recording a clearance of 4.88m at the Boston Indoor Grand Prix.
Suhr qualified for her second Olympic games by winning the Olympic Trials (and the United States Championships) on June 24.
At last, her moment of glory arrived at the 2012 London Summer Olympics. She captured the Olympic gold medal beating Cuba's Yarisley Silva on a countback despite both of them clearing 4.75 meters.
She continued her resurgent form in 2015, winning the USA Outdoor Track and Field Championships after a decisive vault of 4.82 m (15 ft 9.75in).
But right before the 2016 Olympics, she got infected with a nasty virus that caused her an array of respiratory problems and dizziness.
Suhr decided to participate despite her chronic illness before the qualifiers and yet managed to reach the finals.
Additionally, Suhr had a perfect shot at the gold medal because she was in the form of her life, and her counterpart rival from Russia, Yelena Isinbayeva, had been banned following a doping investigation.
However, the illness made it difficult for her as she crashed out of the event with a seventh-place finish, far below the original expectations.
Reversing Retirement and the 2020 Tokyo Summer Olympics
Her chronic illness at Rio and falling short beyond expectations completely demotivated her as Jenn spurred her to continue failing to defend her title.
However, at the dawn of 2018, she reversed retirement and commanded a comeback after vaulting 4.93 meters, defeating Rio Olympic silver medalist along the way and securing ranking No. 1 in the world.
Suhr has her eyes on the 2020 Tokyo Summer Olympics, and if she does make it to the event, she could become the oldest pole vaulter in the seed dominated by young talents.
It will be exciting to see how the journey and aspirations pan out for Suhr, who's never backed down from any challenge life set on her way.
Jenn Suhr | Controversies
When Rick Suhr criticized her silver-medal-winning performance in Beijing, both got pulled amid a media-stirred controversy to an extent few of the natives called for the sacking of her coach.
It all started as Suhr caused a stir in the media after making statements of "kicking some Russian ass," an indirect metaphor for her rivalry with Isinbayeva during the 2008 Olympic trials.
Despite Suhr winning the silver, NBC sparked another controversy by airing Rick Suhr's harsh critique of Jenn Suhr while texting, sensationalizing the duo to have fallen apart after falling short of the gold.
Consequently, Suhr issued a statement to ESPN entailing how the media failed to show her coach responded to her question about her shortcomings and how she could conquer the preceding events.
Jenn Suhr | Is she wild about animals?
Suhr has a massive heart for the animals as she is known to have dedicated a specific part of her time enjoying with them.
Her only domesticated pets in 2013 were a Great Pyrenees dog called Tundra and a cat named Morris, despite her passion for animals.
Additionally, Jenn is known to have rescued an abandoned deer who lost its way and is actively following the fawn's caretaking as it grows up.
Further, she has installed video cameras on her 10-acre property to watch the serene wildlife without disturbing its natural state.
Jenn Suhr | Net Worth
Jenn accounts for much of her net worth from the money earned being a professional Pole Vaulter for the United States of America.
Besides, her string of stellar individual performances and podium finishes in both national and international events help a lot.
"Suhr's current net worth is estimated to be around $5 million."
Her total wins of 7 Indoor and 10 Outdoor championship wins is a testament to her dominance in the pole vaulting athletic scene and the prize money she has accumulated.
Further, Suhr's sponsorship deals with Adidas from 2006 and her contract as a brand ambassador for Nutrilite adds to her net earnings massively.
You might also like to read about:<<Steve Deberg- Net Worth, Super bowl, Highlights & Wife >>
Social Media Presence:
Jennifer Suhr is frequently seen posting on social media platforms. You can catch her posting her training sessions, practice jumps, behind-the-scenes, and candid pictures during her vaults.
Instagram: 27k Followers
Twitter: 14.6k Followers
Some FAQs:
Is Jenn Suhr a Member of the Buffalo Sports Hall of Fame?
Yes, Jenn Suhr has been a member of the Buffalo Sports Hall of Fame since 2013, as she is one of the most decorated American Pole-vaulting athletes.
Did Jenn Suhr fire her coach?
No, although the media stirred the baseless controversy, Jenn Suhr never fired her coach.
Did Jenn Suhr win the Olympic gold medal in 2008?
Jenn Suhr won a silver medal at the 2008 Olympic Games in Beijing. However, she won the Olympic gold medal at the 2012 London Olympic games on August 6, 2012.
Did Jenn Suhr retire?
No, Jenn Suhr is still competing. However, she announced her retirement in 2017, saying that she had lost her passion for the sport. But a year later, Jeen was back to action again and competed at the highest levels.
Did Jenn Suhr qualify for the 2020 Summer Olympics?
Jenn Suhr fell short of qualifying for the 2020 Summer Olympics. She finished fifth at the Olympic trials.
What is Jenn Suhr's world record?
Jenn Suhr holds the world indoor pole vault record of 5.03 meters.