One of the top 10 of the most beautiful women on television, according to Hello! Magazines in Nov 2007, Jennifer Hedger is a famous Canadian television personality.
She is currently the co-host of the 10 pm ET edition of SportsCentre alongside Darren Dutchyshen.
After the start of her career from Rogers Television in the show Plugged In! And hosting the 1998-99 OHL season, Jennifer has gone on to host major events and shows like SportsCentre's ET broadcasts; and even co-hosted the 2012 Olympics was the Whistler Host of Olympic Prime Time on CTV for the Vancouver 2010 Olympic Winter Games.
Jennifer Hedger has also been in cameo roles in the TV series Whistler and Corner Gas pilot episode. She was also part of the reality show Lofters Love Shack.
Quick Facts
| | |
| --- | --- |
| Full Name | Jennifer Frances Hedger |
| Date of Birth: | 1975, September 18 |
| Birth Nation: | Canada |
| Birth Place | London, Ontario |
| Profession | Sportscaster |
| Famous Name | Andrea Joyce |
| Education | University of Western Ontario |
| Active Since | 1987 |
| Net Worth | $1 million |
| Yearly Income | About 70,000$ |
| Nationality | Canadian |
| Ethnicity | White |
| Horoscope | Virgo |
| Height | 5'10" |
| Marital Status | Married |
| Married Since | 12 January 2006- Present |
| Spouse | Sean McCormick |
| Children | One; Jaeger McCornick |
| Social Media | Instagram, Twitter |
| Merch of Sean McCormick | MP3 (Figure Out) |
| Last Update | December, 2022 |
Jennifer Hedger | Early Life, Family, And Education
The London, Ontario-born Sportscaster was then raised in Lambeth and Westminster, Ontario. Being born into an athletic family, Jennifer's dad always encouraged her and her brother to join sports.
She spends an active childhood involved in many sports like ringette, basketball, tennis, and soccer. Hedger loved sport and the culture and tried every sport that she could. The training hall or fields were her happy place while growing up.
Jennifer Hedger graduated from the University of Western Ontario with a degree in English and Theatre while spending a very athletic childhood growing alongside her brother.
While growing up to be a sports broadcaster, she looked up to media personalities like NBC's Hannah Storm and City TV's Kathryn Humphreys. In her high school days, Hedger used to watch Hanna Storm host the NBA on NBC and fantasized about being a sportscaster.
You can also read about other famous SportsCasters here.
Jennifer Hedger | Professional Life
Jennifer Hedger's start wasn't easy; she faced several rejections before making her on-screen debut for Rogers Television. There she regularly contributed to the show, Plugged In!; And also hosted the OHL Primetime during the 1998-98 OHL Season.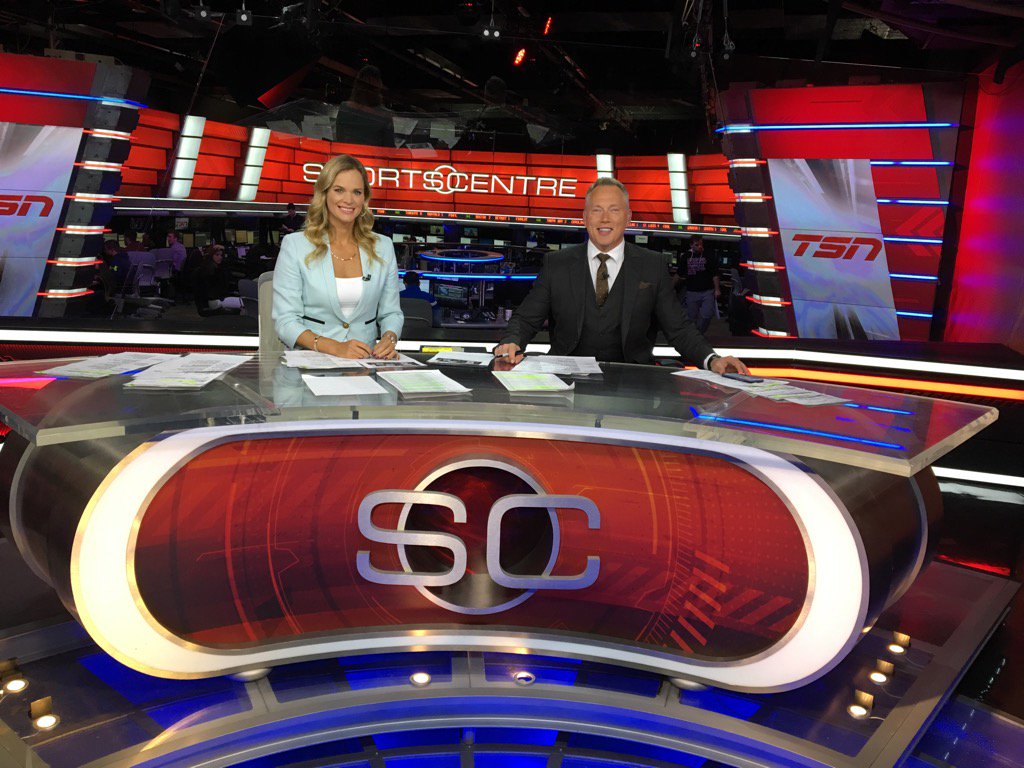 In 2001, Jennifer Hedger was selected for the Canadian reality show, The Lofters. It was a show where the contestants were going to be hosting TV shows, and that's what intrigued Hedger. During one of the TSN's talk show Off The Record appearances, The host Michael Landsberg asked what she wanted to do after The Loft.
She replied that she wanted to work at TSN and be involved in the sports industry, which boosted her career.
Hedger then met many people in the industry and auditioned continuously for three months to finally get a chance.
The Sports Network(TSN)
Jennifer Hedger joined TSN in 2002, co-anchoring the show SportsCentre's 11 pm and 2 am ET broadcasts. With TSN, Hedger quickly became the viewers' favorite.
It was already a familiar face through Off The Record's several appearances with Michael Landsberg. Hedger has become a fan favorite in both the sports and entertainment communities.
Currently, alongside Darren Dutchyshen, Hedger is co-hosting the 10 pm ET edition of SportsCentre. And during her maternity leave from TSN, Kate Bierness replaced Hedger from March 2011 to January 2012.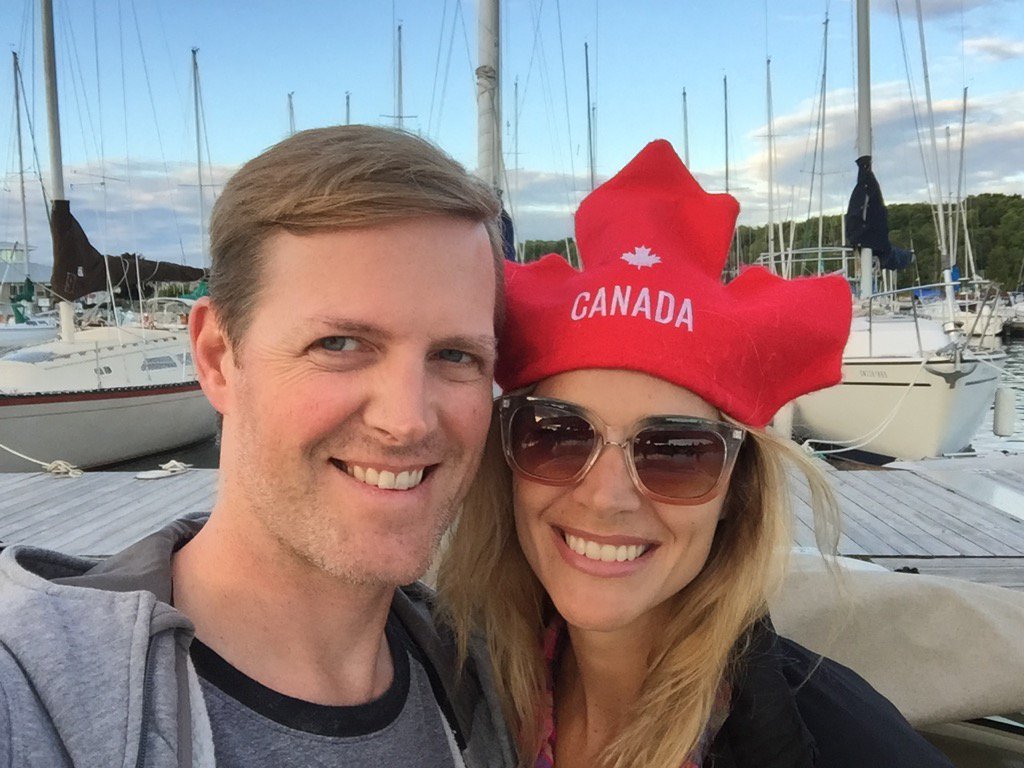 Alongside James Duthie, Jennifer Hedger also co-hosted Olympic Daytime on CTV during the 2012 London Olympics. She also was the Whistler host of Olympic Daytime for the 2010 Vancouver Winter Olympics.
Jennifer Hedger has also been in few series, including cameo roles in Whistler's pilot episode's TV series. She was also featured in Playmakers (2003) and Lofters Love Shack (2001).
Jennifer Hedger | Personal Life
Hedger is currently married to the rival Rogers Sportsnet anchor Sean McCormick. She also has a brother who now lives in London, Ontario. On March 18, 2011, Bill and Lucinda Hedger got the opportunity to become the grandparents to Jaeger McCormick.
In November of 2007, Hello! Magazine also selected Hedger as the Top 10 of the most beautiful women on television.
Jennifer Hedger and Sean McCormick
Sean McCormick and Jennifer Hedger met through their mutual friend Dan O'Toole (SportsCentre anchor).
They both met at their wedding, and after Jennifer found that Both were attending the wedding solo, she went for the kill.
Then they Sean and Jennifer, after 48hrs of their contact, went for their first date to dinner at Julie's Cuban Restaurant on Dovercourt and then at Drake for drinks.
After hosting her at 2 am Sportscentre, she would go to his place after work, watch TV, and do all the things you would typically do during the day but at 3 am.
Sean proposed to Jennifer during their trip to the Mayan Riviera. He surprised Jen with a photo album with every photo in front of a different Vegas landmark holding a different letter, eventually spelling, "Jennifer Hedger, will you marry me?"
And finally, on January 12, 2006, the couple got married in Mexico. The couple got married in Playa del Carmen of Mexico with friends and family in the same resort they got engaged in. Then, they took off for a honeymoon in Brazil.
Currently, the couple is involved in sport full time: Jennifer and her fiance work in rival companies, TSN and Rogers Sportsnet.
They love to travel and take at least one sports vacation per year to either a Yankees Game in New York or see a Fenway game with a Boston road trip. The couple also travels to see their favorite brands abroad.
Both the couple values each other and prioritize each other, and are grateful for every moment. The most important thing in their relationship is that they laugh a lot when they are together.
She and Sean also have a dog named Sidney, which is of the Labradoodle breed.
Jennifer's Past Relationships
Sean McCormick's fiance Jennifer Hedger was in at least two relationships before ending up with him. Although been in relationships, Hedger wasn't engaged to any of them.
Hedger dated Jason de Vos, the former captain of the National Soccer team in the past.
Jennifer Hedger | Age, Height, and Nationality
As of Oct 2020, 1975, born Hedger is currently is 45 years old. The Ontario native was born on September 18, which makes her star sign Virgo.
The Sportscaster was born and raised in Ontario; she was born in London, Ontario, and was then raised in Lambeth and Westminster. Hedger is Canadian by nationality and holds a Canadian passport.
Jennifer Hedger was into sports her whole life and is also well built with above-average height; she is 5 feet 10 inches tall, 178 cms.
Here is a video of Jennifer Hedger sharing about herself in TSN.
Jennifer Hedger | Net Worth and Salary
Staying as a reputed and famous Sportscaster for a long time, Jennifer has made a pretty successful career. With the work she has put into through all these years and still being good at her job, it is pretty obvious she is getting a good paycheck.
The Canadian Sportscaster is reported to have an estimated net worth of $1 Million. Hedger receives an annual paycheck of around $70,000 from her work at TSN Network.
Besides her job, she also gets an extra amount of money as a sports pundit from her radio and TV guest appearances.
TSN is popular for paying its employees with a big fat paycheck. Jennifers also earns a decent amount as one of the most popular TSN anchors. Her cameo roles and acting in movies and series also have contributed some amount to her net worth.
Jennifer's Husband, Sean McCormick, also being an anchor, earns a respectable paycheck. Still, he hasn't disclosed his annual salary and net worth in the media.
Jennifer Hedger | Social Media Presence
Jennifer Hedger stays active on social media presence and also has quite some social media presence. Hedger stays active on Instagram and Twitter.
The Canadian Sportscaster has a verified Twitter account, @jenniferhedger. As of Oct 2020, Jennifer has almost 77 thousand followers on Twitter. She joined Twitter in June 2009 and stays very active there with frequent retweeting and posting.
#NewProfilePic thanks to my friend Tatiana for the sweet gingham mask! #maskup pic.twitter.com/ekNVHpDJwz

— Jennifer Hedger (@jenniferhedger) August 6, 2020
Jennifer also has an Instagram account @jenhedger with 573 posts and 15.6k followers. She stays very active on Instagram with multiple posts per week. On Instagram, Hedger frequently updates photos and selfies of herself, her husband, son, and dog.
Jennifer Hedger | FAQs