We all love the stories of people reaching and climbing the ladder of success. Moreover, our ears and eyes itch to look at people with humble beginnings reach the very top. One such person who has done both is Jerry Reynolds.
Jerry Owen Reynolds or Jerry Reynolds is an American professional basketball coach. Likewise, this stellar man has coached the Sacramento Kings in the NBA.
Currently, Jerry works as an executive in the National Basketball Association.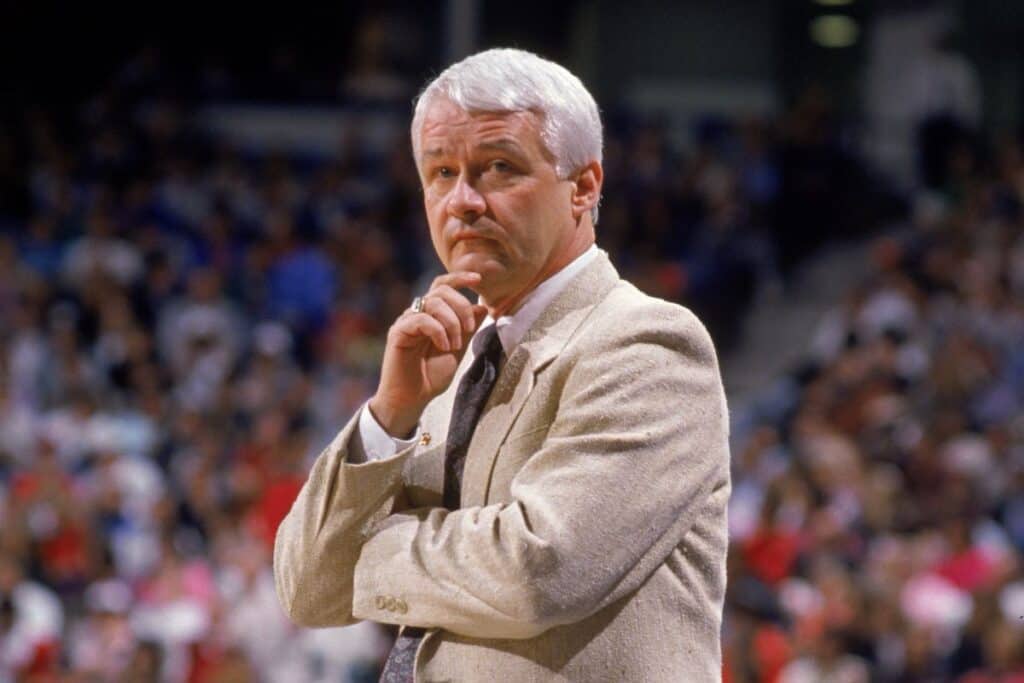 Among thousands of stars born in Sacramento, California, he stands out to be the sweetest and most loved out of all. Reynolds has also been inducted into the University of West Georgia Hall of Fame.
We know that you are excited to read the life and history of Jerry Reynolds. But let's hold on to our horses and look at some quick facts about him.
Jerry Reynolds | Quick Facts
| | |
| --- | --- |
| Full Name | Jerry Owen Reynolds |
| Birth Date | January 29, 1944 |
| Birth Place | French Lick, Indiana |
| Nick Name | Jerry Reynolds |
| Religion | N/A |
| Nationality | American |
| Ethnicity | White |
| Education | Springs Valley, Vincennes University, Oakland City University |
| Horoscope | Aquarius |
| Age | 78 years old |
| Height | 5 ft 9 in (175 cm) |
| Weight | 175 lb (79 kg) |
| Hair Color | White |
| Eye Color | Blue |
| Profession | NBA Manager, Color Analyst |
| Past Teams | Sacramento Kings, Pittsburg State |
| Books | Reynolds Remembers Tales from the Sacramento Kings |
| Active Years | 1965 to 1990 |
| Marital Status | Married |
| Wife | Dodie Reynolds |
| Kids | Daughter: Danielle Reynolds |
| Net Worth | $2 – $5 Million |
| Social Media | None |
| Merch | Reynolds Remembers: 20 Years with Sacramento Kings |
| Last Update | November, 2022 |
Jerry Reynolds | Early Life, Education & Family
Jerry Reynolds was born on January 29, 1944. He hails from the area of French Lick, Indiana. Interestingly, NBA legend Larry Bird also comes from the same place.
Born to proud parents, the information related to parents of Reynolds is not available on the internet.
We are sure that he must have spent his childhood with his siblings, whose information is unknown.
Education
As a student, Reynolds attended the Springs Valley Junior-Senior High School. Likewise, after graduating from high school, Reynolds had several universities to choose from.
Reynolds received a scholarship from Vincennes University to play basketball. He chose to study at Vincennes University, located in Vincennes, Indiana. He spent the years from 1962 to 1964 in the university.
Reynolds got injured in his sophomore year due to a car accident. As a result, he was hospitalized for many months. During this time, several other schools recruited him.
However, he followed in his brother's footsteps and went to Oakland City.
After spending two years studying in Vincennes, Reynolds transferred to another university. Unfortunately, due to his injury, he couldn't play competitive basketball.
But to keep the basketball scholarship, Reynolds worked as a freshman head coach. He spent the years 1964 to 1966 in Oakland.
Jerry Reynolds | Age, Height & Physical Appearance
Reynolds was born on January 29, 1944. Currently, he is 78 years old. Furthermore, his zodiac sign is Aquarius.
Likewise, a known fact about people with Aquarius as a zodiac sign is that they are easily adaptable. In addition, their charismatic personality makes them present as original and genuine.
Regarding Reynold's height, he is 5 ft 9 in tall. Also, he weighs 175 lbs. Like so, his facial expression can be described as sweet and charming.
5 Nike Deadlift Shoes To Hit Gym >>
Jerry Reynolds | Career
Reynold's overall professional career is split into two distinct phases. The first phase was as a coach. Similarly, he worked in different television and the NBA sectors in the second phase.
Reynolds didn't play professional basketball in the NBA. Despite this, he defied all odds and went on to manage different basketball teams.
Moreover, Reynolds began his coaching career with a college team and slowly moved up ranks.
Oakland City
Like every journey requires a first step, Reynolds took his first step in the world of coaching from Oakland City. Likewise, he was given the position of freshman head coach of the Oakland City team.
Reynolds spent one year in Oakland. Moreover, while Reynolds was a freshman head coach, he completed his undergraduate degree at the university.
Vincennes & West Georgia
After finishing one year with Oakland, Reynolds was hired by his former coach at Vincennes. He continued coaching as an assistant at Vincennes University for five years, from 1967 to 1972.
Due to his natural leadership, he contributed to the team winning the 1970 national championship. After performing well with Vincennes, he received an offer from West Georgia Wolves.
As a result, he became an assistant coach for the West Georgia Wolves, a basketball team of West Georgia University. At that time, Reynolds joined Roger Kaiser, who managed West Georgia.
Reynolds spent three years, from 1972 to 1975, with the team. With his help, West Georgia brought home the 1974 Division II title.
Rockhurst
After spending three years in West Georgia, Reynolds moved to Rockhurst University. Cotton Fitzsimmons, the head coach of the Atlanta Hawks, recommended Jerry Reynolds for the head coach's job at Rockhurst University.
Reynolds spent nine years with the team. The nine years he spent here are the longest he has spent in one place.
Likewise, after spending nine long years at Rockhurst, Reynolds made a move to his new destination. Also, as a coach, he spent only one year with the team.
Sacramento Kings
Jerry Reynolds' first attachment to Sacramento Kings came in 1985 when he was an assistant coach. Likewise, as an assistant coach, he spent three years with the Kings.
Moreover, Reynold would later receive a promotion to the Sacramento Kings' team.
Spell as an Interim Manager
Sacramento Kings promoted Reynolds to the position of interim manager in 1986. In his first two seasons, Reynolds helped the team finish 5th and 6th in the Midwest division league.
Likewise, out of the 60 games, Reynolds won 22 games with the Kings.
Head NBA Coach
Kings finally promoted Jerry Reynolds to the position of head coach in 1988. After a rocky two years, he was given the heads up to manage the team.
Similarly, Reynolds managed the team for over 110 games and helped his team win only 34 matches.
To summarize Reynolds' coaching career, he oversaw 170 matches for the Sacramento Kings.
Likewise, out of those 170 matches, Reynold successfully won only 56 games. This was a depressing statistic, as he lost 114 games for the team.
What did Jerry Reynolds do after coaching? Post-career
Reynolds finished his professional coaching career in basketball in 1990. However, despite not working as a coach, he stayed close to basketball.
Reynolds served as the team manager of the Sacramento Kings.
Moreover, the former manager also worked for the Sacramento Monarchs WNBA team. However, he retired from that post in 2003.
He is credited for building a core team of the Sacramento Monarchs, who went on to win the WNBA Championship.
Basketball Insoles For Flat, Low, And High Arch Feet >>
Commentating & Broadcasting
Reynolds is a man with broad interests. Hence, he started working in media and making a name for himself. Likewise, Reynolds has worked as a broadcaster for the Kings since the 2016-17 NBA season.
Reynolds loves using one-liners and catchy phrases that captivate the attention of fans. His signature catchphrases are known as 'Jery-isms.'
Not to mention, Reynolds had an easy time commentating and talking on T.V due to his excellent communicating skills.
Similarly, Reynolds always found ways to entertain, even in boring circumstances. Due to this, his presence is cherished by the NBA community.
Jerry Renolds stepped down from the job of color analyst after the 2017-19 season.
During his tenure with the Kings, he has been with four ownership groups, five general managers, and 17 head coaches.
In 2021, Reynolds worked as an executive in the NBA.
How much is Jerry Reynolds worth? | Net Worth & Salary
So, how much is Jerry Reynolds worth? That's a question a lot of people ask. We know that Reynolds has amassed his net worth through his managerial career and broadcasting career.
Likewise, we also know that Jerry and his wife own a house in Roseville, California.
According to various online reports, Jerry Reynolds's net worth is estimated to be between $2 – $5 million.
Likewise, after being the head coach, his salary is around $50,000.
Moreover, he is involved with various brands and endorsements, from where he earns a good amount of money after promoting these brands to his fans.
Who did Jerry Reynolds marry? | Wife & Children
Reynolds is married to his long-time partner and wife, Dodie Reynolds. They married each other in 1968 and have been together for over 52 years.
Likewise, the pair currently lives in Roseville, California. Jerry and Dodie used to live in Kansas City before.
However, as Jerry received the job with the Kings, the couple shifted to Sacramento in 1985.
They have lived in Sacramento for over 35 years. Likewise, both Jerry and Dodie love the community and are happy in Sacramento.
You might be interested in reading about Francis Antetokounmpo Bio: Basketball, Soccer, Music & Brothers
3,000 Square Foot House in Sacramento
The couple has a house in Roseville, California. Likewise, Dodie Reynolds identified the 3,000 square-foot house with four bedrooms and crisp furnishing. Dodie works creatively to refurbish the house in every way possible.
The house consists of many awards received by Jerry Reynolds in his lifetime. Although Jerry doesn't have a favorite thing in the house, he values people, friendship, and memories.
Dodie, so far, has been able to remodel the bathrooms and kitchen. Likewise, she changes the wallpapers, paint, and blinds of the house.
Jerry Reynolds | Personal Life
The Character of Jerry Reynolds
Reynolds is a well-known person in Sacramento and the NBA community. He is well-known and is loved and cherished by many fans.
Reynolds has been admired for his ability to build a close relationship with his players.
Moreover, he receives praise and love for his wisdom, sarcasm, and sincerity. All these qualities are what make Reynolds so special.
Reynolds has received great praise from a player he managed in the past. Reggie Theus, a two-time All-Star, played under Reynolds from 1985 to 1988.
He revealed that his coach's best quality was communicating and inspiring different people in different ways.
In regards to his coach, he said the following quote.
"The effect he's had on my life, personally, what he means to me as a person, coach, and Sacramento Kings figure."
He further added,
"I'm just genuinely happy for him. There are not a lot of guys you cheer for, but you cheer for Jerry."
More Memories & Honors
In his house, Reynolds has two basketballs in acrylic cases. He received the first one from his coaching victory.
However, the second one remains special for so many reasons. First, Reynolds was gifted the basketball case by the gold-medal-winning U.S Women's Olympic Team.
Moreover, Reynolds has been awarded the 'Best of Sacramento award due to his calm and chill personality. The award stands among several other awards in Reynolds' house.
Reynolds comes from the same area as Larry Bird, who is also from French Lick.
As a joke, he has been gifted a picture of him and Larry Bird that included the caption 'Second most famous person from French Lick.'
Sacramento Kings honored Jerry Renolds by naming their media entrance to Jerry Reynolds's name. The tribute happened in the 2020-21 season's opening home game of the Sacramento Kings.
Interesting Incidents of Jerry Reynolds
Jerry Reynolds has been primarily involved with basketball for most of his life. In one instance, Reynolds was in flight with the Sacramento Kings.
Unfortunately, the flight went through much turbulence due to a fierce thunderstorm.
Likewise, he later reported that the flight had come within a few hundred feet of crashing in the Potomac River.
If the flight had crashed today, we might not have witnessed Reynolds doing great things with his life.
Similarly, one interesting incident involved Reynolds getting unconscious and sick. During a basketball match, Reynolds collapsed on the sideline and was unresponsive.
Thankfully there was no serious illness. Instead, the doctors revealed that the collapse was due to poor diet and sleeping habits.
You might be interested in reading about Kevin Durant's Bio: Career, NBA, Net Worth & Girlfriend >>
20 Years With the Kings
Reynolds is also a writer. Penning his time with the Sacramento Kings, he has written the book 'Reynolds Remembers: 20 Years with the Sacramento Kings.'
The book covers Reynolds's journey with the Kings and reveals interesting details.
The book was published on January 31, 2012. Likewise, if you are interested, you can buy the book on Amazon.
Social Media Presence
Unfortunately, Jerry doesn't use any social media platforms. Likewise, we do not know if Jerry has a private Instagram account.
However, we know that if you want to see more of Jerry Reynolds, Google and YouTube are the best places to visit.
Frequently Asked Questions (FAQs)
Does Jerry reside in Houston?
Jerry does not reside in Houston. Instead, he lives in Sacramento with his family.
Why is there a Jerry Reynolds obituary?
The obituary does not belong to the basketball coach Jerry Reynolds. He is still alive and works as an executive in the National Basketball Association.
(Make sure to comment below if any information regarding Jerry Reynolds is missing.)