Jerry Stackhouse (Jerry Darnell Stackhouse) is the head coach of the Vanderbilt Commodores men's basketball team and a former professional player. He was a two-time NBA All-Star and played 18 seasons in the National Basketball Association (NBA).
He once served as the head coach of Raptors 905, as well as an assistant coach for the Toronto Raptors and the Memphis Grizzlies.
Jerry has also worked as an NBA TV analyst. Stackhouse was a North Carolina Tar Heel basketball player.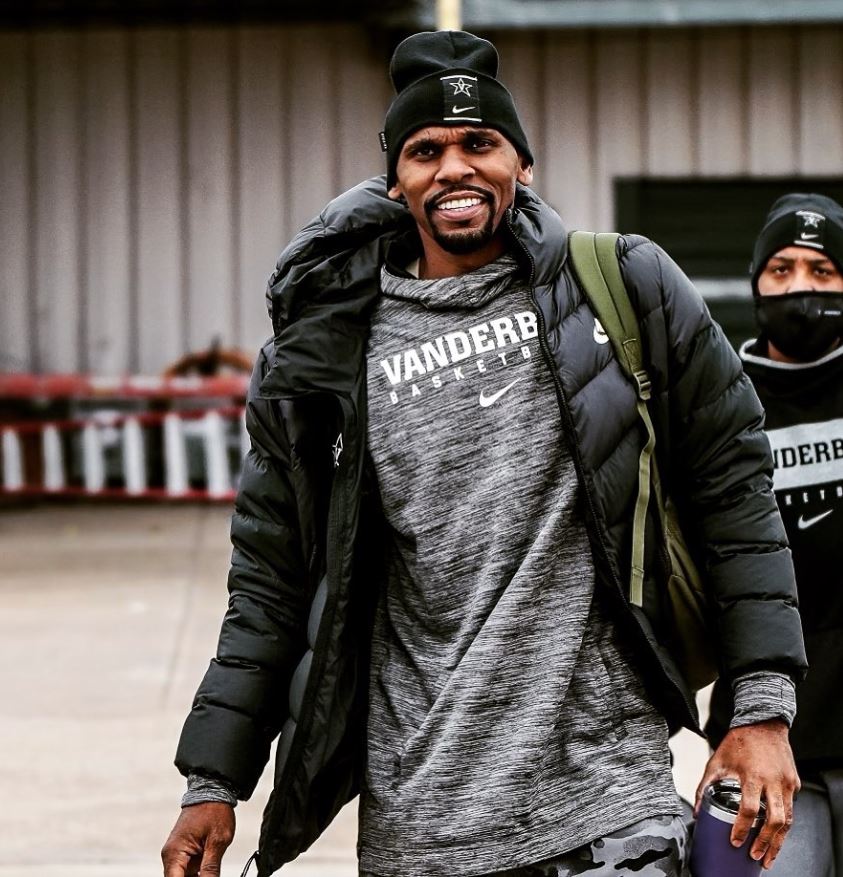 Want to know more about Jerry Stackhouse? Read this article to learn about Stackhouse's journey and retirement from basketball, coaching career, family, and net worth.
Before that, let's scan some quick facts about Jerry.
Quick Facts
Full Name
Jerry Darnell Stackhouse
Birth Date
November 5, 1974
Birth Place
Kinston, North Carolina, US
Nickname
Jerry
Religion
Christianity
Nationality
American
High School

Kinston High School(Kinston, North Carolina)
Oak Hill Academy(Mouth of Wilson, Virginia)

College
University of North Carolina
Playing Career
1995 – 2013
Zodiac
Scorpio
Chinese Zodiac
Tiger
Father's Name
George Stackhouse
Mother's Name
Minnie Stackhouse
Siblings
Seven
Age
49 years old
Height
6 ft 6 inches
Weight
99kg
NBA Draft
Round: 1, Pick: 3rd overall, 1995
Shoots
Right
Shoe Size
Not known
Food Habits
Non-vegetarian
Points
16,409 (16.9 ppg)
Rebounds
3,067 (3.2 rpg)
Assists
3,240 (3.3 apg)
Tattoos
Yes
Eye Color
Dark Brown
Career Highlights

2× NBA All-Star (2000, 2001)
NBA D-League Coach of the Year (2017)

Build
Athletic and Muscular
Marital Status
Married
Wife
Ramirra Marks
Children
Three
Jersey Number
42, 24
Coaching Career
2015 – present
Position
Head Coach
League
Southeastern Conference
Net Worth
$80 Million
Annual Salary
$2 – $3 Million
Social Media
Instagram, Twitter, Facebook
Merch
Trading Card
Last Update
November 2023
Jerry Stackhouse: Early Life, Family & High School
The former basketball player, Jerry Darnell Stackhouse, was born on November 5, 1974, in
Kinston, North Carolina, US. His mother's name is Minnie Stackhouse and his father's name is George Stackhouse.
Likewise, Stackhouse is the younger brother of former CBA player and former Sacramento Kings and Boston Celtics forward Tony Dawson.
He is also the uncle of former Wake Forest University guard Craig Dawson.
Stackhouse was a standout player in high school. From 1991 to 92, he was named North Carolina's state player of the year after leading Kinston (N.C.) High School to the state finals.
Likewise, Jerry led Oak Hill Academy to an undefeated season in his senior year with future college teammate Jeff McInnis.
Also, the player was a two-time Parade All-America first-team selection and the McDonald's All-American Game MVP. He and Rasheed Wallace were considered the camp's top players at the 1992 Nike Camp.
Some people even considered Jerry to be the best prep player to come out of North Carolina since Michael Jordan.
Jerry Stackhouse: College Career
Jerry played college basketball at the University of North Carolina at Chapel Hill, where he played alongside future NBA players Wallace, McInnis, and Shammond Williams.
The American player led the team in scoring with 19.2 points per game and averaged 8.2 rebounds per game in his sophomore season at UNC.
He led UNC to the Final Four and was named Sports Illustrated's National Player of the Year, as well as first-team All-America and All-ACC honors.
Dean Smith coached him while he was a member of the Tar Heels. Stackhouse declared his NBA draft eligibility following the season.
Despite leaving UNC after two years, Jerry continued his studies and received his bachelor's degree in African American Studies in 1999.
Jonathan Isaac is one of the most intriguing players in the NBA due to his exceptional length, versatility, and defensive instincts. Click here to learn more about him!
Professional Basketball Career
The Philadelphia 76ers selected Stackhouse with the third pick in the first round of the 1995 NBA draft.
Jerry led the 76ers with 19.2 points per game (PPG) in his rookie season and was named to the NBA's All-Rookie team.
The athlwas traded to the Detroit Pistons along with Eric Montross midway through the 1997–98 season for Theo Ratliff, Aaron McKie, and future considerations.
Likewise, after four years with the Pistons, Jerry was traded to the Washington Wizards in a six-player deal that included Richard Hamilton during the 2002 offseason.
For an entire season, Stackhouse was the only teammate to average more points per game than Michael Jordan.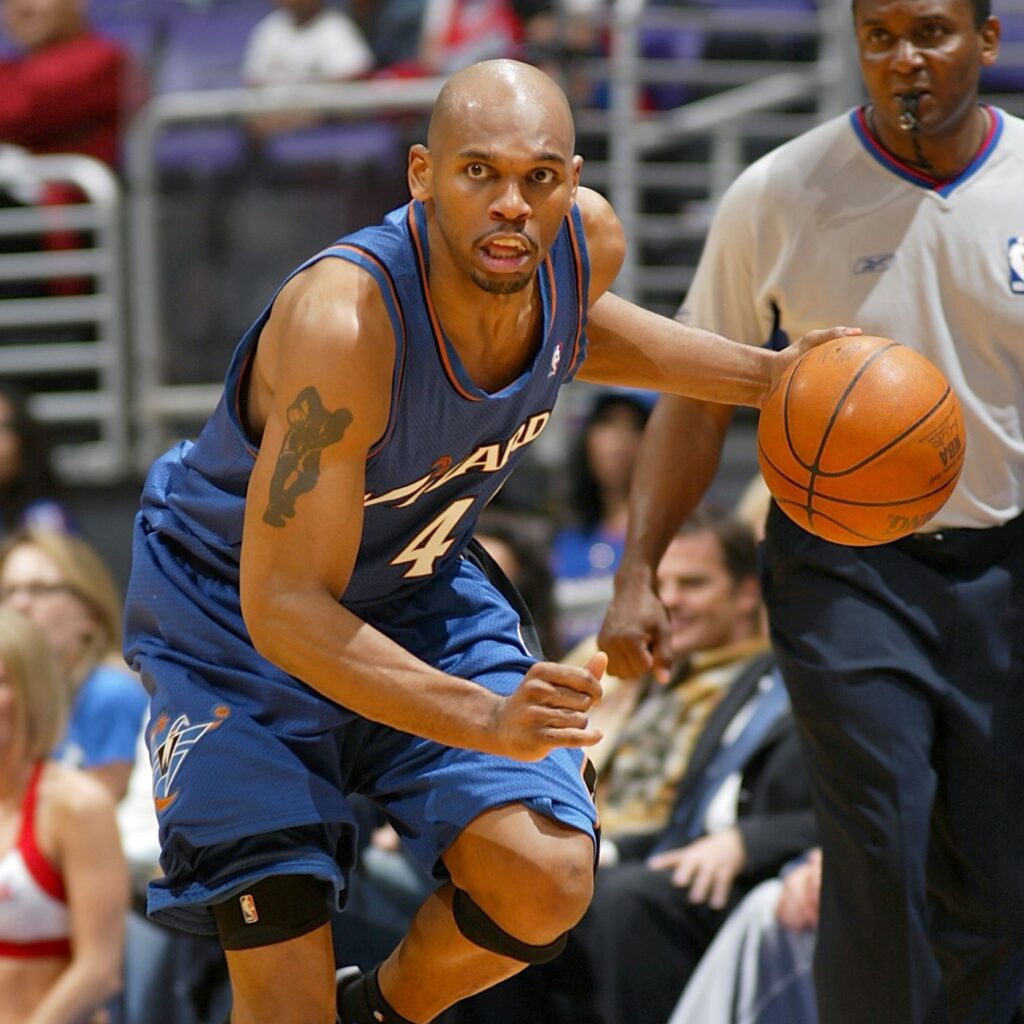 Jerry was traded to the Dallas Mavericks in 2004 for former Tar Heel and NBA All-Star Antawn Jamison, along with Christian Laettner.
The player was signed by the Milwaukee Bucks for the remainder of the 2009–10 season on January 17, 2010. Stackhouse and the Miami Heat reached an agreement on October 23, 2010.
However, the Heat waived Stackhouse on November 23, 2010, to make room for Erick Dampier. Following that, Jerry signed a contract with the Atlanta Hawks on December 9, 2011.
Also, he verbally agreed to a one-year, $1.3 million contract with the Nets on July 11, 2012. However, the player announced his retirement following the Brooklyn Nets' first-round playoff loss to the Chicago Bulls.
Injuries and Setbacks
Stackhouse suffered groin and knee issues during his first two seasons with Dallas. Due to this, he began wearing pressure stockings. It kept his legs warm, helped his groin injury, and kept his thigh sleeves in place. Further, the stockings also allowed for better blood flow to the legs.
Thus, pressure stockings quickly became popular among NBA players, including Kobe Bryant, Dwyane Wade, LeBron James, Tracy McGrady, Vince Carter, and others wearing them the following season.
Jerry Stackhouse: Awards
NBA D-League Coach of the Year, NBA D-League champion (As a coach in 2017)
2× NBA All-Star (2001, 2000)
1996 NBA All-Rookie First Team
1995 Consensus first-team All-American
1995 First-team All-ACC
1994 ACC Tournament MVP
1994 ACC All-Freshman Team
Honored No. 42 by North Carolina Tar Heels
1993 McDonald's All-American MVP
2× First-team Parade All-American (1993, 1992)
Devin Robinson is a small forward for the Toronto Raptors in the National Basketball Association. Click here to know more about Robinson!
Jerry Stackhouse: Off the Court
TV Broadcasting
Jerry joined Fox Sports Detroit as a Piston analyst on November 15, 2013. He primarily worked as a studio analyst and served as Fox Sports Detroit's color commentator on select road trips.
Stackhouse also worked for the ACC Network and Fox Sports Detroit as a college basketball analyst.
Similarly, he reconnected with his former Pistons teammate Mateen Cleaves in the studio by joining Fox Sports Detroit.
Golf
Apart from basketball, Jerry also keeps a keen interest in playing golf. The former player occasionally shares pictures and videos of him playing golf on his social media platforms.
Likewise, the player also loves dogs and has three pet dogs.
Coaching Career
The Toronto Raptors hired Jerry as an assistant coach on June 29, 2015. He helped the Raptors finish second in the Eastern Conference and reach the Eastern Conference Finals in his first season with the team.
The Raptors named him head coach of Raptors 905, the franchise's NBA Development League team, on September 9, 2016.
Stackhouse wanted to be an NBA head coach and told The Ringer that he hoped the D-League position would help him get there.
Jerry guided the 905 to the NBA D-League championship during the 2016–17 season. In 2017, he was named NBA D-league Coach of the Year.
For the 2018–19 NBA season, Jerry worked as an assistant coach for the Memphis Grizzlies. Finally, he was named head coach of the Vanderbilt Commodores on April 5, 2019, and he signed a six-year contract.
Age and Body Measurements
Jerry Stackhouse, a former NBA player, has a strong body and an athletic build. The player weighs around 99 kg. Likewise, Smith has a height of 6 feet 6 inches.
Jerry was born in the year 1974. As a result, the player is 49 years old. He was born in the Tiger year according to the Chinese calendar. Likewise, the player has four tattoos carved on his body.
Similarly, Stackhouse's zodiac sign is Scorpio.
Jerry Stackhouse: Marital Life
Wife
On December 24, 2000, basketball player Jerry Stackhouse and fitness expert Ramirra Marks exchanged wedding vows.
The wedding was held at Jerry's home in West Bloomfield, Michigan. It was a small wedding ceremony that drew about 80 people.
Despite the small size of the wedding ceremony, Jerry and Ramirra hosted a larger reception. However, the couple never disclosed the location of the reception.
The Stackhouse couple's marital bond has crossed two decades and they still love each other as much as they did in their first year of marriage. The couple has three children together.
On their 21st anniversary, Ramirra shared a video on her Instagram expressing her love for her husband. The fitness beau wrote:
"21 YEARS!! They don't make 'em like us no more!….I love you with all my heart! 🖤 @jerrystackhouse42"
Kids
As already mentioned, Jerry is the proud father of three lovely children. Jerry Stackhouse's children, Jaye Stackhouse, Alexis Stackhouse, and Antonio Stackhouse, live in Suwanee, Georgia, with their parents.
Stackhouse's oldest child, Jaye Stackhouse, had already been born when Jerry and his wife Ramirra married.
Jaye is following in his father's footsteps in the world of American sports. However, unlike his father, he chose to play football rather than basketball.
Jaye committed to playing football at the University of North Carolina in 2015. He'd received scholarship offers from UAB and Georgia State. Similarly, he also received interest from some 'Power 5' conference schools.
Jerry's second son, Antonio Stackhouse, graduated from Friendship Christian High School in 2019. He was a member of the same high school's basketball team.
Antonio was named Player of the Game in a game against Peoples Baptist Academy on February 8, 2019. Based on Antonio's high school records, he appears to be following in his father's footsteps.
Likewise, Alexis Stackhouse, their daughter, is a very creative young lady. In 2020, Alexis recently wrote an article for PopSugar in which she discussed how her father Jerry's NBA career influenced her development.
She is a Syracuse University athlete. Alexa is also one of the 2019 CUSE Scholar Award winners. Moreover, Alexis also enjoys producing short films.
Net Worth
Stackhouse's net worth is estimated to be somewhere around $80 million. Given the player's successful career, it is not surprising that he has amassed a fortune.
Moreover, Jerry's net worth is expected to rise in the coming years due to his coaching career, which pays well. Many people are impressed by his attire as a coach during team matches.
Jerry's career earnings are estimated to be $84 million. This income has enabled him to live a lavish lifestyle. At present, Stackhouse is making $2 million per year as a coach at Vanderbilt.
You might also want to know about Sterling Sharpe, an NFL player who was on his way to significant victory but was, however, forced to withdraw due to an injury. Click here to know more!
FAQs
Why did Jerry Stackhouse wear Jersey no. 42?
Jerry wore the number 42 in honor of his favorite athlete, Jackie Robinson, and is the first professional athlete to do so in Brooklyn since Robinson.
Is Jerry Stackhouse a vegetarian?
Jerry previously was a pescetarian, meaning that he mostly ate vegetarian foods and included seafood in his diet.
Jerry's family had a history of diabetes, so he didn't want to take any risks. However, now the coach has started to eat meat.
Did Jerry Stackhouse appear in a film?
On July 12, 2020, Alexis Stackhouse released her short film "House Blend." Ramira and Jerry co-starred in the short film, released on Alexis' YouTube channel.