Dwyane Wade, aka D-Wade, is a former professional basketball player who played in the National Basketball Association(NBA).
He started his NBA career with the Miami Heat after they drafted him in the first round back in 2003.
Moreover, he served as a shooting guard for the Chicago Bulls and the Cleveland Cavaliers. However, he is still known for his significant career with the Heats.
The legendary shooting guard has three NBA Championship titles under his belt. He won two of those while playing alongside the King, LeBron James.
Furthermore, he was named the Most Valuable Player in the 2006 NBA Finals. Not to mention, Wade is a 13-time NBA All-Star.
Besides that, the Miami Heat has retired Dwyane's jersey number 3. He has also won a gold medal while representing the United States of America in the 2008 Summer Olympics.
Similarly, he has won two bronze medals while playing for the USA National Team at the 2004 Summer Olympics and also the 2006 FIBA World Championship.
Aside from that, the basketballer played collegiate basketball for Marquette University.
The athlete played two seasons for the Marquette Golden Eagles men's basketball team before entering the 2003 NBA Draft.
They have also retired Wade's number 3 to honor his legacy and exceptional contribution to the basketball world.
Before getting into detail about the legendary shooting guard's biography, here are some quick facts about him.
Quick Facts:
| | |
| --- | --- |
| Full Name | Dwyane Tyrone Wade Jr. |
| Birth Date | January 17, 1982 |
| Birth Place | Chicago, Illinois, the United States |
| Nick Name | D-Wade, Flash, WOW, Pookie, Father Prime |
| Religion | Christian |
| Nationality | American |
| Ethnicity | African American |
| Education | Marquette University |
| Zodiac | Capricorn |
| Father's Name | Dwyane Wade Sr. |
| Mother's Name | Jolinda Wade |
| Siblings | Five: Tragil, Darnell, Deanna, Kodhmus & Demetris |
| Age | 41 years old |
| Height | 6'4″(193 cm) |
| Weight | 220 lb(100 kg) |
| Wingspan | 6'9″ (2.1m) |
| Hair Color | Black |
| Eye Color | Brown |
| Build | Athletic |
| Profession | NBA Player |
| NBA draft | 2003 |
| Former Team | Miami Heat, Chicago Bulls, Cleveland Cavaliers |
| Position | Shooting Guard |
| Total Points | 23,165 |
| Active Years | 2003-2019 |
| Marital Status | Married |
| Wife | Gabrielle Union |
| Kids | Four: Zaire, Zaya, Xavier & Kaavia |
| Net Worth | $170 million |
| Social Media | Instagram, Twitter |
| Merchandise | Bobblehead, Book, Chicago Bulls Jersey, Signed Nike Miami Heat Jersey |
| Jersey Number | 3, 9 |
| Last Updated | March, 2023 |
Dwyane Wade | Early Life, Family, And Education
Dwyane Wade, famously known as The Flash, was born in Chicago, Illinois, the United States. His parents are Dwyane Wade Sr. and Jolinda Wade.
The basketballer's parents divorced when he was very young. After that, his mother got custody of him and his sister Tragil.
However, she was not stable enough to raise kids on her own. Jolinda had drug problems and was in and out of prison constantly.
As a result, his sister Trail tricked him into moving in with their father, Dwyane Wade Sr., and his family.
She told the NBA player that they were going to the movies but instead took him to their father's place.
D-Wade is grateful to his sister for making that move and credits Trail for always putting him on the right track.
In an interview, the basketballer mentioned that he would've probably ended up in gangs doing drugs if he hadn't moved in with his father.
As expected, Wade Sr. was strict, so he prevented his children from hanging out with the wrong crowd. He used to work in a printing plant and coach basketball at Blue Island Recreational Center.
Moreover, he used to hoop in his early days and wanted his children to catch on a hobby. So, he took young Dwyane to the recreational center along with his stepbrother Demetris.
They used to play basketball together and were coached by Wade Senior. Slowly, The Flash's love and passion for the game grew, and he started developing outstanding skills.
During the shooting guard's professional career, his mother started turning things around for herself.
She quit drugs and has been drug-free since 2003 and became a Baptist pastor. After that, Wade gifted a church to his mother, who thought of buying it herself through loans.
Education
Initially, Wade studied in a local school in Chicago. However, when his father moved to Robins, he had to switch schools.
The player attended Harold L. Richards High School, where he played high school basketball. Since his grades weren't that great, Wade didn't get any scholarship offers based on his skills alone.
Nevertheless, Marquette University was not ready to give up on the player and recognized his potential. Hence, they gave him a chance to study at their college and play for the Marquette Golden Eagles.
You Might Be Interested In Former Heat's Point Guard:<<Rafer Alston Bio: Net Worth, Stats, Contract, Jersey & NBA >>
The former NBA player was born on January 17, 1982. Hence, he is 41 years old as of 2023. Being an athlete, he takes great care of his health and diet.
As a result, he is quite fit and has a very toned physique. Furthermore, Dwayne is 6 feet 4 inches tall and weighs 220 lb, i.e., 100 kg.
High School Career
Wade went to Harold L. Richards High School in Oak Lawn for his high school. Further, here he played both basketball and football for the High school team.
After growing four inches by the start of his junior year, he got more into basketball. As a result, he emerged as the team leader, averaging 20.7 points and 7.6 rebounds per game.
Furthermore, his improvement continued into his senior year, as he averaged 27 points and 11 rebounds a game. Similarly, the basketballer led the Bulldogs to a 24-5 record with his leadership.
On top of that, he set a school record of 676 points made and 106 steals made. Despite his great potential in basketball, he was only recited by three universities.
Collegiate Career
Wade committed to Marquette University and played under coach Tom Crean. However, D-Wade was sidelined due to his poor academic result.
Hence, the athlete began to put effort into and went to tutoring classes. This raised his academic standard, and by the start of his sophomore year, he was eligible to play.
Instantly, The Flash led the Marquette Golden Eagles in scoring with 17.8 ppg. Nonetheless, this effort was not enough to win the NCAA tournament.
For the next season, Wade again led the Golden Eagles in scoring with 21.5 points. Thus, the team finished 27-6.
Moreover, three days later, his mom was released from prison and saw him play for the first time in five years. The NBA player was playing against the Kentucky team.
Likewise, this game with Kentucky drew national attention as he averaged a triple-double to advance to the Final Four. His triple-double was the fourth ever recorded in NCAA history.
Therefore, this performance earned him a high NBA draft projection. As a result, the shooting guard skipped his senior year to enter the 2003 NBA Draft.
You can find the biographical info, latest news, career stats, game logs, awards, and achievements related to Dwyane Wade on the Basketball reference website.
Dwyane Wade | NBA Career
Miami Heats, Draft, And First NBA Title
Upon the draft, Miami Heat selected D-Wade with the fifth overall pick. As usual, he instantly became the team leader as the heat made the playoffs that season.
Moreover, Wade performed exceptionally well in the postseason. He became only the fourth rookie in his ear to lead his team in points and assists during the playoffs.
Furthermore, in the offseason, Heats make a blockbuster trade by acquiring Shaq O'Neal. This trade improved their standing and took them as far as the Eastern Conference Finals.
However, they lost to the defending champions Detroit Pistons in a seven-game series.
Likewise, in the 2005-06 season, the Heat again qualified for the playoffs. This time they get past the Detroit Pistons to advance into the NBA Finals.
Eventually, they face the Dallas Mavericks. Alongside Wade's heroic performance in games 3, 4, and 5, the Heat beat the Mavericks to win the 2006 NBA Championship.
The heroic performance from the athlete earned him the Finals MVP trophy. As a result, he became the fifth-youngest player in NBA history to capture the Finals MVP award.
The following season the one-time champion faced a setback with multiple injuries. Nonetheless, he did recover in time for the playoffs but was swept in the first round.
Learn More About Legendary Coach And Miami Heat President: <<Pat Riley Bio: Wife, Net Worth, Coach, NBA & Heats >>
Consecutive NBA Championship, Return To Miami Heat, And Retirement
The following two seasons saw a downfall of the Heat as they didn't make it past the first round. Alongside that, the basketballer becomes a free agent in the offseason of 2010.
Nevertheless, he and Chris Bosh decided to sign with the Heat. The following day, LeBron James announced he would join the Heat. Thus, they formed a Big Three for the Heat.
In the first year, the big three fell to the Dallas Mavericks. Eventually, they prevailed back the next year by winning the NBA Championships.
Similarly, they were successfully able to defend the title and be crowned back-to-back champions. Furthermore, they were predicted to win their third back-to-back the next season too.
However, they lost to the Spurs in the 2014 NBA Finals in five games. Consequently, James left to rejoin the Cavs, whereas Wade and Bosh re-signed with the Heats.
Further, the basketballer would remain with the heats for two seasons after opting out of his contract. Ultimately he left the Heat to play for the Chicago Bulls.
After two years of a detour, the athlete is traded back to Miami at the trade deadline.
Likewise, he announced his intentions to retire after the 2018–19 season in the offseason. As a result, he and Dirk were granted a special roster addition for the 2019 All-Star game.
Moreover, the Heat retired Wade's No. 3 jerseys on February 22, 2020. As of now, the shooting guard serves as a host on Turner Sports' NBA on TNT Tuesday Night.
He stars alongside former basketballers like Shaquille O'Neal, Candace Parker, and host Adam Lefkoe. Besides that, he is involved in several TV projects and sponsorship deals.
Career With The Chicago Bulls And The Cleveland Cavaliers
After not reaching any deals with the Heat, the flash joined the Chicago Bulls. Further, he teamed up with Jimmy Butler and Rajon Rando to form a big three of their own.
However, the big three failed as they lost to the Celtics in the first round of the playoffs. As a result, the Bulls Traded Butler and waved Rondo.
Likewise, they negotiated a buyout with Dwyane that allowed him to join the Cavs in 2017. Initially, the Cavs' coach wanted him to come off the bench, which he denied.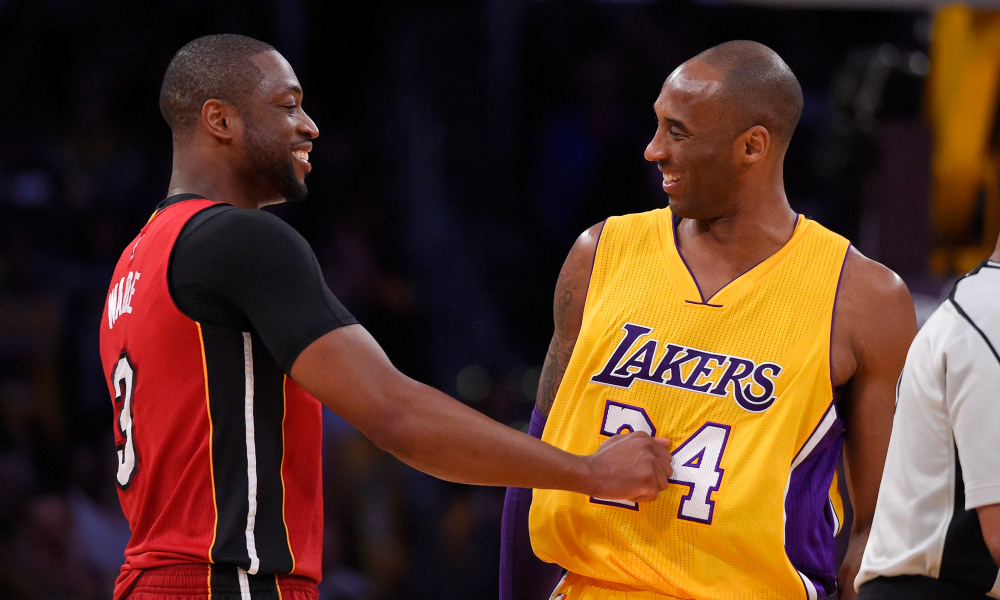 Nevertheless, after a blowout loss from the Magic, he volunteered to come off the bench. Even though the Cavs were still a mess as they couldn't win with the current roster.
Hence, at the NBA trade deadline, the Cavs traded almost every member except James. During this process, Wade was traded back to the Heat.
Don't Forget To Check Out Bulls' Head Coach:<<Billy Donovan Bio: Bulls, Wife, NBA & Net Worth >>
Dwyane Wade | Achievements And Highlights
Three-time NBA champion in the years 2006, 2012, and 2013
2006 NBA Finals MVP
Thirteen-time NBA All-Star from 2005 to 2016 and in 2019
2010 NBA All-Star Game MVP
Two-time All-NBA First Team in the year 2009 and 2010
Three-time All-NBA Second Team in 2005, 2006, and 2011
Three-time All-NBA Third Team in 2007, 2012, and 2013
2009 NBA scoring champion
Three-time NBA All-Defensive Second Team in 2005, 2009, and 2010
2004 NBA All-Rookie First Team
No. 3 was retired by Miami Heat
Consensus first-team All-American in 2003
2002 Third-team All-American by the Sporting News
2003 Conference USA Player of the Year
No. 3 retired by Marquette Golden Eagles
Gold Medalist at the 2008 Summer Olympics
Two-time Bronze Medalist at the 2004 Summer Olympics and the 2006 FIBA World Championship
2005 Best Breakthrough Athlete ESPY Award
Best NBA Player ESPY Award in the year 2006
2006 Sports Illustrated Sportsman of the Year
2006 Sporting News Sportsman of the Year
NBA Community Assist Award in the 2012–13 season-long
Dwyane Wade | Marriage, Wife, and Kids
Gabrielle Union
The three-time NBA champion is married to Gabrielle Union. She is an actress, voice artist, activist, and author.
Union is known for her roles in movies like The Brothers, Deliver Us from Eva, Daddy's Little Girls, Think Like a Man, Think Like a Man Too, Bad Boys II, etc.
Furthermore, she is the author of two books: We're Going to Need More Wine and Welcome to the Party.
Gabrielle is quite successful in what she does and was listed in Time's 100 most influential people in the world 2020 edition with her husband.
Besides that, she was previously married to NFL player Chris Howard.
Meeting His Second Wife And Divorcing His First
Wade and Union met for the first at a Super Bowl party in 2007. At the time, Dwyane was married to Siohvaughn Funches, and Gab was going through a divorce with Chris.
Four months after that, the NBA player filed for divorce against Funches and gained custody of his two sons in 2010.
At that time, Union and Wade stepped out together to attend his charity and sparked dating rumors.
As a result, the actress was hit with lawsuits by Siohvaughn, citing emotional distress. Nevertheless, the lawsuit was considered baseless and dismissed when the ex was found lying.
Thereafter, in 2012, the duo made their relationship official by starring on Essence Magazine cover together. However, they broke up the following year due to career demands and busy schedules.
Nonetheless, the two found their way to each other again, and without wasting any time, Wade proposed to Union in December of 2013. Moreover, his sons helped him out by asking the actress to marry him.
On August 30, 2014, the two got married in a beautiful wedding ceremony held at the Chateau Artisan in Miami. The wedding was star-studded and filled with family and close friends.
Kids
The athlete is the father of four kids, namely Zaire, Zaya, Xavier, and Kaavia. Besides that, he also has full custody of his nephew Dahveon Morris and raised him together with his kids.
His firstborn child is Zaire Blessing Dwyane Wade, who was born on February 4, 2002. The NBA player had him with his ex Siohvaughn Funches.
He also had Zaya Wade with Funches on May 29, 2007. Zaya was born to a boy named Zion. However, she came out as transgender in 2020 at 12 years old and has identified herself as a female.
Although she receives many backlashes and hates them constantly, she does not let them dim her light and continues to shine brightly.
Furthermore, the shooting guard has another son named Xavier Zechariah Wade. D-wade had him with Aja Metoyer in 2013 when he and Gabrielle broke up briefly.
Aside from that, he has a daughter with Union named Kaavia James Union Wade. The couple had her via surrogate after Gab suffered eight or nine miscarriages.
She has a condition called adenomyosis which affects her uterus and was the cause of her infertility. As of now, the couple lives in a beautiful house in Hidden Hills, California, with their kids.
The Heat shooting guard has earned most of his wealth through his career in the National Basketball Association.
Besides that, Dwyane's total career earnings amount to $196,388,473. Moreover, his highest yearly salary to this date was $23,200,000.
The basketballer played for the Chicago Bulls, who paid him $38,750,000 for two seasons. Likewise, he earned a total of $157,638,473 through the Miami team.
"As of [CURRENT-YEAR] DWYANE Wade's net worth is estimated at $170 Million."
Not to mention, he is a minority stakeholder of Utah Jazz. The analyst recently announced in April of 2021 that and planned to take his role in Jazz quite seriously.
Wade is also the owner of a bow tie company called "The Tie Bar." Besides that, he is an investor at a digital sports media startup company called "The Mars Reel."
Furthermore, he sells Napa Valley wine which is quite popular and sells for $250 a bottle. He is also the author of fast-selling books like Shady Baby and A Father First.
Similarly, he released his documentary, D Wade: Life Unexpected, as a TV program in 2020.
Endorsements
On top of that, he earns a decent amount through sponsorships as well. Many well-known brands such as Panini, T-Mobile, Topps, Gatorade, New Era, Lincoln, Staples, and Hublot endorse the player.
Moreover, shoe brand Converse had endorsed the player before Li Ning, which helped him make $4 million a year for six years. His shoes, Converse Wade 1, were a high seller.
Thereafter, he signed a $60 million contract with the Chinese shoe company Li Ning for ten years. Later, the contract was converted into a lifetime deal that earned him an equity stake.
Don't forget to check out: <<77 Motivating Shaquille O'Neal Quotes>>
Social Media Presence:
The former NBA player is quite active on multiple social media platforms. Hence, he has an Instagram account with 17.4 million followers.
The shooting guard mostly shares his life as a former NBA player and studio host through his Instagram account.
As a result, he has posted many photos of himself on the basketball court and the NBA on TNT Tuesday Night studio.
Moreover, the basketballer loves to flaunt his toned body and also shares his workout routines. Besides that, the proud father of four loves to share adorable pictures of his kids.
He can be seen playing basketball with his older son Zaire and just being a loving, fun, and present father in his children's life.
Furthermore, Wade has posed for many photos alongside his very successful and beautiful wife, Gabrielle Union.
The Flash also promoted his Wade Cellars and Way of Wade brand through his Instagram account. Aside from that, he utilizes his platform to raise awareness about the LGBTQ community, racism, etc.
Likewise, the athlete has a Twitter handle with 9.5 million followers. Dwyane mostly shares basketball-related news, events, and highlights through this social media account.
Nevertheless, he has also promoted his book, Shady Baby, alongside his wife. The couple recently posed to be on the cover of People magazine.
The three-time NBA champion also tweeted that he was going to host The Cube on TBS Network.
Occasionally, D-Wade also posts about Kobe Bryant, who he considers the greatest player of his era.
Some FAQs:
Who is Dwyane Wade's agent?
Henry Thomas was the agent of Dwyane Wade. He represented Dwyane Wade, Udonis Haslem, Chris Bosh, and many other Miami Heat players. Sadly, he died in 2018 due to neuromuscular disease.