Jessica Mendoza is an American sportscaster and a former All-Star softball player. She is a color commentator and analyst for ESPN's MLB and Los Angeles Dodgers coverage on Spectrum SportsNet LA.
Mendoza joined Spectrum SportsNet LA Network in March 2022 to provide commentary for Los Angeles Dodgers games with a group of networks that included Eric Karros, Adrian Gonzalez, Jose Mota and Dontrelle Willis.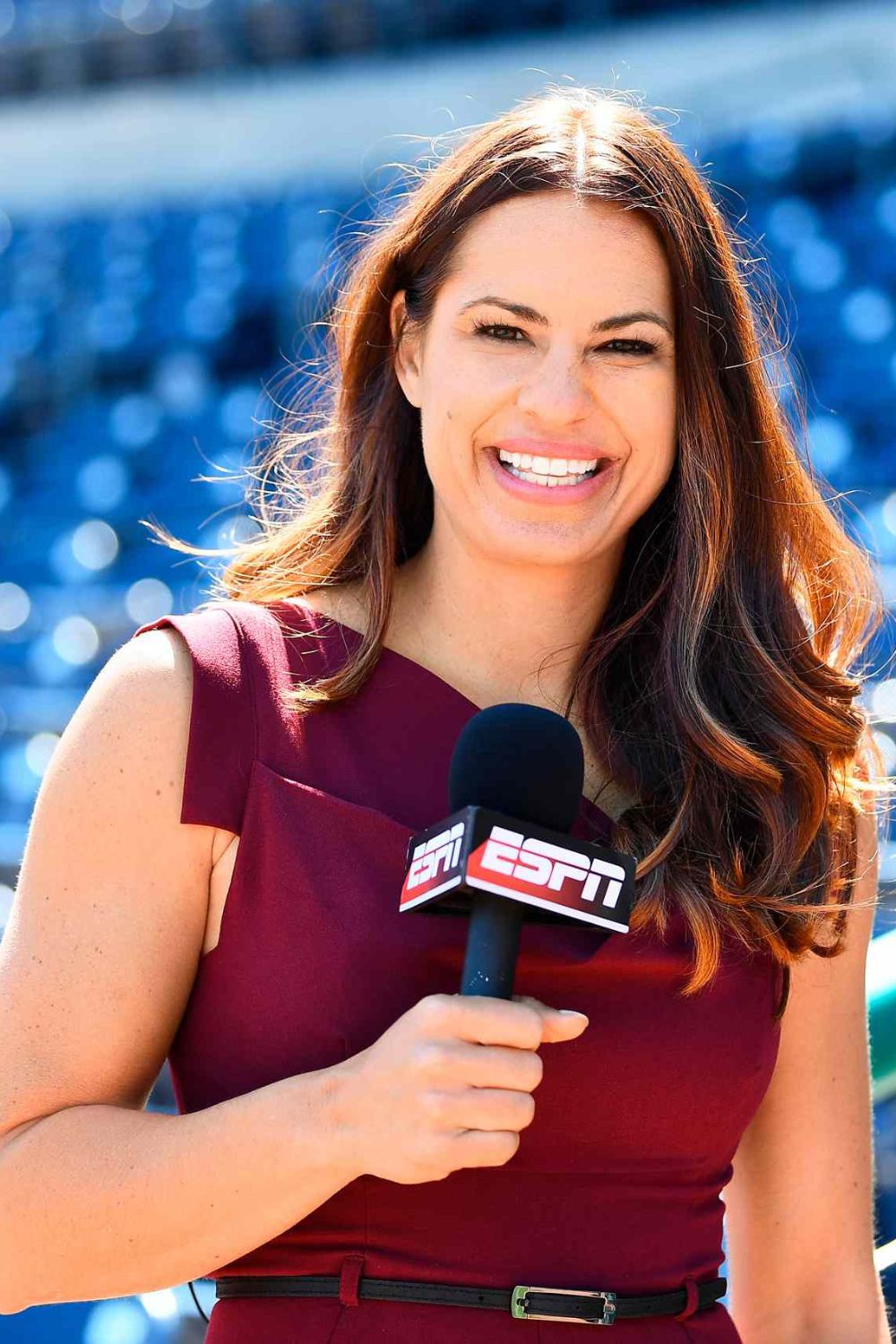 As a former softball player, she is active and participates in many activities regarding softball to encourage young women.
She also attended the Con-X beisbol and softball convention held at Rimini, Italy, where she met Olympic coach Mike Candrea and other speakers on 29 January 2023.
Mendoza is also a trustee and past Women's Sports Foundation president. She is also an athletic ambassador for Team Darfur and a National Education Association board member.
She was named "Greatest College Softball Team Outfielder," by fans and experts, the one of only three to achieve the honor.
Most importantly, she is a two-time Pan American Gold Medalist, three-time World Cup Champion, three-time World Champion, Olympic softball Gold Medalist, and Olympic softball silver medalist.
Moreover, she was also the Most Valuable Player on school basketball teams during her junior and senior years.
She has made many rookie records and won numerous championships as a professional outfielder.
Today, we will focus more on her professional career while also talking about her personal life, husband, kids, salary, net worth, and much more.
So stick to the article and read till the end to know more about Jessica. Let us begin with some quick facts.
Quick Facts
Full Name
Jessica Ofelia Mendoza
Birth Date
November 11, 1980
Birth Place
Camarillo, California, United States
Nickname
Jessica
Religion
Unknown
Nationality
American
Ethnicity
Mexican
Education
Adolfo Camarillo High School
Stanford University
Horoscope
Scorpio
Father's Name
Gil Mendoza
Mother's Name
Karen Mendoza
Siblings
Walt Mendoza (Brother)
Elena Mendoza (Sister)
Alana Mendoza( Sister)
Age
42 Years Old
Height
5 ft 9 in / 1.75 m / 175 cm
Weight
66 kg / 146 lb
Shoe Size
Unknown
Hair Color
Brown
Eye Color
Dark Brown
Build
Athletic
Married
Yes
Husband
Adam Burks (m. 2006)
Children
Caleb Ashton Burks,
Caden Adam Burks
Profession
Former Pro Softball Player, Sports Broadcaster
Position
Outfielder
Jersey Number
#2
Net Worth
$2 Million
Salary
$266,000
Currently Works As
Broadcaster
Affiliations
ESPN, KBO League
Active Since
1999
Social Media
Instagram, Twitter, Facebook
Merch
Trading Card
Last Update
March 2023
Early Life And Education
Jessica Ofelia Mendoza, professionally known as Jessica Mendoza, was born on November 11, 1980, in Camarillo, California. She is the daughter of proud parents Karen Mendoza and Gil Mendoza.
She grew up alongside her older brother Walt Mendoza and two sisters, Elena Mendoza and Alana Mendoza, sharing an extraordinary bond. Mendoza even mentioned in one of her interviews saying,
"My brother and sisters mean the world to me. I love it when we all get together after months of not seeing one another, and we laugh so hard we cry, and our cheeks go numb. That is the best kind of laughter."
Likewise, Jessica's father was a long-time teacher and football coach. This greatly impacted young Mendoza, and she became highly interested in sports.
Jessica has been soaking in athletic lessons since childhood and received valuable instruction from her father.
Moreover, she received her high school education at Adolfo Camarillo High School and got named Los Angeles Times Player of the Year in 1998.
Mendoza was named "Camarillo High School Female Athlete of the Year" during her junior and senior years.
Not to mention, Jessica was also a member of the high school basketball team in both her junior and senior years.
After a successful high-school career, she enrolled at Stanford University for further education. She graduated from Stanford with a Degree in Social Sciences and Education.
Age And Body Measurement
Beautiful and talented, Jessica is 42 years old. According to horoscope charts, Mendoza is a Pisces.
And from what we know, the people of this sign are known to be determined, honest, talented, and ambitious.
Likewise, Mendoza stands at a modest height of 1.75 meters and weighs an estimated 146 lb.
Aside from her physical prowess, Jessica looks very attractive with her long brown lustrous hair and dark brown eyes.
She is an American by nationality, while her ethnic background is Mexican.
Career
Stanford Cardinal
Jessica started her career in 1999 as a First Team All-American and All-Pac-10 honoree and became a sensation-bagging Pac-12 Newcomer of The Year.
She batted with average and RBI totals, breaking the Cardinal record ranking top-10 for hits.
On March 8, the National Fastpitch Coaches Association selected her as the Player of The Week, hitting four home runs, a triple, and two doubles.
Further, in her sophomore season, she earned First Team citations for the NCAA Division I and the Pac-10.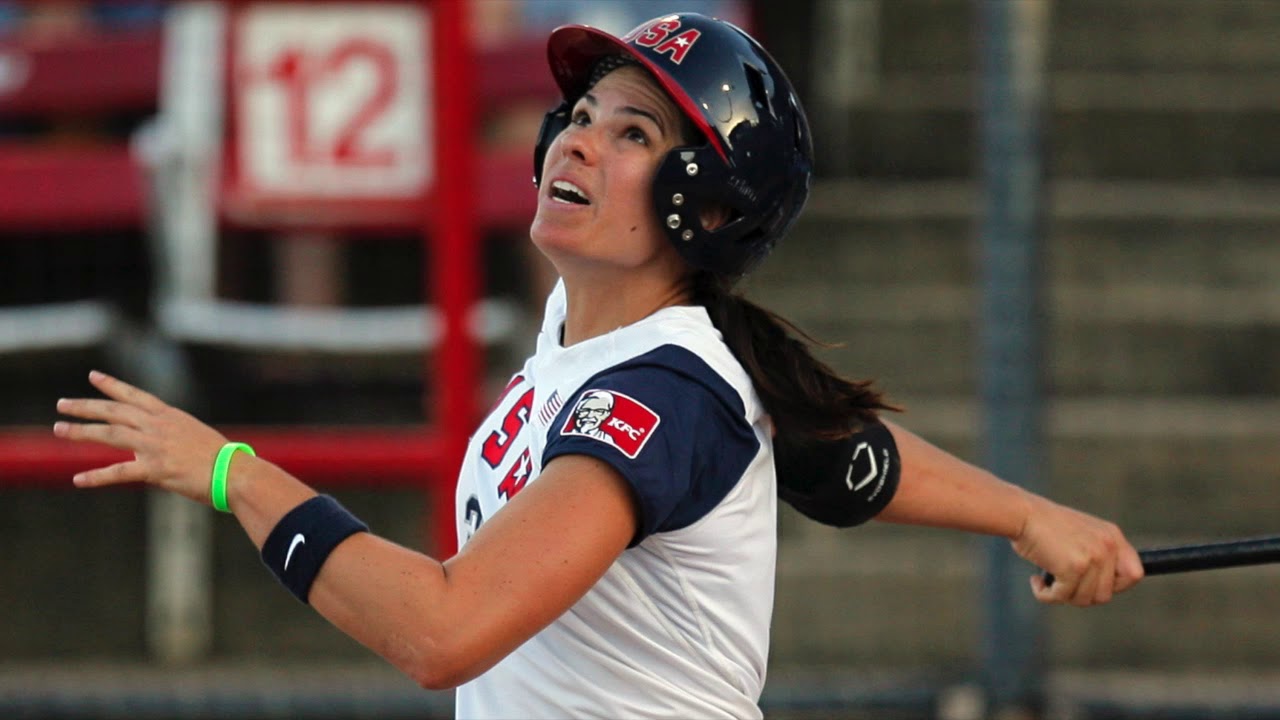 At the same time, Jessica also won the conference Player of The Year, breaking her self-made records and leading to the NCAA, which still ranks top 10 for a season at Stanford.
Jessica continued her success by winning third All-American, All-Pac-10 citations, and NFCA Player of The Week. Adding to that, she also helped to lead Stanford to win its first-ever Women's College World Series.
She earned First Team citations for conferences and the NCAA in the final season and was named NFCA Player of The Week for a third time on March 4.
Later that season, on May 8, Jessica drove in a career-best with her 50th career home run swing with Carol Forbes pitching.
Not to mention, Mendoza was three times Stanford Athlete of the Year and Pac-10 Player and was also 25 finalists for USA Softball Collegiate Player of the Year and the Speedline Invitational Tournament.
Stanford College Stats
| | | | | | | | | | | | | | | | |
| --- | --- | --- | --- | --- | --- | --- | --- | --- | --- | --- | --- | --- | --- | --- | --- |
| YEAR | G | AB | R | H | BA | RBI | HR | 3B | 2B | TB | SLG | BB | SO | SB | SBA |
| 1999 | 62 | 195 | 38 | 81 | .415 | 57 | 9 | 2 | 13 | 125 | .641 | 12 | 22 | 6 | 8 |
| 2000 | 63 | 198 | 57 | 94 | .474 | 41 | 13 | 1 | 20 | 155 | .783 | 15 | 13 | 20 | 25 |
| 2001 | 71 | 205 | 70 | 83 | .405 | 46 | 14 | 3 | 20 | 151 | .736 | 32 | 23 | 31 | 35 |
| 2002 | 63 | 188 | 65 | 69 | .367 | 44 | 14 | 3 | 17 | 134 | .713 | 31 | 22 | 29 | 31 |
| TOTALS | 259 | 786 | 230 | 327 | .416 | 188 | 50 | 9 | 70 | 565 | .719 | 90 | 80 | 86 | 99 |
Team The USA
Jessica was a starting outfielder for Team USA at the 2004 Athens Olympic Games, where she hit .380 on the "Aiming For Athens" tour with 42 RBIs and ten home runs.
Likewise, she repeated her performance against host Greece, double in that game on August 19.
Though Australia shut out Mendoza, Team USA won the gold medal on August 23.
In 2008, she was again an outfielder for Team USA and led almost every category on the "Bound 4 Beijing Tour."
Mendoza got shut out at the Beijing Olympic Games finale, and her team won the silver medal, losing to Japan on August 21.
In 2003 and 2007, she was a gold medalist at the Pan American Games and a silver medalist at both Japan and World Cup.
She was also named the USA Softball Female Athlete of the Year in 2006.
Similarly, in 2007 Mendoza again played for Team USA in the World Cup, bringing home the gold medal. Also hitting with five home runs and 16 RBIs, she won the ISF Women's World Championship.
National Pro Fastpitch
Alongside Arizona Heat, Mendoza joined the National Pro Fastpitch in 2005. She hit a league-best in her rookie year and signed with the USSSA Pride.
In her first two seasons with Pride, Jessica with her team made the Cowles Cup Championship, winning the title in 2010.
Jessica was 2/4 with a double off Monica Abbott in a rematch with the Bandits in another finale, who won 10–3 on August 21.
However, she again made it to the Cowles Cup Championship but lost to the Chicago Bandits.
Broadcaster
Jessica's career began as a broadcaster on June 30, 2014, when she started working on ESPN's Baseball Tonight.
Alongside Karl Ravech and Kyle Peterson, she became the first female broadcaster in the booth for ESPN's College World Series coverage on June 16, 2015.
On August 24, she was the first female analyst for a Major League Baseball game in ESPN's history.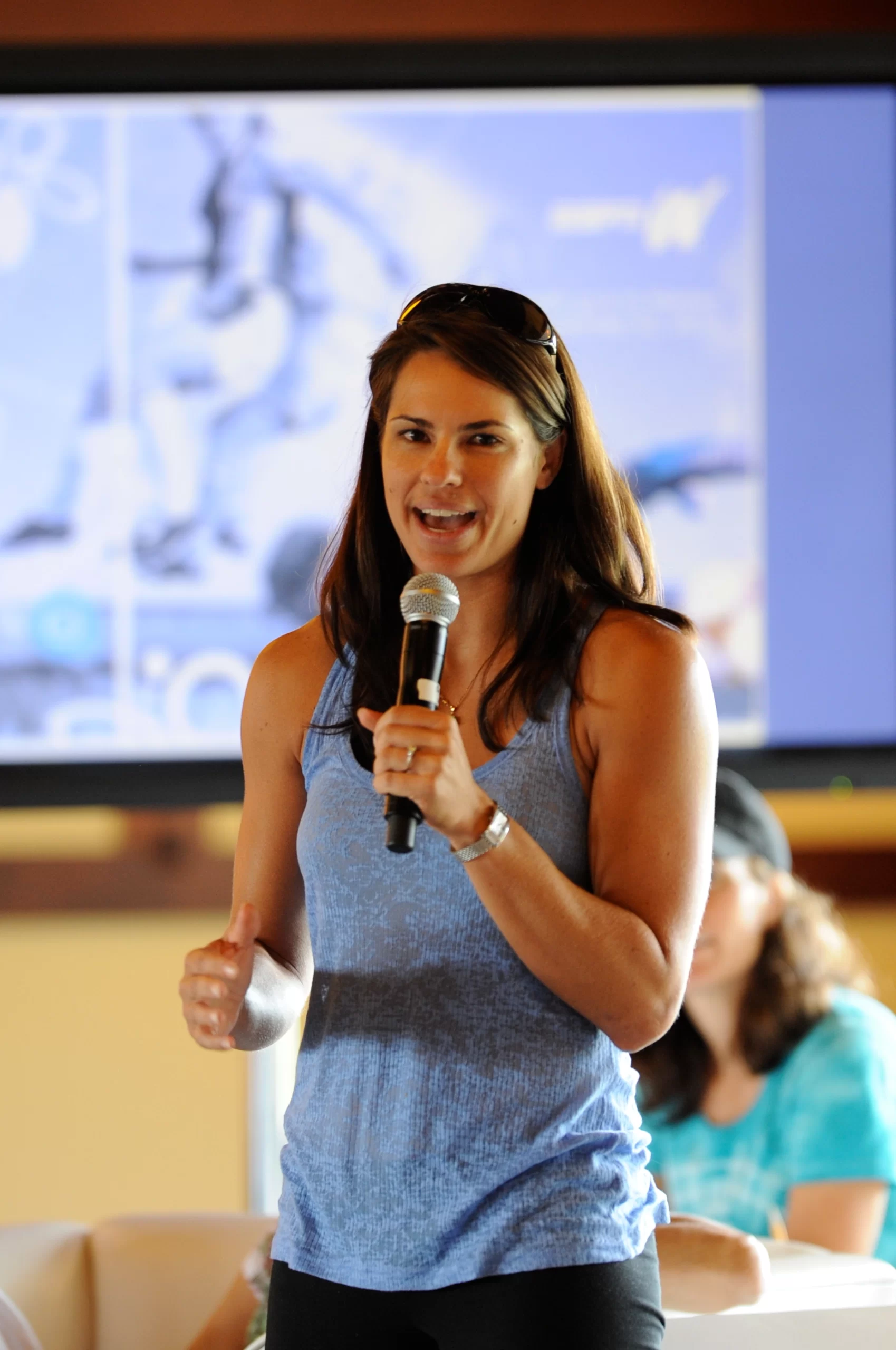 Besides that, she also filled in for suspended color commentator Curt Schilling for the Cubs-Dodgers game. Not to mention, Mendoza was the first female commentator in MLB postseason TV history.
Likewise, she has also worked for ESPN and was a member of ESPN's Sunday Night Baseball broadcast team.
On August 12, 2019, she missed Sunday Night Baseball after a car accident escaping a serious injury. She was a baseball operations advisor for the New York Mets.
When the world underwent the novel coronavirus, Jessica provided color commentary for Korea Baseball Organization games in the middle of the night from her home in Oregon.
"Being in Bend, Oregon, having the guy I'm working with being in Chicago, the production team being in Connecticut, the game being in South Korea, and the guy who's up to bat is from Venezuela. I'm like, this is crazy, but it was awesome."
-Jessica Mendoza
Awards And Accomplishments
2004: Gold Medal in Athens, Greece

2008: Silver Medal in Beijing, China

(2002, 2006, 2010): Three-time World Champion

(2006, 2007, 2010): World Cup Champion

(2003, 2007): Two-time Pan American Gold Medalist

2006: USA Softball Athlete of the Year

3x Stanford Athlete of the year

2019: Inducted into the National Softball Hall of Fame

2002: First Team Academic All-American
Net Worth And Income
Jessica had a flourishing career as a softball outfielder and has garnered a lot of fame and money through her decade-long softball career.
As a former professional player as an outfielder and now working as a color commentator, she has successfully gained wealth.
She has accumulated an estimated net worth of $2 million.
Aside from her net worth, Jessica earns $266,000 an annual salary, which means she makes over $22,100 monthly.
She also works as a sportscaster for ESPN and earns an impressive amount. Previously she was also the front office advisor for the New York Mets.
So, that also adds to her extraordinary net worth. Contrarily, by analyzing her Instagram updates, she is living a lavish lifestyle and often travels to different countries during her vacation.
Personal Life And Kids
The former softball player happily married her long-time boyfriend, Adam Burks. Adam is a former high school athlete and has played multiple sports.
Likewise, he is also a civil engineer and has served as a U.S. Marines veteran and Operation Desert Storm in Iraq.
Moreover, Jessica and Adam met for the first time at a wedding in Southern California in 2004.
They started dating and had a long-distance relationship while Mendoza continued her softball career.
Finally, after dating for two whole years, they agreed to take their relationship to the next level and tied the knot on September 30, 2006, in the presence of loved ones and acquaintances.
Jessica and Adam are both lovely and loving parents to their two children. Jessica first gave birth to Caleb Asthon Burks, their first child, in 2009.
Again, after four years, the couple had their second son Caden Adam Burks in 2013.
The lovely couple has been living together for a decade and has a pleasant and joyous life. As of now, they are residing in South California.
Social Media Presence
Jessica Mendoza is active on her social media and occasionally updates them.
View this post on Instagram
She has 85.6k followers on Instagram, 132.4k followers on Twitter, and 104k followers on Facebook.
Popularity Graph
Jessica Mendoza works as a color analyst on Sunday Night Baseball telecasts for ESPN.
She is also an analyst for the Women's College World Series and has been employed as a sideline reporter for ESPN College Football coverage.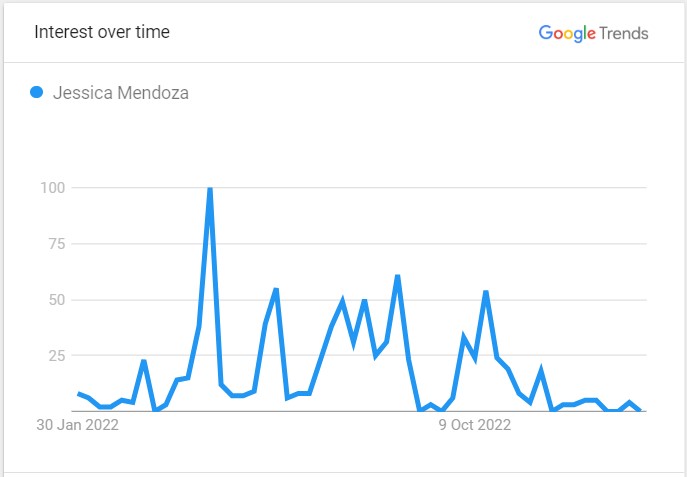 The above graph shows Mendoza's popularity over the past twelve months.
Frequently Asked Questions (FAQS)
What did Jessica Mendoza say about Mike Fiers?
Jessica Mendoza criticized former Houston Astros pitcher Mike Fiers for admitting to stealing signs during the team's World Series title run in 2017. She said, "He should have gone to Major League Baseball before telling a Journalist about his allegation that Houston Astros had been using the camera to steal signs."
Why did Jessica Mendoza resign from New York Mets?
When Jessica joined the Mets, it led to conflicts of interest, and the Los Angeles Dodgers blocked her from entering their clubhouse as a media member; consequently, Jessica Mendoza resigned from her role as Mets advisor and as an analyst on Sunday Night Baseball broadcasts. She signed a contract extension with the ESPN network on February 7, 2020, to remain a baseball analyst.
What does Jessica Mendoza did for the Mets?
Jessica Mendoza was hired as a Senior Adviser for the New York Mets on March 5, 2019.
Which bat did Jessica Mendoza use while playing softball?
Jessica Mendoza was mostly seen using Louisville Slugger Fastpitch Bat while playing softball. Jessica Mendoza and Alex Rodriguez have broadcasted MLB Little League Classic and the 2019 AL wild-card game.
Are Ramona Shelburne and Jessica Mendoza college friends?
Ramona Shelburne was a softball teammate with Jessica Mendoza at Stanford University.