"If you look back at yesterday and think it was a big deal, then you haven't done anything today."
A quote once famously said by the triumphant Olympian, Cat Osterman, adheres to the statement as she contributes her part to softball.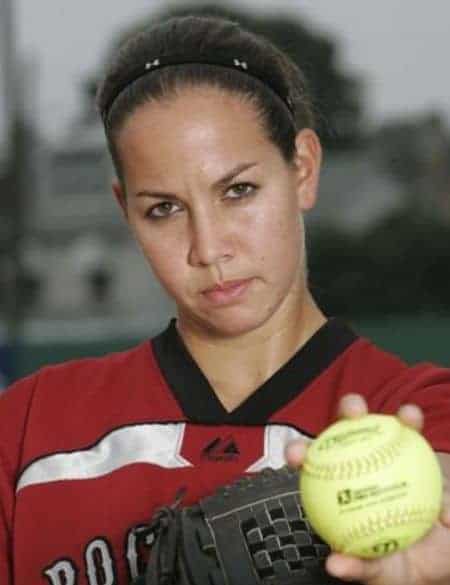 At the age of 30-year-old, the Texan feels there has yet to be greater development in softball.
Currently, working as a coach, the retired American international wants to impart values and ethics. Cat once grew up following.
Well, we are here to talk about one of the greatest softball pitchers ever to grace the pitch, Mrs. Cat Osterman-Ashley.
The article comprises her early life, career, post-retirement life, net worth, and familial information!
Quick Facts
| | |
| --- | --- |
| Full Name | Catherine Leigh Osterman-Ashley |
| Birth Date | April 16, 1983 |
| Birth Place | Houston, Texas, US |
| Nick Name | Cat |
| Religion | Undefined |
| Nationality | American |
| Ethnicity | Caucasian |
| Education | Cypress Springs High School; University of Texas |
| Horoscope | Aries |
| Father's Name | Gary Osterman |
| Mother's Name | Laura Osterman |
| Siblings | Yes (Craig and Chris) |
| Age | 39 years old |
| Height | 6'3 ″ (1.9 m) |
| Weight | 79kg (174 lb) |
| Position | Left-handed Softball Pitcher |
| Hair Color | Dark Blonde; Black(occasionally) |
| Eye Color | Brown |
| Body Measurement | Unavailable |
| Build | Ectomorphic (Lean) |
| Jersey Number | 38 |
| Husband | Joey Ashley |
| Children | Yes: Bracken(Daughter) |
| Profession | Softball Pitcher |
| Net Worth | $2 million |
| Teams | Rockford Thunder; USSSA Pride |
| Method of Play | Bat: Left-handed; Throw: Left-handed |
| Magazine Covers | Sports Illustrated (2002, 2004) |
| Honors | Gold: 2004 Athens Olympics, Silver: 2008 Beijing |
| Social Media | Instagram, Facebook, Twitter |
| Merch | Autographed Photo, Gloves |
| Last Update | August, 2022 |
Cat Osterman | Early Life, Education & Parents | Where did Cat Osterman Go To College?
Catherine Leigh Osterman, professionally Cat Osterman, was born on April 16, 1973, in Houston, Texas (U.S.).
Also, she is the daughter of Gary Osterman and Laura Osterman. Added to that, Cat is a proud sister to younger brothers, Craig and Chris.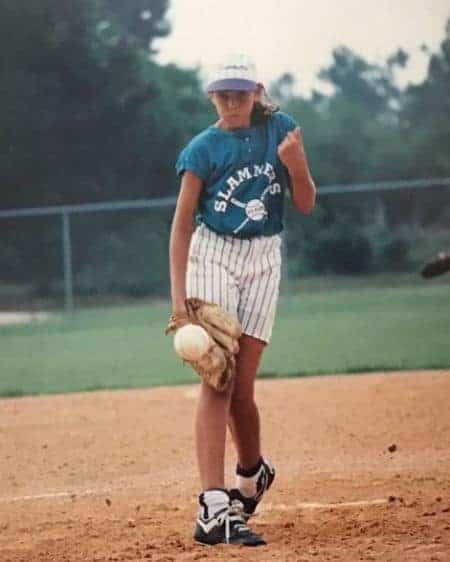 Moving on, the Texan received her formal education in Cypress Springs High School. While there, Cat reignited her passion for softball after having left the game to play soccer and basketball.
Likewise, if fate wills it, it happens no matter what. Eventually, for the high school softball team, Osterman recorded several milestones.
Moving on, the Houston native created a sensation after she struck out 33 batters in 1-0 shutout within 14-innings.
The game was against the Cy-Fair High School team, a rival high school team.
Moreover, this breathtaking performance was cited for a national record for most strikeouts in a single game under 20-innings, thereby displacing Jenny Stallard to occupy first place.
With a successful junior-level career and after graduating from high school, Cat targeted to join the University of Texas.
Upon breaking out in her freshman, Osterman got named the Second Team All-American by the National Fastpitch Coaches Association.
Cat Osterman | Age, Height, & Body Measurements
Born in 1983, the Texan is 38 years old as of the written date. Besides, Cat stands at an astounding height of 6'3″ (1.90 m), becoming one of the tallest female athletes in sporting history.
However, we are not trying to misinform you, as we know there are much taller players than the Houston native.
Osterman was a sturdy woman during her playing career, strong, agile, and acutely well-versed on and off the pitch.
Although we do not have accurate Cat measurements, it comes to one's assumption that the former softball pitcher has an ectomorphic build.
Further, even after retirement, Osterman believes that you are always an athlete once you are an athlete.
Hence, the Texan doesn't miss a day of training. Regardless of the occasion, she prioritizes her workouts and proper diet.
Similarly, the retired softball star weighs a proper 79kg (174 lb), which is valid considering her towering stature.
Most importantly, Cat's distinguishing feature is her tall body frame, generally straightened dark blonde hair, ovular face, and a smile that stretches wide to compliment her beauty.
However, in instances, Osterman ties her long hair into a ponytail.
On the other hand, the Houston native is ambidextrous, but her preferred hand is left for both batting and throwing.
On top of that, Catherine recorded a 70 mile-per-hour pitch speed from her left hand when most right-handed players struggle to reach that mark.
Cat Osterman | Career: Softball & Coach | When Did Cat Osterman Retire?
Osterman might be one of the greatest athletes in the world, if not the best. Additionally, when the Houston native enrolled in the University of Texas,
she became a sensation, bagging Pitcher of The Year and received a mention in the Big 12 First Team.
On the contrary, Cat was equally invaluable as the Texan contributed 15 wins with a 28 appearance undefeated streak.
Simultaneously, Cat struck out 247 batters for Team USA, giving up 37 hits, 18 walks in 116.2 innings in her whole international career.
Junior Hero | 2002
Further, Cat went on shattering every record held by the previous U.T. players in a single season.
For instance, Osterman led in the category for the highest number of wins, games as a starter, strikeouts, appearances, innings pitched, shutouts, and strikeout ratio.
Likewise, the fastest pitcher debuted on February 6 for her university in a two-hit, 11 fannings, and six shutout inning of the Texas A&M–Corpus Christi Islanders.
Subsequently, Cat recorded 24 strikeouts in 10 innings and went onto mark 34 strikeouts, landing a Top 5 spot at the NCAA, tying with Nicole Neuerburg.
In like manner, the Houston native became the first-ever freshman from U.T. to win the Pitcher of The Week at the Big 12 Conference.
Eventually, with a win over Texas Bobcats, Osterman completed a perfect game against Stephen F. Austin State Lumberjacks.
A magnificent feat achieved by a U.T. Freshman, being the only one to do so.
Best Sophomore | 2003
Similarly, Cat blazed past the sophomore year with spectacular achievements.
The Texan repeated her award collection season by taking home an All-American nomination, Big 12 Pitcher, and Female Athlete of The Year recognitions.
Contrarily, the number of successes didn't faze Osterman as she kept her form alive by throwing four no-hitters, managing a perfect game, and breaking self-made records.
To illustrate, with a leading NCAA shutout and strikeout ratio, Cat's pitching streak continued with 65 scoreless innings, ultimately broken against ULL Ragin' Cajuns.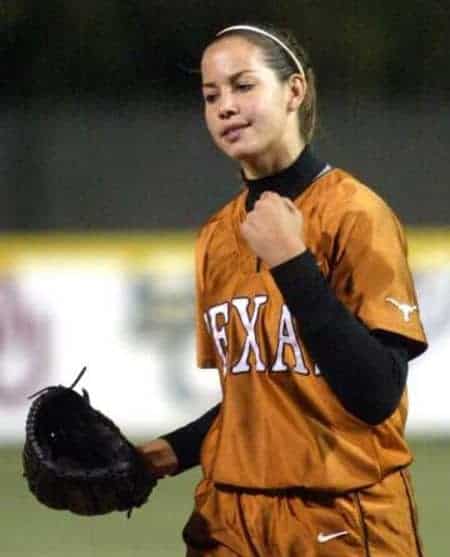 Simultaneously, the softball star needed only 500-innings to book a spot in a club, being the fewest to acquire by a pitcher of NCAA Division I.
Added to that, Cat went on to get named as an All-Tournament Team after shutting out California Golden Bears in a doubleheader game day.
The hope of Olympics | Athens
Alongside fellow U.T. teammate Jennie Finch, Osterman went on to compete in the Olympic Games held in Athens.
In fact, her first-ever experiences with the USA Softball National Team resulted in 24 undefeated appearances.
Moreover, Cat's impeccable includes striking out nine batters, making a 4th perfect inning,
and striking out seven batters under three innings that resulted in a defeat of the Sonic Stars. With the two wins, the Texan booked a place in the Olympiad.
Again, on August 14, with a 7-0 victory over Italy, Team USA went on to beat Japan 3-0 and Chinese Taipei by 3-0.
Also, the Cat recorded two missed hit, striking out 23 batters under 14-innings, which helped Team USA further the lead.
College Year | 2005-2006
Starting with a citation for the First Team All-American and a resulting honor at the Big 12 and USA Softball, the Texan accepted the Honda Sports Award with a 2005 Sportswoman of the Year to commence yet another successful season.
The no-hitter queen doesn't rest, does she?
Further, Osterman broke previously set records for the number of strikeouts, strikeout ratio, opponents' batting average, shutouts, and completed games.
Also, with a 20 batter struck out under seven innings and a 5-1 win over UTSA Roadrunners, the game became second-best in NCAA's history and Osterman's best-ever in her entire career.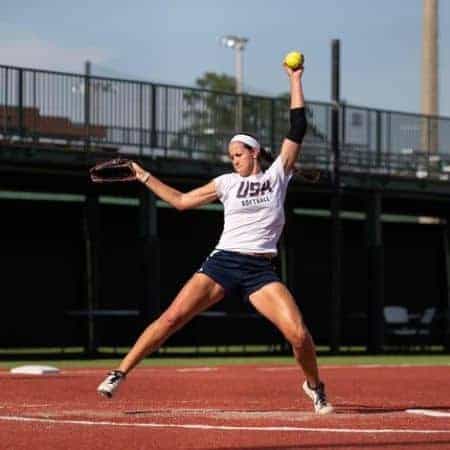 Similarly, on February 15, the Texan struck out six batters in a 7-2 win against Fresno State Bulldog.
In like manner, UNLV Rebels faced a bitter defeat of 4-0 after seven batters struck out. At that moment, Cat surpassed Courtney Blades' milestone by totaling 1744.
Despite an overall excellent performance, the Texan lost a match the first time that season against Michigan Wolverines.
Nonetheless, the Olympic pitcher went on to register 1900 strikeouts, a first in NCAA Division I's history.
Finally, Catherine became the eighth softball player to win 120 games on March 29, 2006, tying with Britni Sneed in the process.
Furthermore, another career milestone came Osterman's way after landing 6th place with her 124th and 125th win consecutively.
Professional Career
To begin with, her professional career started with a first overall pick softball league draft of National Pro Fastpitch.
Thereafter, refusing to sign for the Connecticut Brakettes, Cat instead chose Rockford Thunder on December 19, 2006.
Again, her professional career had its ups and downs, but the Texan would forever be regarded as a soft balling legend.
On August 26, 2007, Cat made 126 strikeouts in her rookie season and helped the team qualify for Cowles Cup Championship.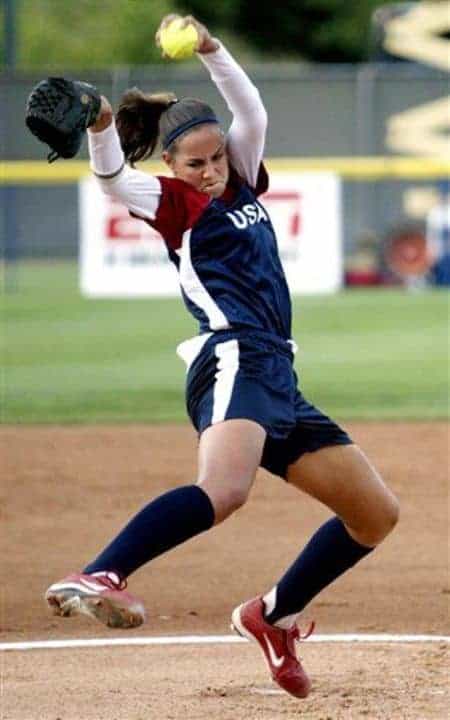 Even though the Houston native registered an all-time career-best ERA and WHIP and a 55-inning shutout streak, a loss to USSSA Pride dissolved the achievement.
Regardless, Cat assisted the Thunders to lift the Cowles Cup Championship after defeating Akron Racers in August of 2009.
Well, every good story comes to an end as Osterman declared her retirement, which in turn propelled her to have the best season of her career.
Additionally, in August of 2013, Cat lifted the Cowles Cup and took home an MVP.
Besides, the Texan wore the crown of Pitcher of The Year topped off with an 18-game winning streak, making it an overall perfect season.
Meanwhile, with yet another Cowles Cup win, Osterman completed a streak of 149 innings, 63 hits, 11 runs, 40 walks, and drove away 273 hitters.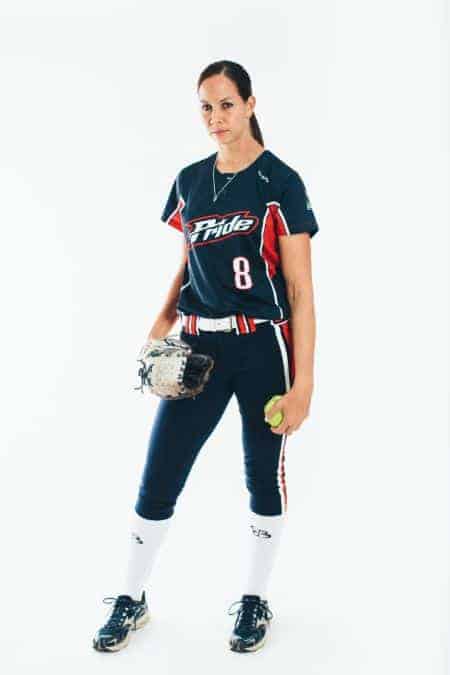 Ultimately, after joining the Pride in the 2011/12 season, Cat's contribution led to several achievements for the Floridians.
Therefore, the management announced on June 8, 2017, to retire the No. 8 jerseys by a collective decision.
Further, the Houston native ranks first in strikeout ratio and no-hitters with a close second place in ERA and overall strikeouts.
On top of that, she is the only softball pitcher to reach 1000 career strikeouts.
International Career
For instance, her career began with a no-hitter at the Canada Cup of 2003. In the game, ten batters had to face strikeouts, and the USA advanced with an 8-0 win and stood victorious against the Stratford Brakettes.
Moreover, at the Pan American Games, the U.S.S. team won the Gold Medal, resulting in the 5th gold medal for the American side, in 2003 August.
Again, Team USA clinched the gold medal beating out Australia in the 2005 International Sports Invitational.
Frankly, Cat's contribution is unsurmountable for her national team as well as her professional club.
At the same time, Osterman would continue to serve her nation for 2007's Canada Cup and the upcoming Women's Pan-Am Games.
Notwithstanding an impressive performance at the Canada Cup, the Texan came forth with an outstanding 21 strikeouts, giving away only four hits, two walks, and zero runs at the World Cup.
In the Japan Cup, she drove away 20 batters in 9-innings.
Olympic Games | Beijing 2008 and Tokyo 2020
Osterman led Team USA to their 16th Olympic win after knocking out Australia in 13 strikeouts with zero hits.
Similarly, on September 17, 2000, the pitcher made her 100th appearance for the Women's team in a match against Canada.
Thereafter, a sudden postponement of a match Canada saw Team USA knock Japan out with a 7-0 margin.
When the game was rescheduled, the U.S. international drove away eight batters and returned to register 8-1 victory and winning silver as a result in 2008.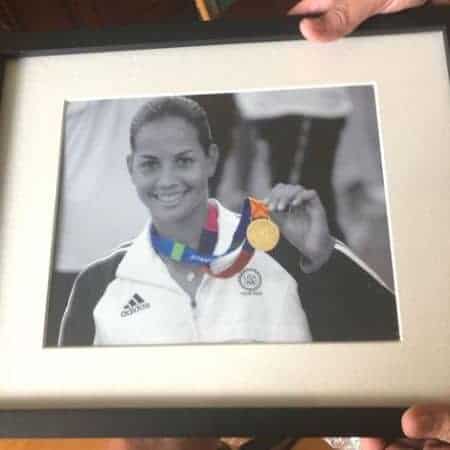 Additionally, the Texan earned a spot in the Team USA many years after the Athens Olympics.
Eventually, on August 20, a win over Japan saw the U.S. team progress to the Gold Medal Match, with a match-up against the Japanese side once more.
Due to the removal of softball from the Olympics after 2008, Osterman announced her untimely retirement.
However, a shimmer of hope beckoned for fans and the national team as she would unretire for the 2020 Olympics in Tokyo.
Highlights And Accomplishments
Two-time Honda Sports Award winner in 2005 and 2006
Four-time Big 12 Pitcher of the Year in 2002, 2003, 2005, and 2006
Four-time NPF Champion in 2009, 2010, 2013, and 2014
Six-time All-NPF in 2009 and from 2011 to 2015
USSSA Pride No. 8 retired in her honor
Gold Medalist at the 2004 Summer Olympics in Athens
Silver Medalist at the 2008 Summer Olympics in Beijing
Cat Osterman | Stats
| | | | |
| --- | --- | --- | --- |
| Win-Loss record | Earned Run Average | Strikeouts | Saves |
| 95-24 | 0.91 | 1260 | 12 |
Cat Osterman | Net Worth, Salary & Income | What Is Cat Osterman Worth?
For instance, sources have come close to estimating $2 million net worth accumulated by Cat in her almost decade-long softball career.
At the same time, the American pitcher works as a coach at Texas State University.
So, that must clarify the doubts on her extraordinary net worth. Nonetheless, we want to point out that the salary or net worth collected by a female athlete, is completely overshadowed by what men earn.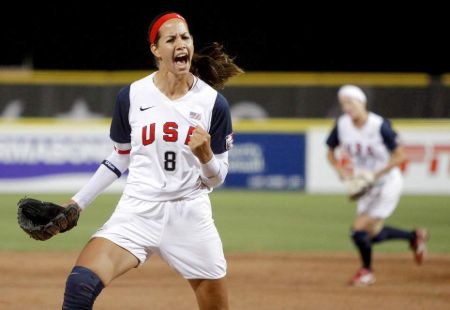 Indeed, the sporting sector isn't exempt from this sort of discrepancy, and many authorities assume women's sports to be inferior.
On the contrary, women are capable of extraordinary feats at the same level, whatever the degree of occupation may be.
Moving on, there isn't an accurate method of pinpointing the salary pocketed by Cat. Nevertheless, some legit websites inferred that any softball player's average wage ranges from $8k to $50k.
Therefore, annual earnings come around a sum of $29k. While this may be true, we need to take Osterman's reputation into account.
Being one of the famous softball faces, she also endorsed various companies that help her surmounts the regular salary.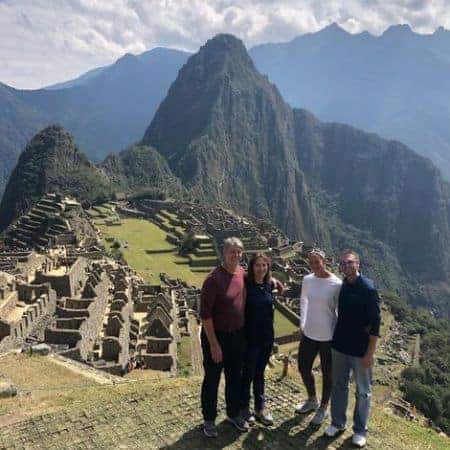 Likewise, Cat doesn't waste a single dollar on extravagance but does her part to uplift the community. The motto: "Pay it forward" is highly discerned from Osterman's charitable and social activities.
However, even a tireless hard worker needs rest, and as such, at times, the Texan likes to go on a quick getaway and enjoy the holiday with her loving husband.
As a lover, Osterman makes sure to immerse herself in the culture wherever she goes.
Quotes
If you look back at yesterday and think it was a big deal, then you haven't done anything today.
It's always about wanting to one-up myself from the day before. There's never an absolute 100% perfect performance, but going out and striving for that perfect performance is what keeps me going.
When someone you have a lot of respect for, believes in you, it helps you believe in yourself.
Cat Osterman | Relationship Status, Husband & Kids | When Did Cat Osterman Get Married?
In particular, the retired softball pitcher is a married woman. Added to that, Cat wedded her longtime boyfriend, Joey Ashley, with whom she shares a son named Miles and an unnamed daughter.
Before marriage, the two lived together for many years before Joey popped the biggest question of all time.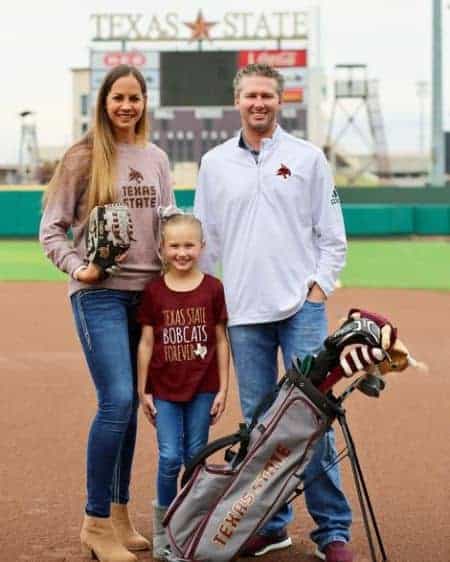 Moreover, the couple tied the knot on fateful autumn, September 3, 2016, in the presence of loved ones and acquaintances. We cannot imagine what a magical day it must have been for both the newlyweds.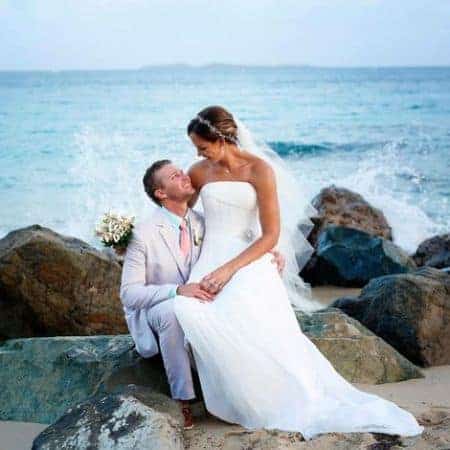 In the same way, the venue overlooked a sea with a rocky beach. The photo suggests it was a mesmerizing experience for both the newlyweds and the attendees.
Above is a photo showing a picture of their wedding day.
Cat Osterman | Social Media Presence
Below are all the social media platforms of the Olympian. If you want to know all the latest news on her, you can follow her on the following platforms.
Instagram: 58,900 followers
Twitter: 58,300 followers
Facebook: 87,945 followers
Cat Osterman | FAQs
What is Cat Osterman's current job?
The gold medalist recently came out of her retirement to assist the USA Softball National Team to win a gold at the 2020 Tokyo Olympics.
Who is Cat Osterman dating?
The Olympian is not dating anyone as she is married to her longtime boyfriend Joey Ashley.