Jimmy Connors, an American retired tennis player, is deemed one of the greatest tennis players ever. The former world no. 1 tennis star turned pro in 1972 & played for two decades before retiring in 1996.
But professional success doesn't mean that Connors' life always had sunshine.
No doubt, fame is such a funny thing; the same thing that makes you a fan favorite can be the downfall of your career. Let's take Jimmy's emotional outbursts on the court as an example.
From his chaotic relationships to a gambling mishap, his journey has turned pages of lessons for life.
Despite all those, Jimmy Connors always had his steadfast dedication to tennis and never really let go of it.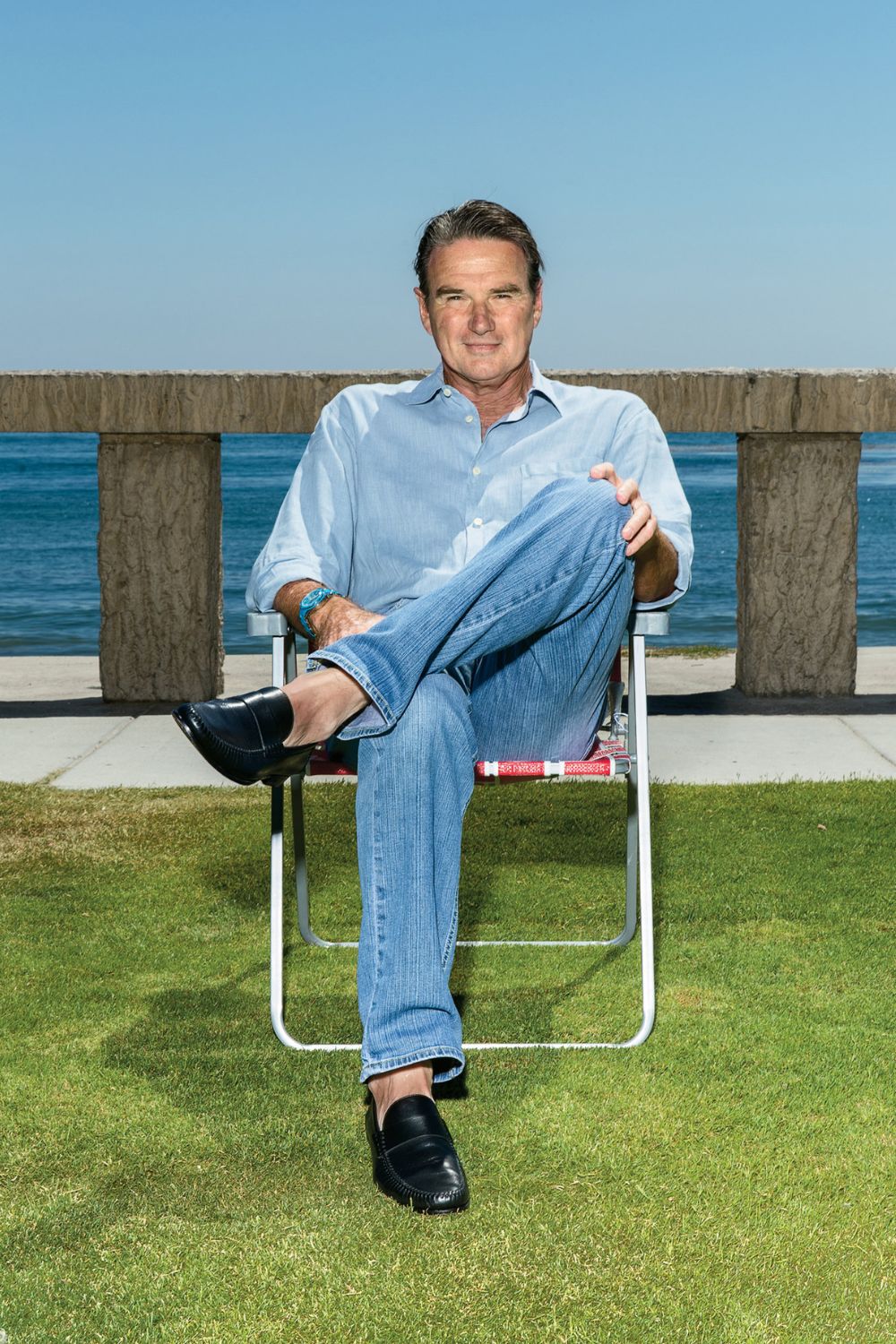 In the 90s, no one in tennis history could compare Jimmy's ranking and stats. Not to mention, Connors's playing style has influenced the development of the flat backhand.
In 1974, he won three Grand Slam tournaments – the U.S. Open, Australian Open, and Wimbledon – but was barred from the French Open.
Jimmy has summarized his life in his book, The Outsider, "Tennis gave Agassi everything — his fame, his money, his reputation, even his current wife — and he went on to knock it in his book."
Let's get to know more detail; starting from early life, here are some quick facts below.
Quick Facts
| | |
| --- | --- |
| Full Name | James Scott Connors |
| Known As | James Connors |
| Nickname | Brash Basher of Belleville |
| Birth Date | 2 September 1952 |
| Birth Place | East St. Louis, United States |
| Residence | Santa Barbara, United States |
| Religion | Roman Catholic |
| Nationality | American |
| Ethnicity | White |
| Education | East St Louis Senior High School & University Of California, Los Angeles |
| Horoscope | Virgo |
| Father's Name | James Scott Connors |
| Mother's Name | Gloria Thompson |
| Siblings | 1 (Johnny Connors) |
| Age | 70 Years Old |
| Height | 5'10″/178 cm/1.78 m |
| Weight | 68 kg/150 lb. |
| Eye Color | Grey |
| Hair Color | Blonde |
| Body type | Athletic |
| Profession | Former Tennis Player |
| Marital Status | Married |
| Spouse | Patti McGuire (Since 2 October 1979) |
| Children | Two (Brett & Aubree) |
| Playing Career | 1960-1996 |
| Turned Pro | 1972 |
| Playing style | Left-Handed (Two-Handed Backhand) |
| Coach | Gloria Connors, Pancho Segura |
| Honors | World Championship Tennis Singles, Inducted Into International Tennis Hall Of Fame, Inducted Into St. Louis Walk Of Fame, |
| Victory | Wimbledon Doubles Champion, U.S. Pro Championship Singles Champion, Wimbledon Singles champion, Ranked Number One Tennis Player In The World |
| Net Worth | $30 Million |
| Career Prize Money | $8,641,040 |
| Coaching Career | Andy Roddick (2006-2008), Maria Sharapova (2013), Eugenie Bouchard (2015) |
| Merch | The Outsider: A Memoir, Autograph |
| Last Update | May 2023 |
Early Life & Family
Jimmy was born on 2 September 1952 in East St. Louis, Illinois.
His father, James Connors, used to work as a toll bridge attendant, while his mother, Gloria Thompson, played tennis.
Aside from his parents, Jimmy has a brother named John "Johnny Connors." His mother and grandmother, Bertha Thompson, nurtured Jimmy in tennis.
As for his education, Connors attended St. Philip's grade school with his brother. After that, he went to East St. Louis Senior High School.
For his further studies, Jimmy enrolled at the University of California, Los Angeles.
Mentor Mother
As mentioned above, Jimmy's mother, Gloria, was a tennis player who also learned to play with her mother, Bertha. Both of them were eager to teach Jimmy.
It is also said that Gloria was more than prepared to teach Jimmy tennis. She cleared the land behind her house to build a tennis court.
Bertha tried to teach her first grandson, Johnny, but he didn't show much interest. So they gave their 100% to groom Jimmy to become champion.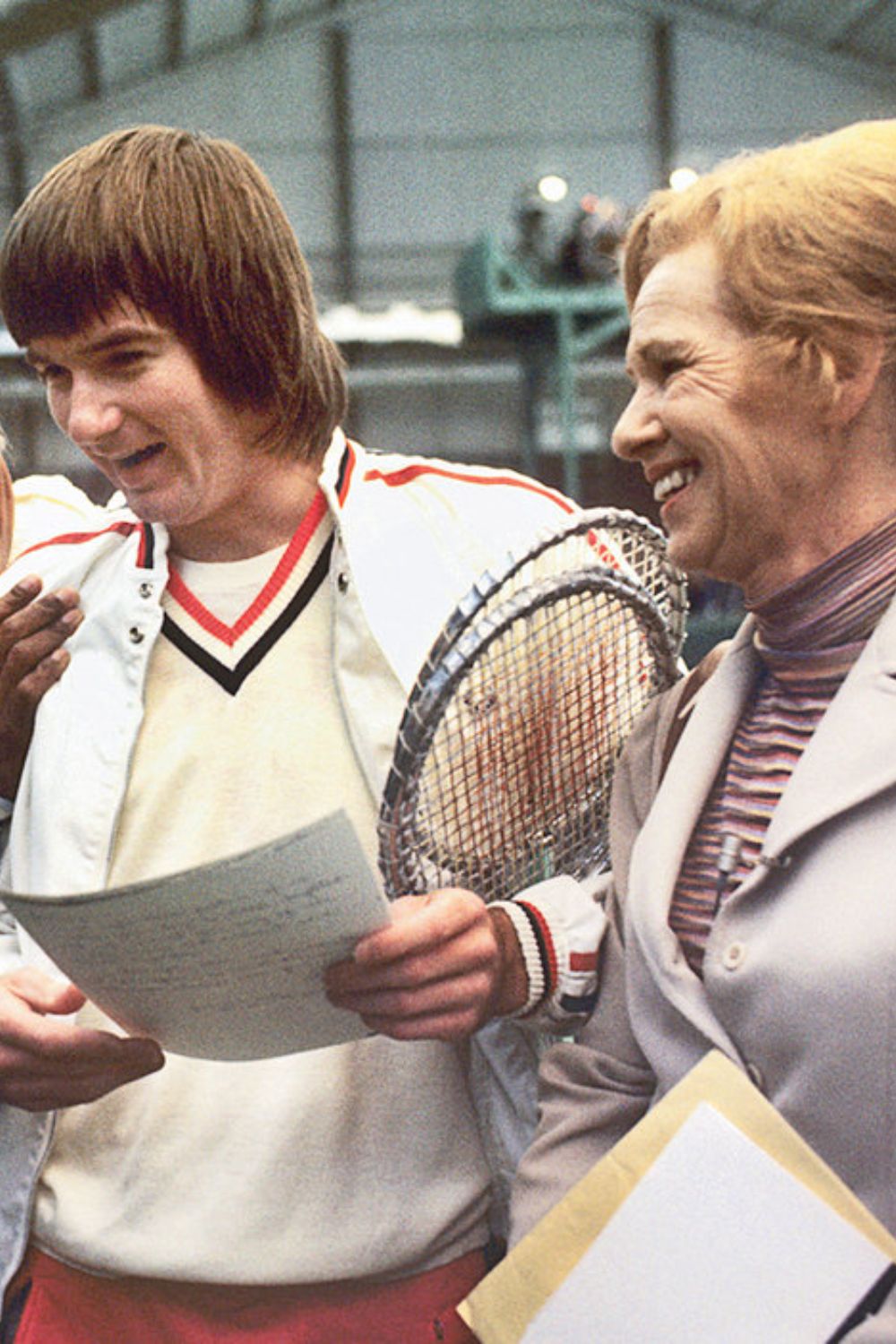 Not only in the beginning, but his mother, Gloria, has also been his primary coach. Thus, the family moved to California to support his tennis career. Jimmy sometimes trained with Panchi Gonzalez and Pancho Segura, famous tennis players there.
At 8, Jimmy played his first U.S. Championship in the eleven-and-under division. By 18 years old, he was ready to play against top professionals.
In 1970, he made it to the quarterfinals in doubles of the U.S. with Gonzalez. Later, while at university, he won the National Intercollegiate singles title as a freshman.
Grand Slam Tournaments Champion
Eventually, in 1972, Jimmy dropped college to play tennis full-time and immediately won his first professional title in Jacksonville, Florida.
He finished eighty-three that season & with time, Jimmy continued to win titles with record-breaking ranks.
Just only in a year, Jimmy ranked number one in the U.S., tying with Stan Smith. He further won the Wimbledon doubles title in 1973.
Later, in 1974, in his second year as a professional, Connors won three Grand Slam tournaments.
The ATP became the new union for most male professionals, but Jimmy joined World Team Tennis (WTT).
Later the French Open did not allow Connors to participate due to his association with World Team Tennis (WTT), but he still won the Australian Open.
Career Stats & Peak Years
As time passed, Connors excelled in his field and bagged many titles. In 1973, 1976, and 1978, Jimmy ranked number one globally.
Keeping his winning streak, Jimmy also won the U.S. Open singles title on the hardcourt in 1982 and 1983. Similarly, he became the first player to earn over $2 million.
Bad Boy Days
To illustrate, Jimmy had been the best in tennis since the beginning. Hence, all eyes were on him, and even a tiny mistake harmed his public image.
Additionally, Jimmy got public attention from his emotional outbursts and antics on the court.
Despite the fame of his playing style, ranking, and excellent return of serve, he has also been called punk, maverick, and street fighter.
Truly while being down, Jimmy grunts and curses like a guttersnipe. Sometimes, he even wields his racket switchblade style toward the crowd.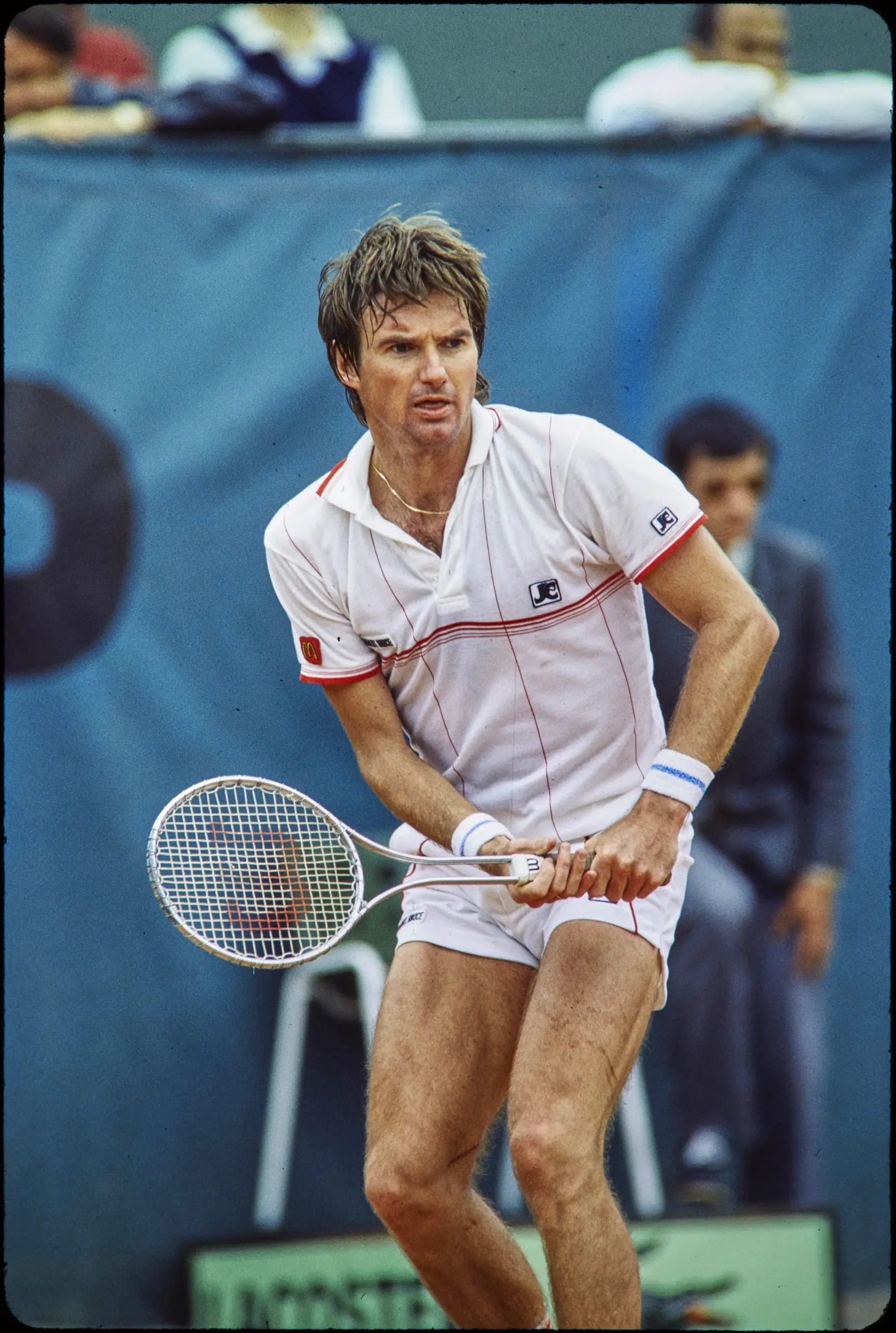 In some instances, Jimmy was even called the "Bad Boys" of American tennis. Despite having a great character as a tennis player, his personality made him the ultimate bad boy.
Once, Jimmy and his American tennis rival John McEnroe claimed that many of the world's best tennis players are boring. This clearly shows up that they are not ashamed of their characters.
Marriage & Children
The retired tennis player is in a marital relationship with his wife of more than 4 decades, Patti McGuire, a former Playboy model.
They married in 1979 just 3 months after getting to know each other.
The duo welcomed their first child Brett Davis in 1980 & later welcomed daughter Aubree Leigh in 1985.
As reported, before their second child arrived, their relationship was on the verge of ending in 1983, but they reconciled later.
Past Relationship
Before McGuire, Jimmy Connors was already in some serious relationships; he was engaged twice.
He and a fellow tennis player Chris Evert were engaged from 1974 to 1975. They even won a singles event in the 1974 Wimbledon Open in their respective categories.
However, they broke up in 1975. Even though they reconciled in 1976 & 1978, it didn't work out.
According to his autobiography, Evert unilaterally decided to have an abortion. It allegedly caused havoc in their relationship.
Then, Connors began dating former Miss World Marjorie Wallace. They announced their engagement in 1976 but only to call it off a year later, in 1977.
Comebacks
After devoting maximum time to his family, Jimmy was still energizing himself to play tennis. Conversely, a maximum number of players of his age were retiring.
Jimmy got into the French Open at thirty-nine, considering difficulties, including wrist surgery. Accordingly, 1991 became the only year he did not win the Grand Slam title.
Similarly, Jimmy came to the 1991 U.S. Open the same year, which was already his favorite competition.
Despite his age, Jimmy was ranked 174th in the world. There he got a wildcard entry for the tournament. On the whole, Jimmy defeated many young and great players.
Eventually, Jimmy referred to the year 1991 as his comeback as "the summer of all summers."
Awards & Achievements
1971: National Intercollegiate singles title, Named All American
1973: Wimbledon doubles champion, U.S. Pro Championship
1973-75/1978-79/1983-84: U.S. Indoor Open singles champion
1974: Australian Open singles champion, U.S. Indoor Open doubles champion with Frew McMillan, U.S. Clay Court doubles champion with Ilie Nastase, Named Player of the Year
1974, 1976, 1978-79: U.S. Clay Court singles champion
1974, 1976, 1978, 1982-83: U.S. Open singles champion
1974, 1982: Wimbledon singles champion
1975: U.S. Open doubles champion with Ilie Nastase, U.S. Indoor Open doubles champion with Ilie Nastase
1976: Ranked number one tennis player in the U.S. and the world, Cologne Cup
1976/1978-80: Pro Indoor singles champion
1976/1981: Davis Cup Team
1976/1985: World Cup Team
1977: World Championship Tennis singles
1978: Ranked number one tennis player in the world
1991: Reached U.S. Open semifinals at age 39, Included in 25 Most Intriguing People by People magazine
1998: Inducted into the International Tennis Hall of Fame
2001: Inducted into St. Louis Walk of Fame
After Tennis
After 1991, Jimmy stopped playing professional tennis. But he occasionally competed on the ATP tour up until 1996.
In 1993, he organized the Champions Tour for men over 35. In fact, in 2001, Jimmy still ranked among the top twenty of the seniors' tours.
He showed interest in other sports, especially golf. In 1994, Jimmy participated in the AT&T National Pro-Am golf tournament.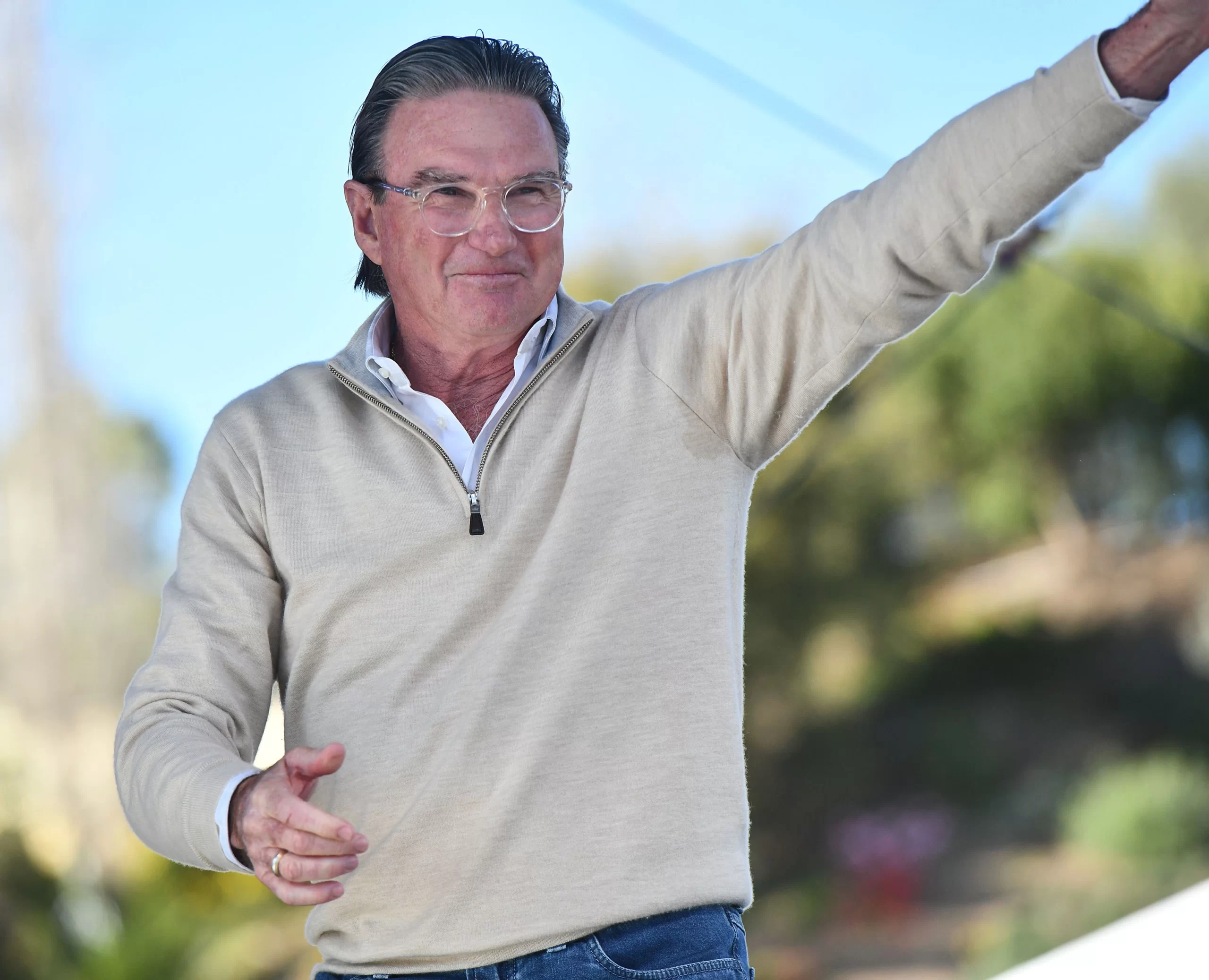 Involving his elder brother Johnny, they invested in a riverboat gambling operation in St. Louis.
In 1992, he co-authored a book called Don't Count Yourself Out! Staying Fit After 35.
In accordance, he became a spokesperson for products like Liberto Denim, Reebok Hard Court shoes, and other Homedics Thera P Magnetic Wave products for pain relief.
Gambling Investment
Jimmy opened pandora's box when he invested in the casino Alton Belle in 1991 with his brother John.
Alton Belle enjoyed a monopoly in Missouri and Illinois, and the profits John could generate from the casino were invested in the parent company (Argosy Gaming Company). The Connors had the same amount of shares in the company.
Each brother had about $70 million worth of shares. Unfortunately, the companies' stock prices fell rapidly due to the market crash.
According to Questia, some friends of the Connors anonymously identified that the brothers' relationship was hampered because of the downfall.
Net Worth
Jimmy Connors' net worth is $30 million as a former top most ranked player globally.
He earned $8.6 million in tournament prizes and even more from his endorsements.
In June 2021, Jimmy put his mansion on the market for $9.5 million, which he later removed, and now it costs $12 million.
Jimmy lives in his $2.5 million house in Santa Barbara on the central California coast of the United States.
Unsurprisingly, a multi-millionaire like Jimmy Connors has a collection of luxury cars. The former tennis star often drives his Maserati, which costs several thousand dollars.
Jimmy Connors has partnered with several major brands, Nike, Wilson, Reebok, Nestle, Slazenger & Jet-X.
Popularity Graph
Jimmy's search graph has an average amount of mobility and shows a peak between March and December.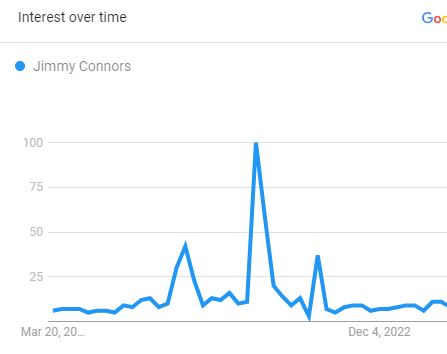 The graph illustrates the search rate for the past 12 months.
Frequent Asked Question (FAQs)
Was Connor better than McEnroe?
Jimmy and McEnroe were top competitors against each other. Analyzing their career stats, Connors is likely to be forward in most counting categories for singles.
Are Jimmy Connors and John McEnroe friends?
While in their prime years, Connors and McEnroe were fierce competitors. Hence, they are no best friends in any form or manner. Moreover, John always said he preferred Pete Rose as his tennis nemesis.
Which teams was Jimmy coached?
Jimmy Connors has coached Andy Roddick, Maria Sharapova, and Eugenie Bouchard.
To whom was Jimmy engaged?
Jimmy was engaged to former Miss World Marjorie Wallace but they separated and later he married Playboy model Patti McGuire.