Jimmy Johnson is a former football player, coach, and working football broadcaster. He is immensely famous for his coaching career with the Dallas Cowboys in the NFL, whereas, now he is known as a sports analyst for Fox NFL Sunday. Besides that, in 2020, his induction was declared into the Pro Football Hall of Fame.
When he was the head coach, the team won two NFL championship titles consecutively in 1992 and 1993. On top of that, Johnson has also coached several college teams.
He also wrote a book reflecting on his life in football called Turning the Thing Around: My Life in Football.
The former coach also played in the University Of Arkansas's football team known as the Arkansas Razorbacks football team.
He played under Coach Frank Broyles, who helped many assistant coaches under his wing coach the NFL teams. Some of whom are Hayden Fry, Johnny Majors, etc.
The analyst was also one of the cast members in the 21st edition of Survivor in 2010. Johnson is a massive admirer of the show.
He was also cast in the 17th edition of the show but couldn't commit due to physical problems. However, even in the 21st season, he was voted out of the show.
Before diving into details about the NFL coach's life, let's take a look at some quick facts.
Quick Facts About Jimmy Johnson
Full Name
James William Johnson
Birth Date
July 16, 1943
Birth Place
Port Arthur, Texas
Nick Name
Jimmy Jumpup, J.J
Religion
Christian
Nationality
American
Ethnicity
White
Education
University Of Arkansas
Horoscope
Cancer
Father's Name
C.W. Johnson, Jr.
Mother's Name
Allene Johnson
Siblings
Wayne Johnson
Age
79 Years Old
Height
5 feet 8 inches (1.73 m)
Weight
158.7lb (72 kg)
Hair Color
Brown
Eye Color
Blue
Build
Athletic
Profession
Former NFL coach, Current Sports Broadcaster
Current Team
Retired
Teams Coached (Universities)
Louisiana Tech University (Assistant Coach)

Picayune Memorial High School in Mississippi (Assistant Coach)

Wichita State University (Assistant Coach)

Iowa State University (Assistant Coach)

University of Oklahoma (Assistant Coach and later Head Coach)

The University of Arkansas (Defensive Coordinator)

University of Pittsburgh (Defensive Coach)

University of Miami (Head Coach)

Professional Coaching
Dallas Cowboys (Head Coach)

Miami Dolphins (Head Coach)

Media Career
Sports Analyst at FOX Sports

Broadcaster at FOX NFL Sunday

A contestant on the show named Survivor

Hall of Fame
Pro Football Hall of Fame.
Active Years
1965-1999
Marital Status
Married
Wife
Rhonda Rookmaaker
Kids
Two
Children's Name
Chad Johnson

Brent Johnson

Net Worth
$45 million
Social Media
Instagram
Merch
Memoir, Book
Last Update
May, 2023
Jimmy Johnson | Early Life, Family, And Education
Jimmy was born in Port Arthur, Texas, to C.W. Johnson Jr. and Allene Johnson. The former football player graduated from Thomas Jefferson High School, which is now known as Memorial High School.
He grew up with immense love and respect for the game.
Johnson went on to attend the University of Arkansas to further his education. He played for the University's football team named Arkansas Razorbacks.
Moreover, "J.J" served as the team's defensive lineman and was named All-Southwest Conference defensive lineman.
On top of that, he played alongside many future footballers like Ken Hatfield, Loyd Phillips, and many more.
You might be interested in reading: Seth Greenberg's Bio: Coaching Career & Family.
Jimmy Johnson | Age, Height, And Weight
The former collegiate coach turned 79 on July 16, 2023. He is 158.7 lb, which is roughly 72 kg and is 5 feet 8 inches high (1.73 m)
Jimmy Johnson | Coaching And Television Career
The FOX Sports analyst was a coach for almost 35 years of his life.
Coaching Career
Early Year As An Assistant Coach
The former NFL coach started his coaching career at Louisiana Tech University as an assistant coach.
On top of that, he helped recruit football player Terry Bradshaw to the Louisiana football team.
Besides, he was an assistant coach at Picayune Memorial High School in Mississippi and then at Wichita State University. After that, he went on to Iowa State University and the University of Oklahoma subsequently.
The sports analyst came back to Arkansas and served as a defensive coordinator for the University of Arkansas. After the head coach there retired, he was hoping to lead the team as a head coach but instead, Lou Holtz was assigned the job.
So, he left Arkansas and became a defensive coach at the University of Pittsburgh.
Coaching Career At Oklahoma State
At Oklahoma State University, Johnson got his first head coach job in the year 1979. He coached five remarkable seasons with the Oklahoma Cowboys.
In the Astro-Bluebonnet Bowl and his last season where he led the Cowboys to an 8-4 record and a 24-14 win over the opposing team Baylor Bears.
The University of Miami offered Jimmy the head coach in 1984. The football player was confused about whether or not to take the offer, but he eventually did after some encouragement from his good friend Larry Lacewell.
Coaching Career At The University Of Miami
Even though he didn't have a warm welcome or a steady start being the coach of previous national champions, Miami Hurricanes, he eventually proved his worth to the college team.
Initially, in the first season, the Hurricanes had an average record of 8-5 and had lost to Maryland, Boston College, etc.
Nevertheless, he trained his Hurricanes to be so good in the five years that he coached them that they were recognized as the 'Decade of Dominance.'
Miami Hurricanes went on to win a National Championship title in 1987, had a 52-9 record, and New Year's Day bowl games invited them five times, which led to the induction of Johnson into the College Football Hall of Fame.
The television host was constantly scrutinized for the freedom he gave his players to play rough, showboat, and trash-talk.
The heavy criticism led the media to term the Hurricanes as the 'Bad Boys of College Football.'
Also, he created quite a controversy when he didn't allow the retirement of Bernie Kosar's jersey.
However, when Kosar was let go of the Cleveland Browns in the NFL, the sports analyst signed him with the Dallas Cowboys and played him in the game that would be their NFC Championship Game.
Also, check out fellow NFL coach Gene Keady's Hall of Fame, Net Worth, and Coaching Career.
Coaching Career At Dallas Cowboys
In 1989, Johnson's former teammate from the University of Arkansas, Jerry Jones, who was also the owner of the Dallas Cowboys, asked him to be the team's head coach. The job was his first professional coaching job.
Without further delay, he made the team strong by selecting talented players in the draft and making smart trades.
The former football player became one of the six coaches to lead their team to two consecutive wins when the Cowboys won the Superbowl in 1992 and 1993.
Things quickly got sour between the owner and the coach, which caused them to part ways as they could not get along.
There was a lot of gossip and juggling of words in the media, and eventually, they both started getting petty. Henceforth, they both considered the right decision was to split.
After the championship, Jimmy left the Cowboys with a $2 million bonus in 1993. However, the duo appears to have let go of the bitterness as they were on talking terms.
Nevertheless, he is still not in the team's Ring Of Honor despite taking them to two consecutive wins.
Coaching Career At Miami Dolphins
Before serving as a head coach of the Dolphins, he served as an analyst for FOX Sports for two years. However, he couldn't achieve the level of success he did with the Cowboys.
He had fewer wins in his starting season than the previous coach had in his final season.
The Dolphins lost against many teams and essential games. Jimmy even said in an interview that he would retire as a coach after his contract.
So in 1999, he resigned from the Dolphins and announced his retirement. However, the team's defensive player begged him to come back and hired his former assistant coach as a defensive coordinator.
He decided to give it one last shot because of such an outcry, but the outcome still wasn't up to his expectations.
Despite some wins, when the Dolphins endured a humiliating loss against Jacksonville Jaguars, the former NFL coach resigned after the game.
Television Career
Sports Analyst At FOX NFL Sunday
After the 79-year-old's NFL career, he rejoined FOX sports and became an analyst for FOX NFL Sunday. He stars aside former football players and broadcasters.
Survivor
The Father of two is a big fan of the show Survivor, and the show cast him in the 21st edition of the show. However, he found out it was much more comfortable and fun to watch than to be a part of the show.
When he got out on Day Eight, he said he was miserable there and immensely relieved to return home.
Jimmy Johnson | Marriage And Kids
The former football player was previously married to his college sweetheart Linda Kay Cooper on July 12, 1963.
They had a pretty good run for 26 years before they got divorced in 1990, as they could not give each other time due to different priorities.
The former pair share two children, namely Chad Johnson, who is 45 years old, and Brent Johnson, who is 46 years old as of 2023.
The broadcaster's firstborn, Chad, suffered from and overcame alcoholism and has marked six years of sobriety. Moreover, he even started a treatment center for people suffering from alcoholism.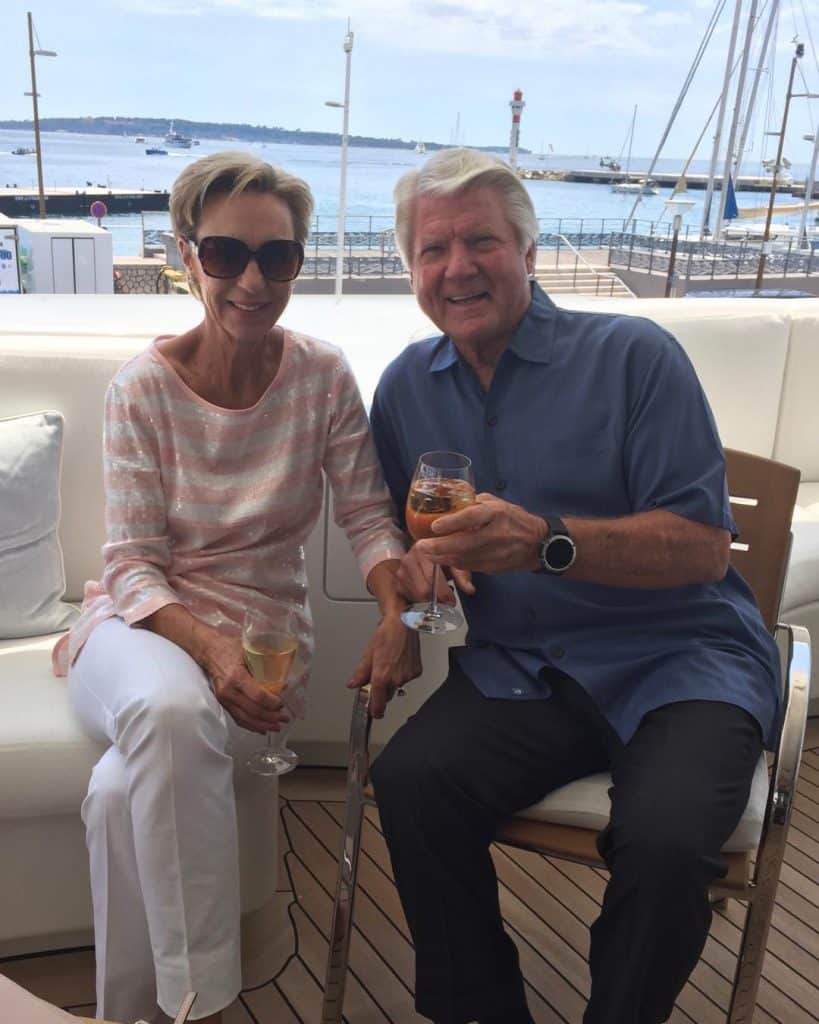 The analyst met his second wife, Rhonda Rookmaaker, a hairdresser when he was a coach at the University of Miami.
Rookmaaker worked as a hairdresser in a nearby salon named Coral Gables Salon. She is a divorcee too. The couple married privately in 1999 and currently reside in Islamorada, Florida Keys.
Mike Tomlin Bio: Football, NFL, Coaching & Controversy>>
Jimmy Johnson | Net Worth And Salary
The NFL coach has a net worth of $45 million. He had numerous college football teams that went on to win state titles before coaching two-time NFL Champions, Dallas Cowboys.
Moreover, he has had a pretty successful career as a coach and, after that, as a sports analyst.
The Dolphins' coach hosts Fox NFL Sunday and has hosted alongside retired football legends like Michael Strahan, Terry Bradshaw, and Howie Long. Furthermore, he had made cameos in television series and movies too.
Johnson, besides, also owns multiple restaurants. He holds a restaurant named Three Rings and a bar and restaurant called J.J.'s Big Chill.
To summarize, the Father of two named the restaurant after the three wins in collegiate and professional level coaching. Also, he owns a boat with the name Three Rings.
Jimmy Johnson | Social Media Presence
The former NFL coach is on Instagram, with over 47.1 thousand followers. "J.J." shares a lot of pictures of his wife and kids, his coaching days, his FOX NFL Sunday co-hosts, him fishing on his boat, and so on.
Several celebrities, hosts, and athletes follow the legendary coach. Jimmy is also very well acquainted with former wrestler and actor Dwayne "The Rock" Johnson.
Besides, he is remotely available on social media and has no other profiles or accounts.
The television host seems to love fishing and goes on fishing with his friends and family frequently. On top of that, he also continually shares photos of his broadcaster job and his coworkers.
Jimmy Johnson Tournament (2022)
In 2022, the Jimmy Johnson Tournament will return to Atlantic City
Jimmy Johnson Fish Week Atlantic City returned July 10-16 2022 with a $1 Million Dollar Guaranteed Purse AND an increased purse plus a Championship Ring!
Tier 3 Early Entry Discounts expire on March 31st. Get ready for a week of over-the-top entertainment, fun, gifting, and highly competitive fishing!
Facts To Know
In the Sprint Cup Series, Jimmie Johnson was the only champion from 2006 to 2010.
There have been 90 Chase races since 2004 and 22 of them have been won by Johnson.
During his career, Jimmie Johnson has run a full 36-race schedule 11 times. Each of them has produced at least 20 top-10 finishes, a feat that no other driver can match.
Common Queries About Jimmy Johnson
How old is Jimmy Johnson?
The legendary Jimmy Johnson steeped in his 76th year on July 16, 2023. He would soon become 79 years old.
Where is Jimmy Johnson from FOX NFL Sunday now?
Jimmy Johnson currently works as a football broadcaster for FOX NFL Sunday. He also serves as a sports analyst for FOX Sports.
Ariel Helwani Bio: MMA Reporting, Controversies, UFC Ban & Family>>