Olivia Holzmacher is a senior process specialist, analyst, and the girlfriend of NFL quarterback Joe Burrow.
Holzmacher supported the young NFL star long before he was selected first overall by the Bengals in the 2020 draft.
The beautiful lady is enjoying every moment of her boyfriend's NFL season. Unlike many other professional athletes in the NFL league, Joe has maintained openness regarding his romantic relationships.
Joe is a loyal partner to his girlfriend, with whom he will probably take vows in the near future.
In fact, he never shies away from mentioning Olivia proudly, and she also looks proud to be around Joe.
We're assured that Holzmacher and Burrow are on their way to becoming the perfect couple on the face of the NFL.
So let us uncover everything about the girlfriend of Joe Burrow, who has been by his side through thick and thin and is his number one fan.
But before anything, let's glance at quicks facts about her.
Quick Facts
| | |
| --- | --- |
| Full Name | Olivia Holzmacher |
| Date of Birth | April 27, 1997 |
| Nickname | Olivia |
| Religion | Christian |
| Sexuality | Straight |
| Father's Name | John Holzmacher |
| Mother's Name | Susan Holzmacher |
| Place of Birth | Mason, Ohio, USA |
| Gender | Female |
| Ethnicity | White |
| Age | 26 Years Old |
| Profession | Senior Process Specialist & Analyst At The Kroger Company |
| Active Years | 2013-Present |
| Famous For | Girlfriend of Joe Burrow |
| Nationality | American |
| Highest Qualification | Degree in Data Analytics |
| School | Mason High School |
| College | Ohio State University |
| Height | 5 ft 5 inches/1.67 m/167 cm |
| Weight | 121 pounds/55 kg |
| Eye color | Brown |
| Hair Color | Brown |
| Body | Slim |
| Shoe Size | Not Available |
| Favorite Sports | American Football |
| Relationship Status | Unmarried |
| Boyfriend | Joe Burrow |
| Children | None |
| Siblings | Brittany And Meghan Holzmacher |
| Zodiac Sign | Taurus |
| Ex-boyfriend | |
| Net Worth | 200K |
| Social Media | Instagram |
| Merch of Joe Burrow | Signed Jersey, Signed Helmet, Signed Rookie Card |
| Last Update | May 2023 |
Joe Burrow's Girlfriend: Olivia Holzmacher
The young quarterback is currently in a relationship with Olivia Holzmacher. Born and raised in Mason, Ohio, she is of American nationality.
She was born on April 27, 1997, to her mother, Susan Holzmacher, and her father, John Halzmancher.
Olivia attended Mason High School, not far from her home, and excelled in schooling with a great score.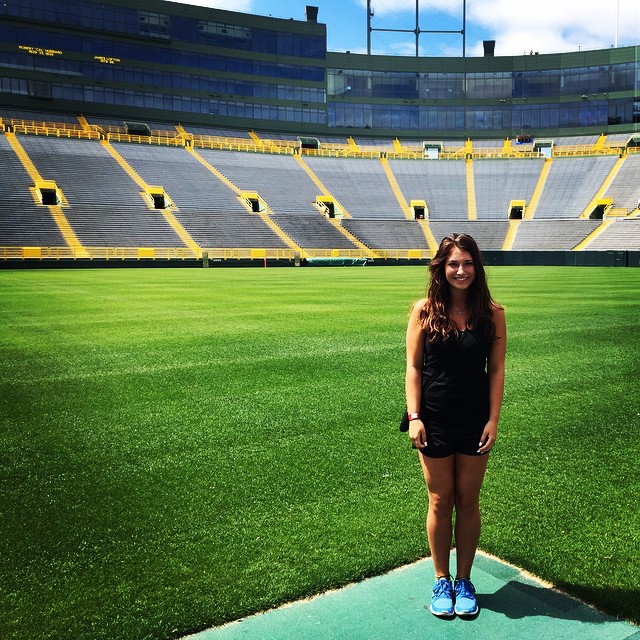 Later, she joined Ohio State University and pursued a degree in Data Analytics. She graduated with the respective degree in 2019.
During her college days, she was a member of the Alpha Phi sorority, where she had a leadership role within the organization.
Apparently, Olivia has been supporting him on and off-field, praising his achievements on her social media and sporting Bengals jerseys in public.
Interestingly, she was a fan of the sport long before she met Joe. A match made in heaven indeed!
Height & Weight
Based on Olivia's photos on her Instagram account, it is evident that she likes to stay fit.
The beautiful woman stands at 5 ft 5 inches (1.67 m) and weighs 121 pounds (55 kg).
On the other hand, her boyfriend, Joe Burrow, is almost a foot taller than her as he stands at 6 ft 4 in (1.93 m) tall and weighs 215 lb (98 kg).
In addition, she has beautiful brown eyes and straight brown hair.
Professional Career
Olivia completed a data analytics course from 2015-19 at Ohio State University.
Her LinkedIn profile shows she worked at the 'Lifetime Fitness Organization' based in Deerfield, Ohio, from 2013 to 2015.
Likewise, she also worked as a health volunteer at the Bethesda North Hospital during her college days.
Olivia is currently working as a senior process specialist and analyst at 'The Kroger Company' based in Cincinnati, Ohio, joining back in 2019.
Moreover, she describes herself as a critical thinker, problem-solver, detail-oriented, continual learner, organized, flexible, energetic, focused, and confident.
Net Worth
The net worth of Olivia Holmzcher is unavailable, but it can be estimated to be more than $200K.
However, her boyfriend, Joe Burrow, has an estimated net wort of $10 million.
He signed a four-year contract worth $36.1 million with the Bengals, lasting until 2023.
As part of his contract, he received a massive $23 million signing bonus. Moreover, Joe earns around $9 million as average annual salary from Cincinnati Bengals.
In addition, he is also involved in various endorsements and sponsorships.
After signing his rookie contract with the Bengals, Burrow stated that he planned to save all his contract money and instead manage his expenses through income received from endorsements.
He signed a multi-year contract with 'Fanatics,' an American online sports retail company. Likewise, Joe also made a deal with the top footwear 'Nike.'
How Did Joe Burrow & Olivia Holzmacher Meet?
Joe Burrow enrolled in the Ohio State University in 2015 after completing his schooling at Athens High School. At the university, he was playing as a backup to J.T. Barrett.
While there, he met his would-be girlfriend, Olivia Holzmacher, who was pursuing a career in data analytics.
The pair instantly connected in an emotional relationship and, in no time, started dating in August 2017.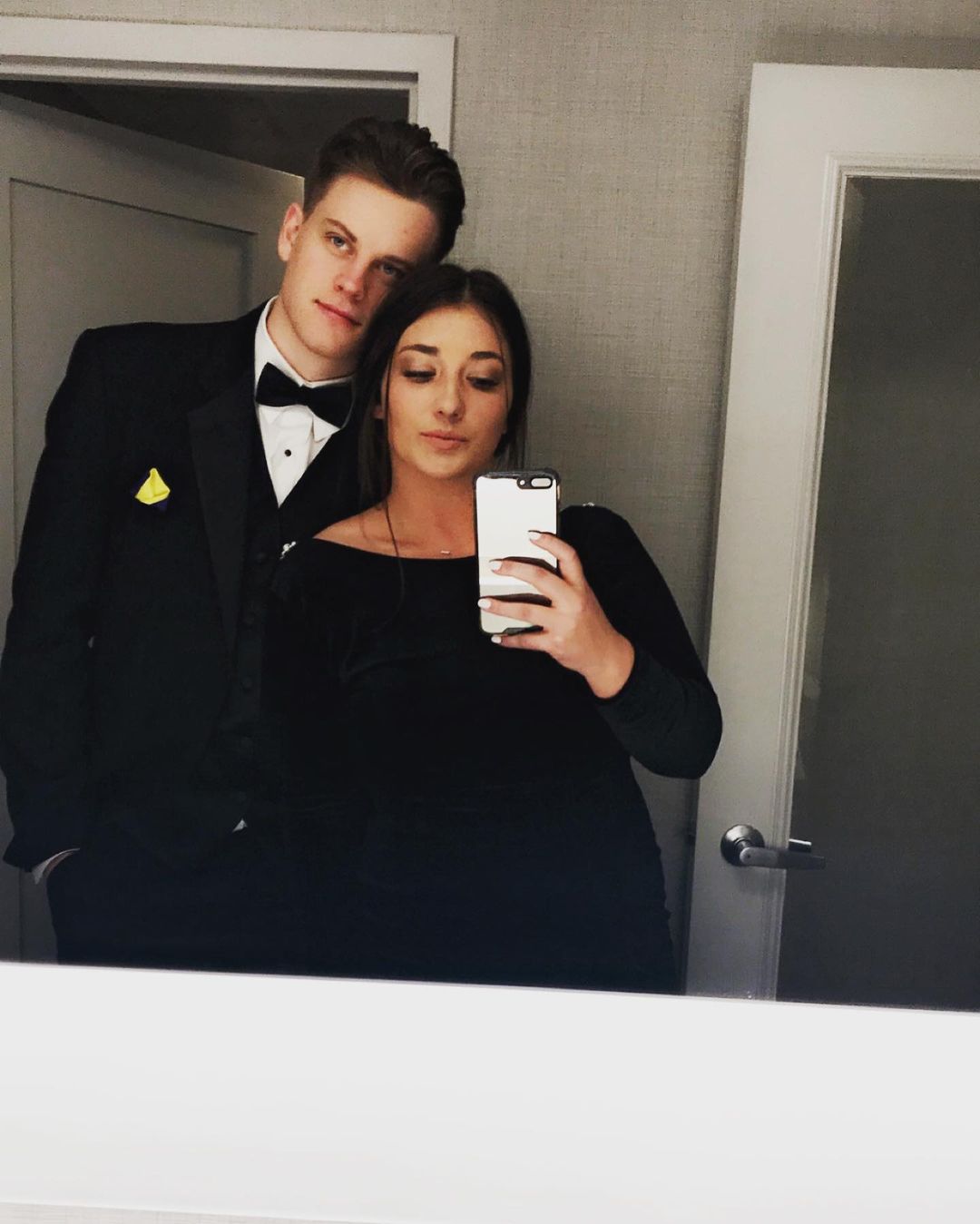 During that same year, Olivia posted a picture of them together on her Instagram, hinting at the start of their beautiful romantic relationship.
But unfortunately, Joe was already a graduate in 2018, while Olivia still had a year left.
Later, Burrow transferred to Louisana State University, but that didn't part them and strengthened their bond.
Moreover, she often attended Burrow's games and was spotted on the sidelines.
Olivia Supporting Moments for Boyfriend, Joe Burrow
Joe has been in a relationship with his college sweetheart Olivia Holzmacher for more than five years, as they have been dating since late 2017.
However, it is unclear if the pair are living together; they are firmly inseparable.
Holzmacher is the young NFL superstar's biggest fan and has supported him through every ordeal of his life, starting from his struggling years to his present status as an official NFL star.
Let's look at the moments when Olivia supported her boyfriend, Joe.
Olivia Celebrated Burrow's Trophy Win
In December 2019, Joe was awarded the Heisman Trophy, defeating quarterbacks Jalen Hurts, Justin Fields, and defensive end Chase Young.
Burrow said he was so thankful to have played for two of the best programs in the country. Joe added, "I wouldn't have traded my journey for anything."
An Iowa native was transferred to LSU from Ohio State in 2018. Following his win, Olivia posted a cute mirror selfie of them on Instagram, calling the achievement "The best weekend ever."
Moreover, Olivia gushed, "I'm so proud of you."
Olivia Cheered For Joe As LSU Claimed A National Title
Similarly, Holzmacher supported Burrow a month later as he, along with the LSU Tigers, defeated Clemson in the national championship game by 42-25.
She posted her Instagram story at the time, writing, "Stay focused 9." Moreover, Joe completed 31 of 49 passes for five touchdowns and 463 yards.
She Welcomed Joe To The NFL With A Touching Tribute
The Bengals named Burrow the first overall pick in the draft, assisting in a new era in Cincinnati. As a result, Joe signed a $36.1 million contract with the Bengals in July 2020.
In the hours approaching the draft, Olivia posted a sweet message to her boyfriend as he stepped into the next phase of his career.
She captioned the Instagram post by mentioning how thankful she is to be on his side and part of the past three seasons.
Joe Burrow, along with his girlfriend, Olivia Holzmacher (Source: Instagram)
Moreover, she wished the best for his new chapter and added that she has had the best experiences and met the best people.
Olivia was highly excited about what the future held for Joe.
Holzmacher Was In The Stadium To Support Joe During The Bengal's Win Against The Jaguars
Olivia was on hand to cheer for the Bengals quarterback during a 24-21 home win against the Jaguars in 2021.
She documented the game day in a series of Instagram story posts that included Bengals WAGs Morgan Mead, Kayla M. Adeniji, offensive lineman Hakeem Adeniji's wife, and linebacker Logan Wilson's wife.
Moreover, she rocked Joe Burrow's No. 9 jersey.
Olivia And Joe Cozy Up After The AFC Win
Joe Burrow enjoyed the Bengals' win in 2021 with his favorite fan.
Olivia took to Instagram and posted a cozy snapshot with the match's star.
In the picture, the quarterback was seen posing with his 'JB9' diamond necklace while she was sporting a Bengals jersey with his name.
Brief Details About Joe Burrow
Joseph Lee Burrow is an American football quarterback currently playing for the Cincinnati Bengals of the NFL.
He was born on December 10, 1996, in Ames, Iowa, to former football player and coach Jim Burrow and Robin.
The Burrow athletic legacy dates back nearly a century, as even his paternal grandfather and grandmother played basketball at Mississippi State.
He attended Athens High School in The Plains, Ohio.
He led the school to three straight playoff appearances and the school's first seven playoff victories in history.
Moreover, he was also an extraordinary basketball player during high school.
For college, Borrow joined Ohio State in 2015 and then transferred to Louisiana State University in 2018.
In 2019, he led LSU to the College Football Playoff National Championship.
Joe has accumulated several awards and honors for outstanding performances throughout his professional career, including the Maxwell Award and Heisman Trophy.
He was among 58 players in the 2020 NFL Draft, and the Bengals selected him first.
Unfortunately, despite a promising start, Joe's rookie season ended halfway through after he encountered a severe knee injury during a game.
Albeit, he came back from the injury and has been giving his best performance.
Social Media Presence
Olivia Holzmacher is mildly active on social media. The only time she uses her Instagram is to show support for her NFL boyfriend.
Her feed is filled with the couple's snaps together on several occasions. You can find her on Instagram as @oliviaholzmacher.
Similarly, her boyfriend is active on Instagram under the username @joeyb_9 and on Twitter under the username @JoeyB, where he has accumulated 3.8 million and 962K followers, respectively.
Instagram: 142K Followers
Popularity Graph
Being the girlfriend of one of the top NFL quarterbacks, Olivia Holzmacher, is quite popular on the internet.
The above figure shows her search interest in the last 12 months.