A young quarterback on the professional field, Justin Fields is a well-ranked athlete. Since his first professional draft, he has been devoted to the NFL team Chicago Bears.
Justin has been a powerful contender since his rookie days, and it has not been long since Justin has been professional. Recently, on 20th November 2022, The Bears quarterback Fields suffered a dislocated left shoulder.
In this article, we will discuss Justin Fields' life journey and career statistics. However, before the discussion, let us first get through a quick dose of general facts.
Justin Fields | Quick Facts
Full Name
Justin Skyler Fields
Date of Birth
March 5, 1999
Birth Place
Kennesaw, Georgia
Nick Name
None
Religion
Unknown
Nationality
American
Ethnicity
Black
Zodiac Sign
Pisces
Age
47 Years Old
Height
6 ft. 3 in/1.91 m/ 191 cm
Weight
228 lb./103 Kgs
Hair Color
Black
Eye Color
Black
Build
Athletic
Father's Name
Ivant Fields
Mother's Name
Gina Tobey
Siblings
Jaiden Fields, Jessica Fields
Education
Harrison High School
University of Georgia
Ohio State University
Marital Status
Unmarried
Girlfriend

None

Kids
None
Profession
Football Player
Position
Quarterback
Affiliations
Chicago Bears
NFL Draft
2021 / Round: 1 / Pick: 11 (Status: Active)
Net Worth
$10 million (£8.27 million)
Social Media
Instagram, Twitter
Merch
Autographed Jersey, Booblehead
Last Update
March 2023
Justin Fields | Early Life & Family
Justin Skyler Fields, known as Justin Fields, was born on March 5, 1999, under the sign Pisces in Kennesaw, Georgia. He was born to his parents, Gina Tobey and Ivant Fields. His parents divorced when Justin was a baby.
According to the sources, Justin's mother, Gina Tobey, is a homemaker and used to work in sales. Not to mention, she is a pivotal supporter of Justin and was influential in helping Justin join the right university.
Similarly, Justin's father, Ivant Fields, was a star football player for Eastern Kentucky University during his college days.
Later in his professional days, Ivant served as an officer with the Atlanta Police Department from 1990 to 2012. He also used to be a resource officer for Atlanta Public Schools.
As for his siblings, his younger sister, Jaiden Fields, is currently a freshman softball player at the University of Georgia. His other sister, Jessica Fields, also plays softball and basketball.
Education
Justin Fields completed his studies at Harrison High School in Kennesaw, Georgia.
During his high school days, Justin played baseball as a shortstop and second base. His performance showed that he could have a fruitful career in baseball.
He joined the University of Georgia for college as he committed intently to playing football. Not long after, he transferred to the Ohio State University.
During his transfer tenure, the Major League Baseball scouts asked his coach if Justin would play baseball; however, he dropped the idea of baseball.
Before his commitment to the Ohio State University, he had given his verbal commitment to Penn State.
However, he did not commit to Penn State and moved to Ohio State because of the distance he had to travel from home.
Justin Fields | Body Measurements
Justin Fields has a bulky figure and a firm, muscular body structure. He stands at the towering height of 6 feet 3 inches (1.91 meters) and weighs 228 lb (103 kg).
Likewise, he has a chest size of 40 inches, a waist size of 34 inches, and a biceps size of 16.5 inches.
Further, he wears a shoe size of 12 U.S. (10 UK). Similarly, he has a wingspan of 74¾ inches, a hand size of 9⅛ inches, and an arm length of 32½ inches.
Justin looks handsome in his tanned skin tone and jet-black hair.
Read Here About Anthony Carter Bio: NFL, Career & Wife>>
Workout And Diet
Justin Fields is so minimalist in his workout routine that he only has three pieces of workout equipment in his exercise room.
He believes in pure strength and does not rely much on workout equipment.
Talking about his diet, Justin Fields turned vegan during the lockdown when he and his family went on to eat plant-based as a one-month challenge.
After one month, while his family went back to eating dairy and meat, he went strong with his plant-based diet.
Justin states that his plant-based diet has made him feel much faster and lighter.
Fields starts his day with a cup of coffee, water, and fruits. He eats some vegan chicken nuggets or maybe a vegan burger for lunch.
His dinner is similar to his lunch but with more green proportions.
You Might Also Like J.J. Watt Bio – Everything You Need to Know>>
Justin Fields | Career
Fields started playing football in his collegiate days, and by 2018, he was a five-star recruit and was the highest-rated dual-threat quarterback.
At the University of Georgia, Justin first played as a backup before playing as a quarterback.
Later with the Ohio State University, Justin Fields met an undefeated regular season and Big Ten Championship.
During his years, Justin bagged multiple accolades and titles under his name.
The Professional Arena
After two years with Ohio State, Justin Fields announced his final two years of eligibility to enter the 2021 NFL Draft.
The popular team, Chicago Bears, drafted him as the 11th overall pick in the first round.
He stood as the top quarterback prospect and signed a four-year rookie starting deal with the team.
Later, he made his NFL debut against the Los Angeles Rams and got his first career start against the Detroit Lions.
Injuries
Justin Fields has struggled with multiple injuries along his way.
One of his earliest injuries dates back to his high school days when he broke the index finger of his throwing hand, had to perform surgery, and missed an entire season.
Not to mention, Justin had epilepsy since grade nine. Although it has not affected his football games or practices, he takes three or four pills every night.
Justin only talked about his epilepsy before his draft, and because of that, he had to face some negative comments.
"It's nothing crazy. It's kind of a thing THAT HAS BEEN THERE FOR THE PAST SEVEN OR EIGHT years. So I'm used to it, and I'm just going to continue to deal with it and play the game I love."
– Justin talking about his epilepsy
In addition, in 2019, Justin sprained his MCL at a game against Penn State.
Though he was back to the game the next day, he slowly re-aggravated the sprained MCL just a few days later in a match in Michigan.
In December 2020, Justin had a right thumb sprain in the Big Ten Championship.
A month later, in 2021, he sustained a rib injury which kept him out of the games for a long time.
The same year, he then had groin soreness. A month later, he was seen with a few rib fractures.
On November 20, 2022, the athlete suffered a left shoulder dislocation.
Career Highlights And Awards
Chicago Tribune Silver Football (2020)
Big Ten's Offensive Player of the Year (2020)
Graham–George Offensive Player of the Year (2019 and 2020)
Griese–Brees Quarterback of the Year (2019 and 2020)
2019 Big Ten Football Championship Game MVP (2019)
Second-team All–American (2019)
First-team All-Big Ten (2019 and 2020)
Mr. Georgia Football by the Touchdown Club of Atlanta (2018)
First-team all-state (During High School)
Read Here About Earl Boykins: The Second Shortest NBA Player in The History>>
Justin Fields | Net Worth
Even as a starting athlete who has only been on the professional field for a year or two, Justin Fields has a whopping net worth of $10 million (£8.27 million).
According to the sources, most of his earnings are primarily from his career games, while some are from his endorsement deals.
At the moment, Justin maintains a four-year deal with the Chicago Bears, which is worth $18,871,957 (£15,609,940).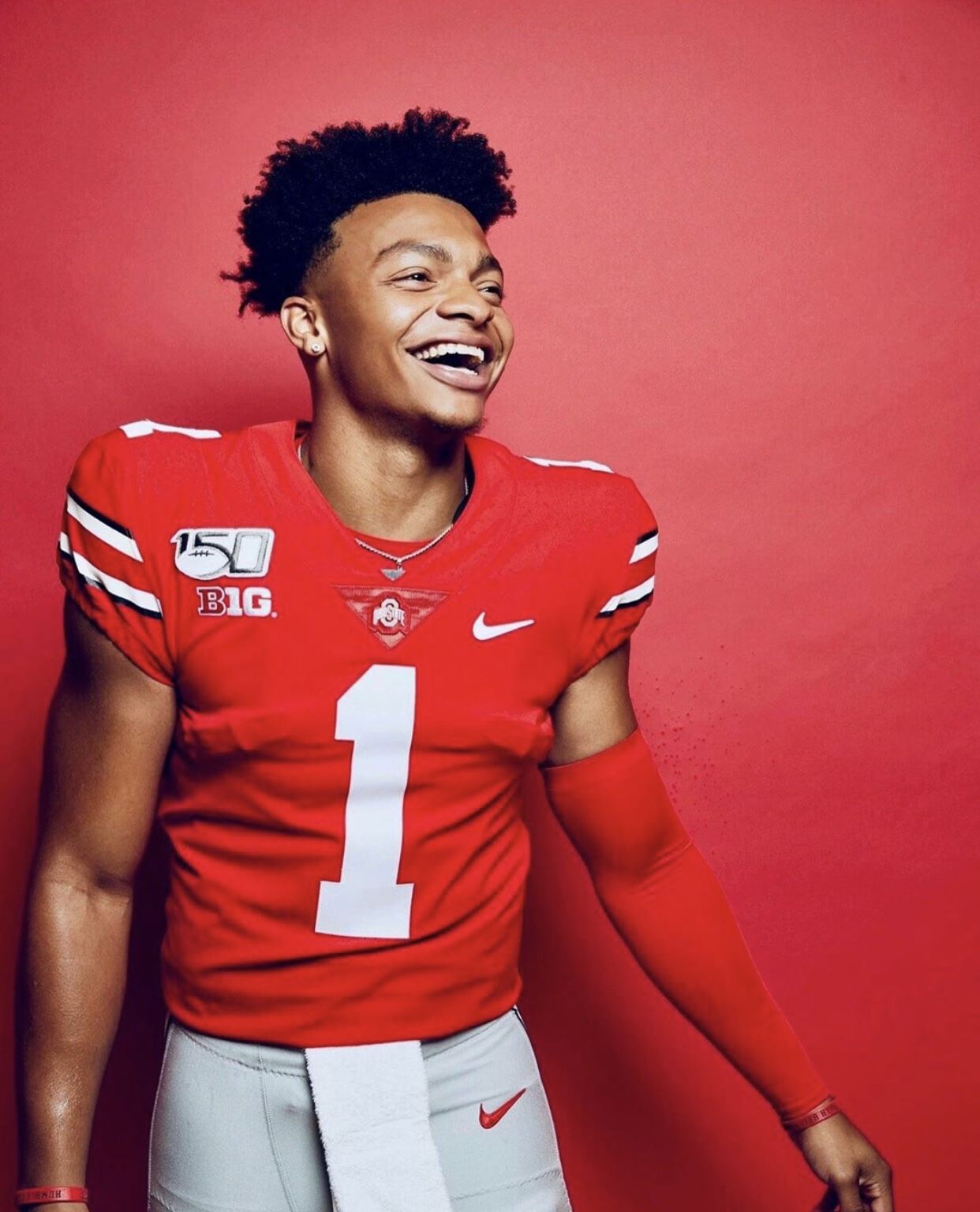 Further, Justin had opened up about investing all his contract money. He stated that he would only be spending his marketing money and spending all his contract money.
Some of the endorsement deals of Justin include entities like Oakley, Bose, Progressive, Wonderful Pistachios, Chipotle, C4 Energy, GMC, OWYN, Lowe's, Versacourt, Union Home Mortage, etc.
Apart from it, Justin is also featured in the second season of the Netflix series QB1: Beyond the Lights (2018). It was documented during his senior year of high school.
Justin Fields | Relationship & Girlfriend
Justin Fields is currently single and is not dating anyone. To date, he has also not been involved in any rumor about his affair.
He is focused on his career and games at present. We will make an update if we get any news or rumors about his relationship status.
Social Media
If you are interested in staying updated about Justin, check out his following social media sites:
Twitter- 342.6K Followers
Hyped about this Sunday snack. 🍩🐻
Grab Da Donut from your Chicagoland @dunkindonuts until 10/30. Join the feeding frenzy, Chicago! #ad pic.twitter.com/VlcMF3sjcx

— Justin Fields (@justnfields) October 7, 2022
Instagram- 1 Million Followers
Justin Fields | Popularity Graph
Frequently Asked Questions (FAQs)
Which jersey number does Justin Fields wear?
Justin Fields wears jersey number 1 for the Chicago Bears.
What is Justin Fields' career statistic like?
Currently, Justin Fields maintains the NFL career statistic of 20 touchdowns, 18 interceptions thrown, 3,512 passing yards and 59.2 completion percentage.
What breed of dog do Justin fields have?
Justin Fields has a French bulldog named Uno.
Read About 15 Best NFL Cheerleaders>>